Best Fly Fishing Starter Combo – 2023 Buyer's Guide
Fly fishing has become more prevalent in recent years, and the number of people who do it keeps going up. These new anglers face arguably the most significant barrier to entry in fly fishing: acquiring the proper equipment.
Fly fishing starter kits are an excellent way for beginners to enter the sport. The best fly fishing kits for beginners come with a fly rod and reel, backing, a fly line, leader materials, and flies. The starter kit should include all of the equipment necessary to make your first casts with a fly rod. Typically, the components of a starting set are well-considered and matched to fit a beginner's budget and skill level.
The fly rod is unquestionably the essential equipment when beginning fly fishing. Choosing the right one can be the most challenging part of starting a new sport, and it can often determine how well you do at first.
This guide focuses specifically on beginner equipment. Most importantly, you do not want to spend a fortune initially because you have yet to be sure that fly fishing is for you. Therefore, our beginner kits are priced between $70 and $170. Check out our Fly Rod Combo Guide if you are looking for more advanced fishing equipment.
---
Top 10 Fly Fishing Starter Combos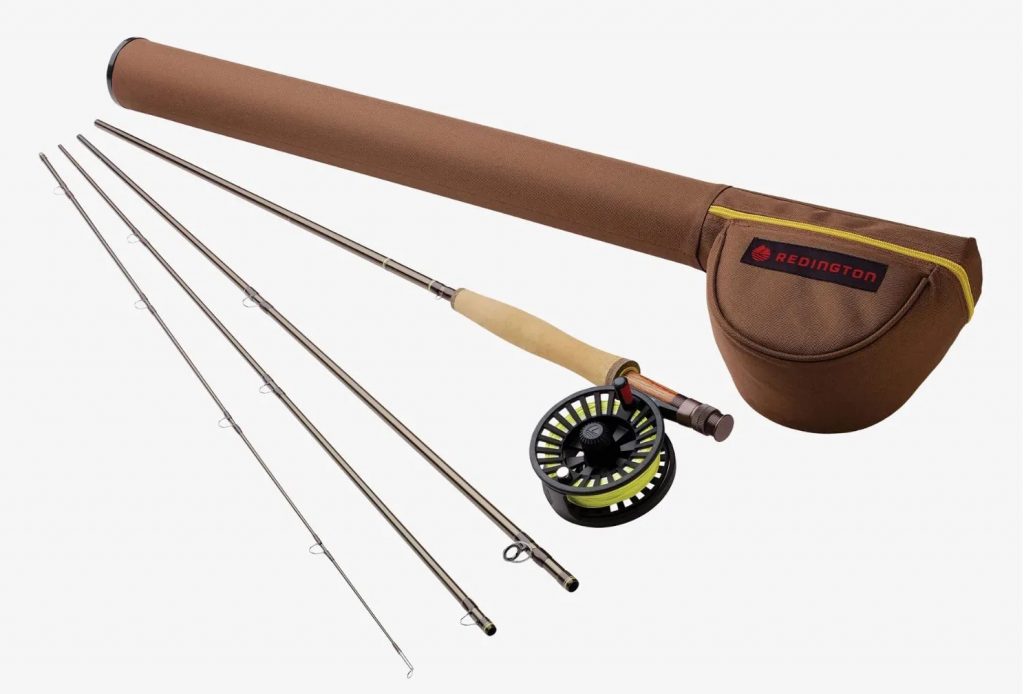 The Path Rod is a graphite fly rod with a medium-fast action and smooth casting, making it an excellent choice for anglers of all experience levels. The rods up to 6-weight have a half-well grip and a wood reel seat for a traditional look and feel, while the rods 7-weight and up have a full-well grip and a saltwater/freshwater-ready anodized aluminum reel seat.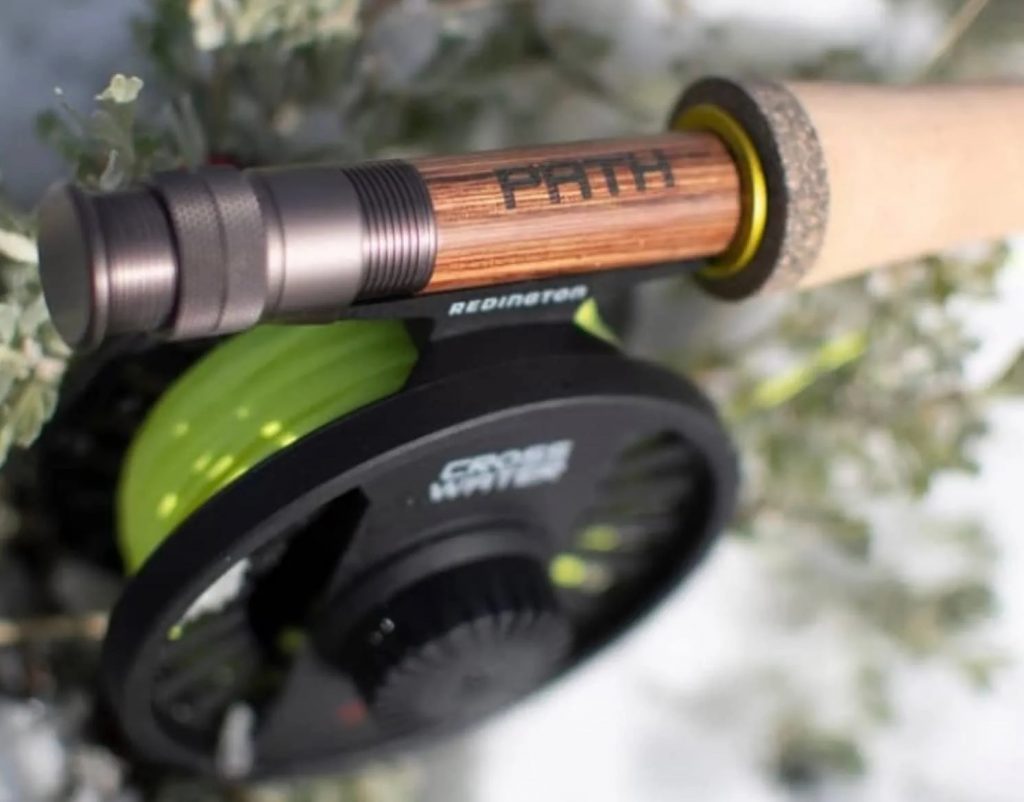 This basic outfit set comes in various weights, from 4 to 9, to accommodate anglers of varying experience. Similarly to Orvis, Reddington offers this fly fishing starter kit with a lifetime warranty so that you can buy it confidently.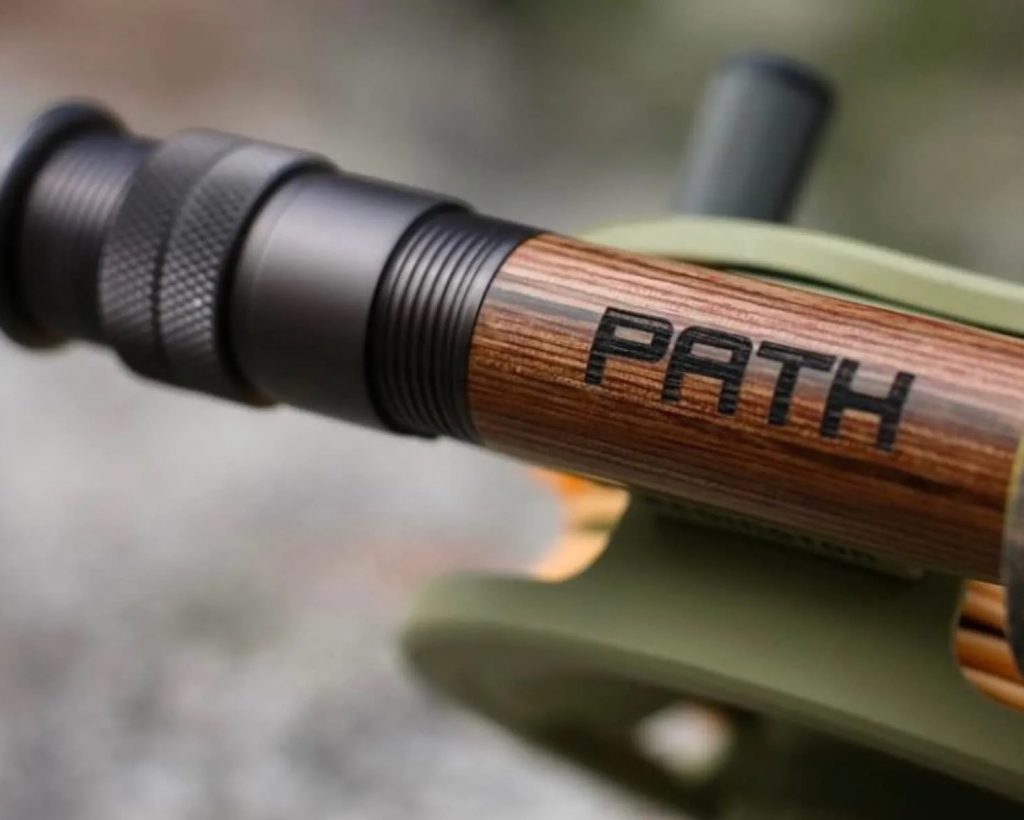 In addition, the included rod case is of excellent quality for the price, further enhancing the value of this package. Casting novices can get by just fine with the RIO Mainstream WF line that comes pre-spooled on the Crosswater reel. The included line is still of higher quality than what you'd get with most other starter kits, and it can be replaced whenever your budget and skill level allow.
The Path II setup from Redington is undeniably superior to other rod and reel combinations on the market, thanks to its attractive design, high level of performance, reasonably priced line, and excellent rod tube.
Key Features
The rod is a medium-fast action, smooth-casting graphite fly rod suitable for fresh and saltwater fishing.
Rods through 6 weight have a half-wells handle with a wood reel seat for a classic look and feel. 7 weights and above have a full-wells grip with an anodized aluminum reel seat for salt or fresh water.
PATH II rod, Crosswater reel with RIO mainstream WF fly line, and Cordura rod tube case. 8 and 9-weight saltwater RIO Floating Line
This 4-piece fishing rod and reel combo have alignment dots for easy setup and a divided Cordura nylon tube for transport.
The Wild Water starter kit includes everything you need to enjoy an unforgettable day of fly fishing. Aside from the rod, reel, and fishing line, it includes a fly box, flies, tippets, retractable zingers, nippers, and forceps In addition, unlike most low-cost starter kits, this Wild Water starter kit comes with a lifetime warranty.
This starter kit includes a 32-inch hard tube rod case with a side storage pouch and a zippered pouch. This case can hold your fly box, reel, rod, and other fishing equipment.
It also has a hook for hanging and a strap to help you move it from your car to the river or lake. However, store the rod in its bag before placing it in the case for better protection.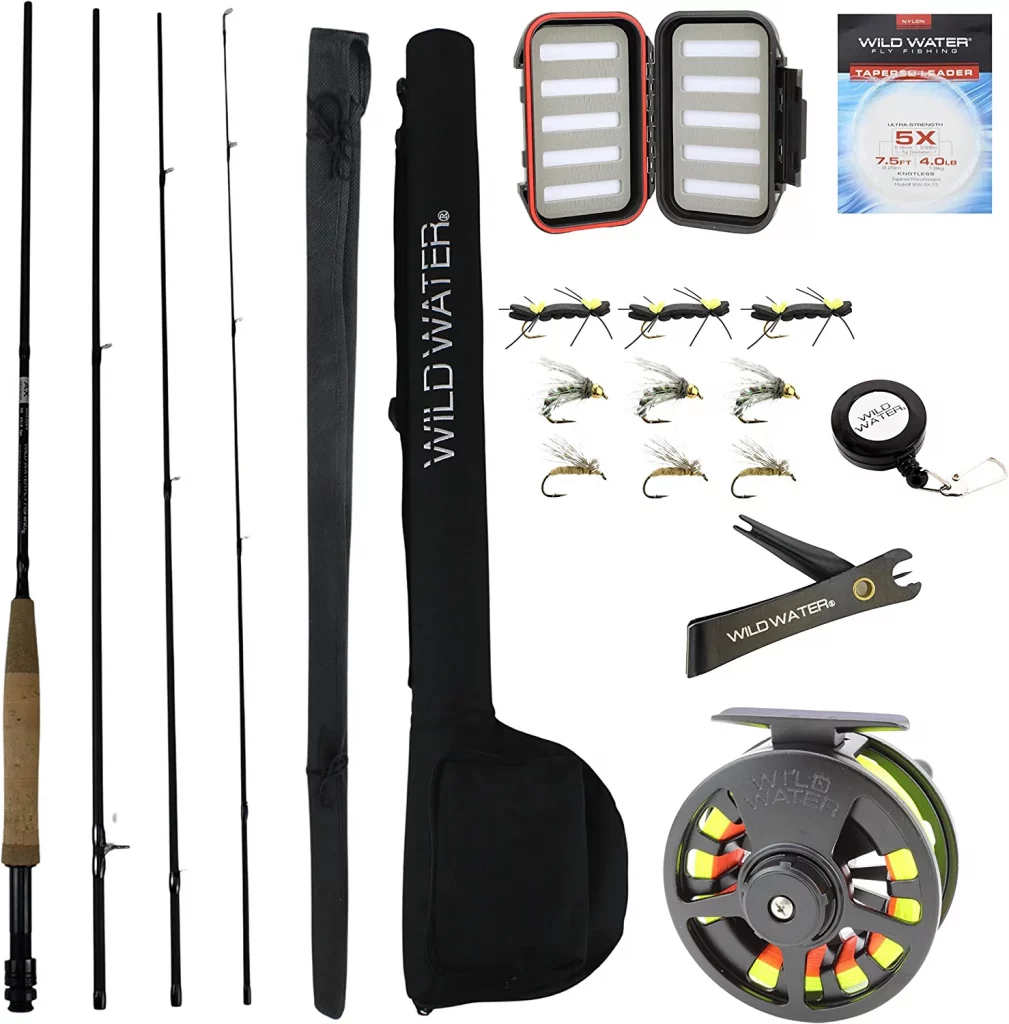 Its reel features adjustable disc drag, die-cast construction, and an 85mm diameter pool. It also includes a monofilament leader, floating fly, and backing line. So all you have to do now is unpack and start fishing.
One major benefit of Wild Water reels is that you can easily switch from right-hand to left-hand retrieval.
This medium-fast action rod is made of IM8 matte black graphite and can help you perfectly present your dry flies to freshwater fish. And the fact that it comes with an 18-fly fly box means you already have everything you need to go fishing.
---
Key Features
9 Foot, 4-Piece, 5/6 Weight Fly Rod.
Die Cast Aluminum Fly Reel (easily changed left to righthand retrieve).
Wild Water's Sturdy Case for rod, reel, and accessories.
A custom-designed fly box ( holds over 300 flies).
Tapered Monofilament 5X 9′ leader.
Fly fishing accessories (retractable reel, line nipper).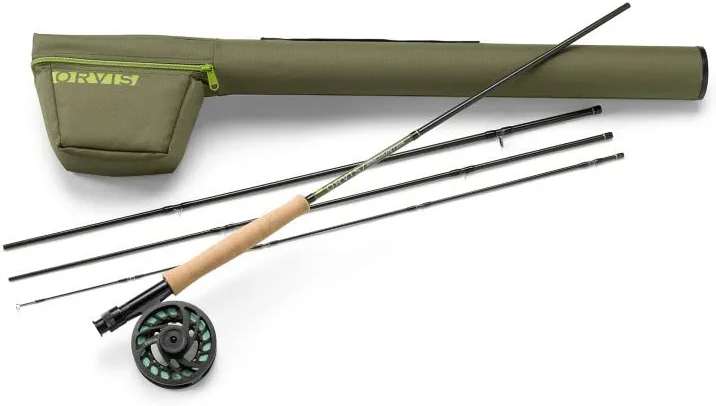 Many new anglers learned how to fly fish with an Orvis rod, which may explain why the brand is so well-respected.
Orvis, a renowned company, has produced some of the industry's finest fishing equipment for over a century, and the encounter outfit is no exception. The Encounter outfit is an excellent and reasonably-priced introduction to fly fishing that will instill confidence while you hone your skills. And because it has a medium to fast action, you can cast nymphs, dry flies, and streamers.
It is arguably the best way to learn how to fish dry flies for trout. The medium action is perfect for beginners. This rod is arguably the most cost-effective option and can easily compete with other high-end equipment.
Orvis does not use the phrase "entry-level" to describe the Encounter Outfit because it was designed for expert anglers. This starter kit comprises a rod with a distinctive design and exceptional performance, a reel with a large arbor, a leader, backing, and floating line.
The Encounter outfit is available in 8, 6, and 5 weights, so if you intend to fish in freshwater, you should choose the 5 or 6 weight options. However, if you intend to fish for saltwater species, you will need an 8-weight outfit.
This starter kit feels like high-quality fly fishing equipment, and the handle is easy to manipulate. The rod has a smooth action, and the reel can be easily switched between right- and left-handed retrieves.
Key Features
Orvis Encounter Fly Rod Outfit
The perfect outfit for younger anglers
4-piece
Smooth, crisp performance
Packaged with a large arbor Encounter reel, weight-forward floating line, backing, and leader

Check out this new combo from Temple Fork! It is an excellent option for a beginner. This starter kit is recommended by many people who are new to fly fishing. Few shortcuts are taken during production, making the quality of the rod, reel, and line better than most kits on the market. During production, very few shortcuts are taken, and the quality of the fly rod, line, and reel is better than that of most kits on the market.

This rod has a medium-fast action and comes in 4/5 weight, 5/6 weight, and 8/9 weight. It is excellent for beginners who are just learning to cast. The 8/9 weight is great for fishing in both saltwater and heavy freshwater. It is made with a fighting butt to help you catch bigger fish. The IM6 graphite rod with a composite cork handle is the best way to learn how to cast, fix a broken line, and fight a fish.
The TFO NXT Fly Reel, which is made of cast aluminum and has a disc drag, is a better piece of gear than what is usually included in a starter kit. You can buy extra spools for this reel if you want to try out different fly lines while fishing with this combo.
As I said in the beginning, your reel is the least important part of your setup for learning, but that doesn't mean you shouldn't try to buy a backup that will last for years. If you want to try a better fly line, you can always replace the pre-spooled TFO fly line that comes with this set.
Temple Fork includes a custom-made Cordura case for your rod and reel when you buy this. The high-quality rod case is a big reason this kit is such a good deal.
This gear set is a great place to start if you are new to fly fishing and want to enjoy the learning process. The rod comes with a lifetime warranty, so you're covered even if something goes wrong while you're learning how to cast.
This combo has everything you could want: a good rod with a medium-fast action, a better-than-average reel for the price, and an incredible rod tube.
Key Features
Included fly reel has an excellent drag system, and you can buy extra spools to switch fly lines.
8/9 weight has a fighting butt for powerful fish.
Rod is lifetime-guaranteed.
The high-quality rod/reel case makes this a good buy.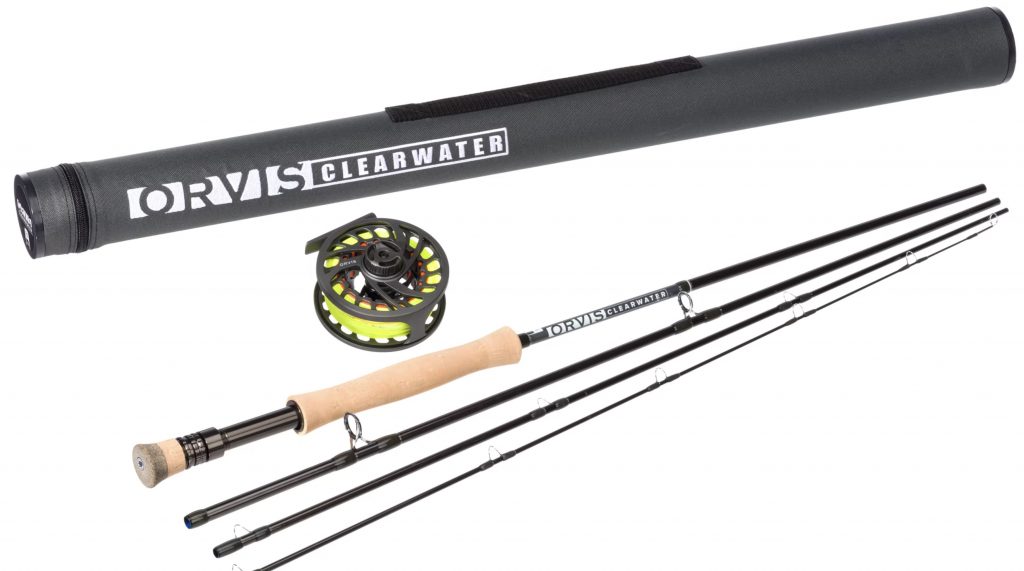 Though the Clearwater combo is available in several sizes, the 8'6″ 5-weight is my favorite. It is the ideal rod size for beginners. The medium-fast rod action is perfect for learning to feel the casting motion. This rod is versatile enough to cast dry flies, nymphs, and streamers. The 25-year "no questions asked" warranty can be helpful for novices.
The Orvis Clearwater Complete Fly Outfit will give you everything you need to do your best, no matter where you go or what you're after. Combining the famous Clearwater II (for the 5W) or Clearwater IV (for the 8W) Fly Reel with a wholly redesigned 4-piece Clearwater Fly Rod gives you the performance you need to conquer the tropics, the Pacific Northwest, and everywhere else.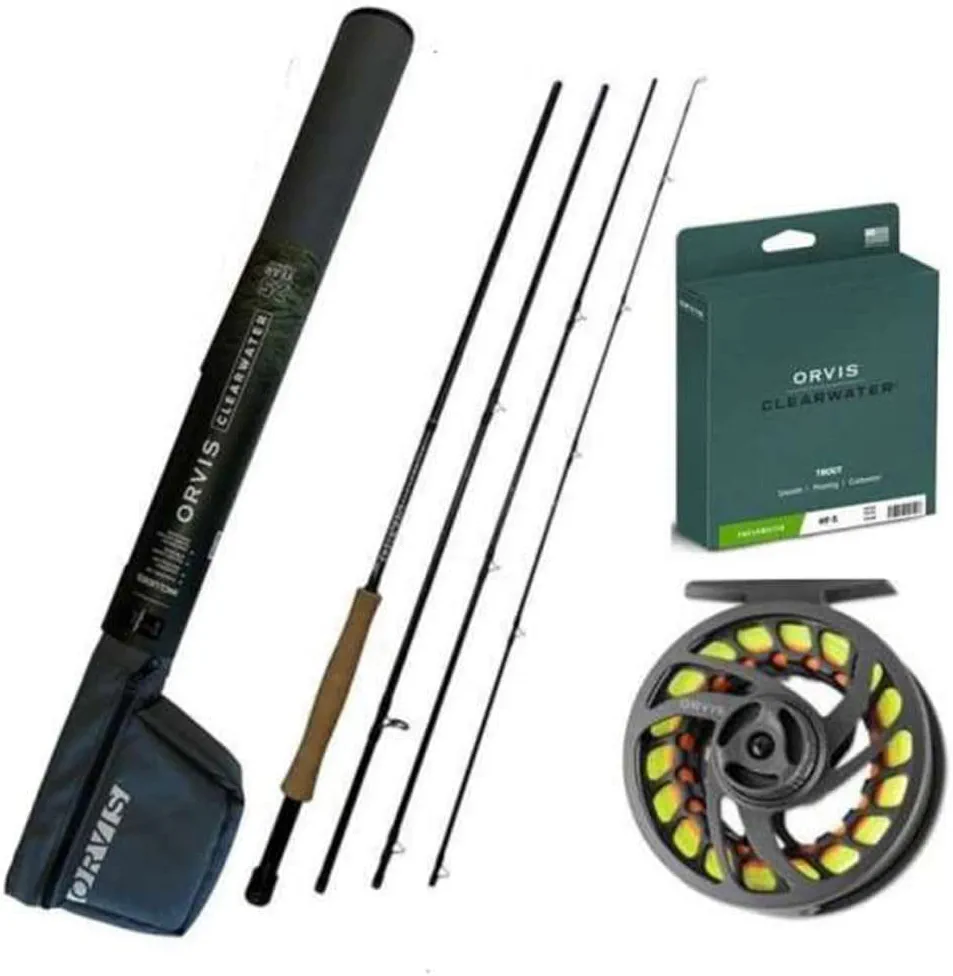 The open architecture of the reel includes a large-arbor design with a diecast frame, a powerful inline disc drag (5W: Rulon/stainless; 8W: Carbon®/stainless), and a convenient cartridge spool system for fast spool changes.
The rod has a beautiful black chrome finish with white accents, a premium chrome snake and stripping guide with a ceramic insert, a full black-nickel aluminum reel seat, smooth cork, and a 25-year manufacturer's warranty. Each outfit contains an Orvis Clearwater fly line spool, an ample Dacron backing, and a rod tube.
Key Features
Boxed outfit option for a gift or first-rod outfit
Best-selling sizes for trout or big game
New Clearwater rod with a significant upgrade in looks and performance
Includes the Clearwater rod, Clearwater reel, Clearwater weight-forward floating line, backing, leader, and rod & reel carrier.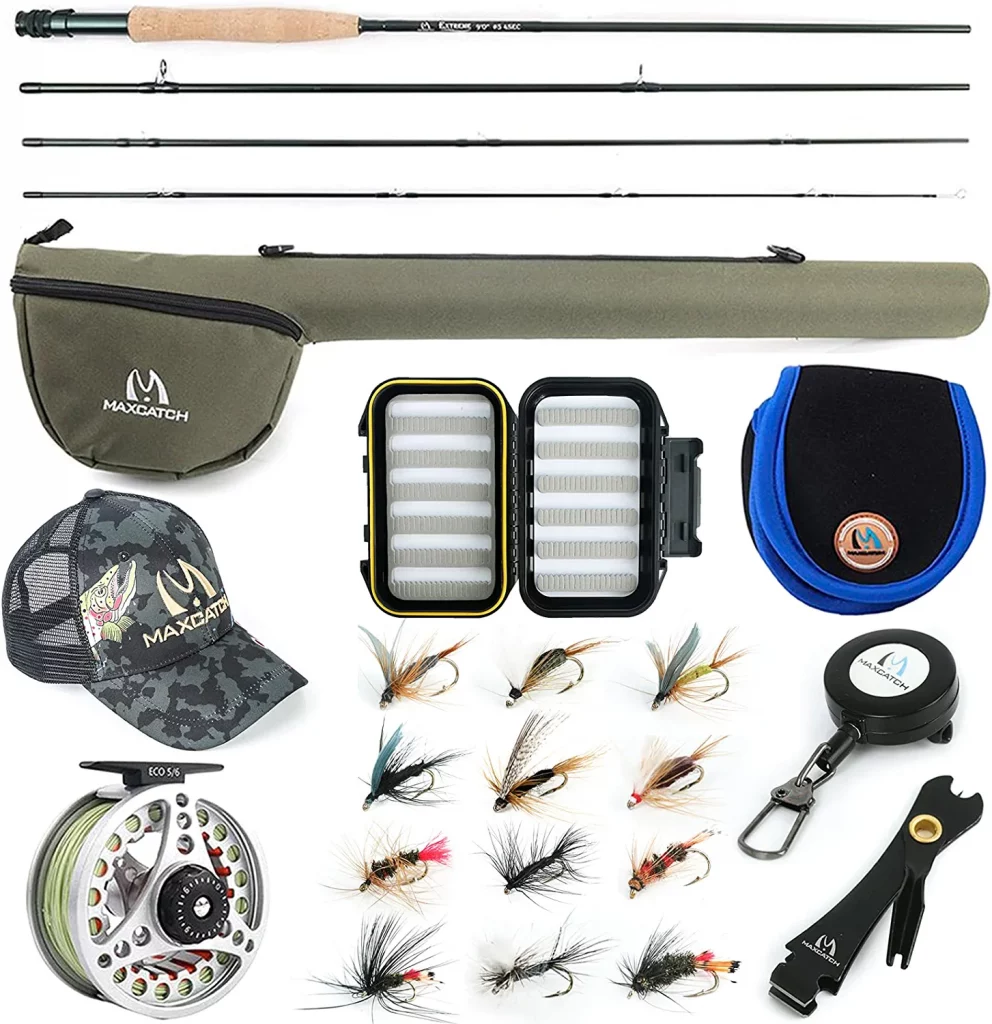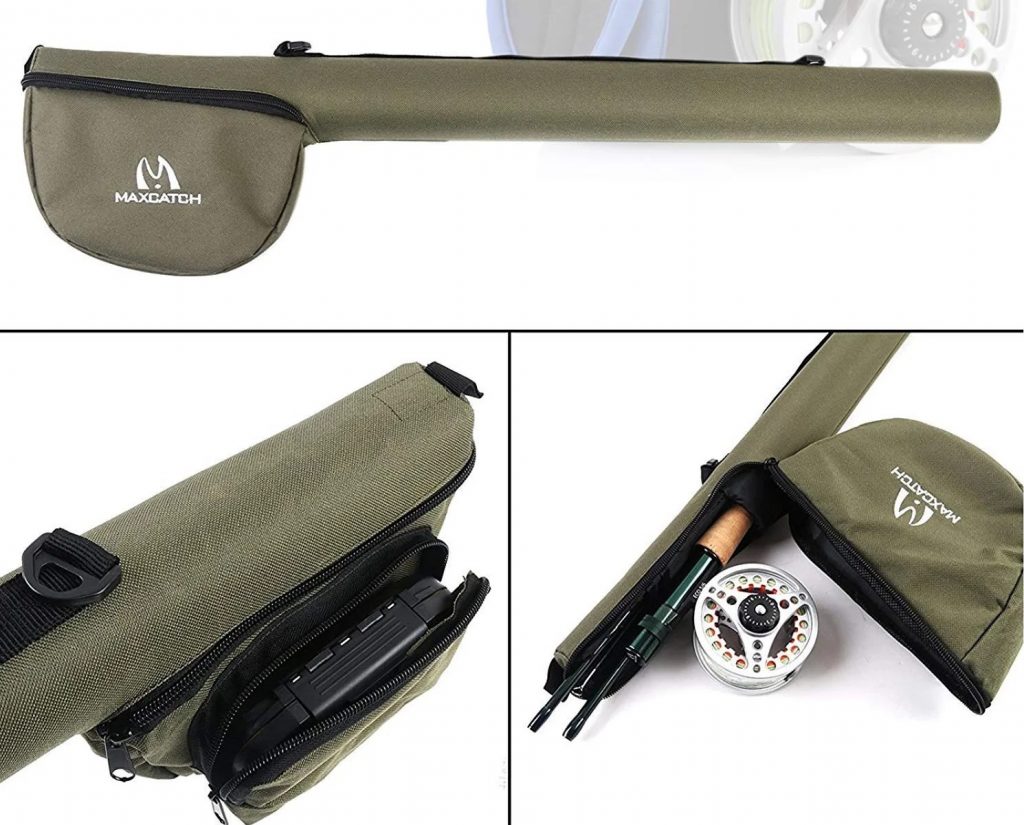 Maxcatch is kind of new to the scene but already provides excellent combinations at prices that are more than fair, especially compared to the competition. Many seasoned anglers are taking notice of the new company that produces starter combos that rival more expensive rod and reel combos.
The quality and price of Maxcatch's rods and reels have impressed me, and I would not hesitate to recommend them to any beginner angler. If you're new to fly fishing, this combo pack has everything you need to get started, from a nice selection of dry and wet flies to a box.
Maxcatch's beginner kit features a selection of rods, including a nine-foot, eight-weight option. The most common recommendation is to start with a 5-weight rod, but a 3-weight rod offers a unique experience and is a lot of fun to fish with.
The 3-weight is ideal if you want to feel the power of a full-cane fly rod. For larger fish like bass, salmon, redfish, and many saltwater species, an 8-weight rod is a great option. Every rod has a moderately quick action, making it perfect for novices.
Maxcatch throws in one of their die-cast aluminum reels with a large arbor and environmentally friendly design for free. It's a solid piece of equipment that should serve you well throughout your educational journey. You can learn the ins and outs of reel operation and maintenance.
This set's "Extreme" rod is made of IM6 graphite and features a cork handle and an aluminum reel seat of the highest quality. This is a solid rod for sure and something that will not gather dust in the closet once you get a better model.
Dacron backing, fly line, and a leader are included in this starter kit, along with a few other items, such as a fly box and hooks. You get a lot of bang for your buck with this ample kit. This is yet another excellent value rod set-up that you will likely keep using even after upgrading to a more expensive flies.
Key Features
Maxcatch includes a small fly box with 12 wet and dry flies.
Grade A cork handle and aluminum reel seat match that of a higher quality rod
Excellent value starter kit; you'll be hard-pressed to find a fly fishing setup worth buying for less
Includes an excellent quality entire rod and reel case with rod sock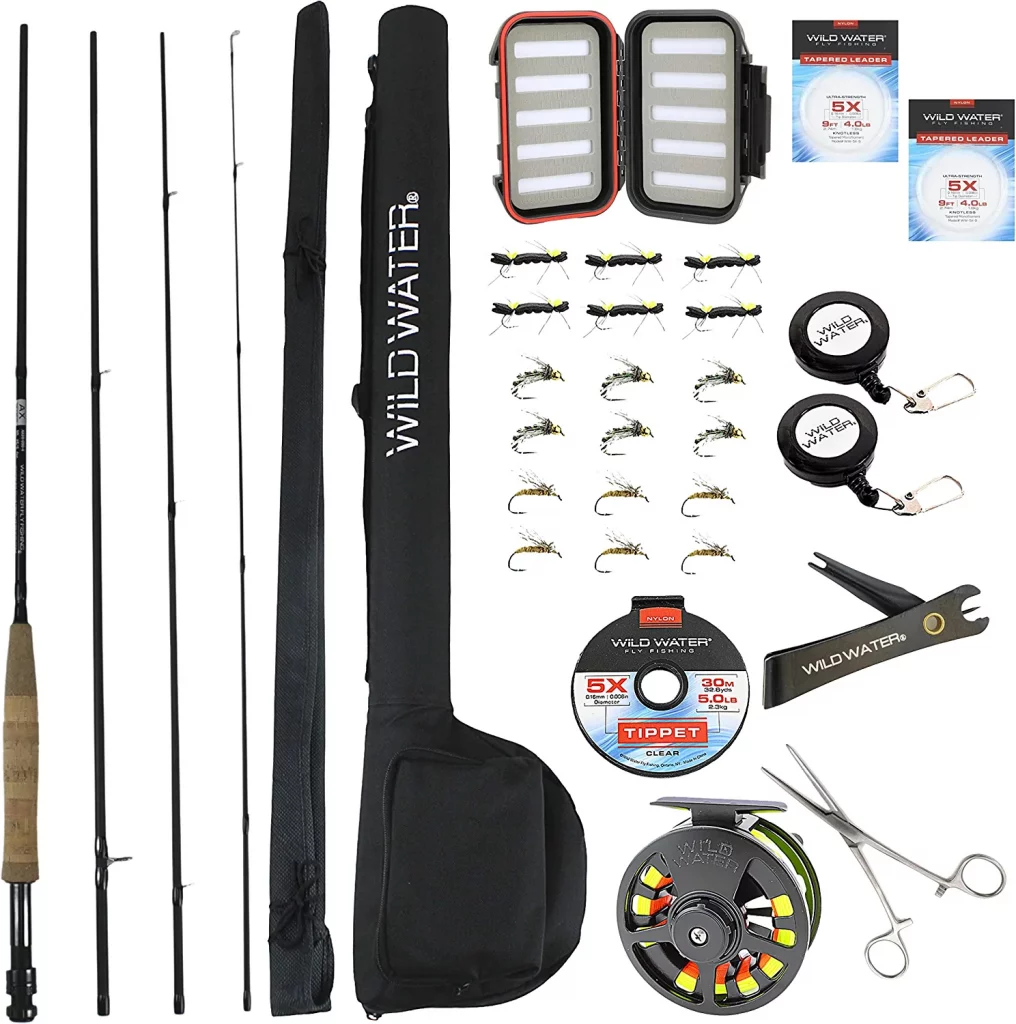 This Wild Water starter kit includes everything a novice needs to hit the water with confidence. This kit has everything you need to go fly fishing, including forceps, nippers, retractable zingers, tippets, flies, and a fly box.
Considering the low price of this fly fishing starter kit, the lifetime warranty on the fly rod is a nice bonus.
Although this rod isn't quite as good as the Orvis and Redington alternatives in the list, it's still a fantastic deal for the money and one you'll enjoy using.
A slower action than the medium-fast action rods on this page, this IM8 graphite rod has a mid flex and a feel somewhere in between.
Although this flex index isn't ideal for beginners, it could be preferable if you intend to fish dry flies and nymphs. The reel seat, made of aluminum, appears to be lower quality than the rest of the rod.
As a learning reel, the large arbor aluminum fly fishing reel that is included is reliable and up to par. This combo's 20-pound backing and 5-weight front line are ideal for beginners. It's about as basic as fly reels get for beginners, but it should get the job done.
The included equipment is what makes this starter kit beneficial. You can get set up with basically everything you need to hit the water for a reasonable price, saving money on things like fly boxes, nippers, and forceps.
Aside from the rod, reel, and line, the total cost of the included equipment could easily exceed $50! Overall, it's a great deal that will help you get started in fly fishing and give you some useful extras.
Key Features
Made of durable IM8 matte black graphite.
Aluminum fly reel with stainless steel components.
The Western-style cork handle and stainless steel stripper guide ensure smooth, accurate casting.
Double lock rings add security when fighting big fish.
The reel comes with a 9-foot, 5X leader, chartreuse WF5-F floating fly line, and 20-pound orange backing.
85mm quick-release spool, disc drag, and one-way clutch bearing.
Changing from left to right-hand retrieve is easy.
Includes a travel case with a 32-inch PVC rod tube, reel pouch, fly box, and room for more gear.
Includes a 4-section rod bag with ties. It's also a great gift for fishermen.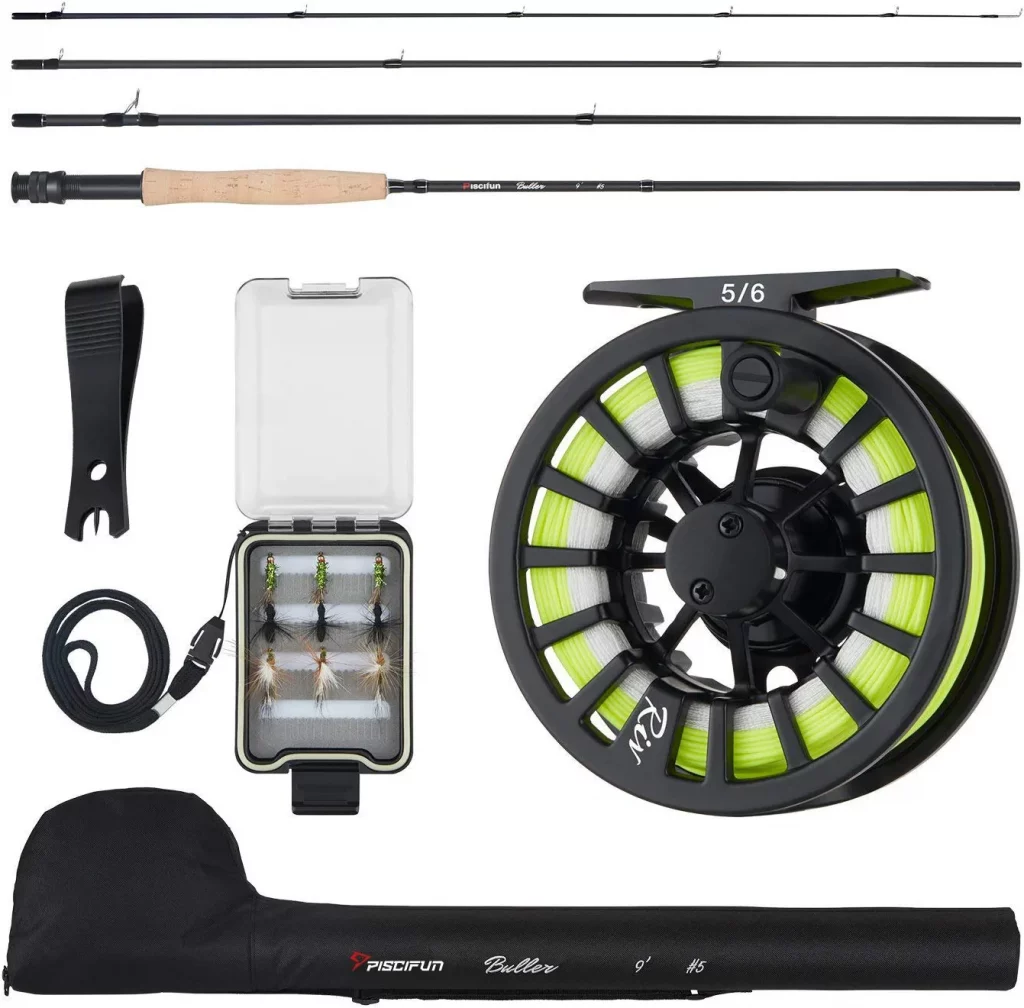 Another fantastic set for beginners is the Piscifun fishing rod and reel combo. Piscifun is known for producing products of high quality that are sold at reasonable prices.
The fishing rod that comes with the Piscifun Fishing Rod and Reel Combo is a 5/6 rod that is 9 feet long. The backing, line, and leader are already pre-spooled onto the reel for you. You just need to attach a fly to the fish at this point.
The Piscifun Fishing Rod and Reel Combo include a total of nine flies, each of which is fashioned after one of three distinct patterns. They are protected inside a box that has a lanyard attached to it so that it can be worn around the neck. The use of a line nipper will make it much simpler for you to switch flies.
Key Features
Start fly fishing with a high-quality, affordable combo. A 4-piece 5/6wt 9-foot rod, a mid-arbor reel with drag, pre-spooled line, backing, and leader, a carrying rod case, a zinger retractor, a fly box, and 3/4 dozen of 3 different fly patterns.
5# 9′ Slow Action rods catch sunfish, small trout, and small streams. It's perfect for beginners. Half-wells cork handle improves casting accuracy and reduces hand fatigue. Aluminum reel seats, large stripping guides, colored alignment dots, matte black blanks, and cork handles.
Die-cast aluminum makes up the Traditional Black 5/6wt fly reel. Smooth click-and-drag makes accurate, fast dragging easy. Mid-arbor design speeds line pickup and reduce line memory. Fly line, backing line, and leader are already wound.
Fly fishing accessories include a lanyard for the fly box. 3/4 dozen of three different fly patterns are in the fly fishing-ready box. Stainless steel line clippers are sturdy and portable.
The hard case holds everything, and the zippered pouch on the bottom keeps your items safe. Beginner fly fishing must-have! Piscifun fly fishing gear is free to replace or fix during the warranty period. Try it!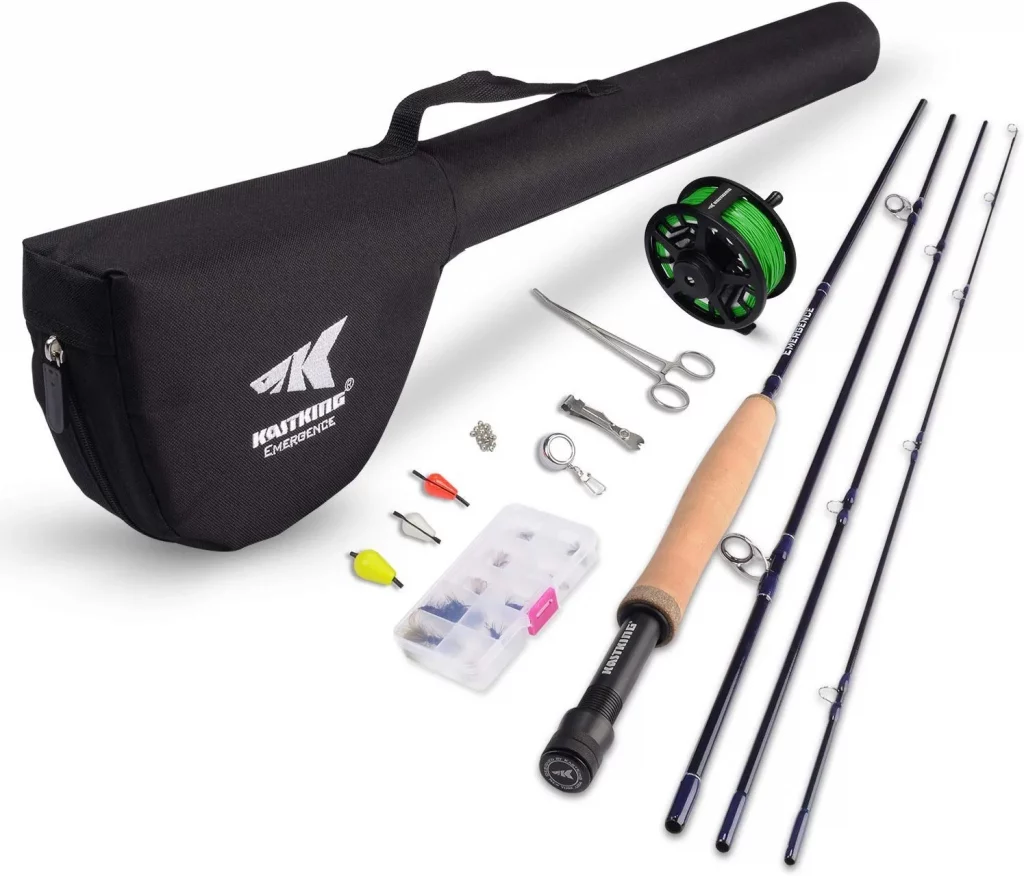 If you are unsure whether or not you will enjoy fly fishing, the Kastking Emergence is a fantastic option for you to consider. When you start fly fishing using this starter kit, you won't need to spend much money.
The Kastking Emergence is available in three distinct iterations. If you plan to spend most of your time fishing in smaller streams and creeks, going with the 4wt – 8'6″ option is wise. A traditional rod for targeting fish such as trout is the 5wt, which is 9 feet long. It is a great all-around rod and is capable of handling stronger fish. The 8-weight, the 9-foot rod is your best option to go after larger fish like pike or bass.
The Kastking Emergence is a fly rod that is ideal for traveling and comes with a traditional 4-piece construction. A box containing 12 different flies, including dry flies, nymphs, and streamers, is included in the package, along with an aluminum reel, a line and backing, a tapered leader, and a selection of flies.
In addition to this, the Kastking Emergence includes all of the specialized tools that are required to handle a fish. It comes with a pair of forceps, a line nipper with a retractor built into it, and strike indicators to make it simpler for you to reel your first fish.
Key Features
Four-piece graphite fly rod and more Emergence wasn't a starter fly rod. This is a true 4-piece performance fly rod, reel, line, leader, backing, 12 hand-tied flies, travel case, and the most important tools and accessories anglers need. It's available in 4 lengths and line weights for freshwater or saltwater fishing.
The combo includes a lightweight aluminum fly reel with a smooth disc drag. Pre-spooled backing, weight forward floating fly line, and tapered fly leader. The rich black reel is size-matched for each line weight rod and anodized.
Included with your Emergence fly combo is a travel case that allows the reel to stay on the fly rod. You'll get 12 hand-tied flies, including dry flies, nymphs, and streamers. Included are forceps, line nipper, strike indicators, and split shot for sub-surface flies.

The Echo Gecko Kids Outfit handle has a smaller diameter, making it more comfortable for youngsters with tiny hands to operate. This makes the set ideal for younger children. Also, the handle can expand into a fighting butt which gives kids more leverage when they are trying to fight a fish. Echo is introducing two new models this year: a 7'6″ 4-weight Gecko Panfish ideal for angling for smaller fish such as bluegill and a 7'9″ 5-weight Gecko Trout that is a little bit larger for angling for trout.
Both of these models are new for this year. The only bad thing about these two new rods is that you can't buy them yet, but that will change soon. Between now and then, the original Gecko Echo kit is a 7'9 4-weight that is still readily available and is fantastic for children. Oh, and just one more thing: if your child breaks the tip, Echo has one of the best tip-replacement systems in the nation, which is as follows: Your child may go fishing and put a smile back on their face for only twenty dollars.
---
What Comes In A Fly Fishing Starter Kit?
All of the beginner kits listed above include a rod, reel, line, and leader, except for the clearwater kit, which consists of an extra leader, tippet, and 12 flies (if you choose the option with flies).
These are all kits that I have used personally and believe to be the most dependable and user-friendly for a beginner in the sport.
Unfortunately, the standard equipment included in these "full starter kits" tends to be low quality. The kits offered to beginners are frequently of poor quality, which is not something you want on your first outing.
As someone whose job is to get new anglers out on the water and help them succeed, it is disheartening to see people fall for the "full beginner kit" trap. The best way to ensure success is to acquire a solid rod reel and line combination (such as those listed above) and then build your kit.
As a beginner angler, the best thing you can do after purchasing one of these kits is to visit your local fly shop and have them help you set up. A good fly shop should be happy to walk you through setting up your kit and bringing you all the supplies you'll need for a fun day on the water.
Benefits And Drawbacks Of A Fly Fishing Starter Kit
Benefits
The work has already been done for you, and each of the combos listed above in the kits is something that I would suggest to a customer who walked through the door of the shop looking to get their first setup. These kits take the guesswork out of the process and give you a setup you can take to the river and find success virtually immediately after taking it out of the packaging.
There is no need to go out and look for separate rods, reels, and lines if you purchase the full combo because it provides you with everything you require. This makes it an excellent way to get ahead of the game. All of the kits that are listed above have been tested and proven to be both reliable and effective, making them ideal for beginners.
Drawbacks
One of the most significant drawbacks of these starter all-in-one kits is the fishing line. As mentioned earlier, these lines can fulfill the task at hand, but they typically need to be replaced after roughly one year of use. Fortunately, this coincides with the time when most people are considering upgrading, so it shouldn't be a problem.
The other problem with these starter kits is that the rod weights that are included with them are just the standard. Most kits are a 9-foot-5-weight, which is great for general use but may be a bit over or untender-gunned depending on the type of fishing that is prevalent in the area where you are fishing. Getting one of these pre-made kits comes with several advantages, but one of the disadvantages is that there is less room for customization.
---
Frequently Asked Questions
What do I need to start as a new angler?

A new angler needs to have a reel, fly rod with line, waders, and boots, in addition to a variety of lures that are appropriate for the fish they are trying to catch.
Another thing to consider is to wear a hat and polarized sunglasses to shield your eyes and face from the glare of the sun. In all honesty, that is the bare minimum that any angler needs.
What is the right rod length for beginning fly anglers?

The length of the fly fishing rod is extremely important, particularly for novice anglers. As a result of this, the majority of seasoned anglers agree that you should start out with a rod that is 8.9 to 9 feet long. This rod is the perfect choice for a beginner because it is not overly long and can be used to practice a wide variety of casting techniques.
What rod weight is best for fly fishing beginners?

Fly fishermen who have never tried their hand at the sport before should choose a rod with a weight anywhere from 4 to 6 weighted. These options are light enough that you won't get fatigued quickly and can assist you in honing your skills while catching a wide variety of freshwater fish. If you want to fish in large rivers, you should look into 6-wt rods; however, a 4-wt rod is what you need for fishing in smaller rivers.
---
Related Articles
---
Recent Articles
Review Archives
---