Top 10 Fly Fishing Float Tubes For 2023
Photo: Bridget Fabel
Fly fishing from a float tube can be a really fun way to fish in still-water lakes and ponds. Float tubes are easier to maneuver and have lots of places to store and organize gear and, with the right selection, can be quite comfortable. These cool inflatables work wonderfully for both fly and spin fishermen.
When fishing in ponds or lakes for bass or pike, a fishing float (also commonly known as a belly boat) can be an effective and efficient choice. These floats make it possible to approach the water quietly and simplify handling fish. Additionally, they provide a great deal of flexibility when fishing in waters that are a little bit more remote.
Inflatable belly boats are so portable that they can be stuffed into the trunk of a car or even carried on one's back to reach ponds or lakes that are located slightly off the beaten path.
Float tubes are used along with fins attached to the angler's feet, making both rowing and casting possible simultaneously. With a few kicks, it is easy to move through the water to find the right spot for a perfect cast. This gives you a great deal of flexibility when it comes to casting.
Due to the growing demand and popularity for float tubes and belly boats, an increasing number of manufacturers are beginning to produce these watercraft. In this guide, our goal is to provide you with an overview of what is currently available for 2023 and the pros and cons of many different designs and models.
Why Use A Float Toob For Fly Fishing?
Actively Find the Fish: If the fish aren't coming to you, you can go to the fish.
Exercise: Using 'flippers' to get where you are going is sometimes a workout. Your legs will feel it!
Reach Secret Spots: A float tube can take you to untapped areas, even virgin waters.
Peace and Quiet: Escape potential overcrowding or even an argument by slipping away in a float tube/.
Deeper Water Fishing: Shore casting has a limited range. A float tube can position you over the best holes.
Greater Freedom: Become one with the current, drift along, and have a better experience outdoors.
You Go Where The Food Is: Floating with the current conveniently takes you where the fish are because you travel the same way the food does.
Choosing A Fly Fishing Float Tube
When looking for the right float tube for you, you should think about how and where you want to store your fishing gear, how you fish in general, and how you like to sit in the float tube.
Fly anglers prefer an option that places you exceptionally high on the water for improved casting ability. At the same time, spin fishermen might be more interested in having surplus storage for larger tackle boxes.
If you are a heavier angler, you need to make sure that you verify the weight capacity of any float tube that you are thinking about purchasing.
Comfort – Adjustable straps are an essential element of luxury. More elevated back support is preferable. Inflatable backrests are inferior to padded backrests.
Carrying Capability and Buoyancy – The minimum carrying capacity you should want is 200 pounds.
Shape – More 'boat-like' the rear will be, the easier it will be to manage.
Inflation, Deflation, and Valves – Look for the words' Boston valve'… these are the best type.
Puncture Resistance – Look for denier fabric, abrasion resistance, and puncture resistance.
Weight – A quality float tube will weigh no more than 15 pounds. Aim for 10 to 15 pounds—the more compact, the better.
Storage – You should consider at least two storage pockets. Choose zippered pockets over Velcro ones. Additional earnings are an excellent plus.
---
10 Best Float Tubes For 2023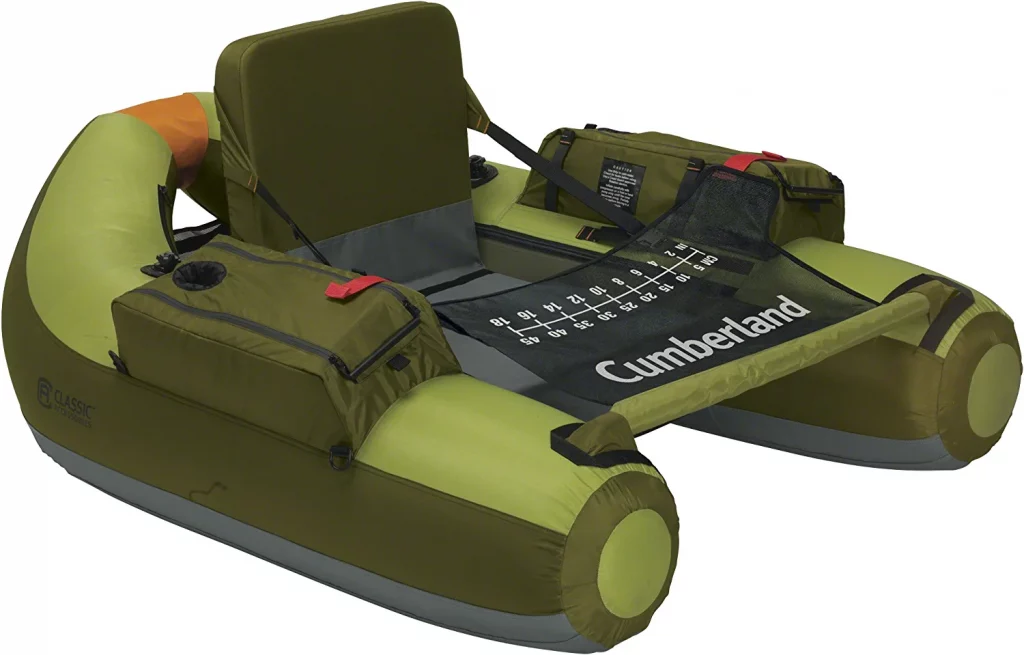 One of our favorites in the price range that falls somewhere in the middle is the Cumberland by Classic Accessories. It is an excellent option for a fishing float tube due to a number of features that have been designed with a lot of thought put into them.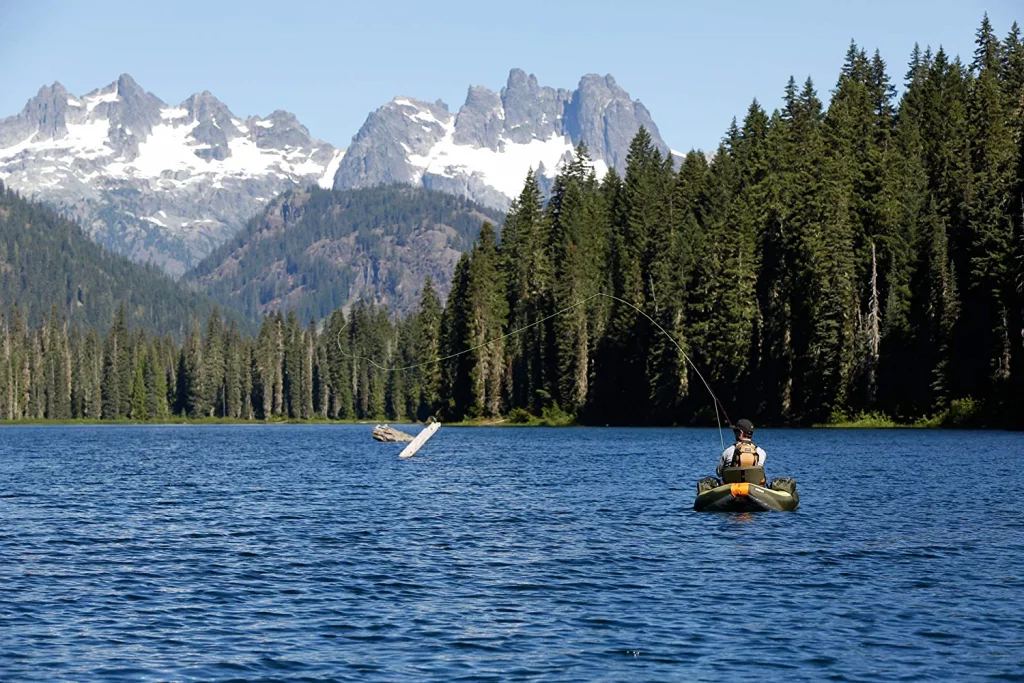 The Classic Accessories Cumberland has an adjustable high backrest, a feature that can be extremely useful, particularly if you intend to spend extended periods of time out on the water. The float is designed to be carried around easily thanks to its two-rod holders and adjustable shoulder straps.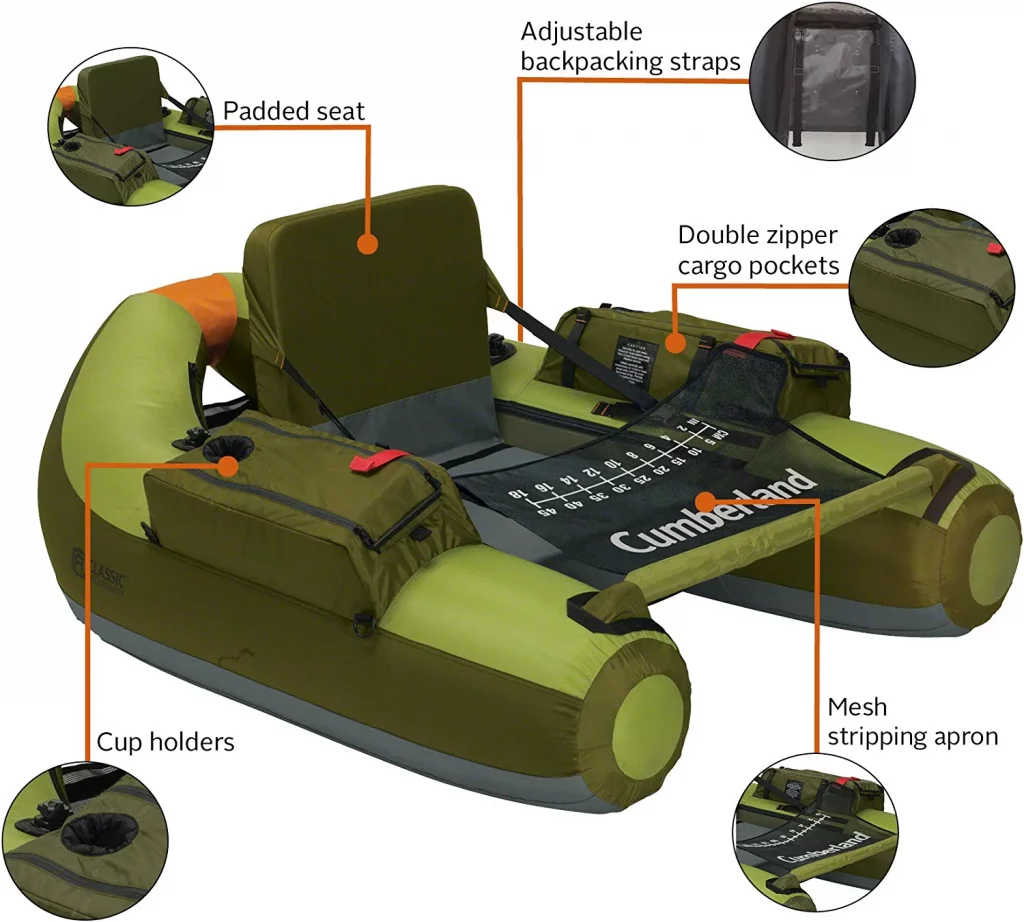 The Classic Accessories Cumberland backpack has one large cargo pocket with a double zipper on each side, providing ample space for your belongings. Two zip pockets located inside the bag offer additional storage space for valuables. There is also a fish ruler in front of the seat on the Classic Accessories Cumberland Float Tube, making it simple to determine the size of the fish you have caught.
Key Features
Weight: 14 lbs
Size (assembled): 56″L x 44″W x 19″H
High backrest
Ruler in front of the seat
Pros
Due to its weight capacity of 350 pounds, this is an excellent choice for anglers who weigh more.
It is simple to transport a float tube that can be packed into a backpack with shoulder straps that can be adjusted.
The seat features ample padding and provides a pleasant elevation above the water.
A lot of room for storing things and organizing them.
Safety flag holder.
Cons
Fairly expensive option
No color choices
Some might find the side pockets a bit cumbersome.
---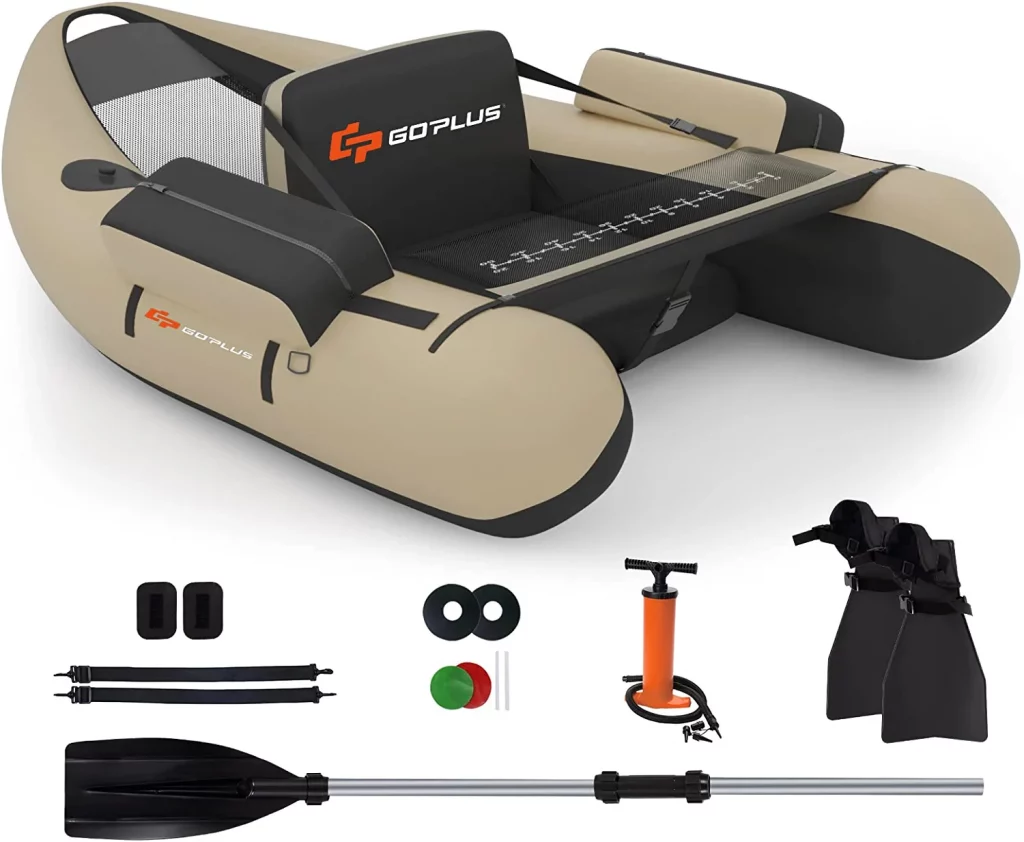 The Goplus Inflatable is an excellent choice for anglers who are interested in float tube fishing or belly boat fishing. It costs only about $150 for the set and comes with many features that are found on high-quality float tubes. The Goplus Inflatable Fishing has a seat that is both nicely padded to ensure comfort throughout the day and equipped with a safety strap for added peace of mind.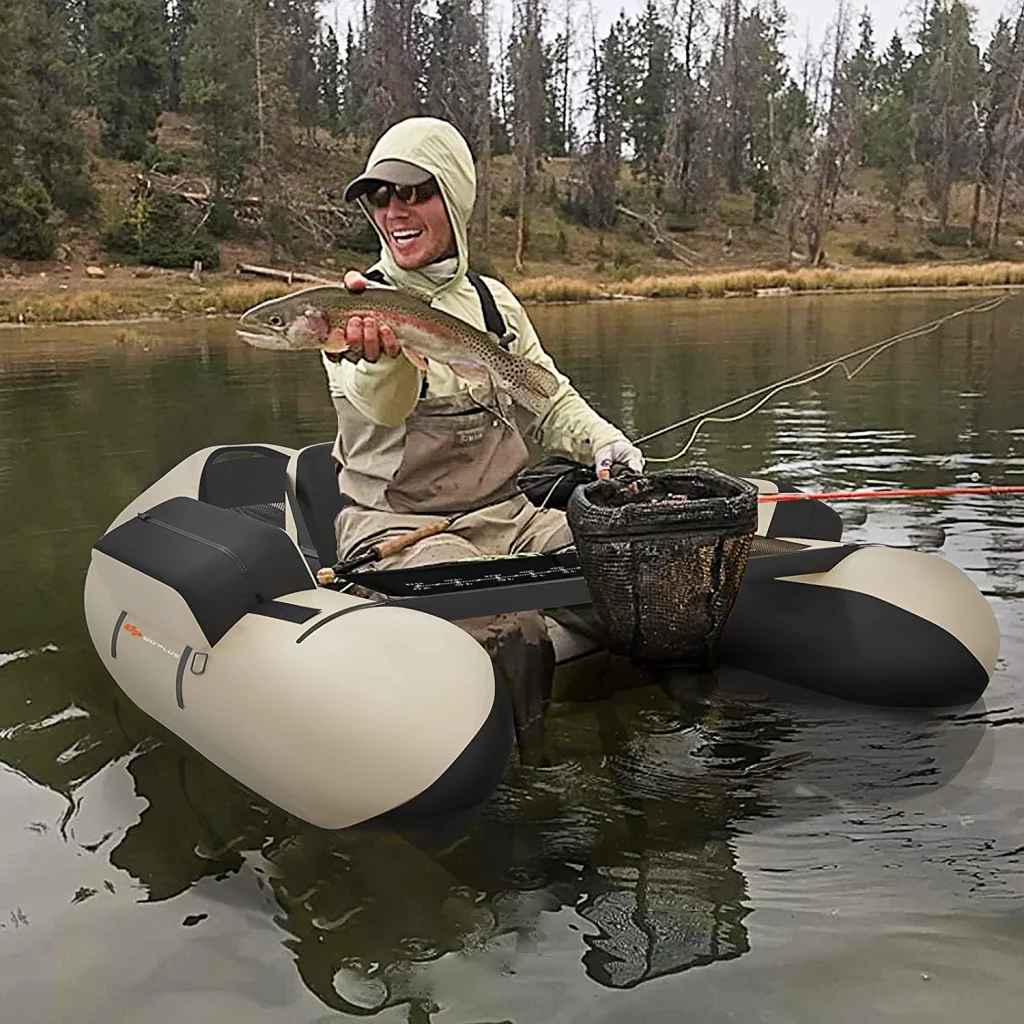 There is a net located behind the seat, which can be used to store your gear or your catch. Large storage bags for your tackle and other items are located on each side of the bag. The fish you catch can be easily measured thanks to the ruler that is conveniently located just in front of the seat.
Goplus Inflatable Fishing is portable and can be comfortably transported on a person's back. Due to the fact that it can support a weight of up to 350 pounds, it is an excellent option for larger people as well. It comes with a pump, so you can start fishing in a matter of minutes.
Key Features
Integrated measurement ruler
The float tube set includes a paddle, pump, fins, and repair kit.
Max weight capacity: 350lbs
Pros
Includes everything you need to get going.
Very lightweight at 12.5 lbs
High max weight capacity of 350lbs
Cons
Minimal options to store and organize gear.
---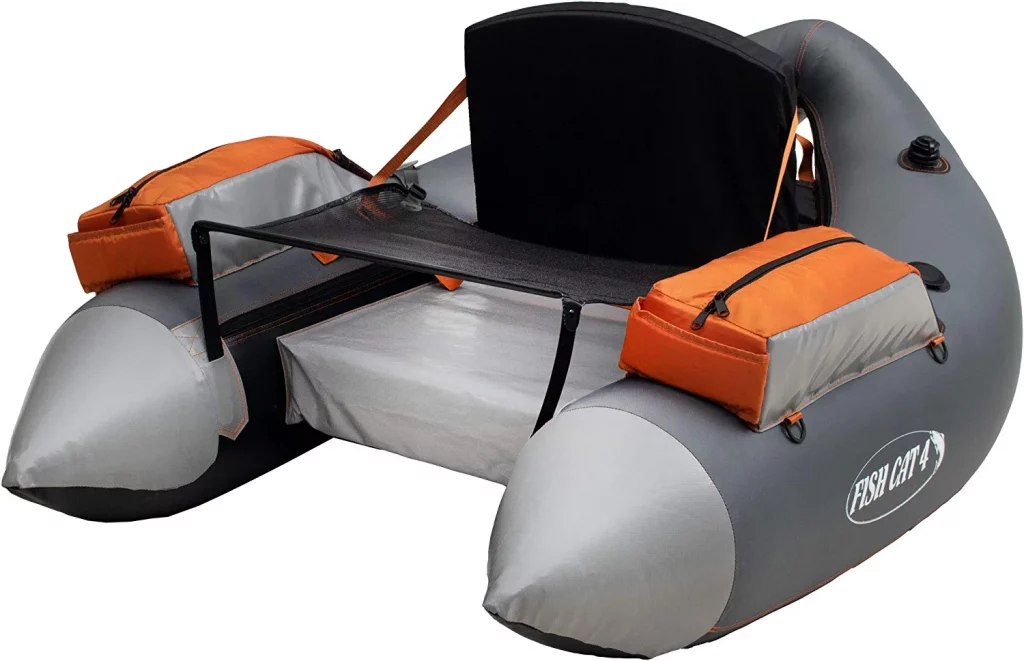 The high seat position of the Outcast Fish Cat 4 LCS Belly Boot allows you to sit comfortably above the water, making it easier to cast from an elevated position. The abrasion resistance and sturdiness of the PVC bottom are both excellent.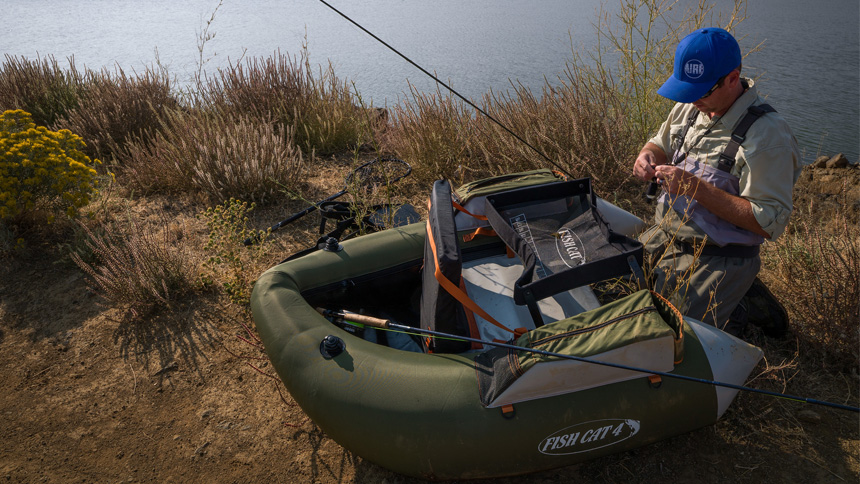 The Outcast Fish Cat 4 LCS Belly Boot, which has a maximum weight capacity of 250 pounds, is not the best option for particularly large individuals. It has a weight of 15 pounds, which makes it manageable to transport to distant water bodies such as lakes or ponds.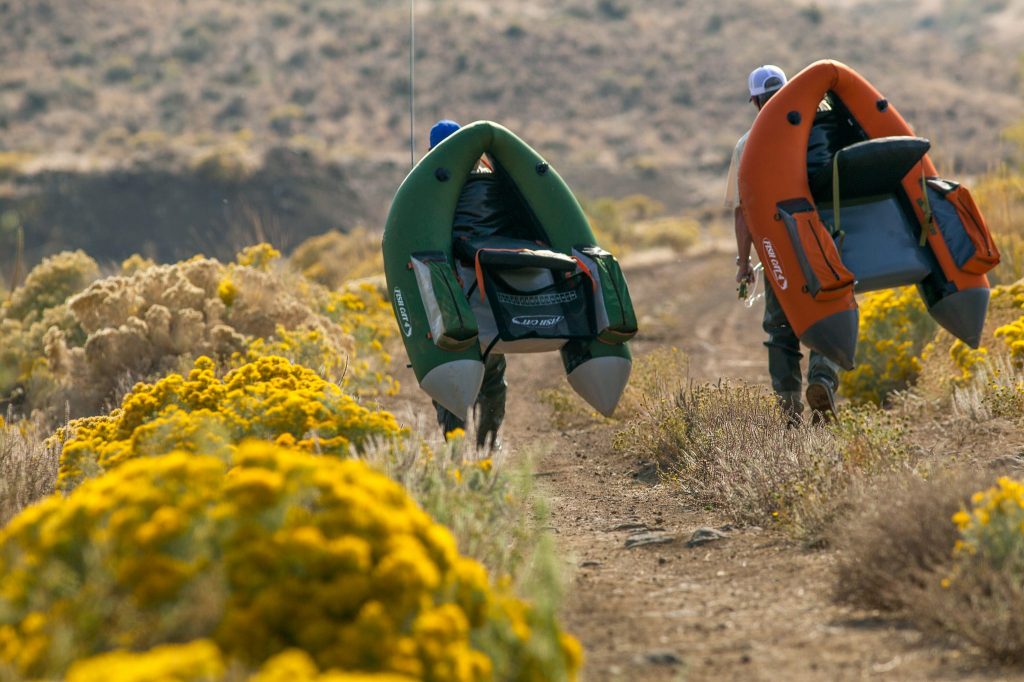 Key Features
Weighs in at 15lbs
One-year limited warranty
Max weight capacity: 250lbs
The outer shell is made with a combination of pack cloth and PVC.
Ideal for anglers who spend 25 days or less on the water per year.
Pros
The high backrest provides comfort and back support.
Durable PVC bottom
The stripping apron is height adjustable
Cons
Relatively low max weight capacity of 250lbs
No integrated ruler
---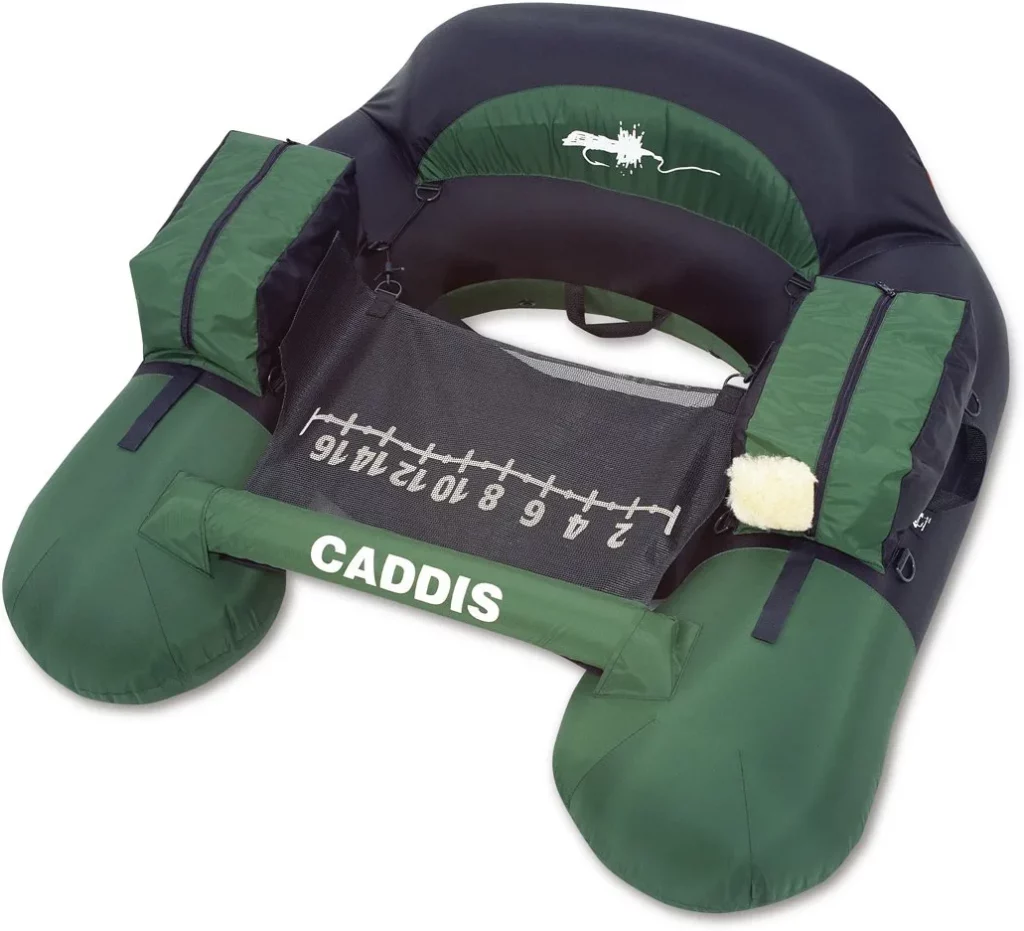 The Caddis Nevada Float Tube's U-shaped design enhances its stability and maneuverability. The is not as well-suited for kick-propulsion as some of the more thoughtfully designed hulls, but it will get you anywhere on the water without difficulty.
This Caddis float tube has extra-large storage compartments for your equipment, a fly patch for storing flies, and a measurement guide so you can determine the size of your catch.
The working and stripping apron provides a convenient location for stripping flies, while the ripstop material is constructed to withstand any fishing excursion.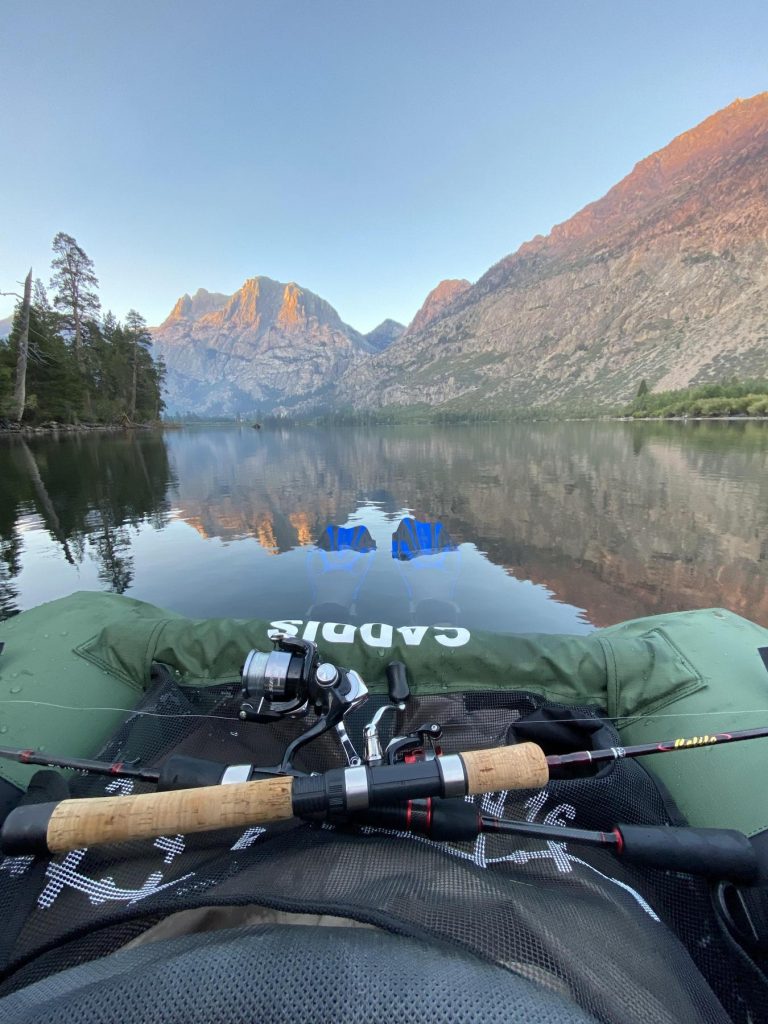 The Nevada float tube has double-stitched seams and a custom vinyl main bladder for increased durability. Caddis Nevada Float Tube allows you to float to your next fishing spot.
The only real drawback of this float tube is the seating and lower weight capacity of 225 pounds. It may be difficult for heavier anglers to keep this vessel afloat, and shorter fishermen may find the seating position too low to cast comfortably.
This float tube option will serve you well if you're not particularly tall or heavy. It is inexpensive and has a nice layout for the appropriate body type. Caddis once again offers a product with excellent value.
Key Features
Dry fly patch
Front rod holder
Multiple D-rings
Padded stabilizer bar
Storage/carrying handles
Fluorescent safety accents
Heavy-duty ripstop material
Working and stripping apron
Two main equipment pockets
Custom, vinyl, U-shape main bladder
Custom oversized seat with backrest bladder
Double-stitched on critical seams for durability
Pros
Rigid rip-stop construction with Cordura bottom and ends
Vast storage compartments
Nicely designed stripping apron for fly fishermen
D-rings for external gear attachment
Cons
Seating might be a bit low for shorter anglers.
225-pound weight capacity is not very impressive
Side storage might be cumbersome for some casters, especially considering the lower seating.
---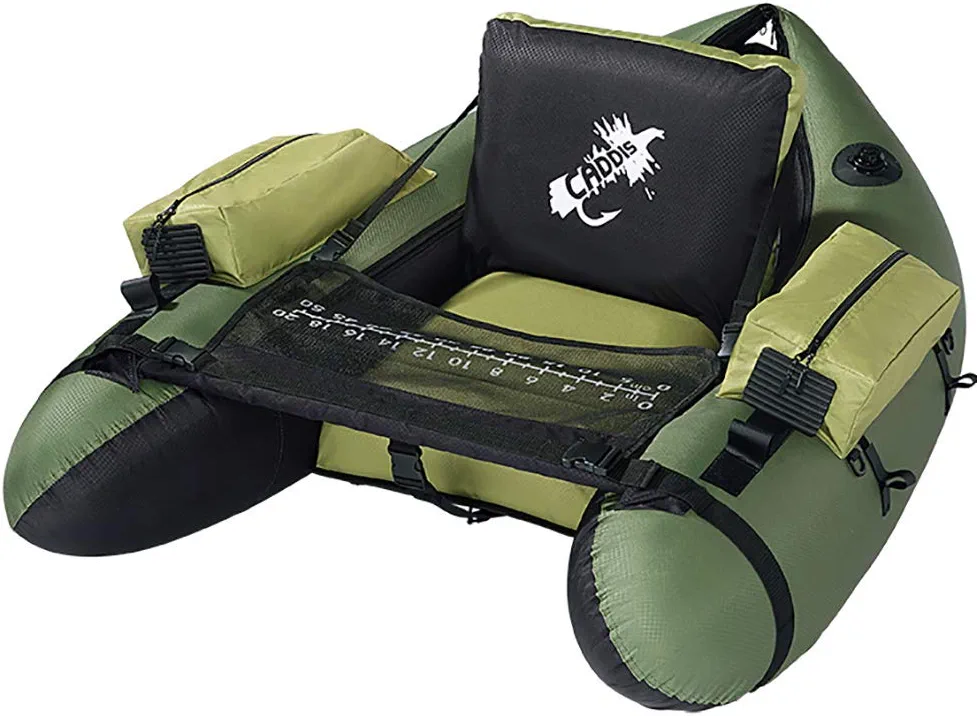 The Caddis Pro 3000 Float Tube is the realization of every angler's dream, capable of doing everything from sneaking through backwater slews in search of monster bass to cruising the edges of pristine lakes for trout.
The Pro 3000 is a one-of-a-kind float tube that is part of the Caddis product line. It allows for simple entry and exit. Its teardrop shape has a one-of-a-kind design specifically developed to improve performance and tracks exceptionally well. The ultra-tough cross-stitched material is unique to Caddis, and the durable bottom protects against punctures and wear.
Additionally, the Pro 3000 comes with a brand-new and improved inflatable seat and backrest, which enables the user to sit high in the tube for improved visibility and a greater range of motion when casting. The Pro 3000 is the best option for serious anglers and comes equipped with may things an angler could need, including a stripping apron, equipment pockets, and a dry fly patch.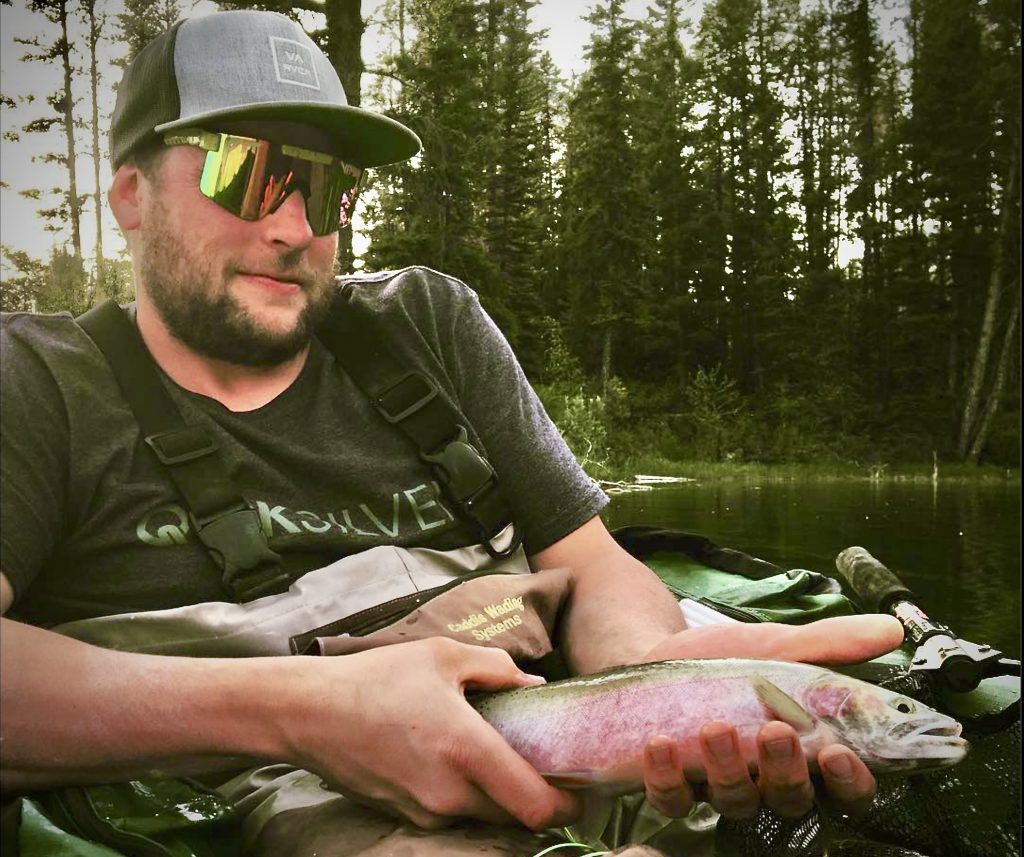 The previous model's inflatable seat and backrest have both been completely upgraded to provide you with relief from back fatigue. In addition, the new model allows you to sit higher, improving your visibility of large fish moving through shallow water and giving you increased cast mobility. The stripping apron allows you to measure your catch up to 20 inches, while the integrated stabilizer bar keeps the inflatable fishing craft stable on the water.
Thanks to the two large main and auxiliary pockets, you can keep everything you need close at hand. The removable fly patches offer additional convenience for fly anglers. There is built-in storage space for cargo behind the Caddis Pro 3000 Float Tube seat.
Key Features
Tear-drop design is easy entry and exit.
Cross-stitched construction with Cordura nylon bottom
Double-stitched critical seams for extra durability
An inflatable seat lets you sit high for visibility.
Backrest fights fatigue
Stabilizer bar with a lap apron
Two large gear pockets and two auxiliary pockets
Integrated cargo storage behind the seat
Removable fly patches
Boston valves for easy inflation/deflation
Pros
Comfort and stability.
Lots of storage.
It packs up small
Easy to inflate.
Easy to maneuver in open water with winds and waves.
Cons
A little water gets in the seat but not much.
The bladders are not pre-installed and require installation and alignment, which can take some time.
Air and bladders and not as robust as expected by some users.
The straps for carrying the tube on your back are long and not ideal for a short person.
---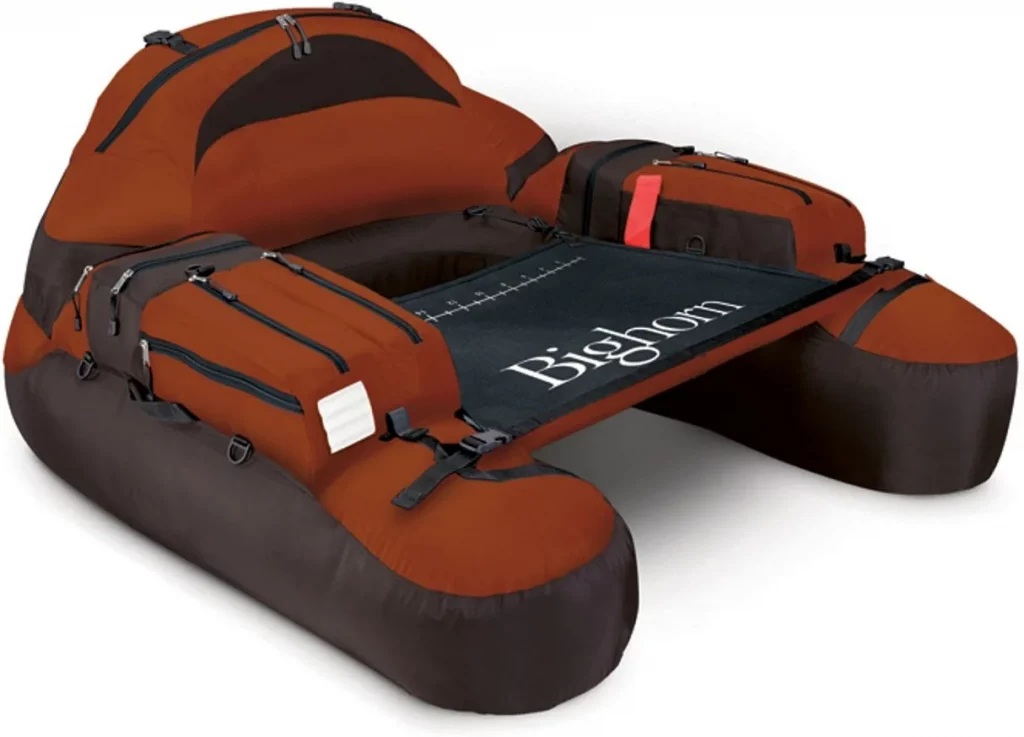 The Classic Accessories Bighorn Inflatable Float Tube is an extra-large, front-entry inflatable with various unique features that provide the comfort and convenience to fish all day.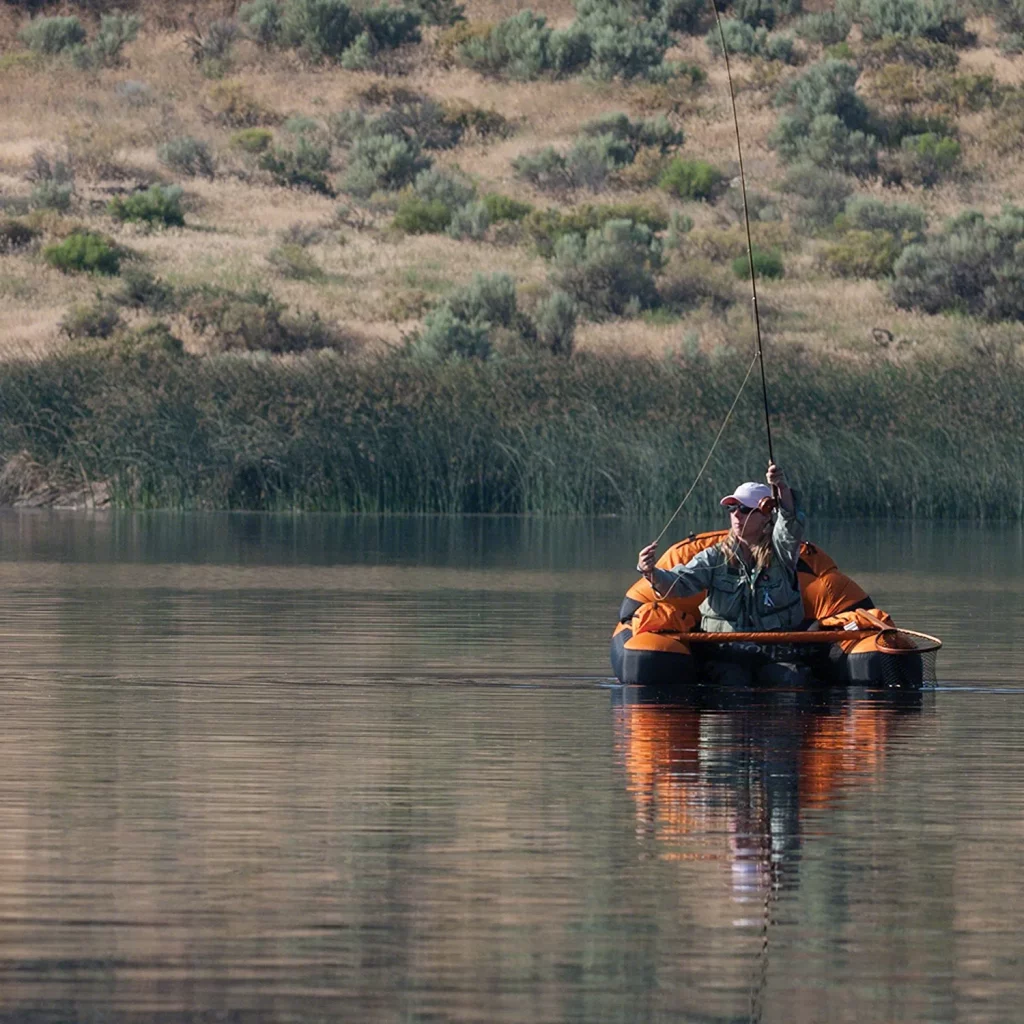 The backrest on the Bighorn fishing float tube is extra-large and comfortable. Constructed with a combination of high-quality materials and synthetic fabric the hydrodynamic hull shape is durable. The distinctive sculpted design also improve its maneuverability on the water.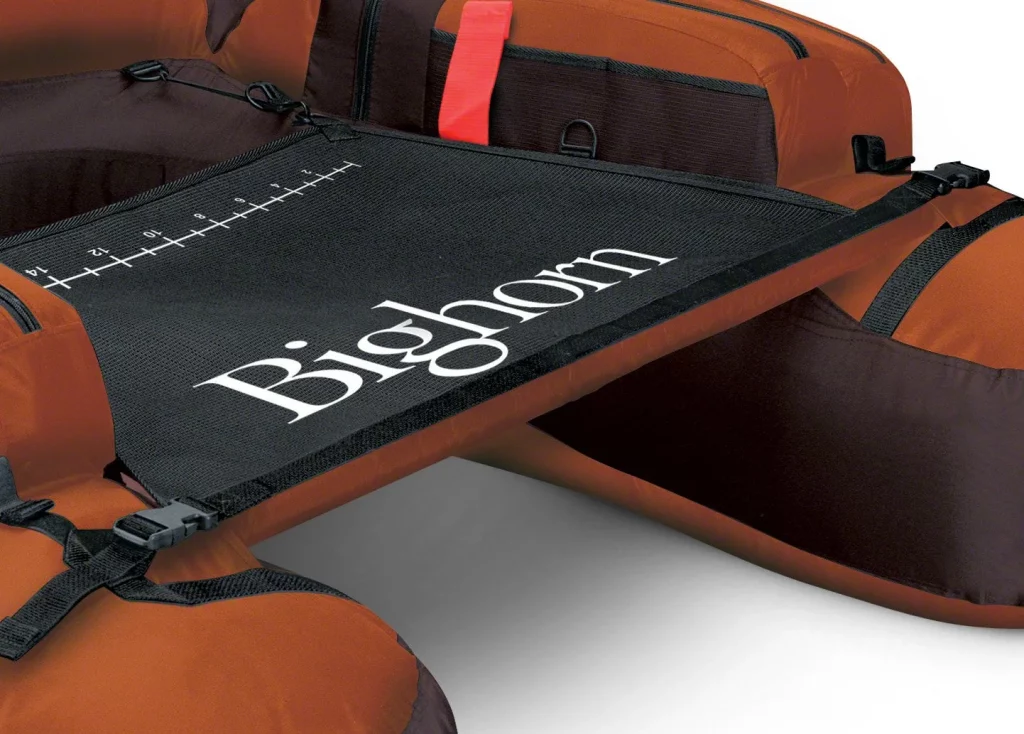 The stripping apron with a fish ruler makes it simple to estimate the size of your catch, while the horizontal rod holder facilitates fishing setup. The Bighorn float tube has dimensions of approximately 54 x 50 x 27 inches (LxWxH) and weighs only 11 pounds. The Classic Accessories Bighorn fishing float tube has a total weight capacity of 300 pounds, including equipment and passengers.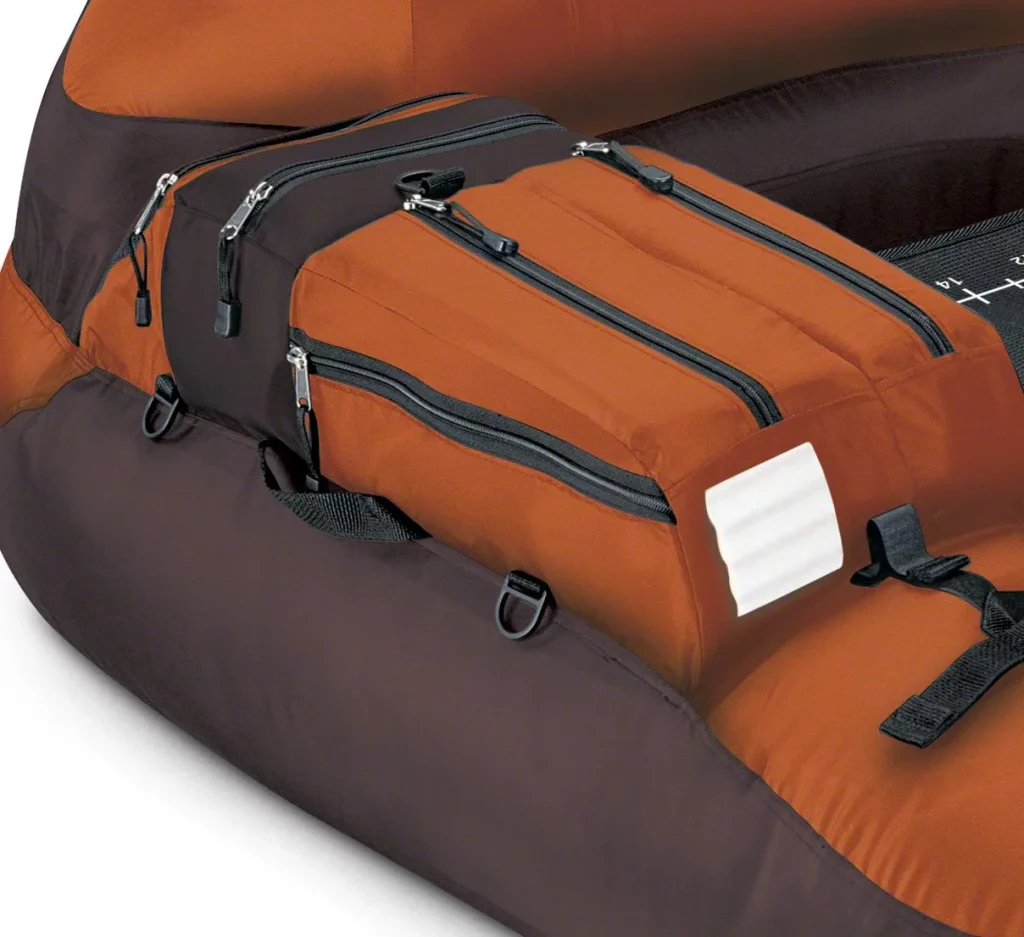 Two armrest compartments with more than three distinct zippered dividers accommodate your storage needs. Additional space is provided by rear storage and exterior mesh pockets. This vessel's D-rings are used to attach additional gear or creel bags.
Key Features
Extra large backrest for all-day comfort
Enhanced tracking and steering with a hydrodynamic hull shape
Unique sculpted design
Stripping apron with fish ruler
Horizontal rod holder
Ample armrest storage, including additional reel, gear, small mesh, and flat zip pockets
Rear storage and exterior mesh storage pocket
Attach gear and creel bags with the D-rings
Quick-release stripping apron
Safety flag pocket
Orange rear visibility panel
Assembled size: 54" x 50" x 27"
1-year warranty
Pros
Great for larger people.
Big and comfy, with no problem staying on the seat.
Durable for the price.
Cons
Lacks a tube is a strap from the seat to the front crossbar or frame, making it difficult to stay in for some.
Not ideal for medium to small people.
---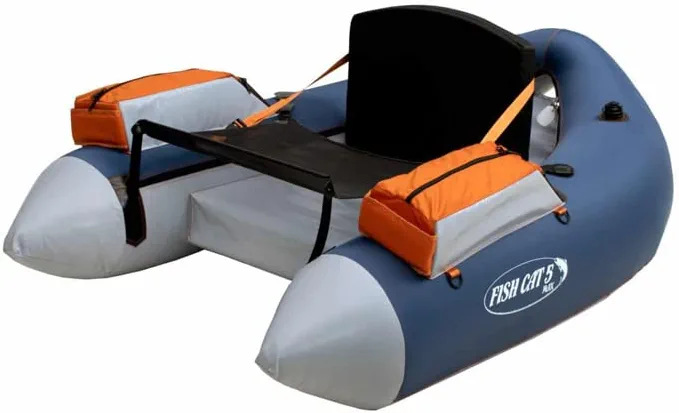 The Outcast Fish Cat 5 Max is 20% larger than its predecessors and is designed for larger and taller anglers. This Fish Cat float tube makes fishing a lot more fun and easy for bigger anglers by giving them more space to sit inside, a broader and longer footprint (by 3 inches and 10 inches, respectively), and a load capacity of 300 pounds. The foam seat and backrest are comfortable.
There are plenty of storage spaces to keep your gear organized and built with two 12.5″ diameter vinyl air cells, Boston valves, and a tough 1,000-denier PVC fabric for long-term dependability. Measures 64″L x 47″W when inflated. 15.5-pound weight. The allowable Maximum Weight is 300 Pounds.
Key Features
Inflatable Seat: Not only will the OSG Super Fat Cat's inflatable seat keep you up and out of the water, it packs down tighter than foam seats for storage.
U-boat Design: The OSG Super Fat Cat sports a classic Outcast U-boat design that makes it one of the most efficient float tubes on the water.
Length: 64in
Width: 45in
Weight: 13 lbs
Valve Type: Summit II
Number of Chambers: 3
Load Capacity: 300 lbs
Pros
Foam seat and backrest for an enjoyable day out on the water
Plenty for big and tall anglers and their gear.
A new inflatable seat lets you pack it down tighter.
U-boat shape tube will keep you up and out of the water.
Cons
Too big for medium or smaller anglers.
---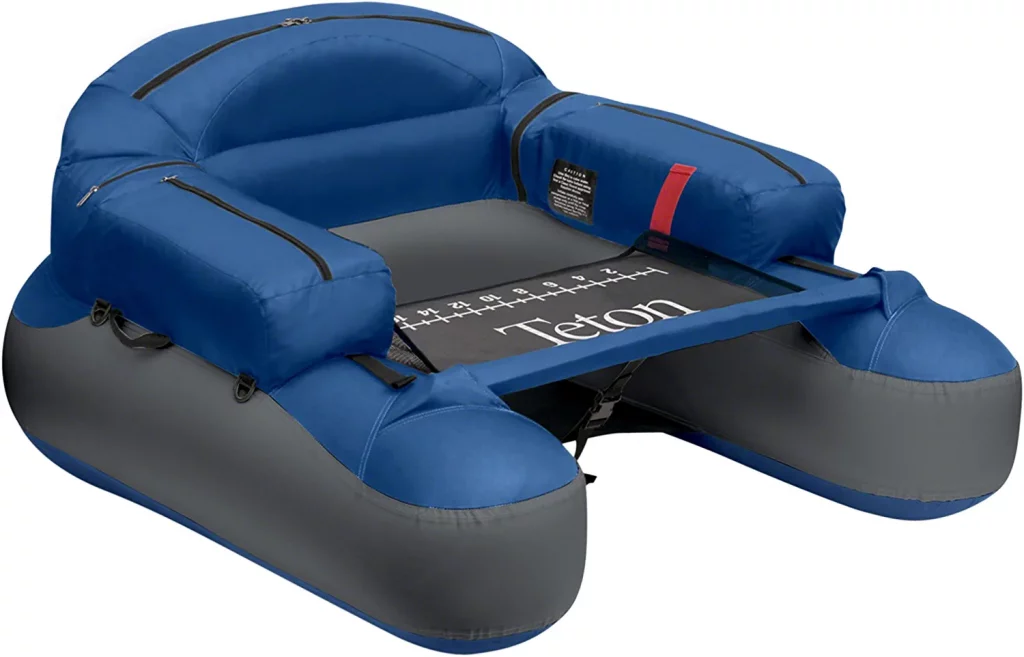 The Teton is about 4.5 feet long and 4 feet wide, making it almost the same size as its more expensive sibling, the Cumberland. The Teton weighs 16 pounds and can easily hold up to 250 pounds. There are two backpack straps, so you can carry it on your back while it's inflated, making it relatively easy to transport to and from the water. Its shape makes it easier to steer and move the tube through the water. It also helps it go in the right direction.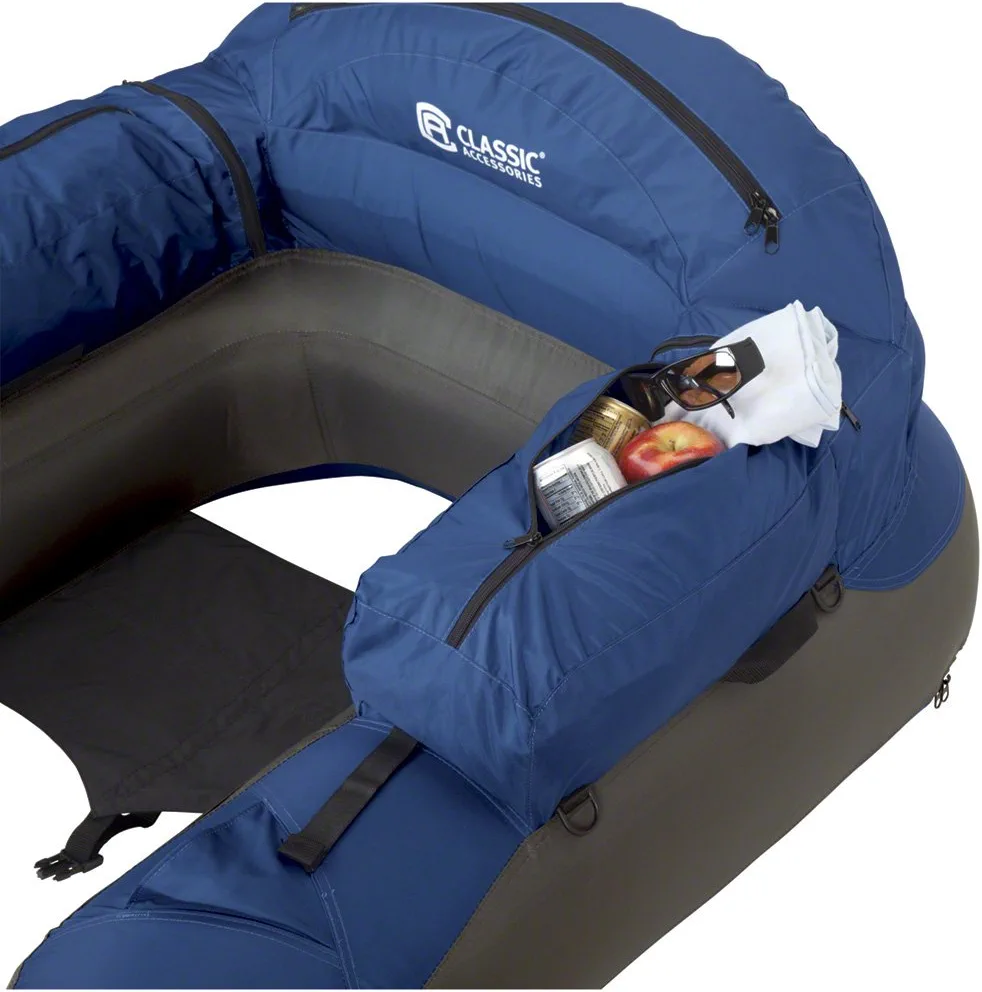 Because of the way it is shaped, the deck is clean and easy to use, making fishing as easy as possible. There are three places to put things: two on each armrest and one big pocket behind the back seat. There are many pockets in the two storage areas in the armrests so that you can put all your fishing gear and gadgets there. You can also store fishing gear in the backrest, but there are no pockets.
Even though the seat is not padded and is instead made of mesh fabric, the Teton float tube is surprisingly comfortable. The seat is lower than on other models, so you'll be in the water from the waist down (it all depends on how much you weigh, heavier people will be submerged more than lighter people).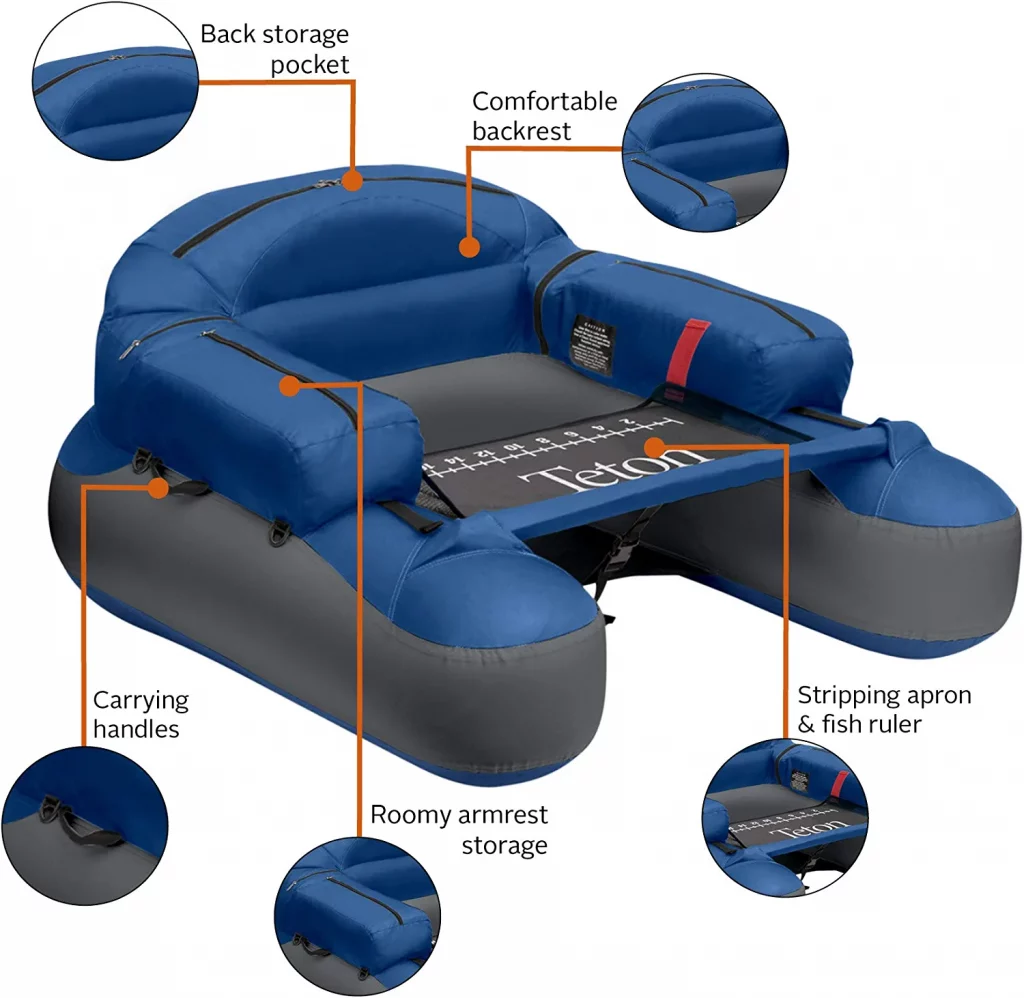 Key Features
Teton assembled size: 42.5″L x 40″W x 18.5″H, Weight: 8.5 lbs. 250-pound capacity
Hydrodynamic hull shape improves tracking and steering
One-year limited warranty
Comfortable backrest
Multiple compartment armrest pockets
Float tube
Comfortable backrest
Hydrodynamic hull shape for improved tracking and steering
Unique sculpted design
Pros
Excellent quality for the low price point.
Plenty of storage.
The backpack straps make transporting easy.
Cons
The bottom is not reinforced and is susceptible to punctures.
---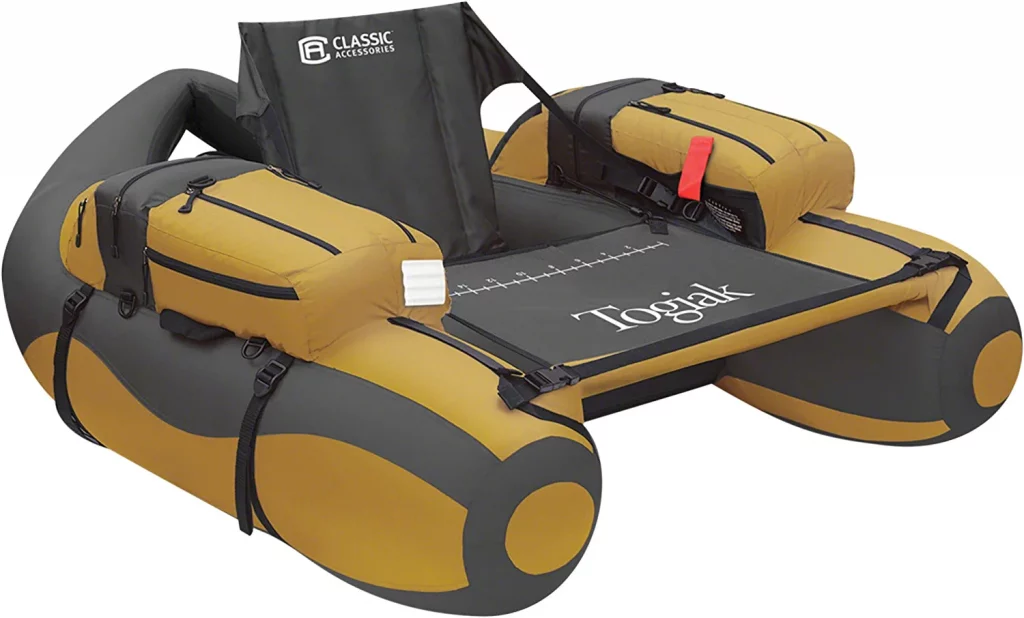 The Togiak is an outstanding float tube if you fish in small, calm places. You'll be comfortable, and you'll be able to fit everything you need for a day of fishing. The shape shouldn't make or break a deal. Just know that the higher-end models will be easier to steer and paddle to your desired location.
Get this if you like the idea of double seams. White River Fly Shop is known for having great products at a reasonable price, and this float tube is no different. It is one of the least expensive fishing float tubes on my list and has one of the largest storage capacities.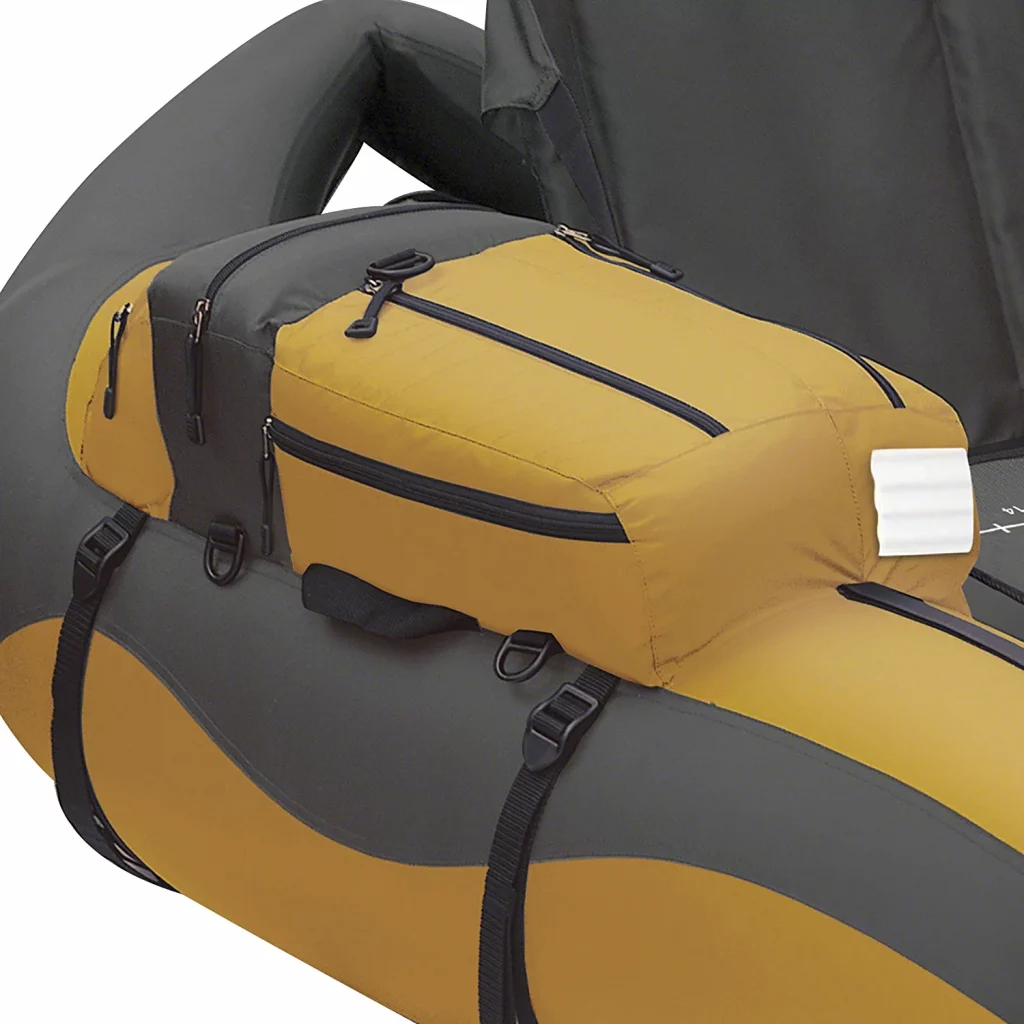 With four strong YKK zippered pockets, you'll have everything you need to fish. It is also easy to move because it only weighs 11.5 pounds. It would be great for slow-moving, still water. We would only look at something big with a strong current.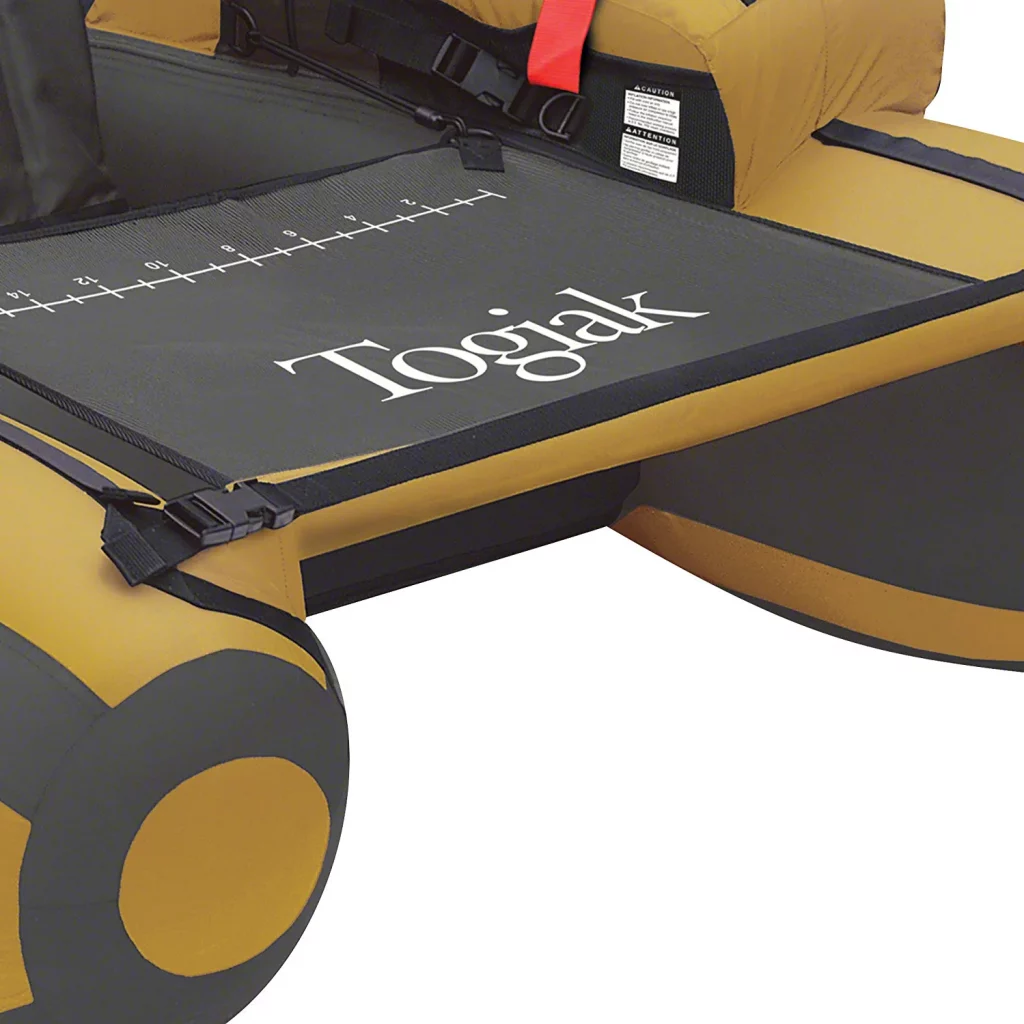 Putting the good things first, this is one of the most comfortable float tubes you can buy. The back is inflatable, but it has a strap system that lets it be adjusted so that it doesn't have to be "pumped up" to the max.
Key Features
Togiak assembled size: 55.25″L x 47″W x 19″H, Weight: 15 lbs; 300 pound capacity
Hydrodynamic hull shape improves stability, buoyancy, and tracking
A high back stadium seat with an adjustable backrest gives extra support and comfort.
Roomy armrest storage with additional reel pockets, gear pockets, small mesh pockets, and flat zip pockets
Pros
Good looking camo finish.
Strong zips with plenty of storage.
Amazingly comfy.
Cons
.Change the shape to make it more hydrodynamic, and it would be perfect.
---
Belly Boats – Alternative To Float Tubes For Fly Fishing
When you are fly fishing from a float tube, it can be challenging to get into a casting position that is both comfortable and effective for you. The following are some of our top selections for belly boats that provide a little bit more height and an additional casting area.
---
When fishing from a float tube, you can explore previously inaccessible areas. You'll be surprised at how much more versatile your fishing will be once you master this technique. Be sure you have the strength to carry all of your fishing gear before venturing out on your first trip of this kind to a remote pond or lake in your float tubes.
All the float tubes we considered for this review weighed between 14 and 20 pounds. At first glance, that may seem like little, but you also need to bring fins, fishing rods, reels, and other equipment. All of this can quickly add up to around 25-30 pounds. When going fishing, it's usually best to bring only the necessities.
You'll need time to adjust to fishing from a float tube/belly boat. Getting used to the float's motion will take practice, as with any novel experience. It takes some approach to cast from a position closer to the water's surface. As a bonus, you may end up with cleaner casts thanks to this method.
The time spent managing your line is likely to increase. Ensure your line is loose before casting, as when fishing from a boat or skiff. It's normal for your line to get tangled up occasionally, so try not to stress out about it.
---
Frequently Asked Questions
Float tubing isn't new, but anglers appear slow to adopt it. It is frequently due to uncertainty. Here are the most frequently asked questions about fishing float tubes, along with detailed answers.
Q: Are float tubes good for fly fishing?

Fly fishermen frequently use float tubes, an excellent choice for the clear, cool lakes filled with trout. They are not limited to fly fishing but are also ideal for pursuing largemouth bass in weedy bays and backwaters.
Q: Do you need waders for a float tube?

Although fly fishing waders are not legally required for float tube fishing, we strongly encourage anglers to use them. They are fantastic for protecting your legs from insects such as leeches, keeping them warm, and reducing the likelihood of scratches and bruises. For more info on fly fishing waders, check out or review the 10 Best Fly Fishing Waders and The Best Waders For Women
Q: How do you inflate a fishing float tube?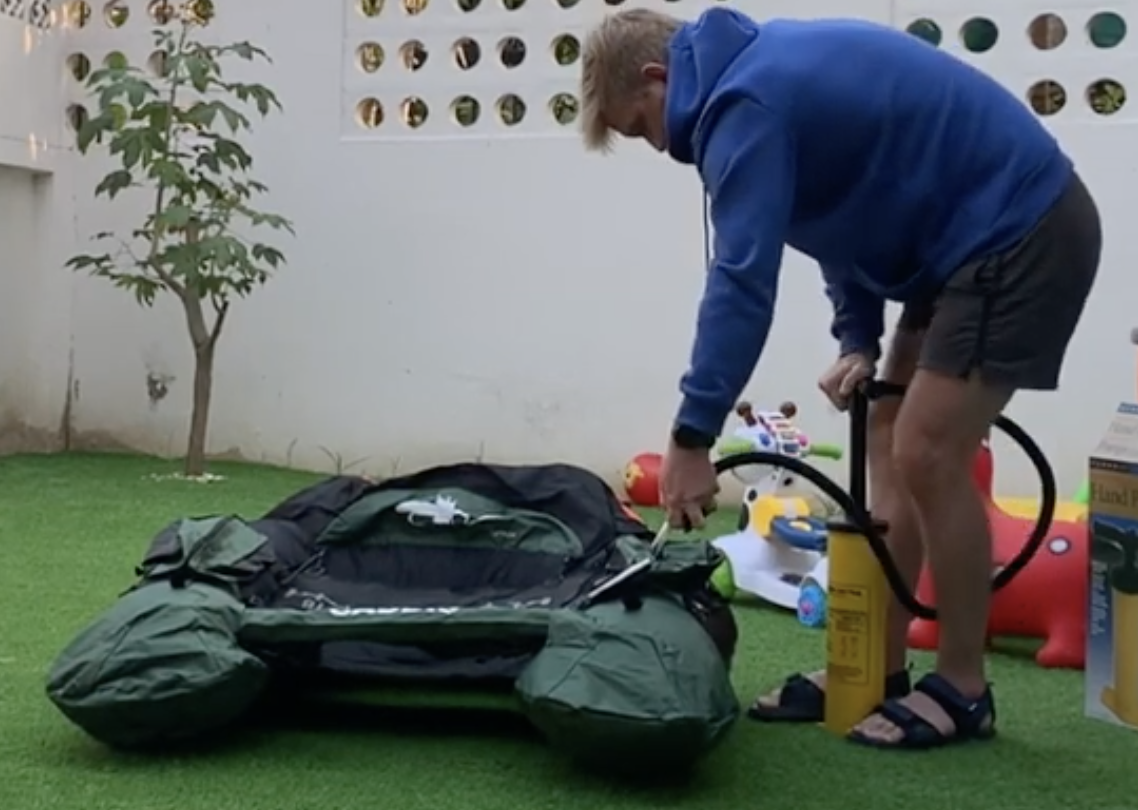 Generally, there are three ways to inflate a fishing float tube. In order of speed and practicality, consider the following:

Fastest Way
Use an electric float tube foot pump.

Most Practical Way
– Water Sports Foot Pump
– Water Sports Hand Pump

Last Resort
– Inflate the tub by blowing into it.

Electric pumps are great but can also be bulky, and you'll need a power source. The easiest and most practical way when fishing is to take a hand or foot pump. You can connect this pump to the inlet valve before inflating. What you lose in time, you'll save in weight and flexibility.
Q: What gear do you need to fly fish from a float tube?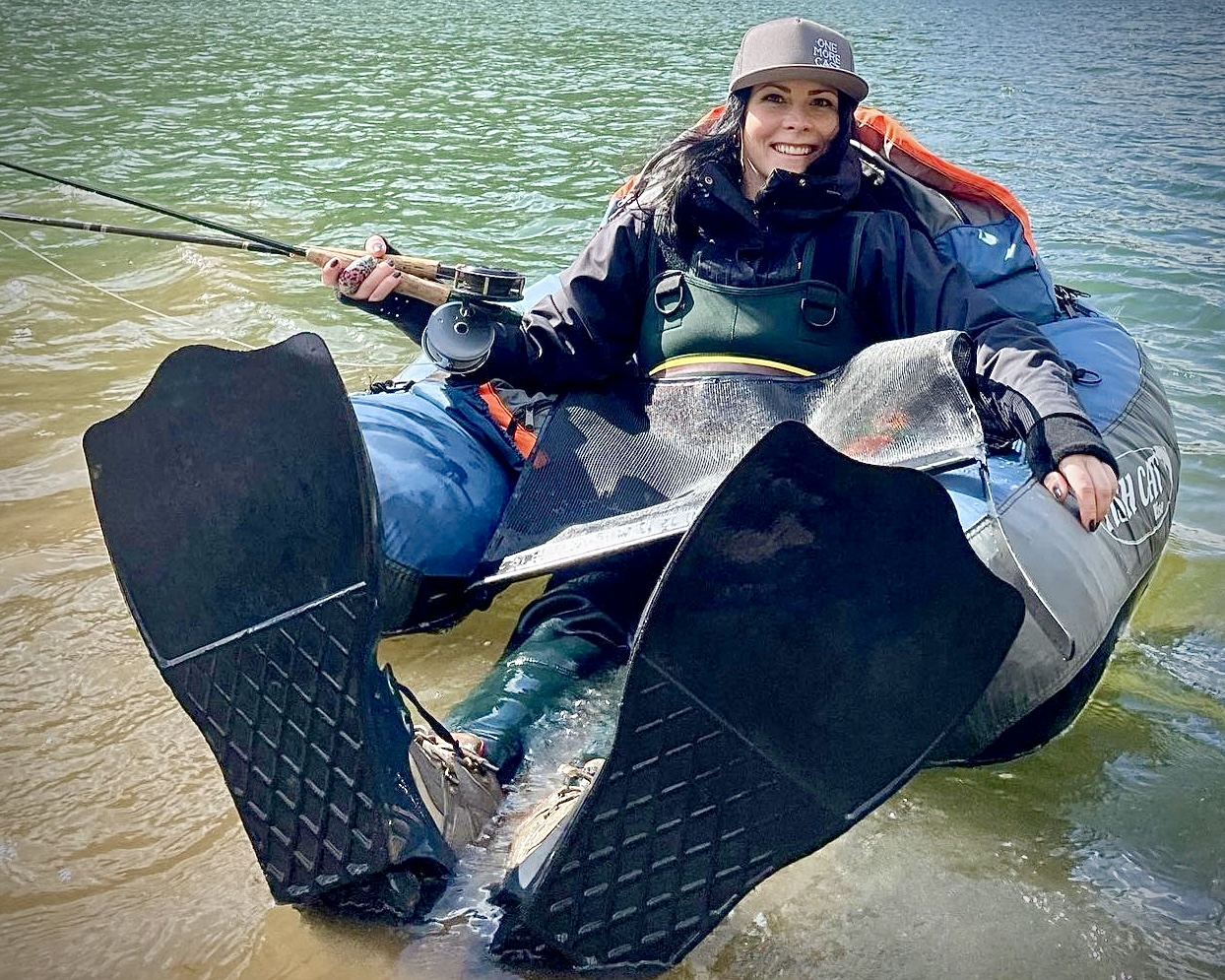 Nicole Lynn – Fraser Valley, BC

1. Personal Floatation Device (Life Jacket)

I put this first because safety should always come first. Not to mention that having a PFD on board is required by law. If you think this is a joke, ask the numerous coast guard officers who have stopped me in harbors to ask if I was wearing a PFD. It's no joke. Wear a PFD.

2. Float Tube
This will likely be your most enjoyable purchase!

3. Waders
There are several distinct types of waders. Your waders' sole purpose is to keep you dry and warm. Last week, the water temperature at Corona Lake was 51 degrees. Attempting to handle that while wearing swim trunks would not be enjoyable—insects such as leeches, keeping them warm and reducing the likelihood of scratches and bruises. For more info on fly fishing waders, check out or review the 10 Best Fly Fishing Waders and The Best Waders For Women.

4. Fins
Without float tube fins, even strong swimmers would have difficulty propelling these boats. A good pair of fins allows you to stay out when the wind picks up and avoid cramping your legs all day.
Q: How much weight can a float tube hold?

The fishing float tube has dimensions of 57.9 by 43.7 by 24 inches (LxWxH) when fully inflated and has a weight capacity of up to 325 pounds. While this is a general guideline, check the specific weight limit for your model.
Q: Are fly fishing float tubes safe?

Float tubes are safe if you follow a few simple rules. Good quality tubes are extremely difficult to puncture and do not fail quickly, giving you plenty of time to reach the shore. For maximum assurance, look for dual bladders.

Here are some float tube fishing safety tips:

1. Take a moment to get acclimated to your float tube before you attempt to start fishing. Find a shallow area where you can quickly get to shore or easily touch the bottom. Familiarize yourself with its controls and maneuverability using fins. Ensure everything is adjusted well, and lastly, practice accessing the storage compartments. 

2. When fishing from a float tube, you should avoid going into regions where the water's movement or depth will be too challenging. 

3. Don't use a float tube if it is broken or has a leak (no matter how small). If you do find a leak, take some time to patch it first before venturing out.

4. Before you leave, let someone know your fly fishing plans. Specifically, where you plan to go and roughly when you expect to be back. Send a quick text message to someone with your location if you expect to leave a service coverage area; it is easy and could save your life. If your budget allows, consider carrying a compact Two Way Radio or a Satellite Communicator.

5. Exercise extreme caution when working with sharp implements, like fishing scissors and knives, in the vicinity of your tube.

6. Always make sure you are wearing a life jacket. They can be cumbersome, but when you need one, you really need one.

7. Always have a fully charged phone in a sealed bag to protect it from the elements.

8. Go fishing with a companion whenever possible. Doing so will give you backup in emergencies, and having someone experienced with you can help speed up the learning process.

9. Make sure you are warmly dressed and have an extra layer of clothing to upgrade. The water can be rather chilly, even on days when the temperature is relatively high. Hypothermia can easily creep up on you, especially if you are distracted by the excitement of fishing.

10. If you don't know how to swim, take extra caution and possibly have a backup floatation device for emergencies.

Q: Are fishing float tubes heavy?

Float tubes are lightweight by their very nature. When empty, they weigh between five and ten pounds—about the average weight one would expect from a fishing bag. You can anticipate that your float tube and all its accessories will weigh between 15 and 20 pounds. If you want the best fishing experience, try to make your gear as light as possible.
Q: How do you steer a fishing float tube?

Paddling with your feet is how you control the direction of a float tube. The use of flippers is typically included in the purchase of float tubes. You are facing in the opposite direction from where you are traveling.
When you get to the spot where you want to fish, you can stop paddling and let the tube "drift" in the direction you want it to go, making only tiny adjustments as necessary.
Q: How do you store float tubes?

A tear or weakness that suddenly bursts at the worst possible time could cause problems. The optimal conditions for storing a float tube are at room temperature, with the tube slightly deflated and dried out.
Temperatures that are either extremely hot or extremely cold have the potential to degrade the rubber.

Similarly, if you let all the air out of your float tube over the winter, you can notice that the creases turn into cracks. It is best to roll up and store your float tube if you do not have sufficient space to leave it open and slightly deflated.
Give Us A Follow
Want to be the first to see our latest reviews? Give us a follow on social media.
Related Articles
---
Recent Articles
Review Archives
---