Top 10 Fly Fishing Rod & Reel Combos
A decent fly rod and reel combination is the most significant aspect of fly fishing equipment for newcomers. A proper fly fishing rod will make it easier for you to cast, learn, and catch fish, but a lousy rod may be so frustrating that you decide to stop fly fishing entirely. Finding the best rod and reel set for the money takes time and effort.
We don't advocate buying a cheap rod from a budget retailer or any cheap knockoffs. Instead, we offer a few low-cost fly rod and reel combination sets that are ideal for newcomers and will last for several years. These rod/reel combos combine excellence with minimal investment, allowing you to learn how to fly fish without breaking the bank.
For novices, any fly rod and reel combos listed in this review are well worth the price, and they all make fantastic fly fishing gifts. We used to fish a 9-foot, 6-weight Sage fly rod before we began testing and evaluating rods and reels. The 6-weight worked well for longer casts in deeper water. To balance the 6-weight, I also brought a 7.5-foot 3-weight Cabela's combo for smaller creeks or uneasy trout. We now test and utilize all-purpose 9-foot, 5-weight fly rods for trout fishing.
If you want to learn more about the best fly fishing reels for all skill levels, browse our Top Fly Fishing Reel Review, or our Top 10 Fly Fishing Rod & Reel Combos, where we cover everything you need to know about Fly fishing reels.
---
How to Pick the Best Fly Fishing Combo
Most dedicated fly fishers own many fly rods, yet they all began with only one fly rod and reel. The key to selecting the greatest fly fishing rod and reel combo is to select the appropriate size fly rod and reel for the type of fishing you want to perform most frequently. (Additional rods can easily be added later!)
The ideal fly rod and reel combo for trout is generally a 9-foot-5-weight fly rod with a floating fly line that is weighted forward — which is what most combos come with. A 9-foot-5-weight fly fishing rod and reel combo is the most adaptable size for trout, and it's the fly rod size I suggest most for novices. If you want to fish smaller streams or panfish, you may downsize to an 8'6′′ 4-weight combination. A 9-foot 6-weight is also a handy alternative for larger rivers and larger trout.
A 9-foot 8-weight fly rod and reel combo are ideal for larger species, such as steelhead, salmon, and certain saltwater fish like bass. Of course, there are many different types of specialty fly rods, such as euro or tactical nymphing rods, but I recommend that most fly fishing novices begin with basic fly rods and reel setups.
Choose the perfect fly fishing gear for your budget once you've determined the fly rod size you need.
---
Best Beginner Fly Fishing Rod and Reel Combos
These fly fishing rod and reel sets are excellent performers geared for novices. They feature medium-fast actions that cast well at short and medium-long distances and feel terrific for a wide range of casting talents. Most combinations in 2022 include fly line, which helps you save money. I propose a great starting level combination at an affordable price for most beginner fly fishers on a budget. If you have extra money, you might consider upgrading and/or purchasing additional fly fishing equipment, such as waders and/or wading boots.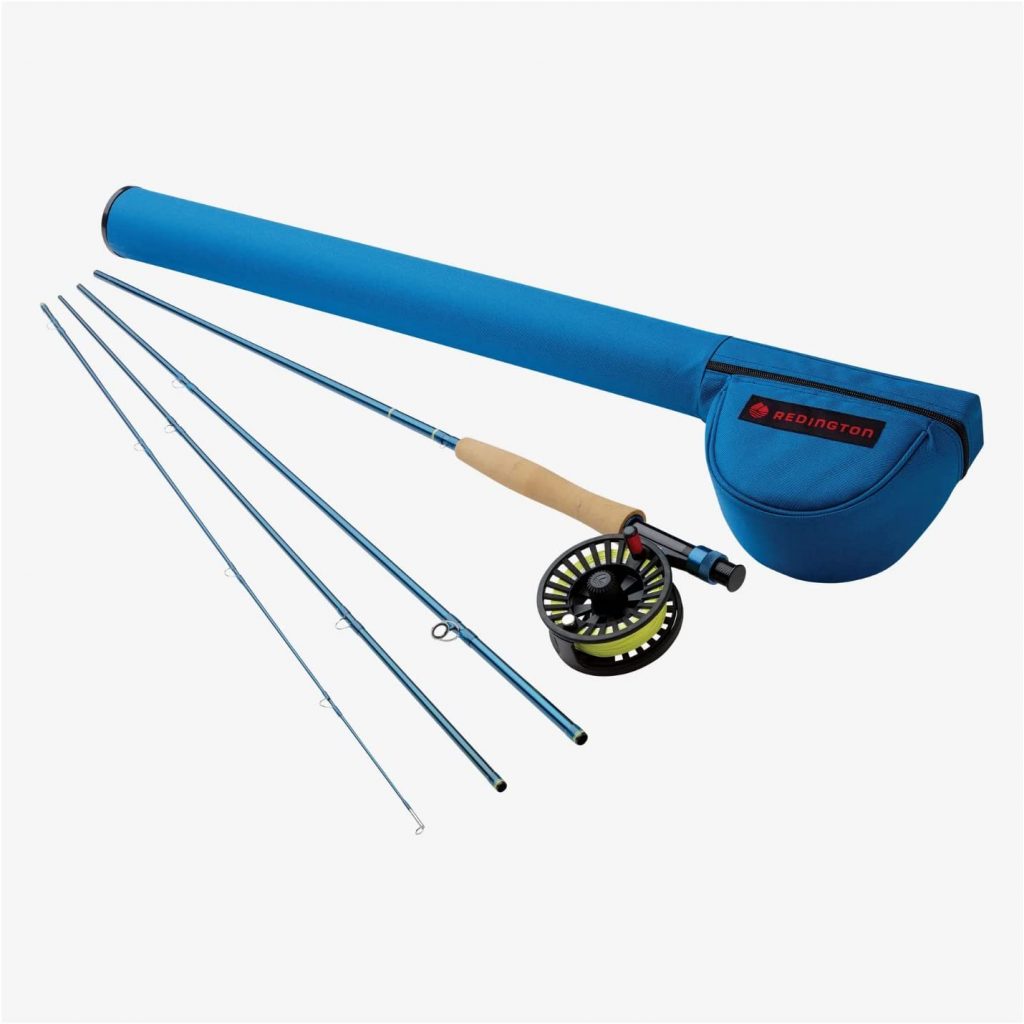 This popular entry-level rod gets a good upgrade with the Redington Crosswater reel. Redington offers various additional combos, but the Redington Crosswater Outfit has the best price-to-value ratio. For years, it's been a wonderful casting rod for novices, and we love the vivid blue rod. We particularly like the supplied rod/reel case, which makes storing and packing for fishing vacations easier.
The Echo Lift Kit replaces the Echo Base Fly Rod Kit, which was previously one of our top fly outfit options. Echo is a small firm, but its rod design is supervised by Tim Rajeff, a famous fly-casting champion. Echo's rods are known for their accuracy and feel – they're incredibly castable — and the new Lift rod features an upgraded medium fast action. The bundled fly reel is still the Echo Base, which is remarkably smooth considering its low price. Overall, the price-to-value ratios in this area are still outstanding. We're also great lovers of the supplied rod-reel case, as you may have guessed.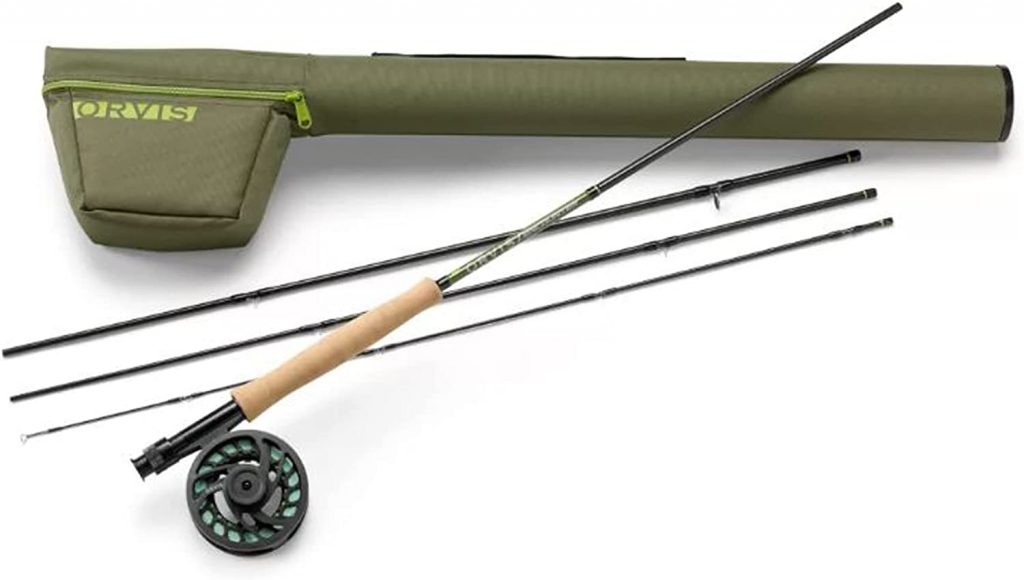 The Orvis Encounter 4-Piece fishing combo is a long-standing Orvis entry-level favorite. At this price, you can't go wrong with the quality. The combination gives serious fishermen performance. It does everything you need it to do, and it does it quite well. It's the ideal fly fishing equipment for getting younger fishermen started.
---
Best Bang For Your Buck Fly Fishing Combos
These fly fishing combos are an excellent value for the price, will last years, and feel fabulous every time you use them. Many fly anglers will not need to upgrade from these setups. These fly-fishing combos are our top intermediate options if your budget permits.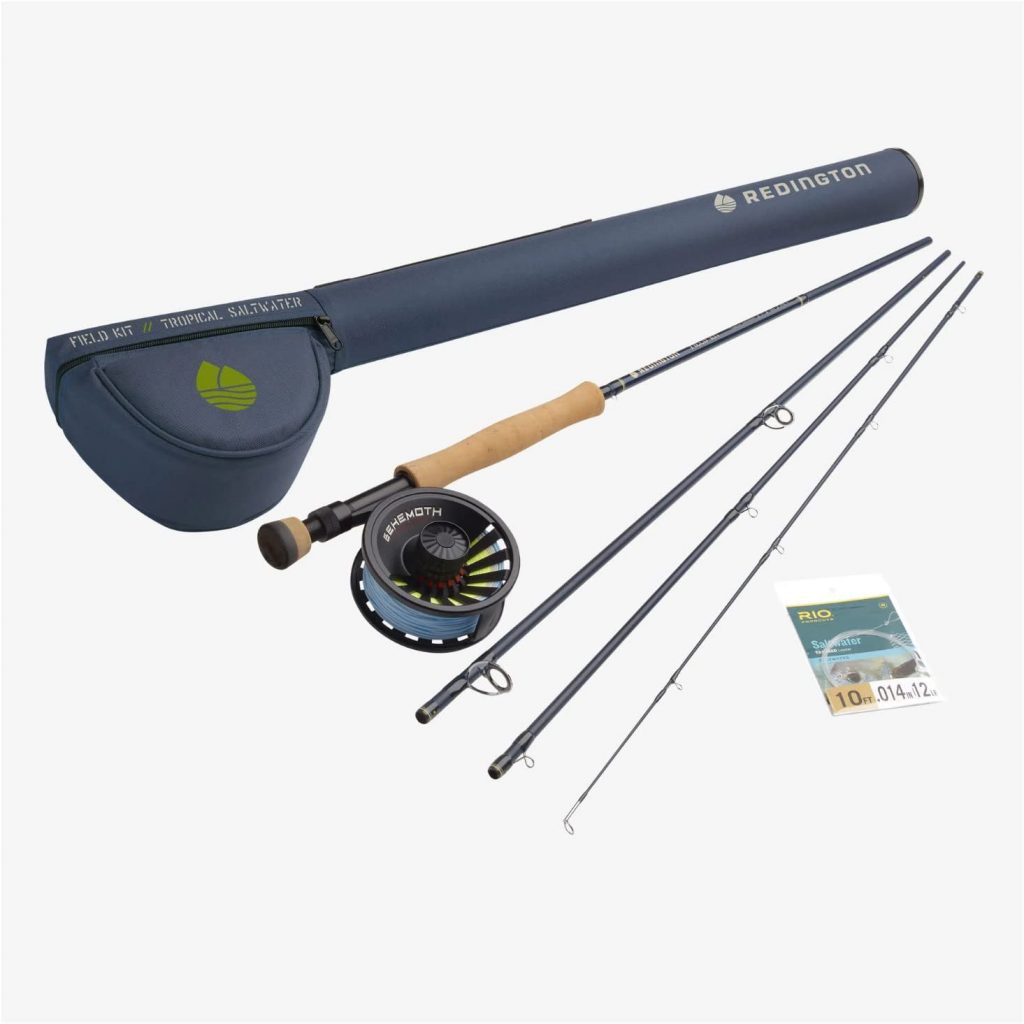 Redington has designed an outstanding new range of fly rod and reel combos for novices who want quality gear that is easy to pick. Redington's naming system for each field kit, which is based on the type of fish or water it is used for, is the biggest advantage.
For example, the Redington 'Trout' Field Kit includes a 9-foot, 5-weight rod and reel combo ideal for trout. The Salmon Field Kit increases your rod and reel combo to a 9-foot, 8-weight rig, while the Bass Field Kit reduces it to a flexible 7-weight setup.
Meanwhile, if you live near an ocean, Redington makes it simple: the Tropical Saltwater Field Kit matches Redington's strong Behemoth reel with a bonefish, redfish, permit, or snook stalking rod. The Coastal Coldwater Field Kit includes everything you need to go after stripers, albies, or bluefish. Redington even has a Euro Nymph Field Kit available.

Although Sage is most well-known for its premium fly rods, the company has also produced a mid-priced fly rod and reel set called the Foundation Outfit. Sage's "entry-level" spinning reel and rod combo is capable of landing fish far above its pricing range.
The Foundation Rod, in addition to having a gorgeous, stealthy, all-black look , is 100% American-made and provides the highest level of quality and performance possible in a fly fishing rod and reel set.
Choose the Sage Foundation Outfit if you value products made in the USA and have the resources to do so. Note on Model Compatibility for Online Shopping: If you have a 590-4, it's a 4-piece, 9-foot rod designed for 5-weight line, and a 690-4 is designed for 6-weight line, and so forth.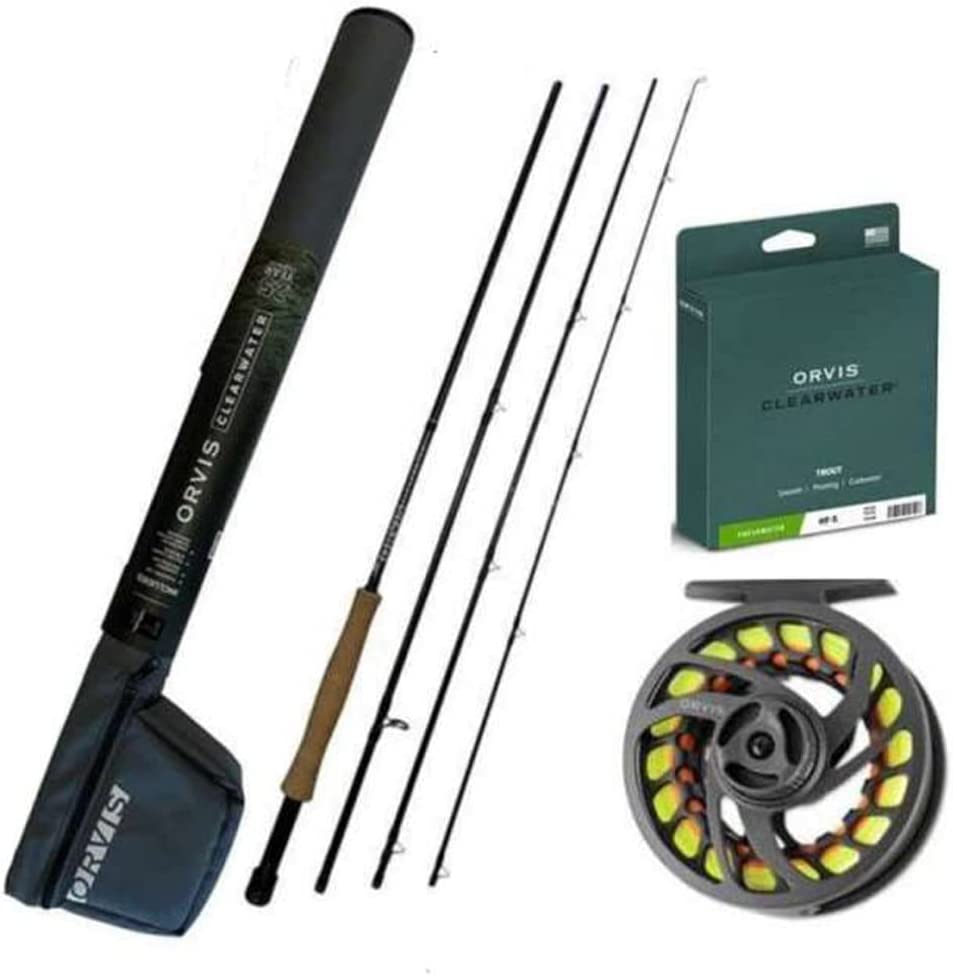 The current version of the Orvis Clearwater fly rod has a medium-fast action that works well for short and medium casts. Even better, the rod comes with a 25-year warranty and is priced well for how well it works.
The new Clearwater Large Arbor Fly Reel is excellent for the money—it looks incredible, feels great, and performs admirably. We prefer the newly built Clearwater reel over the rod.
In any case, we really love the Clearwater combo. Lastly, keep in mind that Orvis offers a broad choice of alternatives, including Clearwater Saltwater Rods.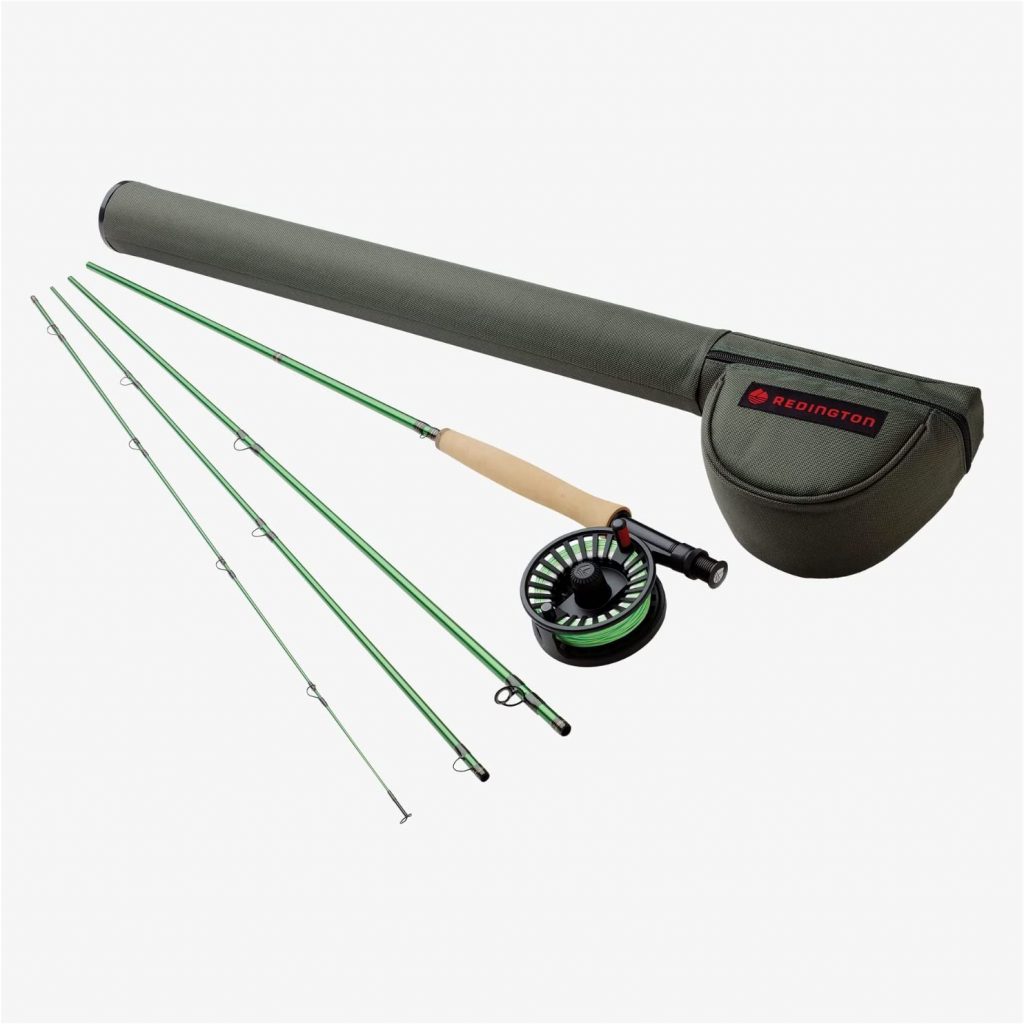 The Redington VICE Combo mixes a fast-action rod that casts far beyond its price range with a reliable reel. Redington made this new combination for experienced fly fishermen who wanted to upgrade from their entry-level systems in a cost-effective way.
The company succeeded—the VICE Combo provides the greatest performance value since the rod throws so effectively for the price.
Premium Rod and Reel Combos for Fly Fishing
The best rods and reels are seldom sold together as a set. For the most part, any rod costing $600 or more will perform well in the water for fly fishermen, thanks to the high level of competitiveness and quality in this market. However, only some novice fly fishermen can afford to spend so much.
The rod and reel combos below are of the best quality and performance and won't (completely) break the bank. While owning one of these combos definitely won't magically make you a better fly fisherman overnight. Still, they will help you go from intermediate to expert level if you spend time on the water.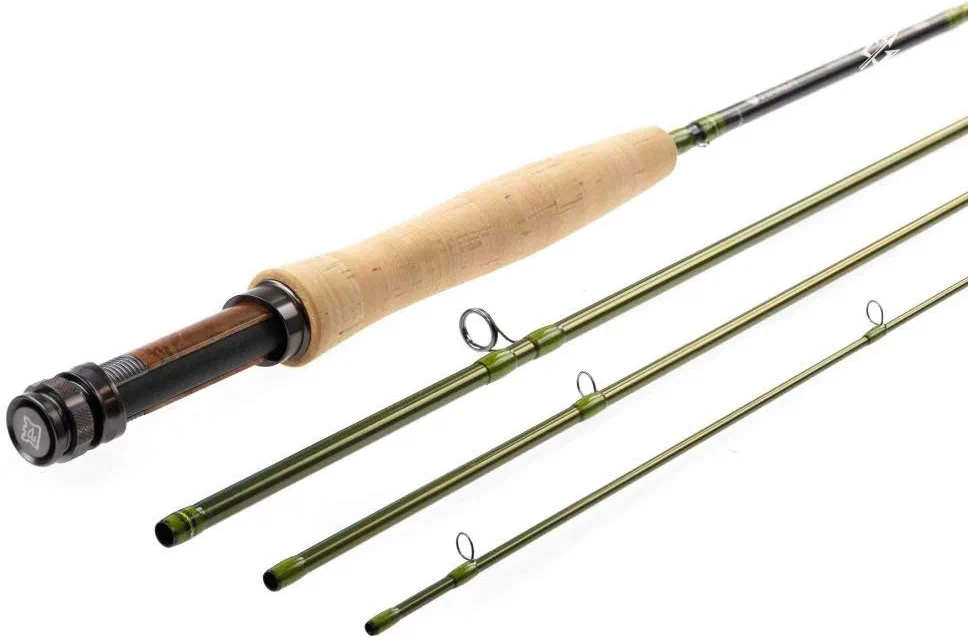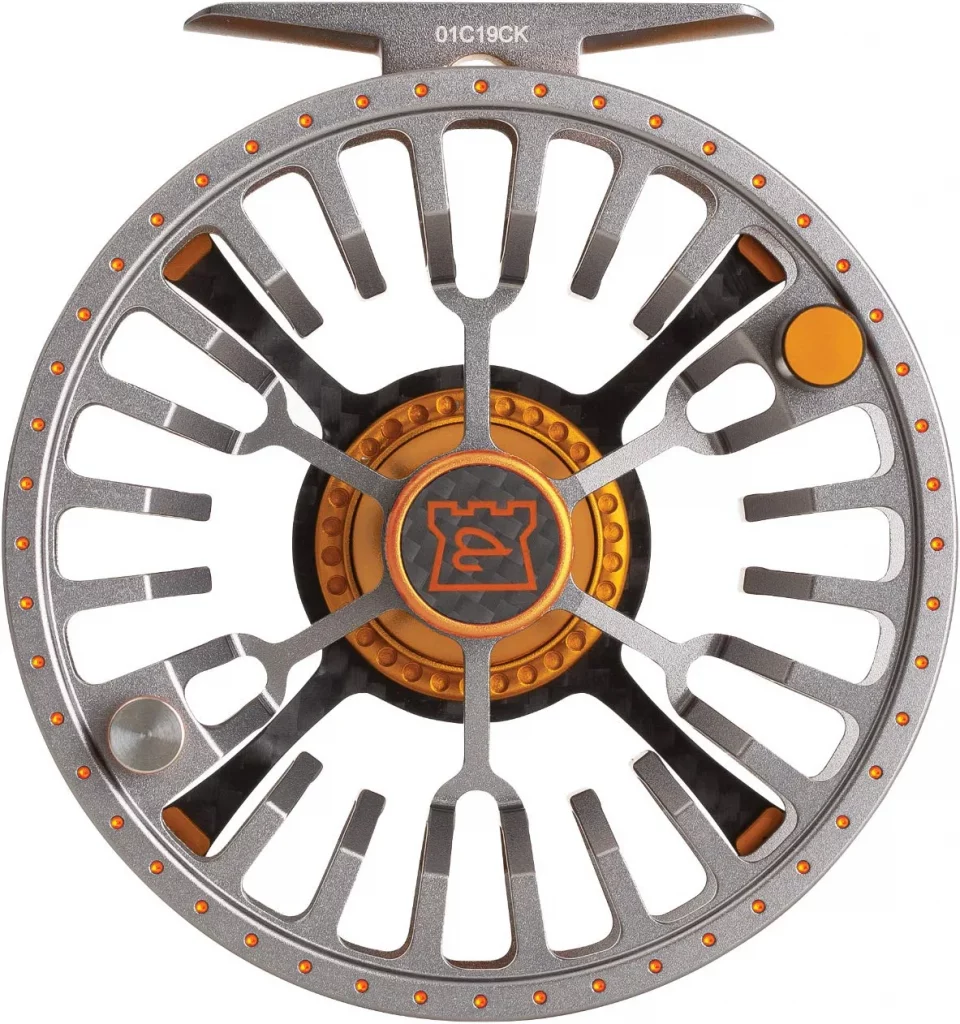 We've long admired the Hardy Zephrus rod line, which has been discontinued. The Zephrus FWS line of freshwater rods proved fantastic in many fishing conditions. We're sorry to see it leave, but the brand-new Hardy Ultralite Rods are unquestionably the best they've ever been.

Hardy has developed fly rods that are a "masterpiece of form and function," thanks to their innovative design, high-quality components, extensive testing, and years of R&D. This line, ranging from a short 3wt to a long 10′ 8wt, has the potential to be Hardy's most adaptable and popular to yet.
The HARDY Ultralite MTX-S Fly Fishing Reel is a revolutionary leap forward in the development of reel design. This is their first fly reel to include a hybrid carbon fiber/aluminum main frame design with a sealed disc drag mechanism. Ultralite MTX-S is our first fly reel. The MTX-S has a carbon fiber drag system, 340-degree color-coded regulator, captive spool release, and high line capacity, in addition to its strong and lightweight build and unique industrial style.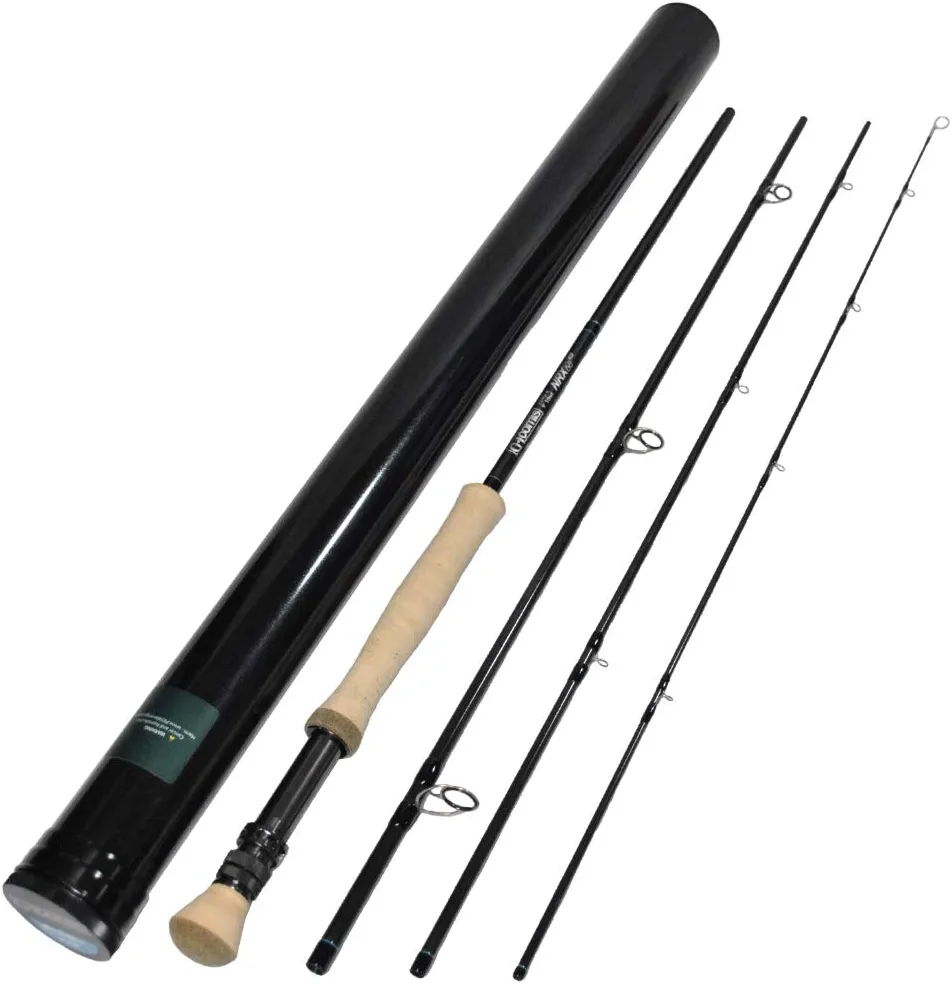 The G. Loomis original NRX Series is home to several of our all-time favorite rods from the company's extensive catalog. In addition, we are here to let you know that they have been upgraded to an even higher standard in the NRX+ Series.
These rods bring a whole new level of power and innovation to the sport of fly fishing by using the knowledge gained throughout the research and design process of the original NRX rods.
Loomis has incorporated a variety of cutting-edge technologies, such as Dynamic Recovery Technology and Mega Modulus+ graphite, into its products. We have put these rods through their paces on the water, and we are certain that they are superior to anything that has come before.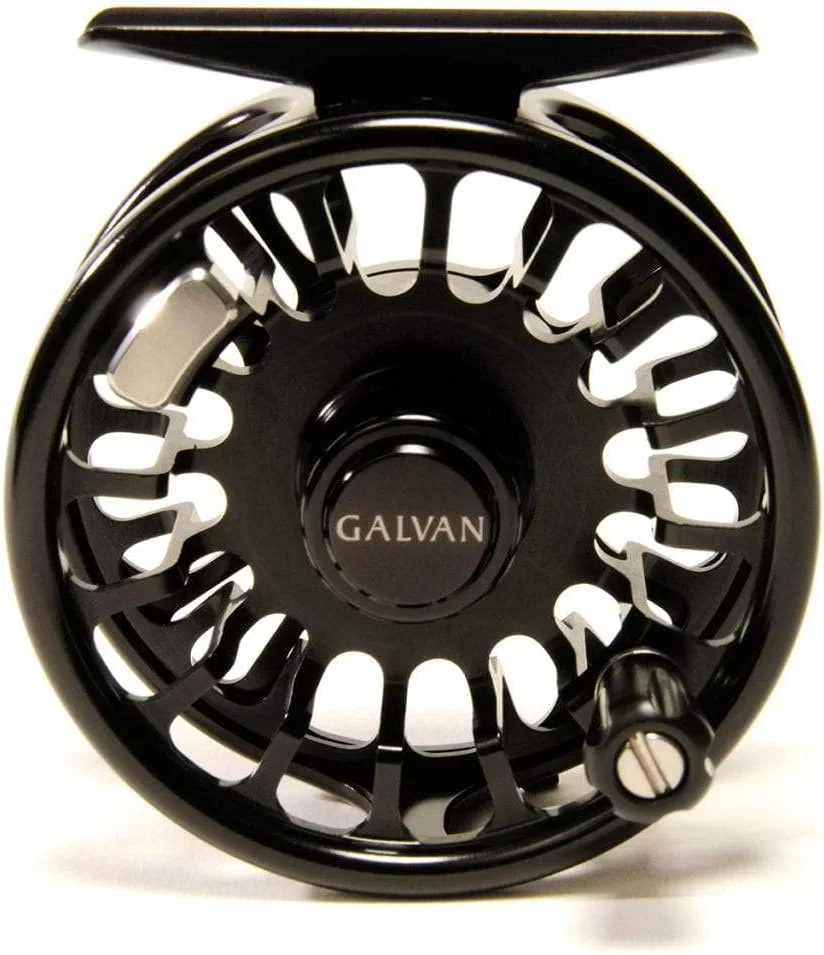 When it comes to Galvan fly fishing reels, the Torque is the workhorse. It's ideal for battling hard-pulling saltwater species thanks to the reliable Torque drag system's maintenance-free, nearly frictionless performance; it's also highly customizable, allowing you to set the exact resistance you need to protect your tippet when fishing with light gear for trout.
The big arbor design prevents the line from memorizing its coil shape when it is not in use and provides excellent line collection when the fish rushes directly at your feet. The Torque's generous porting makes it feel light, and the EZ Grip handle is perfect to grab quickly when a fish is on the line.

Are you looking for a fly rod that is both the lightest and the one that has the most modern technology? The G. Loomis Asquith is the most recent advancement in fly rod design and has the most advanced technology available. This groundbreaking product was conceived in collaboration with the legendary Steve Rajeff.
For general-purpose trout fishing, go for models weighing between 4 and 6 weight, while greater game calls for models weighing 7 weight or more. You will get a rod that is one line size lighter than the NRX and has one of the lightest swing weights that are currently available regardless of the model you decide to go with.
Best Fly Fishing Combo/Outfit for Kids
Most people agree that the Echo Gecko Kids Outfit is the best fly fishing combo for kids. Our choice for the second-best fly rod set for older kids is the Redington Youth Minnow Combo.
In addition to appealing colors to kids, the two fly fishing combinations being sold here are appropriately proportioned for anglers of a smaller size.

The Echo Gecko Kids Outfit handle has a smaller diameter, making it more comfortable for youngsters with tiny hands to operate. This makes the set ideal for younger children. Also, the handle can expand into a fighting butt which gives kids more leverage when they are trying to fight a fish. Echo is introducing two new models this year: a 7'6″ 4-weight Gecko Panfish ideal for angling for smaller fish such as bluegill and a 7'9″ 5-weight Gecko Trout that is a little bit larger for angling for trout.
Both of these models are new for this year. The only bad thing about these two new rods is that you can't buy them yet, but that will change soon. Between now and then, the original Gecko Echo kit is a 7'9 4-weight that is still readily available and is fantastic for children. Oh, and just one more thing: if your child breaks the tip, Echo has one of the best tip-replacement systems in the nation, which is as follows: Your child may go fishing and put a smile back on their face for only twenty dollars.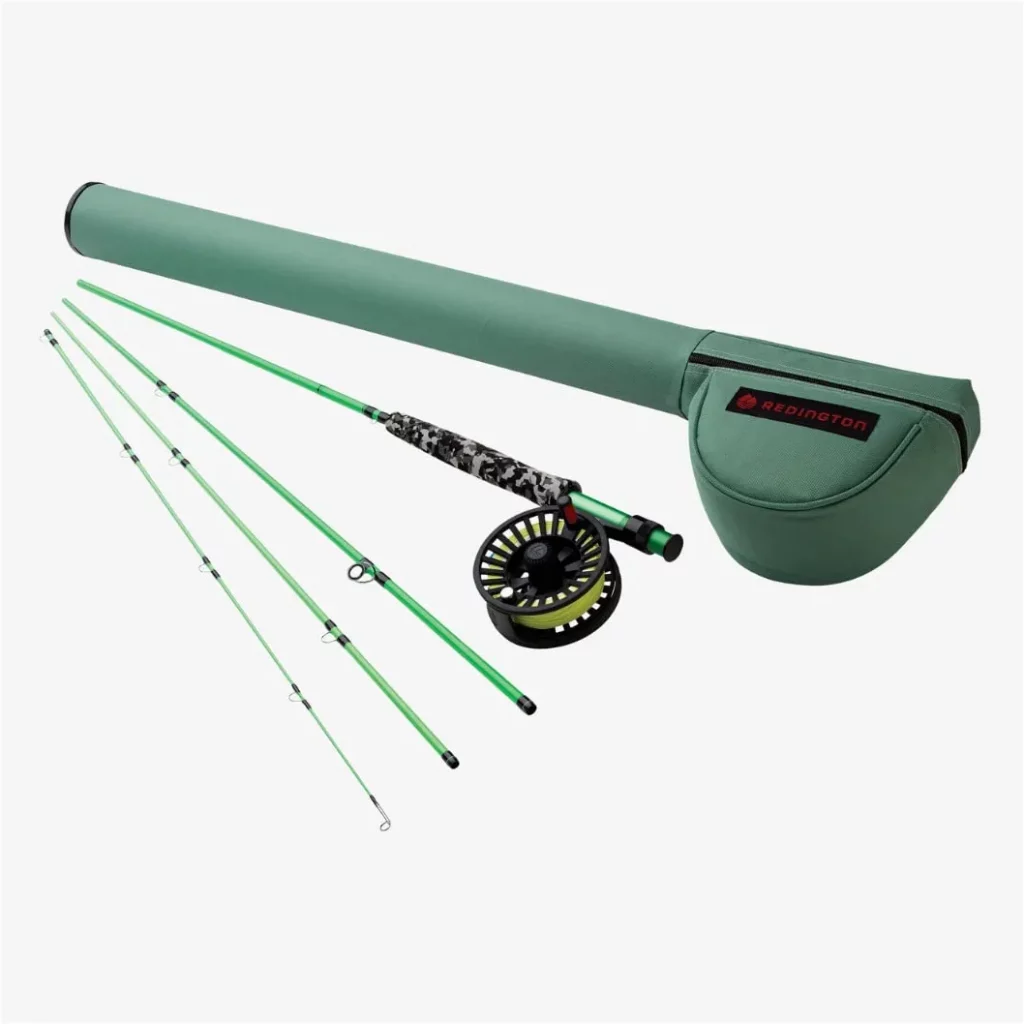 The Youth Minnow rod in the Redington Youth Minnow Combo is just 8 feet long for a 5-weight fly line, but it employs the same fantastic Crosswater Fly Reel that is found on the Crosswater Combo that was discussed earlier.
Although it is still intended for children, this rod has a color palette that will look good even when your child is a teenager. Because of the striking similarities between the Youth Minnow Combo and the Crosswater Combo, I wouldn't think twice about purchasing the Crosswater Combo.
---
How to Choose a Fly Fishing Rod
The thickness and overall weight of your fly line are used to determine the "weight" rating of a fly rod. Therefore, a fly line of the same weight as the rod's weight should be used. They are available in various lengths, but most anglers find that a rod that is 9 feet long provides the optimal experience. A fly rod that is 9 feet long and 5 weights are, in fact, the most adaptable rods, particularly for trout. As a first rod or a present, this length is a safe bet that won't disappoint you.
On the other hand, if you are going to be fishing on little creeks most of the time, consider purchasing a fly rod with a 4-weight line or even an ultralight 3-weight line that is 7.5 feet long. A 7- or 8-weight rod is a better choice than a 5- or 6-weight rod if you want to fly fish for bass, fish lakes, or big rivers with giant streamers. To start fly fishing for steelhead or salmon, you need a versatile fly rod and reel set with an 8-weight line.
Keeping all of this in mind, if you want to fish mostly for trout, you should go with a versatile 5-weight rod or move to a longer 6-weight rod if looking to fish in bigger water; nonetheless, you should be sure to obtain a 4-piece pole so that it can be packed up easily.
Things get a little more complicated for you whether you want to fish in warm tropical or chilly coastal waters, partly because you need a fly reel designed for usage in saltwater. The new field kits offered by Redington make it much simpler to select the appropriate entry.
How to Choose Which Fly Fishing Reel Is Right for You
The design of reels has progressed to the point where they now include a huge arbor, which allows the line to be wound around a large cylinder rather than a smaller axel. For instance, instead of rapidly winding line around a pencil, more modern reels act more like winding line around a soup can; in essence, they allow you to wind in line at a faster rate.
Even the most affordable reels on the market now have spools of increasingly greater diameters and weigh less than their predecessors did. Reels with a higher price tag have a higher quality of fit and finish, in addition to having drag systems that are more refined. By the way, the component of a reel system known as a drag is the component that permits the line to be released from the reel whenever a fish makes a strong acceleration.
If you have a drag that is smoother, you will be able to set the drag system to accommodate a greater range of pressure variations, and the drag will remain at the setting that you choose even after you make adjustments.
A well-made drag system will also be easy to use and won't get stuck once it's set up. When you have a fish hooked on your line, the slightest glitch could be enough to break your tippet, which is the smallest section of your leader and cause your fly to break off. This indicates that you won't be able to keep the fish. and potentially miss out on catching the fish of a lifetime. But you shouldn't be concerned.
Even with the most basic of reels, anglers may land massive fish in today's world. We've brought in a brown trout measuring 23 inches on a tiny entry-level reel rated for super-light 3-weight fly rods. We have also reeled in a hard-fighting coho salmon on a reel designed for less experienced anglers.
Both were on combos manufactured by Cabela's and were relatively inexpensive. What is the answer? You should use a mild drag setting, and if you hook into a large fish, you should apply gentle pressure to the outer rim of your reel (also known as the palming rim) during big runs, which are runs in which the fish takes off quickly and forcefully.
The technique is to not stop the reel from turning but to slightly slow it down and put more pressure on the fish so that the tippet doesn't break.
What Is The Best Line If You Are New To Fly Fishing?
You will need a fly line and backing if you are not purchasing a pre-packaged combo or if your rod and reel combo does not come with the fly line included. So, if you want to catch most trout, you should use a weight-forward floating fly line that matches the "weight" written on the bottom section of your fly rod.
Pick up the Orvis Clearwater Fly Line or the Rio Mainstream Trout Freshwater Fly Line if the price of the Scientific Anglers Mastery MPX Taper Fly Line is out of your price range. The Scientific Anglers Mastery MPX Taper Fly Line is one of the fly lines with the highest quality and the best value. It is difficult to make a mistake with this fly line.
The three choices presented above are flexible and adaptable lines that are capable of handling pretty much everything that you want them to do. What about the hundreds of other choices, many of which have price tags that go far above one hundred dollars?
For the vast majority of novice fly fishermen on a tight budget, they are not worth the investment. Wait until you are a true enthusiast before you worry about spending more than $40–$75 on a fly line, or for that matter, before you invest in specialty rods that require unique fly line tapers.
You should also pick up some Scientific Anglers Fly Line Backing, and it's never a bad idea to begin with a three-pack of Rio Powerflex leaders. Both of these items will come in handy.
---
Related Articles
---
Recent Articles
Review Archives
---