10 Best Fly Fishing Waders – 2023 Buyer's Guide
This is your ultimate guide to the best fly fishing waders for men: stockingfoot, boot foot, breathable, cold weather, the best value, and best performing waders.
This ultimate guide will give you an overview of the best fly fishing waders available today. Of course, "best" is opinionated, and we have ours, but we will point you to the right information. We will give you an idea of what to look for in terms of quality and budget.
How do you choose the best fly fishing waders?
Good fly fishing waders keep you dry and warm and protect you from the brush, animals, and bugs. They are one of the most essential pieces of gear to have with you when heading out to the water. It only takes one lousy trip with leaky waders to realize the value of good fly-fishing waders. This can turn an otherwise great trip into a regrettable one.
There are three main kinds of waders you can choose from. Each will have advantages or disadvantages depending on the conditions you fly fish in:
Chest high vs. waist high (hip)
Gore-Tex/Nylon vs. Neoprene
Stocking foot & boot foot
If you are unfamiliar with these terms, don't sweat it, We'll explain all the details in this article.
One thing to note, if you are fishing in hot conditions, you might want to skip the waders altogether and do a little wet wading to keep cool.
How to Pick The Best Fly Fishing Waders
Price and warranty
Fly fishing waders can be expensive. On the upside, the more pricy waders usually come with a good warranty. The top premium brands such as Simms, Patagonia, or Orvis offer the best warranties and stand by their products by providing repair services. When considering the cost, a warranty is a factor you should not overlook. Usually, it is better to invest a little more in a quality pair of waders that will last for a long time. Spending more upfront on quality will probably save money over time.
FIt
Getting the right fit is one of the most important things to consider when picking out waders. A good fit can make the difference between a great day on the water and a frustrating day. The top manufacturers like Simms, Patagonia, or Orvis really understand the importance of fit and make many sizes to fit any body shape and size.
There are a few variations with each brand to consider also. For example, Simms has a slightly slimmer cut around the leg, while Patagonia offers a little more room.
It is a good idea to spend some time trying on different brands to see what works best for you. The best way to start might be to order two or three other brands in the same size and see how they fit walking around indoors.
Breathability
Another important factor in picking out the right waders is breathability. Breathability is the way fabric allows moisture (like sweat) to escape from the inside. Neoprene waders are made for cold temperatures where breathability is rarely a huge concern.
The top brands have similar technologies to make waders breathable. The most expensive brands are all highly breathable and comfortable in warmer conditions. Simms uses GORE-TEX membrane, a well-known and proven breathable technology over decades. Patagonia uses its own membrane called H₂No, which offers breathability at the same performance level.
Durability
Along with breathability, the more expensive products feature more layers of fabric for durability. Simms' top-of-the-line waders, the G4, are constructed of 5 layers of GORE-TEX. This produces a fantastic amount of durability and a lifetime of wear and tear if you are a casual angler or several years if you are die-hard.
With a good layering strategy, seam placement is the next important feature in the best fly-fishing waders. The better the seam quality and placement of the seams, the less likely the waders will leak.
---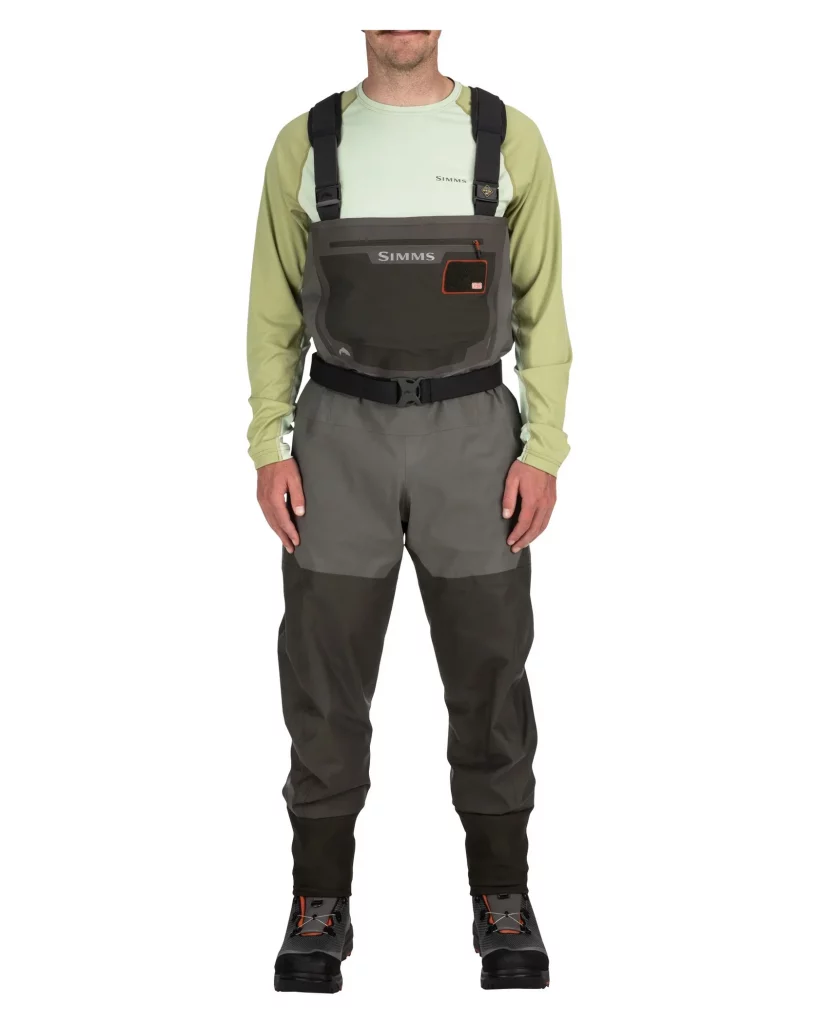 The Simms G3 Stockingfoot waders are their flag-ship workhorse waders. The G3 has been completely reworked for 2022. Simms is an American manufacturer, and the 2022 G3 has even better fabric than in previous years. The fabric construction features a proven combination of three-layer GORE-TEX in the upper body and four-layer GORE-TEX from the thighs downward for better abrasion resistance.
The front chest pockets on the Simms G3 Stockingfoot are large! They have a new zipper and are perfect for holding all your essentials, including pliers, nippers, or tippet spools. The G3 also has hand-warmer pockets with fleece lining and front pockets. Lastly, Simms has upgraded the belt loops, including two options to keep your wading belt tight.
The adjustable padded suspender system offers all-day comfort and is just as good if not better than previous models. Like its predecessor, the Simms G3 Stockingfoot 2022 features integrated gravel guards to keep sand and gravel out of your wading boots. They also have anatomically engineered neoprene stocking feet.

Even though the Frogg Toggs Hellbender Waders have been available for a while, we still recommend them because they are great value for the money.
The Hellbender stocking foot fishing waders have a wading belt, gravel guards that are built-in, an internal pocket, a triple-entry chest pocket, and a flip-out security pocket with a zipper. The 4mm double-tape neoprene boots are very breathable, so you won't sweat as you walk to the next fishing spot.
With double-reinforced knees, you can kneel over and over again to land fish, look at the water, or just take a break. A large pocket on the chest makes it easy to get to things you need, and a handwarmer pocket keeps your fingers flexible when it's cold outside. Adjustable X-back suspenders with handy D-rings give a secure fit. The 4mm neoprene booties will keep your toes warm, and the gravel guards with built-in lacing hooks will keep debris from getting into your wading boots.
Key Features
Breathable 4-ply nylon uppers
Double-reinforced knees add durability
Adjustable X-back suspenders with D-rings
4mm neoprene booties shield your toes from cold water
Built-in lace hooks and gravel guards block debris
Dual-entry, felt-lined handwarmer pocket
Interior flip-out pocket
Large chest pocket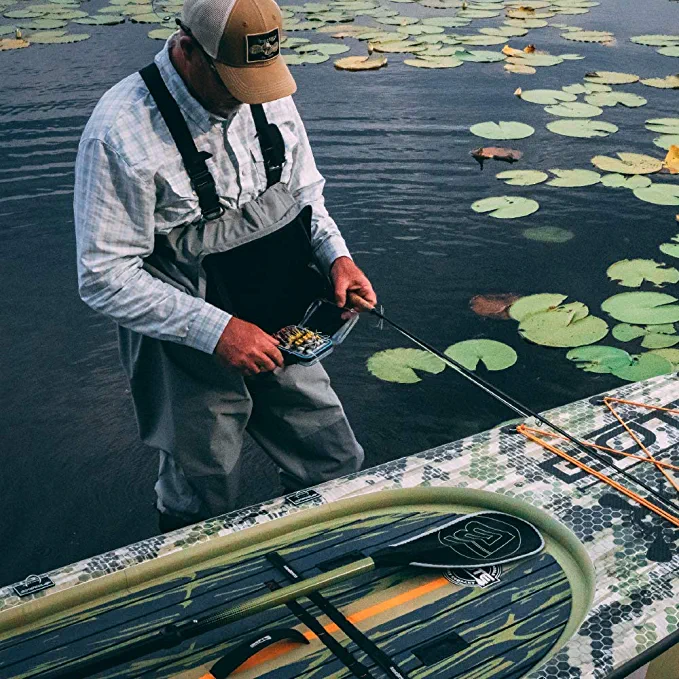 The Frogg Toggs Sierran Stockingfoot is a solid choice if you're new to fly fishing and are not sure how much you are going to practice it.
The Frogg Toggs Sierran Stockingfoot are chest waders giving you a lot of flexibility when wading deep. They are made of solid 3-layer nylon material in the upper body and a 6 layer around the knees and shin where a lot of abrasions happen. The suspender system has integrated D-rings. A nice feature since it makes sure you can attach important tools such as pliers or nippers where you need them.
A zippered chest pocket for your essential gear like fly boxes or tippets and hand-warmer pockets are great features in the Frogg Toggs Sierran Stockingfoot. Comes with a wading belt and adjustable shoulder straps. Integrated gravel guards make sure no sand or gravel gets into your wading boots.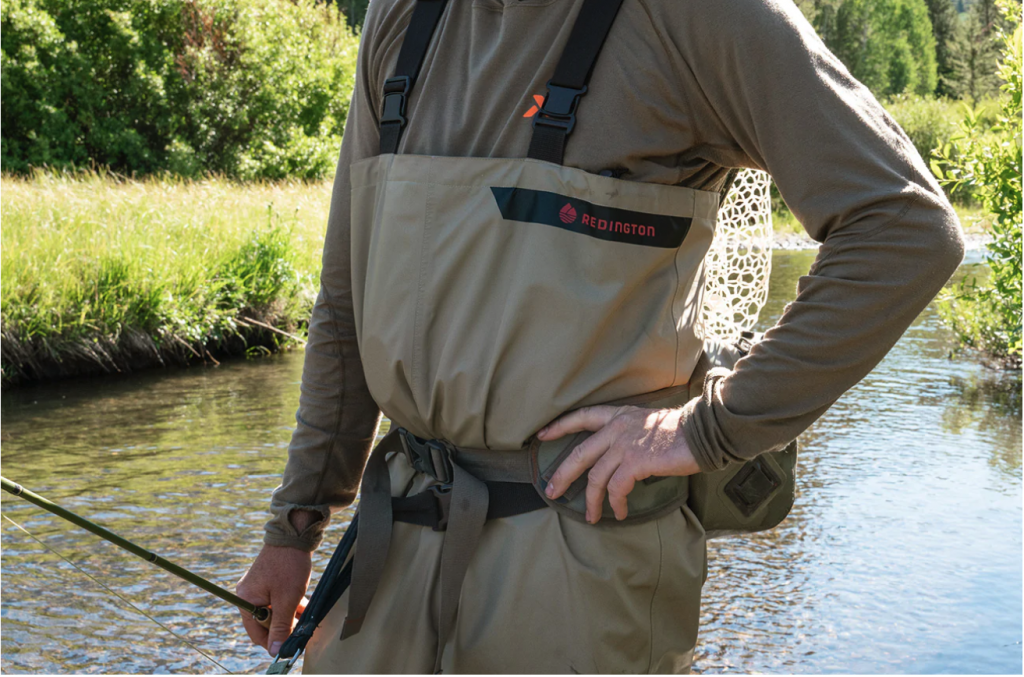 The Crosswater Waders, Redington's entry-level product, provides superior quality at a reasonable price. Redington has a long history of making good gear at reasonable prices for beginning fly fishermen, and the company has never let us down. None of these things could possibly go wrong with them.
The Crosswater Waders are going to be a little bit big, but they'll do the job. Included are neoprene boots, a chest pocket that flips out of the way, gravel protection sewn into the fabric, and an adjustable belt with two buckles that face in opposite directions. When do you use the buckles?
The top of the waders may be rolled down and worn as trousers if the weather becomes too warm. Choose from sizes Small through XXL, as well as a youth size.
Key Features
3-layer waterproof/breathable fabric with DWR
Quality is better than most entry-level waders
High-density neoprene booties lace-Up closure

The Redington Escape Fly Fishing is another excellent entry-level option at around $200. Made from a 3-layer waterproof DWR-coated fabric in the upper part and a 4-layer in the legs, they are a good choice if you are looking for breathable waders.
As we mentioned in other gear reviews, it's always a good idea to get an entry-level product from a brand that also makes high-end products. You can be sure that their know-how trickles down into these products. The Redington Escape Fly Fishing is no exception to this rule.
The Redington Escape Fly Fishing can easily be turned into a pair of waist-high waders, a handy feature when it's hot. The large chest pocket and a flip-out pocket on the inside give you ample room for storage. Handwarmer pockets keep your fingers warm no matter the conditions. Integrated tool docks and a D-ring in the back allow for the attachment of extra gear like a landing net. Great value for the money!

The Simms Men's Freestone chest waders are one of our mid-range favorites and a really great pair overall. For the Simms Freestone, the same thing holds true that we said about the Redington.
Simms Waders are among the best available. The Simms Men's Freestone is a great entry into the world of Simms and a pair you can use hard and over several years. So even though you have to invest $299 in the beginning, it could pay off even economically if you can them for longer.
The Simms Men's Freestone, made from Simms Toray Quadralam fabric, has all the features of a great pair of waders. Nylon waist belt, large chest pocket, very comfortable and adjustable shoulder straps, and reach-through handwarmer pockets. Come with the great Simms warranty.

Orvis has streamlined its selection of waders and improved their fit, mobility, and packability. The Ultralight Convertible Wader made by the company has a new stitched and sealed seam technology that makes the seams lighter, which saves weight. Orvis continues to use a 4-layer waterproof, breathable nylon shell that is moderately durable and quite flexible. This makes it comfortable and easy to move around in the water.
Orvis has added a few accessory attachment points for a zinger, nippers, and forceps. The outside chest pocket is a touch smaller, but there is still an inside zippered pocket. Why? If you're traveling ultralight, you're probably looking for more ways to reduce weight and size. Orvis also produced new lightweight wading boots at about the same time.
Lastly, what about the convertible capability?
It is now even better than before: The upper section of the waders may be moved up and down the shoulder straps to turn them into waist-high waders for fishing in hot weather. The connection point now uses a magnetic fastening system called FIDLOCK SNAP to convert. This makes it easy to quickly detach or reattach the attachments.
Key Features
Ultralight weight, great for packability and summertime wading
Waist-high conversion works well
Surprisingly supple, breathable fabric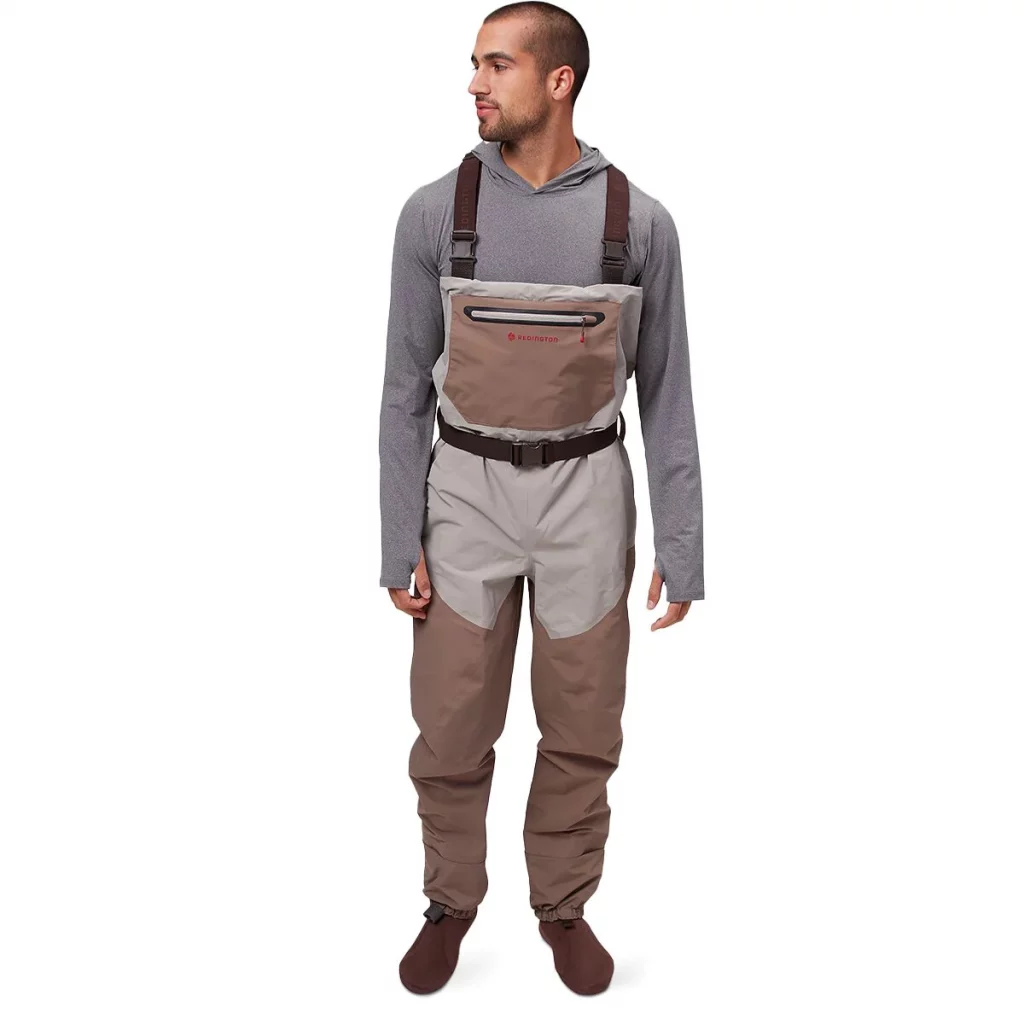 The Sonic-Pro Wader from Redington was made for the kind of fisherman that spends ten hours a day fishing for wild steelhead, salmon, and trout. The Sonic-Design Pro is simple, but we know it can handle the worst fishing conditions. Redington started with a four-layer fabric that is waterproof and breathable and then added SonicWeld seams to protect against leaks that can happen with standard taped seams.
The chest-high design helps you to wade a little deeper during river crossings. While fishing, those hard-to-reach seams, and the integrated neoprene booties, and the reinforced lower legs protect you from debris in and out of the water. You can quickly change the fit as you lose the weight you put on while drinking porter and tying PMDs all winter. This is because the belt and suspenders can be taken off and changed.
Key Features
Best Suited for trout and steelhead rivers
breathable waterproof SonicWeld 4-layer fabric
Booties and boot hooks
Adjustable suspenders and belt
2 fleece-lined hand pockets
Flip-out accessory pocket on the chest.
Patagonia Swiftcurrent Packable
The Patagonia Swiftcurrent Packable is Patagonia's trimmed-down version of their Swiftcurrent (see further down). Most features on these have been reduced in terms of material and weight in order to make these waders a great option if you are traveling a lot.
The suspenders and wading belt on the Patagonia Swiftcurrent Packable are a little slimmer than on the regular model. They feature a large chest pocket and a flip waterproof flip-out pocket, yet no hand-warmer pockets.
Around the ankles, the Patagonia Swiftcurrent Packable features extra abrasion-resistant material where it matters most. The scuff guards will prevent sand and gravel from entering your wading boots. Patagonia Swiftcurrent Packable weighs in at only 2.2 lbs.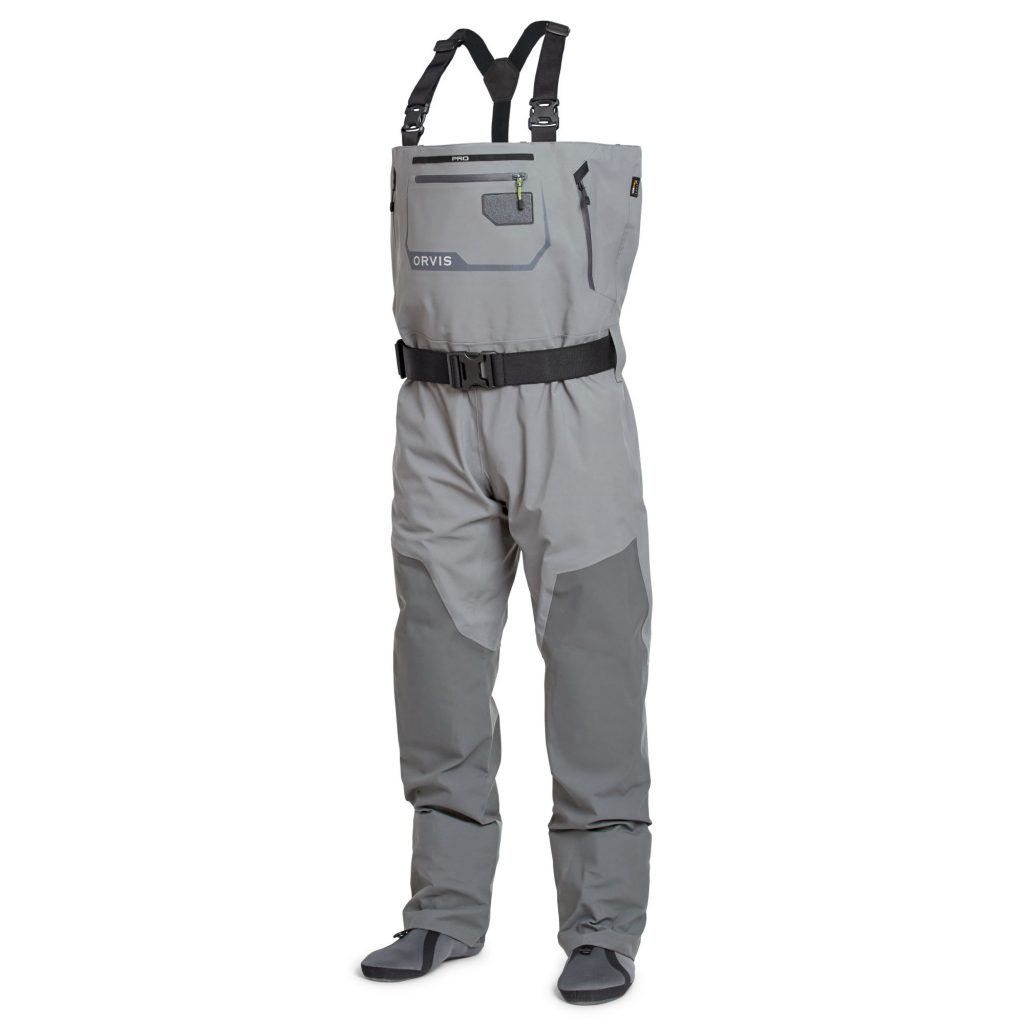 The Orvis Men's Pro is meant for heavy use over many years. The lower part of these waders from the thigh is made of an extra-durable 5-layer Cordura shell for extra abrasion resistance.
The Orvis Men's Pro also features removable knee pads when you want more freedom of movement around your legs. A number of zippered pockets, flap-out pockets, and handwarmer pockets make sure you can store your gear and keep your hands warm in any condition.
Elastic suspenders on the Orvis Men's Pro allow easy conversion into a waist-high pair of waders. They come with a great Orvis warranty.
If money is not an issue, get the Simms G4 Pro waders. Those are the toughest, most durable waders we've ever experienced. They feel a bit like elephant skin. That tells you how sturdy they are.
The Simms G4 Pro is made from 3-layer GORE-TEX® Pro Shell upper/4-layer GORE-TEX Pro Shell lower. They also feature compression-molded stocking feet for extra comfort all day long.
The Simms G4 Pro has a fantastic suspender system and comes with a waist belt that is safely held in place by multiple belt loops. The micro-fleece lined, reach-through handwarmer pockets come in handy on cold days. The Simms G4 is also available with a front zipper for extra comfort: the Simms G4Z Pro. No matter which version you get, the Simms G4 will serve you well for years.
The Patagonia Swiftcurrent is a very versatile pair of fly fishing waders. Thanks to Patagonia's EZ-lock suspenders, you can convert them waist-high on a warm day.
Zippered chest pockets, a flip-out pocket on the inside, and reach-through handwarmer pockets provide ample storage opportunities. The Patagonia Swiftcurrent is made from a 100% recycled polyester microfiber H2No® Performance Standard shell. Scuff guards around the ankles offer extra abrasion resistance.
The anatomical booties of the Patagonia Swiftcurrent provide great comfort all day long. They are a great pair at only 45.9 oz (1301g) if you travel a lot. They are also available as zip-fronts.
Patagonia Middle Fork Packable: Best for Travelling
The Patagonia Middle Fork Packable provides the utmost in packability and low weight. In order to achieve this, Patagonia has stripped this pair of waders down to the bare essentials. While their Patagonia Swiftcurrent Packable is highly packable already, the Patagonia Middle Fork Packable takes it to another level.
Weighing in at only 1.5 lbs, the Patagonia Middle Fork Packable relies on booties that are not made of neoprene but instead seamlessly integrated into them. Yet, these waders have everything you are looking for in a quality pair, including adjustable suspenders, a wading belt, and a flip-out pocket.
The Patagonia Middle Fork Packable pack into its own stuff sack and won't leave you with any excuse not to bring your waders along.
---
Best Hip Waders for Men/ Wading Pants
Chest-high waders give you the utmost flexibility. Yet, if you know you are only going to fish in warmer temperatures and won't have to wade deep, a pair of hip waders, often also called wading pants, can be a good alternative. We created a separate "Guide to the Best Hip Waders," which you can read here!
Since they cover less of your body, you will benefit from increased breathability. A downside of hip waders is that you have fewer pockets to store your essentials. If you decide to use wading pants, a sling pack or backpack can be an excellent add-on to your fly fishing gear.
---
Best Fishing Waders for Women
All the big manufacturers now make waders especially tailored for women. We have taken a deeper look at the best women's waders in our "Guide to the Best Women's Waders." Make sure to check that out if you want to dive deeper into that topic. Here we'll give you a quick look at our top 3:
Best Waders for Kids / Youth Waders
If you are really into fly fishing, chances are you want to take your kids to the river one day. Depending on their age, they can of course, start fishing themselves. In that case, a quality pair of waders are essential. Like all children's clothes, the lifespan is usually short because the kids grow fast.
Nevertheless, you should invest in a quality product. Often these ones can be passed on to siblings or cousins. Here are our top 3 kids/youth products:
What you Need to Know
Materials of Fishing Waders
Fly fishing waders can be organized into two categories: nylon/polyester and neoprene.
Nylon/polyester
Most modern-day breathable fly fishing waders are made of nylon/polyester. Depending on the quality of the product, they range from three to five layers. Nylon and polyester enable moisture from sweat to escape from the inside. The most advanced fabrics are membranes such as GORE-TEX, which is featured in many Simms products.
Nylon/polyester
Neoprene ones are made of thick and pliable synthetic rubber that is mostly used in cold temperatures. It is not breathable and is thus only recommended in cold water environments. It is much harder to walk long distances in a pair of rubber than nylon ones.
Different types: chest, hip waders, etc.
Which type should you get? You have to decide between boot foot vs stockingfoot and chest vs hip waders (wading pants). Here is a closer look at the different options.
Bootfoot Waders
Most of the time, boot feet are used in neoprene ones. A boot foot wader is a pair that has a boot attached to the leg. There are also nylon bootfoot waders. Often these are used by guides that use a boot for a day of guiding. Some consider boot foot ones easier to wear since you don't have to put on wading boots separately. But they have deficits in flexibility since you can't use wading boots with different soles for different wading conditions.
An advantage of boot foot waders is that rubber boots don't hold as much water as wading boots. This means you can more easily keep them on when entering a store, for example.
Stockingfoot Waders
In modern fly fishing, stockingfoot waders are the standard. Stockingfoot features neoprene socks at the end of the leg. Just like hiking boots, you slip into a pair of wading boots with these neoprene socks. You can use different soles with one pair of stockingfoot, such as Vibram (rubber) soles, felt soles, or cleated soles.
Chest Waders
Chest waders are the most commonly used type of stocking foot waders. This is because of their versatility. Chest waders allow you to wade deep. They also offer more comfort and warmth than wading pants. A number of manufacturers offer chest ones that can be converted into wading pants and hence offer extra comfort on warmer days.
Fishing Pants / Hip Waders
If you're a minimalist pant wader – often also called wading pants or hip waders – might be a good option for you. For obvious reasons, you can't wade as deep with them but they offer more freedom of movement. Primarily if you mostly fish in warmer regions and smaller rivers, wading pants could be a good option for you.
Size Chart
Every manufacturer offers its size chart. Premium outfitters such as Simms, Patagonia, and Orvis offer various sizing options.
Taking Care Of Your Waders
Taking care of your waders is very important and will greatly increase their lifespan. Here are the most important things to keep in mind:
1. Always dry them: as soon as you get home from a day on the water you should hang your waders in a place that is dry and about room temperature. The most common way to hang them is upside down. This way any moisture still left in the legs can emerge.
2. Don't store them in the car: it might be a tempting thought to keep your waders in the car for a spontaneous trip to the river but it's not a good idea. The seams and different layers of your product will not like hot temperatures and direct sunlight.
3. Wash them every once in a while: it is always a good idea to wash them properly after each use just using water (no saltwater). Do it at least every few weeks to get rid of small particles, dust, and stones that might cause abrasion.
4. Apply a water-repellent coating: once they are clean and dry it is a good idea to re-apply for a water repellent coating every once in a while. The initial coating wears off after time, so a replenishing comes in handy.
5. Use a rubber mat when taking them off: the neoprene socks of most fly fishing waders are sensitive and especially exposed to abrasion. So when you take off your wading boots make sure you have a rubber mat or something similar to step on. This will prevent your neoprene socks from abrasion and will make them last longer.
6. Use a wader bag: if you want to make them last longer use a wader bag to transport them. Here is a selection of options for you:
Conclusion on the Best Fly Fishing Waders for Men
As you can see from our review, the options for a pair of waders are endless. There are so many factors that influence your decision. The most important ones are: how much am I going to use the waders, how tough do they have to be? Do I prefer chest waders for fly fishing for the utmost flexibility when wading deep or are wading pants enough? Do I take them on trips a lot, hence they should be light?
No matter what option you go for in the end, we hope this guide has helped you make a choice and get a better idea of the options out there. If you want to learn more about other wading gear make sure to read our other guides.
Frequently Asked Questions Fishing Waders
Are waders necessary for fly fishing?
A quality pair of waders is an essential piece of gear when fly fishing. Though you can technically cast a fly rod from a bank without wading, the possibility of stepping into the water to reach the lies of fish further away is crucial. Waders not only keep you dry, but they also keep you warm if you are fishing in the northern hemisphere. Water temperatures in most rivers are cold even during summer. Without a pair of waders for men, you would be cold quickly.
Are Simms waders worth it?
From our experience, Simms waders are definitely worth the money. The cheapest ones from the American manufacturer start at less than $200. They have great durability and Simms gives a fantastic guarantee.
Why do fly fishermen wear waders?
Fly fishermen and women wear waders to protect themselves from the elements while fishing. Waders enable you to stand in the water without getting wet or cold. Since fly fishermen and women often spend our pursuing their sport, waders are an essential piece of gear.
How long should a pair of waders last?
A quality pair of waders for men should last an average fisherman for at least 3 to 4 seasons. High-end waders for men made from multiple layers of the best fabrics can easily last 5 seasons or longer.
What are the best waders for the money?
The best waders for the money are waders that combine great quality and durability with a price you can afford. In order to choose the best waders for the money, you should set a budget for yourself. It's also a good idea to look at entry-level products from manufacturers that also produce high-end waders such as Simms, Patagonia, or Orvis. Often, their know-how trickles down into their entry-level product and they hence offer great value for money.
What are the best breathable waders?
The best breathable waders are made from Gore-Tex fabrics. As in all waterproof rain gear, this fabric has become the gold standard in breathability. The American manufacturer Simms is the only waders producer using Gore-Tex material. However, brands such as Patagonia or Orvis also have premium fabrics when it comes to breathability and waterproofness.
Are stockingfoot waders better than boot foot waders?
In general fishing, waders can be broken down into two main categories: so-called stockingfoot waders that feature neoprene socks at the end of the leg. You wear them with a pair of wading boots. The other option is so-called boot foot waders that come with integrated rubber boots. They both have their pros and cons. Generally speaking, stockingfoot waders offer more flexibility and stability because of separate wading boots with increased ankle support. Bootfoot waders on the other hand are very practical with their integrated rubber boots and tend to be the choice of guides when working in a boat.
Are breathable stockingfoot waders better than neoprene waders?
Neoprene waders really only make sense if you will fish in very cold conditions for the most part. This could be the case if you are targeting species such as steelhead in the Pacific Northwest. They have supreme capacities to keep you warm no matter how cold it gets due to their thick fabric (often 4mm or 5mm of neoprene). They work similarly to a wet suit in surfing. Breathable stockingfoot waders have the advantage when it comes to breathability. And if it gets cold you can always add a layer to keep yourself warm.
How do you repair your waders?
Most premium brands of the best fishing waders such as Simms, Orvis, Patagonia, or Redington include a repair kit with their fly fishing waders. That way you can repair small tears or rips yourself. The weapon of choice is a super glue called Aquaseal that you apply to the section where your fishing waders are damaged (they need to be dry in order to apply the glue). The glue dries very quickly when exposed to sunlight. Should there be a bigger issue most of these brands offer great warranty and repair services. If your pair of fishing waders is out of warranty you can still send them to the manufacturer and often get them repaired for a small handling fee.
Related Articles
---
Recent Articles
Review Archives
---