Best Waders For Women – Top 8 Buyer's Guide 2023
Cover Photo: @barbless_hooker, @familyflies
The fly fishing industry has changed dramatically in the last decade, and it has begun catering to women's specific needs, including fly fishing waders. While women don't have as many wader options as men, they do have enough to warrant a gear review and women's specific advice.
This guide will explain the differences between men's and women's waders and the top eight options for 2023. Using feedback from other female anglers, we've compiled a list of the best waders for women for any fishing situation. We have various options for every budget and will discuss the benefits and drawbacks of each. We hope that our advice will make your purchase decision easier. Let's get started!
---
---
How are Women's Waders Different Than Men's Waders
As we all know, women's and men's bodies naturally differ. It makes sense that something important, like waders, should also be designed differently.
Choosing waders with specific features will help women feel more comfortable fishing and keeping warm. In addition, female waders come in sizes for smaller feet and tend to have higher knees. They are also generally made with a nylon twill face that provides a smooth feel.
How to Choose the Right Pair of Waders
It is always best to find a fishing shop or outdoor store and try on a few pairs of women-specific waders if possible. If you don't live near a store that sells women's waders, there are many online ordering options with a reasonable return policy (not ideal, but it may be your only option).
As with most men's and women's clothing, there is no substitute for trying them on. If you cannot visit a fly shop or sporting goods store, measure your chest, hips, inseam, and foot size. The sizing options offered by businesses vary greatly. You'll need to know as much as possible about yourself to find the best fit.
Consider your budget, the conditions in which you'll be using them, and the frequency with which you'll wear them. Do you intend to purchase a single pair and keep them for 10 or 20 years? If so, you may want to spend more now on a pair that fits well, is durable, and can be repaired. You'll only be going out a few times a year and need something to keep you dry. Then it would be best if you chose a more affordable option.
Consider the fishing conditions when selecting the appropriate size. If you're primarily going to be hiking in the late spring, summer, and fall, you can choose a pair that fits a bit more snugly to accommodate warm weather and minimal layering. If you're going to be fly fishing in the winter, sliding down snowbanks, and standing in water while your eyelets freeze, you should consider sizing up to accommodate all the warm layers underneath.
Why Spend Money On A Quality Pair Of Waders
A quality pair of waders will keep you warm, dry, and safe and allow you to focus on hooking those fish. By making a good investment in quality waders, you will have less to worry about, aside from having great fishing.
Quality waders are essential when fishing in colder weather. If you can't rely on your waders, you will be miserable in the cold, likely ruining your day fishing.
Chest-high waders are taller than hip waders but give you the best flexibility. By allowing you to wade into much deeper water, chest-high waders open up access to more areas for fishing. In addition, they offer extra warmth around the upper-body critical regions.
Another nice thing about chest-high waders is the extra space to include a chest pocket. This additional pocket is located conveniently, with easy access to essential gear. If you fish with minimal equipment, sometimes a chest pocket can be all you need and will eliminate hauling an extra backpack or sling pack.
---
Best Waders for Women: Top 8 List For 2023
Now that we have set an expectation of what you consider a quality pair of waders. Let's look at what the best market offers in waders for women.
First, you can be sure that any of the waders in this review are good enough to get you out on the water and have fun. We have included entry-level products, mid-range, and high-end premium options for dedicated fly fisherwomen. Each option will have fabric, quality, cost, and warranty variations.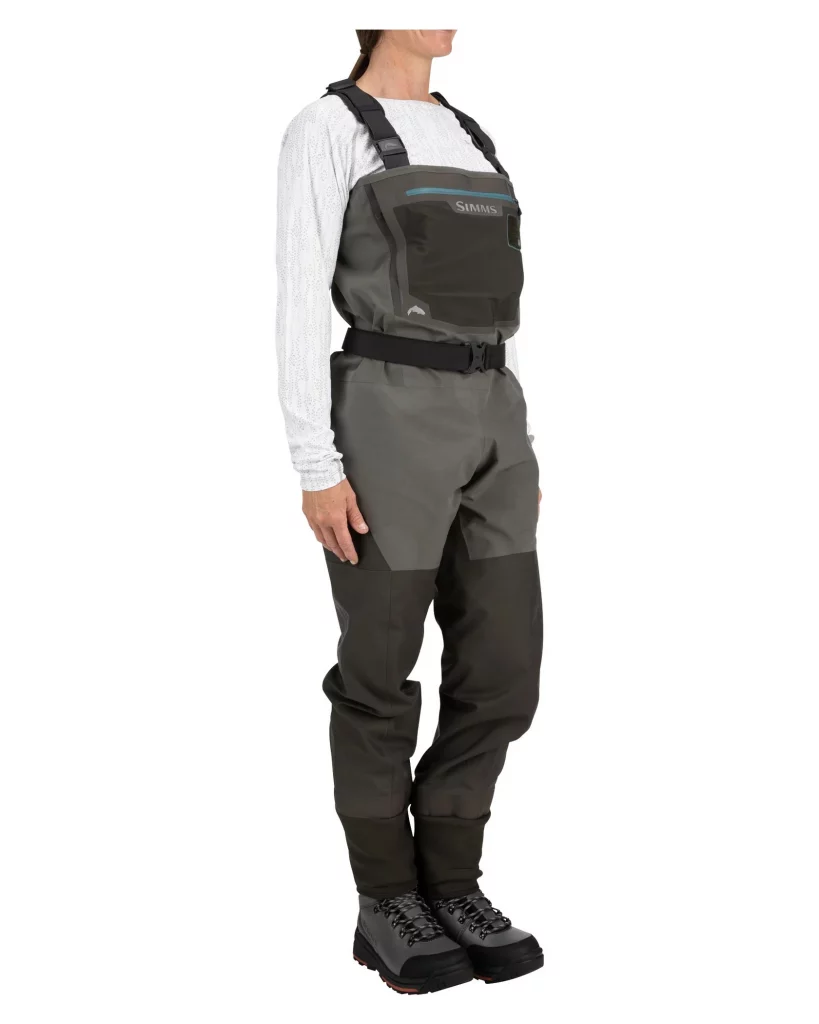 American manufacturer Simms has reworked its extremely popular G3 waders this year. A new edition of Simms W's G3 Guide Stockingfoot features a specific fit for women. Along with a women-specific fit, the G3 has excellent features in the men's edition. These features include three-layer Gore-Tex fabric for the upper body and four-layered Gore-Tex in the more abrasive areas around the legs.
The suspender system has additional comfort with new mesh fabric material. The suspenders are wider and distribute weight more evenly. The Simms W's G3 Guide Stockingfoot has a large zippered front pocket to hold essentials and clever reach-through zippered handwarmer pockets.
The Simms W's G3 Guide Stockingfoot wading belt is height-adjustable, adding overall comfort. The neoprene stocking feet are anatomically shaped and include integrated gravel guards to keep your feet dry and protected from the elements.
These waders will last for years and are backed up by a solid warranty offered by Simms.
Simms W's G3 Guide Stockingfoot Customer Reviews
⭐️⭐️⭐️⭐️⭐️
Upgraded to the G3's from the Simms Tributary waders after two years of fly fishing. I stayed with Simms because of the various sizes offered for women. Love the fact you have short sizes. Although I purchased the same size in both, these seems to be a little bigger. I especially noticed it in the chest area and the stockingfeet. I preferred the way the Tributary fit in those areas. The only thing that I don't care for on the G3's is the shoulder straps. I cannot get both straps around my shoulders to snap because of how high they are in the back with the shorter straps. My arms aren't that flexible! I do love how much more sturdy and significant they feel and have been wearing them this winter in 30 degree water. With Simms' reputation, I know I will get many years of use and enjoyment from these G3s.

– Diane M.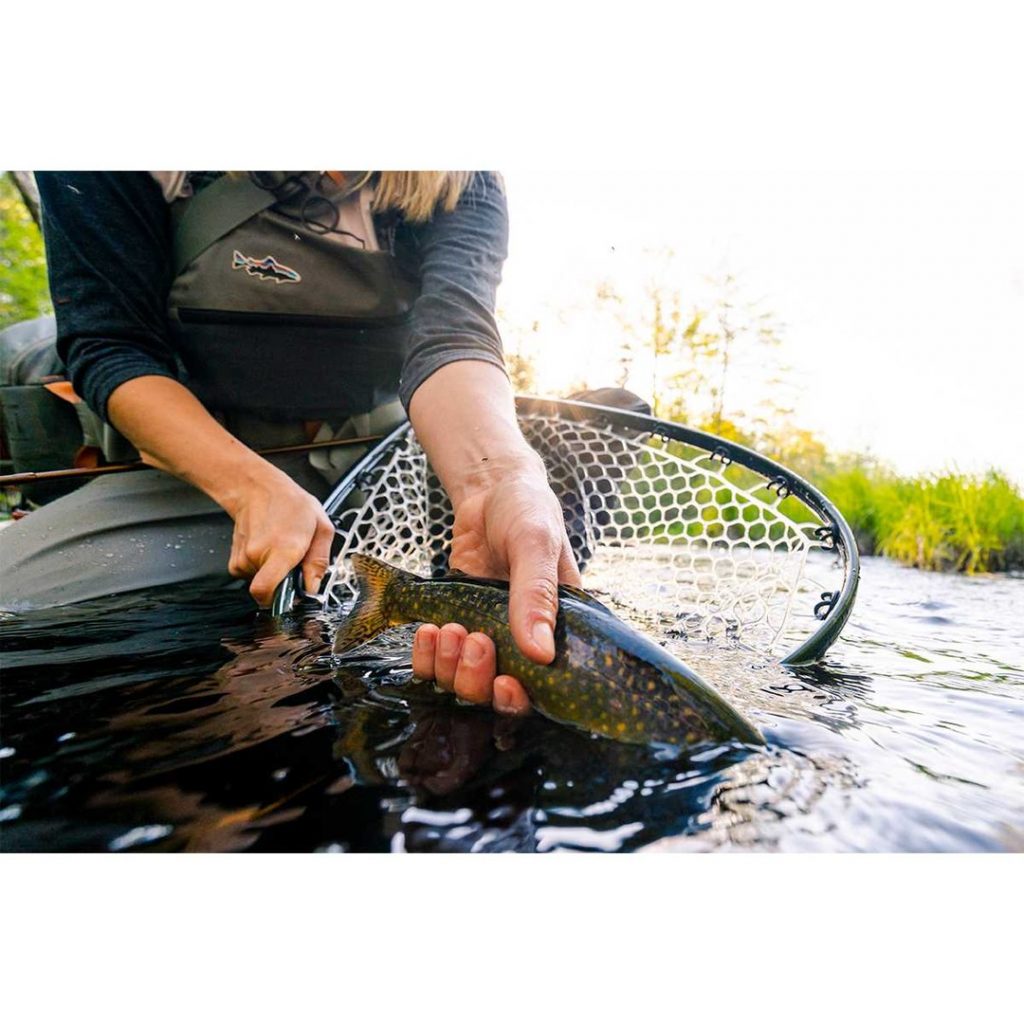 The Patagonia Women's Swiftcurrent is a women-specific version of the very popular Swiftcurrent. Patagonia's EZ-lock suspenders create great versatility and make it easy to convert these waders into waist-high to keep you comfortable as the weather changes.
The Patagonia Women's Swiftcurrent features reach-through handwarmer pockets, a waterproof pocket on the inside, and a big chest pocket to store your essentials. The updated sock-like neoprene booties maximize comfort for all-day-long wading.
Patagonia is always environmentally conscious and produces most Women's Swiftcurrent fabrics from recycled material. Patagonia has consistently delivered the quality that will last you a long time with the Women's Swiftcurrent.
Patagonia Women's Swiftcurrent Customer Reviews
⭐️⭐️⭐️⭐️⭐️
Great product but Patagonia.. stop being a hippo critical agenda driven co who has stuff made in communist countries who pollute like hell and you say your for cleaning up our environment BS!

– Anonymous
⭐️⭐️⭐️⭐️
After a long and frustrating search I am very happy with these waders. The SRM size works for a thin body type with longer feet. Super warm and comfortable with Patagonia tough puff pants underneath. The wading belt has a slightly stretchy panel in back. There is no zipper and that is great as the zippers in many waders now add too much bulk up top. A small reservation is that the booties are quite wide and add additional bulk in my wading boots. Overall a great product for women who fish.

– Anonymous
The Redington Women's Sonic-Pro Wader is an incredible bargain and our favorite for the best value for the money.
With 4-layer, highly breathable waterproof fabric and a slim silhouette, Redington Women's Sonic-Pro Wader feel similar to the Simms Freestone waders. It provides superior abrasion resistance and excellent protection from the elements.
The Redington Women's Sonic-Pro Wader's chest pocket has a YKK water-resistant zipper. Unfortunately, it is not waterproof but still well-suited for storing your fly fishing essentials.
Along with the other great features, the Reddington has fleece-lined pockets to keep your hands warm and a mesh pocket for valuables. Also included is a removable water-resistant bag with a clip for easy attachment, giving even more storage options.
Redington Women's Sonic Customer Reviews
⭐️⭐️⭐️⭐️⭐️
The women's fit in the Redington sold me! Tried the Simms Freestone with side zipper (great design) but couldn't get a deep knee bend or squat without them really pulling at the knees. Redington has women's fit mastered. Also like the interior chest pocket with waterproof sleeve.

– Amazon Customer
⭐️⭐️⭐️⭐️
Love the product- tried it on and was a good fit. I was a bit worried the footing was going to be small, but it worked out! Sizing was a good fit. Will update if there are any deficiencies in use. The plan is to take this clamming and fishing off the west coast.

– Amazon Customer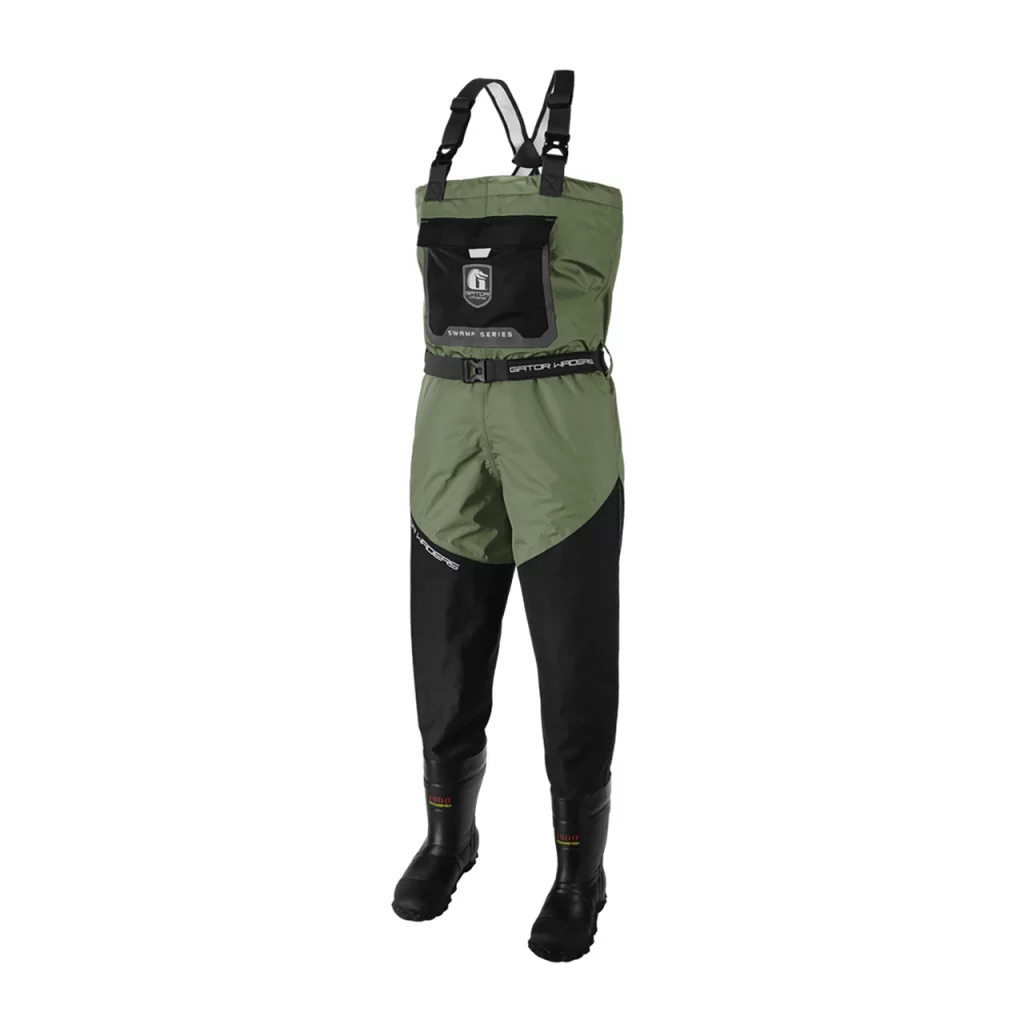 Gator Women's Bootfoot waders feature a different approach than stockingfoot waders. With stocking foot waders, you will also need a pair of wading boots. Boot foot waders already have the boots integrated. With that said, the Gator Swamp is an excellent choice if you do most of your fishing from a boat. They can also be used for other sports like hunting. This is a great pair of waders if you want extra durability.
The Gator Women's Swamp is excellent for colder conditions as they feature quilted thermal cotton insulated lining. These waders also feature a chest pocket. However, the velcro closure does not provide water protection as the previous waders. Handwarmer pockets come in handy in fall, winter, and spring.
The Gator Waders Women's Swamp boots are insulated with 1000G Thinsulate material. This material is an excellent insulator and will protect you from the cold.
Gator Women's Swamp Customer Reviews
⭐️⭐️⭐️⭐️⭐️
Thank you very much! Awesome seller. Fast shipping! Great Item just as described!

– Katlynn
⭐️⭐️⭐️⭐️
I love them

– Paula C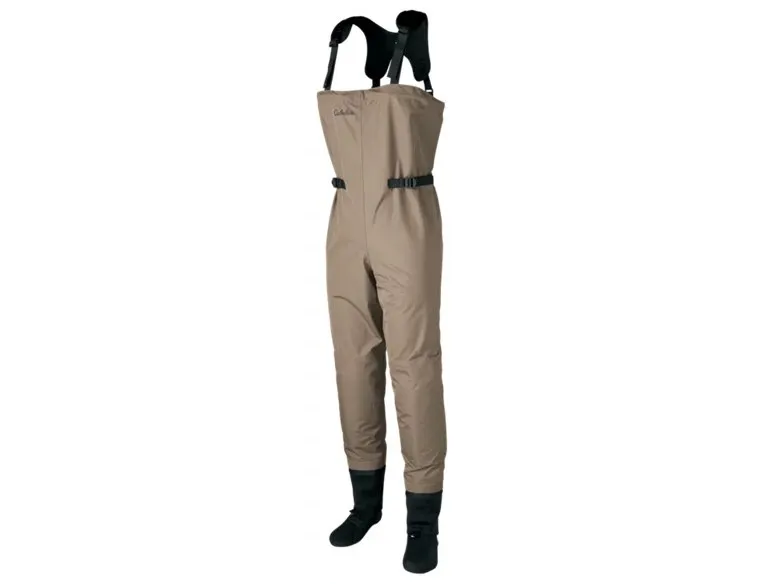 Comfort alert! The buck stops here with the Cavbellas Breathable Waders for Women if you are looking for the top of the line in all-day comfort. These waders have a comfy padded suspender system. In addition, they are made from micro-denier nylon, including extra layers around the knees in the high abrasion areas.
The Cabelas Breathable features a nice women-specific, slim-wading belt for extra security. The 3mm neoprene booties have sturdy non-slip soles that maintain a firm grip inside your wading boots. Sand and gravel don't stand a chance against the integrated gravel guards. Lastly, these fine waders come with a bag for easy storage.
Cabelas Breathable Waders for Women Customer Reviews
⭐️⭐️⭐️⭐️⭐️
She loves them, nice padded knees,roomy.

– Hoser Dude
⭐️⭐️⭐️⭐️⭐️
I bought these last month for fieldwork in the northern Ontario taiga/boreal interface. For 10 straight days I hiked through all varieties of wetland, thicket, and forest. These waders held up not only when it came to wet sites, but also against the scratching, poking and scraping from branches and vegetation, and climbing over downed trees. The thread on the seams by the knees is wearing in places, but that can be expected given the circumstances. I wore them with just a pair of anti-chafing shorts underneath for comfort in the heat. "Feels like I'm wearing nothing at all!" – Ned Flanders.

– Alison F
Perhaps our favorite entry-level product is Caddis Women's Attractive Teal wader. They are a great choice at a very affordable $100 if you are still testing the waters on fly fishing and are not sure yet if you'll stick with it.
The Caddis Women's Attractive Teal has adjustable shoulder straps and a wading belt. They also feature a chest pocket to hold all of your essentials, and of course, nice handwarmer pockets keep your fingers warm.
The Caddis Women's Attractive Teal is breathable polyester with neoprene booties and gravel guards. Unlike more up-market waders, the fabric on the Caddis is not as thick or abrasion-resistant. This is one reason to consider these as entry-level options.
If you like fly fishing, you will likely want to upgrade in the next few years. With that said, they are a great entry-level option for fly fisherwomen and a fair tradeoff in price to value if you are still on the fence.
Caddis Women's Attractive Teal Customer Reviews
⭐️⭐️⭐️⭐️⭐️
I love my new waders. They are a great fit, high quality and attractive. These are absolutely the prettiest waders I've ever seen. I wore them for a 9 day trout fishing trip in the NC mountains with not a single problem. I do wish the knees and seat had reinforcement, that could become a small issue for me. They are cool, I wore leggings underneath and was fine even on 80+ degree days. Wool socks were perfect to keep feet warm in the cold river. I recommend these to anyone wanting to stay dry and comfy in the river while looking stylish.

– Amazon Customer
⭐️⭐️⭐️⭐️
I love this pair of waders. They fit great. I had tried a number of mens' waders on the market but they aren't cut right for women. There were very few options for a short plus-size woman, and I was so happy to find these. They were a bit more expensive on Amazon than ordering through Sportsman's Warehouse, but with Prime shipping it balanced out.

– Janet W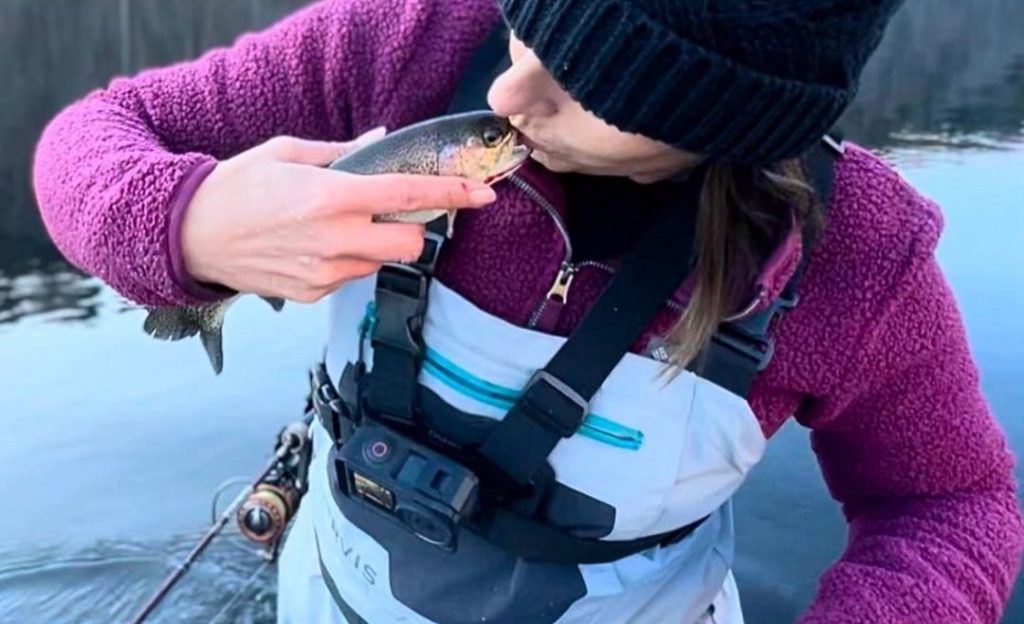 The Orvis Women's Pro is our top choice when it comes to high-end waders that will last a long time.
Go for the Orvis Women's Pro if you're fishing hard and need the utmost in abrasion and puncture resistance. The women's pro has added comfort and protection from the elements with a four-layer Cordura shell in the upper body. In addition, a five-layer Cordura shell in the lower legs provides increased abrasion resistance.
The neoprene booties are anatomically formed and feel like socks, perfect for long days of wading. The Orvis Women's Pro has plenty of space to stash your valuables and cold hands with a large zipper chest pocket with hand warmer pockets behind.
Orvis Women's Pro provides extra flexibility with removable knee pads that can be swapped in or out depending on fishing conditions. The Women's Pro can convert to waist-high waders with adjustable elastic suspenders to add versatility.
Orvis Women's Pro Customer Reviews
⭐️⭐️⭐️⭐️⭐️
Orvis waders are the only waders that fit me functionally and for comfort. I have had the convertible waders for years and upgraded to the Pro wader this year. I am 5 feet tall but the average height wader fit me better than the petite. For the convertible wader, the petite was perfect. I feel the higher quality materials and different cut resulted in a size difference but Orvis was great about letting me try on different sizes until the perfect fit was found!

– Amterra
⭐️⭐️⭐️⭐️
I love these waders! They fit very well. I have small feet and the booties don't bunch. The added knee pads are a huge plus for me. The new material seems super durable and I like the thicker material for the Alaska weather. Well done Orvis.

– Alaska Fly Out
The Simms Freestone Z Women's Stockingfoot is a good option if you're serious about fly fishing. With years of experience producing high-quality gear, Simms has waders that are about as good as you can get.
The Simms Freestone Z Women's Stockingfoot is made from highly breathable 4-layer Toray QuadraLamand combines excellent abrasion resistance without adding extra weight. Stash all of your essentials in the large chest pockets and stuff your cold hands in the fleece-lined handwarmer pockets.
The Z stands for an extra zipper feature on the side for quick entry and exit. If this feature isn't something you really need, Simms offers a non-zipper version in the Simms Women's Freestone. You should consider the Simms Women's Tributary waders for a more entry-level pair.
All Simms waders come with gravel guards attached to the stockingfoot booties to keep gravel and sand out of your wading boots. Lastly, you can always expect Simms to back up their products with a warranty.
Simms Freestone Z Women's Stockingfoot Customer Reviews
⭐️⭐️⭐️⭐️⭐️
Love, love, love these!

I am a bigger girl and was a little worried these where going to be to tight. But they are great. 🙂

– Kitty Clogging
⭐️⭐️⭐️
As much as I wanted to love the Simms Women's Freestone Waders, they just didn't give me the roominess necessary in the knees (tank squats). I'm 5'6″/136lbs and ordered Medium. Returned and ordered a pair of Redingtons which fit great all over.

– Amazon Customer
Conclusion On Women's Fishing Waders
We now have wader options, and many, they no longer need to buy large boy's waders without women-specific hip or chest sizing. When selecting the best waders for women, consider what you will be doing with them:
Will you hike from lake to lake or up and down river miles?
Will you get in and out of boats and guide people all year?
Can you buy a slightly better pair and not have to replace them for years?
A good pair of waders should fit you like a glove, considering your size and shape.
As you can see from our review, there are numerous options for women on the market. We hope you found a pair that meets your requirements while remaining within your budget. If you have around $100 to spare, you should be able to get something that will last at least a few seasons or until you are ready to upgrade.
Women's Waders: Frequently Asked Questions (FAQs)
Q: Can't women wear men's waders?
Waders explicitly made for women fit a woman's body better. With women-specific waders tailored to the specific dimensions of female bodies, you will be much more comfortable hiking to the water and back and navigating the slippery boulders. If you already own a pair of men's waders, you should try on a few pairs of women's waders to get a sense of the differences between the two types.
Q: How do you take care of fly fishing waders?
The shortest answer to this question is to keep your waders dry. This means making sure they are dry after every use before storing them. Another good tip is to avoid leaving your waders in a hot car because excessive heat will ruin the seams. 
Some people use a wader bag to store waders which we agree is an excellent idea. The bag can be a clean place to stand while changing in and out of your waders. Standing on the wader bag instead of the dirt or gravel is an excellent way to prolong the lifespan of neoprene booties.
Q: Is there a difference between men's and women's waders?
Yes, there is a difference between men's and women's waders: the sizing and cut of the waders. While used to fish with men's waders, all major brands such as Simms, Patagonia, Orvis, or Redington have waders tailored explicitly for women.
Q: Are waders necessary?
They're not always nice, but they're always pleasant. Some streams are so small that you can fish from the banks. Others are warm enough to fish in sandals, old running shoes, or neoprene booties in wading boots, especially on hot summer days. On extremely hot days, it is preferable. Waders, on the other hand, can mean the difference between a fun and cold trip, primarily if you fish during the shoulder seasons or in the winter.
Q: Is it worth getting women's waders repaired? 
Yes, without a doubt. Most companies claim that a pair of waders have a normal life of three to five years – longer for those who wear them less frequently and shorter for those who wear them more frequently. However, the most common cause of failure is a leak, usually a very small pinhole leak. If your waders leak and you can't figure out where it's coming from, most companies will repair them for $60 or a similar fee. We have sent a few in for repairs over the years and have always been pleased with the results.
---
Related Articles
---
Recent Articles
Review Archives
---