Fly Fishing Nippers – Best Of 2023
The goal of all fly fishing nippers is to snip off the excess line. They all have one thing in common: they all get boring sooner or later! The Facikono knot-tying tool and nippers will do the job but will not last as long as the more expensive ones.
For a few dollars more, you can get the Loon Classic nipper. It is our favorite because of its simple design and comfortable handle. The Outdoor NIP N' SIP, which has a replaceable cutting blade, is also available from Loon. When the blades become dull, you can replace them rather than discarding the entire nipper.
Many high-end manufacturers, from Orvis to Loon, have designed nippers, demonstrating their utility. Let's look at some of the best sets of fishing nippers you can get your hands on to add to your kit and use on your next fishing trip.
How To Choose Fly Fishing Nippers
Material
The material that the nippers are made of is the most important thing about them. You'll have to look for a pair that can handle all kinds of water and weather. You won't have to deal with corrosion or tarnishing, which can make your blade less effective at cutting.
In an ideal pair of nippers, surgical stainless steel is one of the best materials to look for. Any other material wouldn't be strong enough to make it so easy to draw thin and thick lines.
Aluminum is another material that is often used for these tools. Aluminum is pretty strong and doesn't rust in either saltwater or freshwater.
It is also one of the few metals that is very light, which makes it great for traveling. Aluminum is a good choice for nippers that are easy to use and won't add too much weight to your gear.
As with any tool, tungsten carbide is also a strong and robust metal that you should consider. Tungsten carbide is very strong and lasts a long time, but it is heavier than both stainless steel and aluminum.
One of the best things about this material is that it stays sharp over time, so you don't have to replace your blades as often.
Handle Design
How your new tool is made to be held is another thing that makes it easy to use. When you're handling fish, and your hands are wet and slimy, you'll need a good grip on your fishing gear.
Nippers usually come with some padding to make them more comfortable, but it's important to ensure you can still control the tool. The grip is also essential because it lets you put more pressure on the line when needed. You can cut through thick lines with extra grip without straining your hands.
Blade Type
Depending on the price, most nippers have blades that can be removed and put back on. Many people like knives with blades that can be removed and replaced when they get dull. If you have tools with fixed blades, you may want to have them sharpened or buy a whole new set.
Depending on how much you spend on your nippers, you'll want to choose the blade design that is easiest and most cost-effective.
Storage
It's surprising to see how tiny nippers are the first time you use them. Still, the last thing you need while whitewater rafting is a tiny tool that can vanish forever.
You should look for a set that has convenient and safe storage options. A secure ring or lanyard that can be attached to your vest is included with the better-designed nippers. It's more likely that the tool will go missing without this safe fastener.
Additional Features
Nippers are often regarded as a versatile tool, so ensure you have everything you need. They aid in line cutting, and you should have a cleaning pin on your hand to keep your hook eyes clean.
Some higher-end models include extras such as bottle openers, making the nippers even more versatile. One aspect of nippers that is frequently overlooked is their color, which may appear unimportant initially.
When you have several fly fishing tools on your vest, you want to be able to tell them apart easily. Finding nippers that come in various colors can help you organize your essentials.
High-visibility colors will be easy to spot on your vest or if they are accidentally dropped in the water. Alternatively, you can select colors that complement the rest of your outfit for a fully fitted professional look.
---
Top 10 Fly Fishing Nippers
Do you want to spend more time catching fish or messing with tags and knots? You can use nail clippers, pliers, a hunting knife, or your teeth (definitely not recommended). But none of these are made to do the specific job of cutting a small-diameter monofilament strand cleanly and efficiently. With that said, let's look at ten fly fishing nipper options you may want to consider.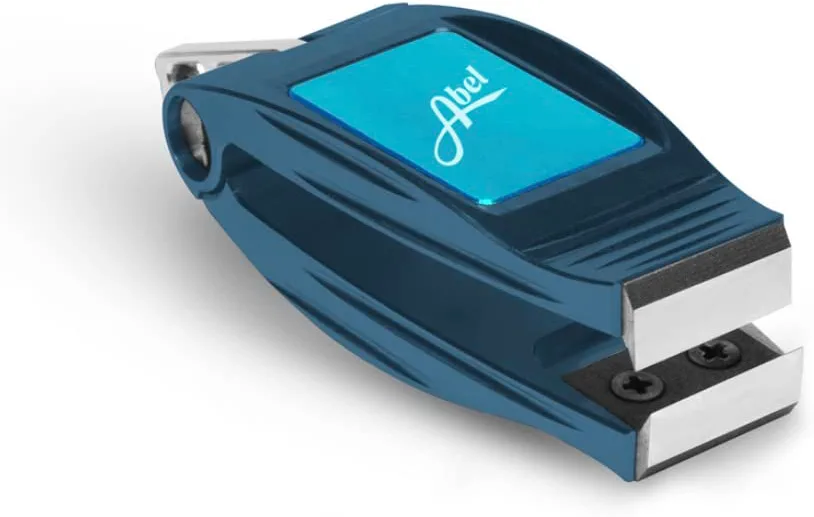 With their 2007 debut, Abel quickly became the gold standard among luxury nippers. As the only nipper on the market with two blades instead of the traditional cutter and anvil, it is the go-to tool for cutting anything from 8X tippet to braid.
The new snips use the same basic idea but update it with improved ergonomics, type III anodized bodies, and a magnetic "spring." The jaws are held open by two sets of rare earth magnets, eliminating the need for a hinge, which can corrode over time. This makes for a sturdy "fly dock" to attach your flies during the rigging process.
There are more than 54 possible combinations, thanks to the three different body colors and the full spectrum of solid gloss colors.
Pros
Durable 6061-T6 Aluminum Body
Replaceable Stainless Steel Jaws
Designed to cut mono, fluorocarbon,
and braid from 7X to 100LB.
Two-Year Limited Warranty.
Cons
Expensive compared to other nippers.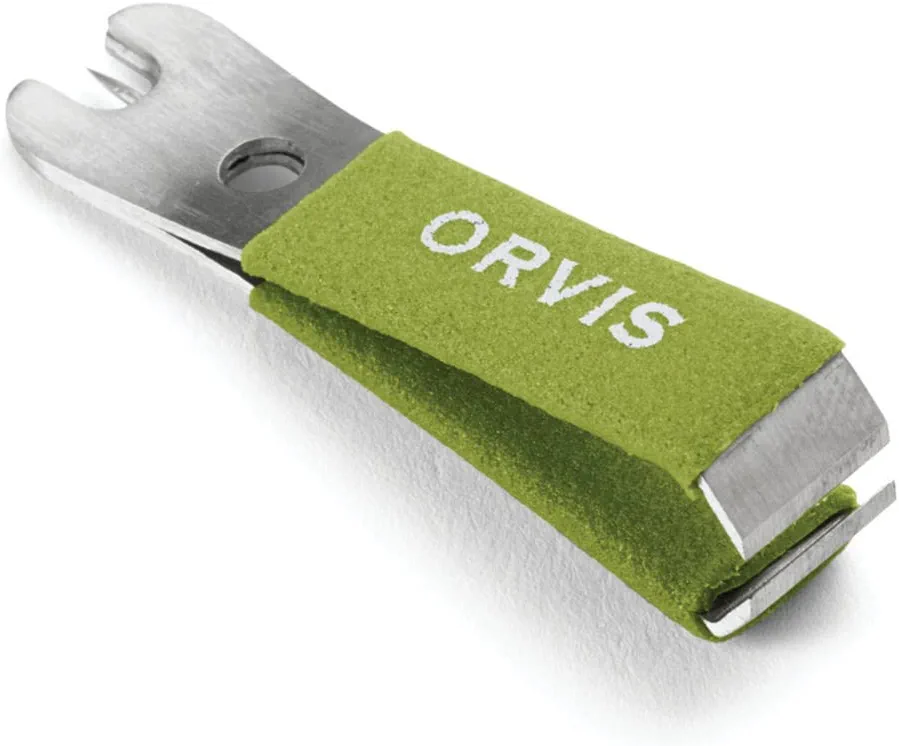 The Orvis Comfy Grip Nipper is an excellent choice for fly fishermen looking for a simple tool. Sharp edges and an easy-to-use design make this a great set of nippers for most situations, especially when it's cold outside. A straight-edge cutting surface makes managing all fishing lines a breeze, and the pointed cleaner makes working your hook eyes easy.
On the downside, we found the mounting hole could be better for small-ring zingers. In addition, if you are cutting thick lines, you may want something more durable, as the blades are not up to the task.
Pros
Easy To Handle
Comfortable Padding
Relatively Durable
Sharp Edges
Stainless Steel
Three colors
Cons
Fails over time cutting thick lines.
Hard to attach to small-ring zingers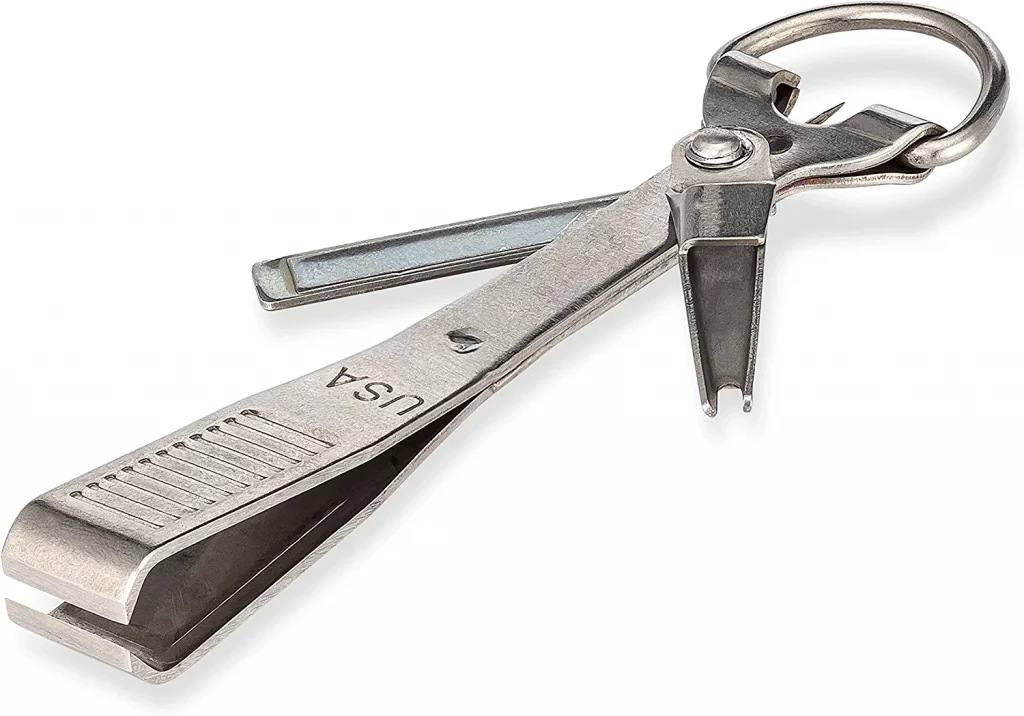 The Scientific Anglers Tie-Fast Combo Tool is highly versatile and, as such, a very popular streamside accessory among fly anglers. It has a clipper, knot tier, hook sharpener, and an eye-cleaning tool. Ideal for tying nail knots, cleaning clogged hook eyes, clipping mono, and sharpening hooks in the field. The Combo Tool's cutting blades are razor-sharp. Standard and Magnum sizes are available (no file on the Magnum).
Pros
Stainless Steel
Razor-sharp monofilament clipper
Handy needle knot tool
Needlepoint for cleaning hook eyes
In-the-field hook sharpening file
Non-Reflective Finis
Cons
Dull over time when cutting heavier lines.
The knot tool takes some practice.
Spring is stiffer than most.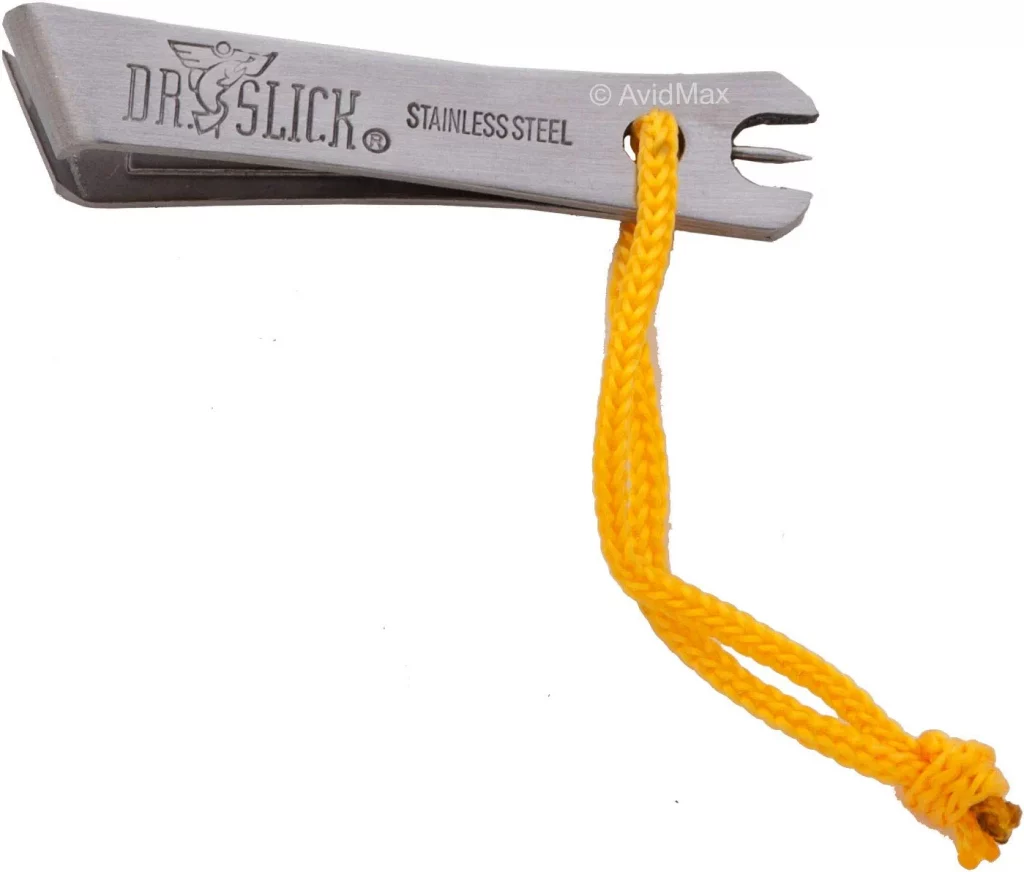 With an Innovative slanted blade face, the Dr. Slick Offset nipper/hook File is designed to work tight to flies, snipping loose ends of the tippet without cutting other material or hackles. The small size and razor-sharp blades are perfect for the minimalist, easily attaching to a hip pack with a retractable lanyard. The slanted jaws allow effortless access into tight spaces on small dry flies, clipping the tippet and nothing else. The nippers work fine on larger flies and tippet, as well, up to the 20#
Pros
Super handy diamond grit hook hone
Clips like a ballpoint pen to any pocket
Works well on hooks sized 4 to 22.
Fine control over what is (or isn't) cut.
Hook-eye cleaning pin.
Stainless steel
Cons
The spring can feel a little stiff
Blades could be sharper
Not great for braided line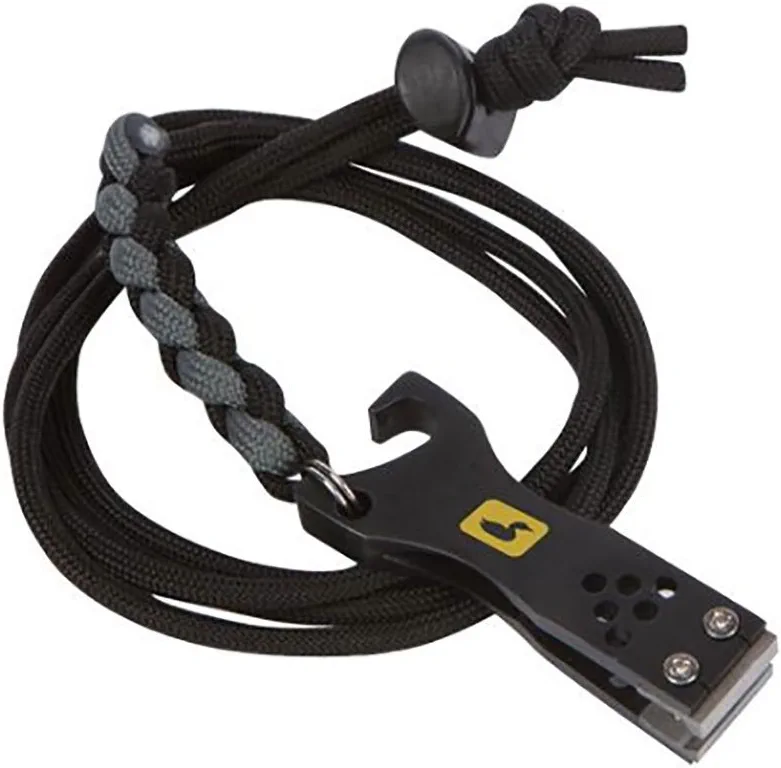 A nipper and a beer bottle opener in one convenient gadget! Who could ask for more? The Nip n' Sip 2.0 now incorporates a durable lanyard to keep your essential tools even closer at hand. The nippers have replaceable stainless steel cutting jaws that make quick work of even the thickest line. These nippers have machined pads for a tight grip, an eye-cleaning needle, and a built-in bottle opener. This is an excellent choice and the most affordable alternative to an Abel nipper with a lanyard.
Pros
Removable stainless steel blades
Helpful for mono and braided line
Bottle opener
Extra wide thumb pads
Eye cleaning needle
Lanyard included
Minimalistic design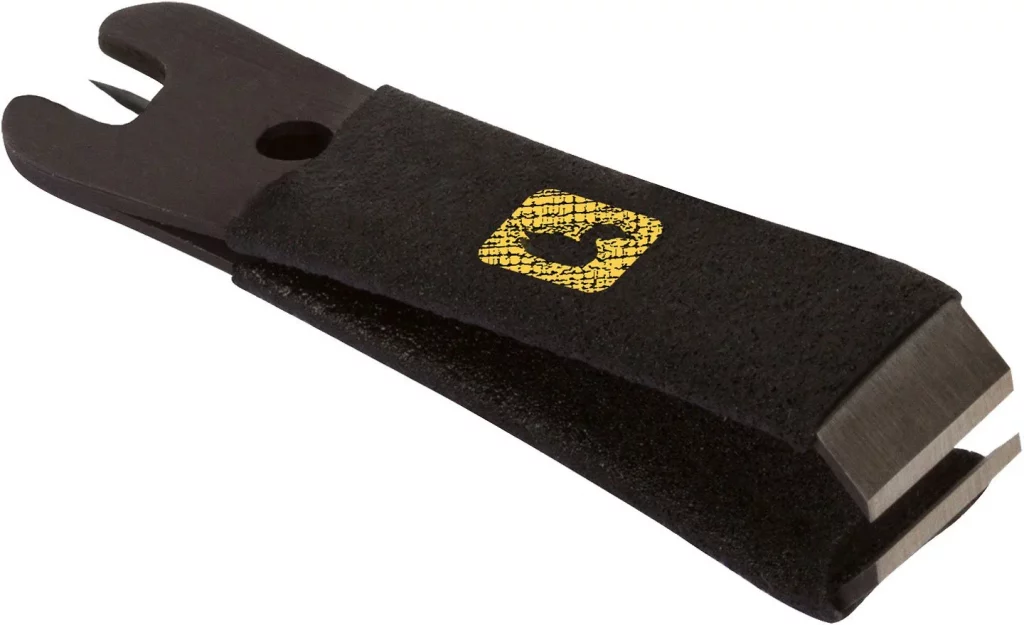 As an alternative to the Loon Outdoors NIP N' SIP 2.0, these simple nippers are more affordable and the ideal paring of comfort, minimalism, and performance. Made of surgical-quality steel and comfortable grip offered in a matte black, rust-resistant finish. They have a straight-cutting surface as well as an eye-cleaning needle. The comfortable grip provides extra tackiness, while the handle is double-dipped for extra comfort.
Pros
Stealthy matte black rust-resistant finish
A comfy grip provides extra tackiness
Double-dipped handle for added comfort
Stainless Steel blades
Eye cleaning needle
Cons
Struggle with a thicker braided
line over time with use.
Blades not replacable.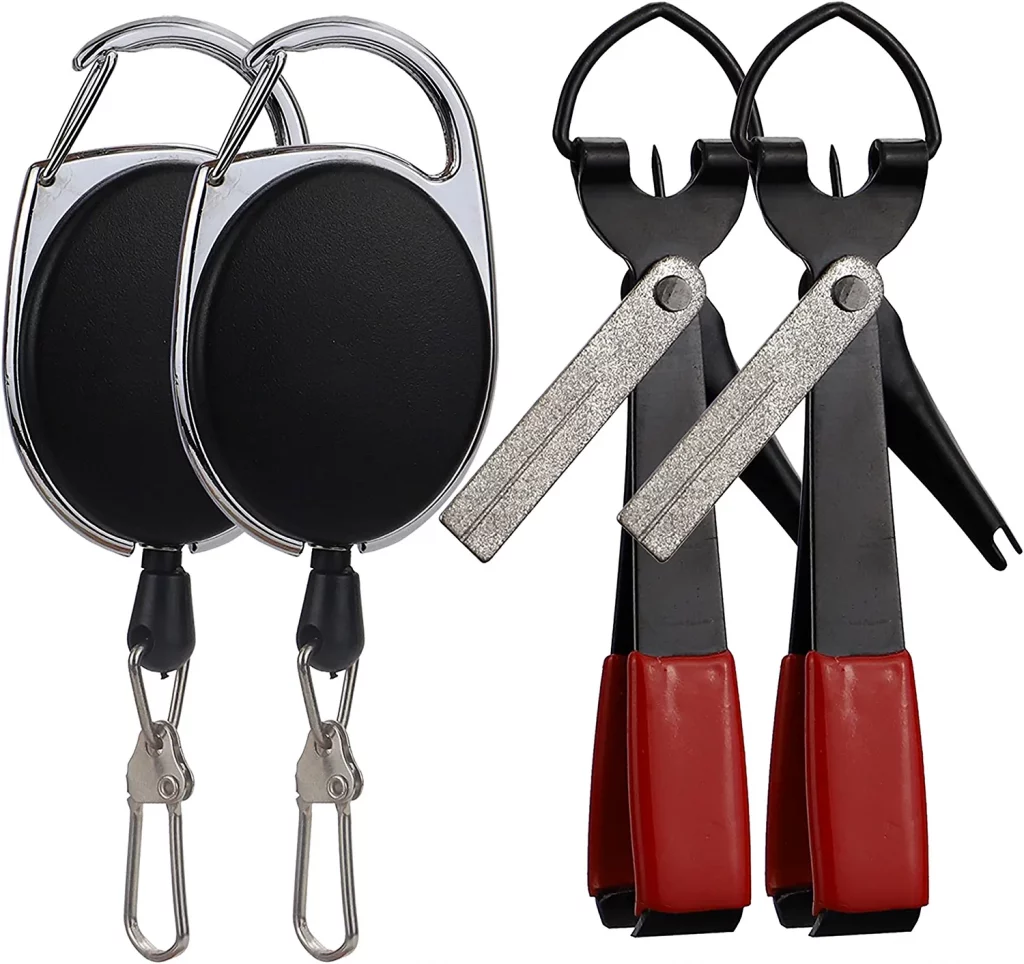 The Facikono Fishing Quick Knot Fishing Nippers are a good choice for the beginning angler, particularly if you require a small and compact tool for knot tying. Whether you prefer beach, floating, or kayak fishing, these will come in handy. . The Facikono is made of stainless steel and suitable for freshwater and saltwater anglers.
Nothing beats having a single tool that can handle various tasks in a single design. These nippers help you with the end of your line and serve as a cleaning needle for your hook eye. Nippers are often small, making them difficult to keep track of while fishing. Fortunately, this model has a retractable buckle that makes it easy to store in your fishing vest or belt. The retractable 24″ line is well-tensioned and easy to access and use on the fly.
Pros
Good for larger hands
Helpful for tying knots
Small and compact design
Set of two
Retractable leash
Cons
Lacks instructions
Not great for braided line
Could be sharper
Inconsistent quality baed
on reviews and feedback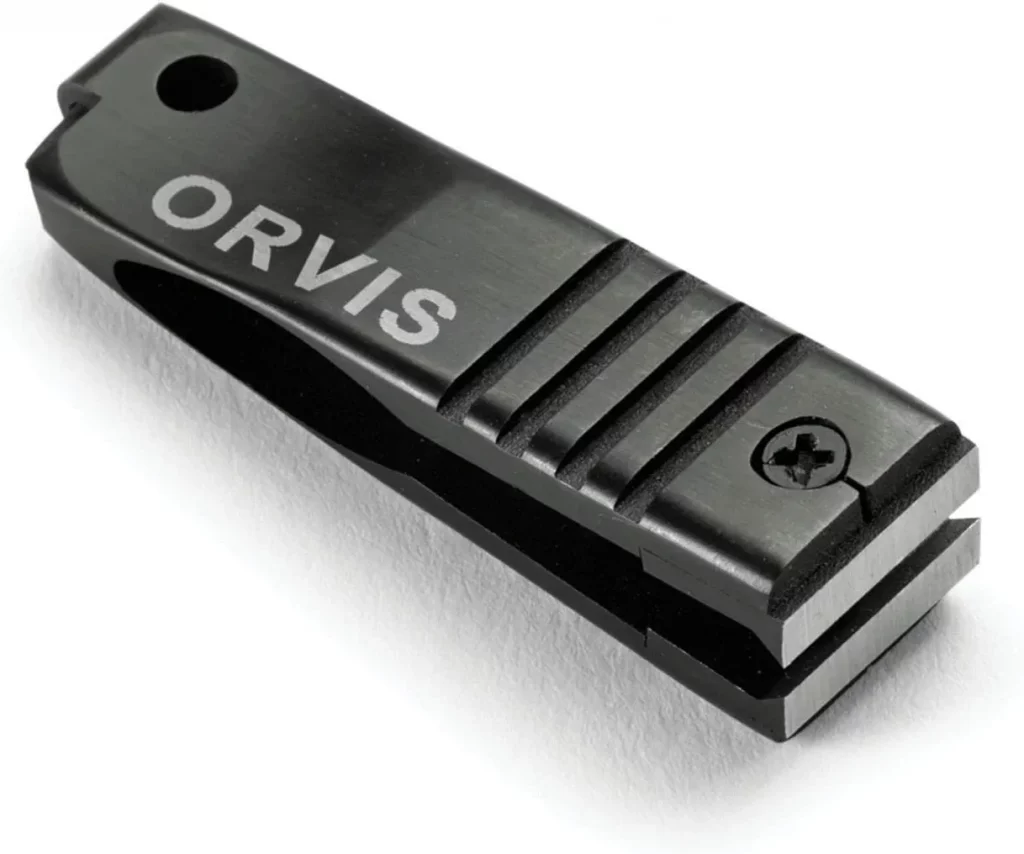 The Flow Nipper, designed by Orvis and powered by Loon Outdoors, is a step up from standard fly-fishing nippers. If you value build quality, a touch of industrial refinement, and a little extra heft, you'll enjoy the Orvis Flow. With machined grooves, a hook-eye cleaner, and finished edges, these stainless steel fishing nippers provide a secure grip and a decent cutting edge.
Pros
Superior cutting edge for long life
Machined from high-quality stainless steel
Machined grooves and finished edges
for a better grip.
Integrated hook-eye cleaner.
Cons
They are heavier than similar nippers
Not great for thick or braided line
Hook cleaning eyelet is a bit chunky

Pros
Extra-sharp tungsten carbide cutting blade
Slightly wider cutting blade
Free-rotating ring attachment
Curved ergonomic shape
Pin eye-cleaner
high-vis colors
Cons
Not great on braided line.
With a rubberized grip and made from tungsten carbide (which also comes in stainless steel), the Umpqua River Grip Nippers are a good set of nippers and perfect for people with bigger hands. The cutting gap makes them easy to use with various line thicknesses. The Umpqua River Grip Nippers, like the Orvis Comfy Grip Nippers, are much easier to use in bad weather when cold or moisture may inhibit the full use of your fingers.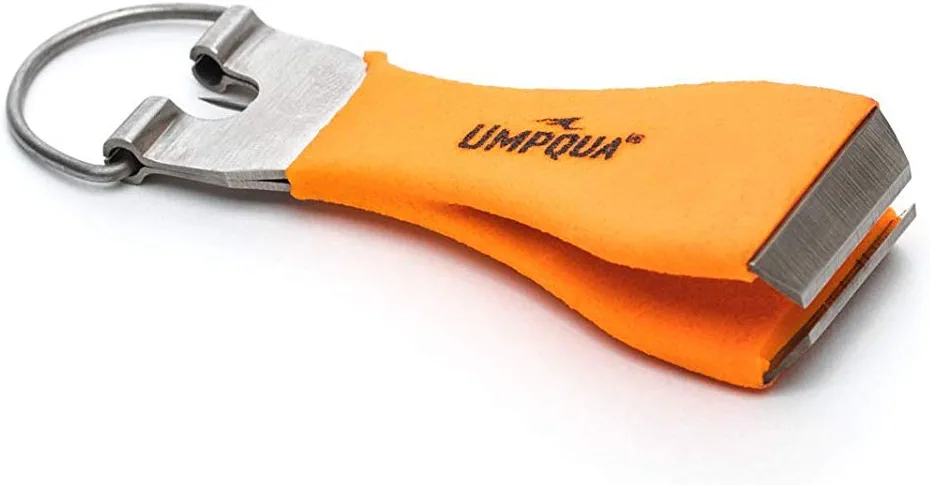 A wider version of the Umpqua River Grip and comes in both stainless steel and tungsten. The blade and handle are a little wider in addition to a free-rotating ring attachment.
Pros
Extra-sharp stainless steel cutting blade
Wider cutting Blade
Free-rotating ring attachment
Curved ergonomic shape
Pin eye-cleaner
Cons
Not great on braided line.
---
Frequently Asked Questions
How Do You Use a Line Nipper?

Line nippers are especially useful for cutting lines because they are so simple to use. At first glance, they appear to be a pair of nail clippers, and that is how they are used. Simply place the line between the blades and squeeze the nippers to cut it where needed.

What Do You Use Nippers for in Fly Fishing?

Many fly fishermen believe that nippers are an essential tool when fly fishing. When you look at the tool, you'll notice two straight-edge blades that are incredibly sharp. When necessary, these blades will be in charge of cutting line safely and securely.

Of course, there are nippers with a few extra features to help make your fishing experience easier. As previously stated, they are frequently used to assist in the tying and cutting of knots, as well as cleaning hook eyes when necessary.

What Is a Nipper in Fishing?

A nipper is a one-of-a-kind tool that fly fishers adore. It enables you to tie knots quickly, cut lines, and clean the eyes of your hooks. Instead of carrying all of these tools separately, nippers have them all built into one unit.

What Is a Fly Fishing Zinger?

The tools you need must be kept within easy reach at all times. A fly fishing zinger is a lanyard that can be retracted and fastened to a pack or vest. Once your lanyard is set up, you can attach your tools to it for quick and easy access.

Can You Sharpen Fishing Nippers?

It's possible that the nippers you bought can be sharpened, depending on the blade design. It's also critical to select a resharpenable material, such as stainless steel. To get the perfect edge, it's highly recommended that you seek out a professional who offers tool sharpening.

---
Related Articles
---
Recent Articles
Review Archives
---