The Best Wading Boots For Fishing – 2023 Buyer's Guide
---
The best wading boots are built with traction, comfort, and durability in mind. The top brands like Simms have continued to innovate the design of their boots to keep up with changing trends and to meet the demands of varying types of anglers.
A good wading boot is priceless. The best options provide comfort and stable footing and allow you to be safe and make the most of your day at the water. This fly fishing wader boots review gives you the best fly fishing boots of the year and helps you make the best choice before you step into the water.
This guide will give you an overview of the best options for fly fishing boots. We will also explain the various material, sole, and fit options and help you know what else you should look for when buying a new pair of wading shoes.
Whether you go for a rubber sole, a felt sole, or one of these choices combined with studs, a quality fly fishing boot is always a good investment.
Of course, not every fly fisherman's or woman's budget is the same. Hence we included fly fishing boots from all price ranges in this guide. One thing to consider: if you are new to fly fishing or a beginner, you will be just fine with an entry-level fly fishing boot. You can always upgrade later as your needs change. With that, let's get to it!
---
---
Comparison: Felt Soles vs. Rubber Soles
When choosing a pair of best wading boots, there are two primary types of soles: rubber and felt. A rubber sole offers traction and durability while a felt sole is a better choice for traction on slippery surfaces.
Some brands like Korkers have made this easy for you. Korkers produces boots with a sole interchangeable system.
Rubber Soles
Generally speaking, rubber soles give you extra comfort when you do a bit of walking getting to and from your fishing location. A rubber sole can also be easily damaged by water. However, the most durable ones are the ones that can withstand the punishment that they take while wading. There are also some differences in the design of the soles.
Felt Soles
On the other hand, felt soles are better on slippery surfaces such as river beds with rocks covered with algae. Felt soles are not as durable as rubber and should probably only be worn while actively fishing in the water.
Cleats & Studs
Whether you opt for felt soles or rubber soles, you still have the option to add cleats and studs to your boots. Cleats and studs provide extra traction and stability. Like any other cleats, limiting use out of the water is essential. This will prevent damage to your cleats and damage to other surfaces (like your local fly shop floor).
Now that you know what to pay attention to before making a purchase, we want to give you our favorite fly fishing boots out there. From years of experience, we can tell you that the best fly fishing boots come from a handful of manufacturers.
Of course, they produce several different models. We pick our top choice in terms of durability, traction, versatility, weight, and budget to make it easier for you. Here are our favorites.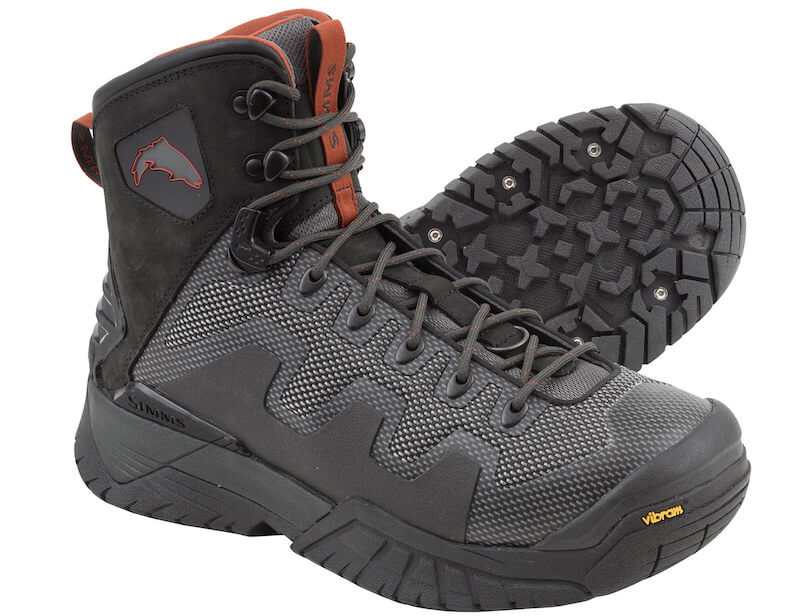 Simms constantly creates high-quality gear, and nearly any Simms wading boot could be one of our top wading boots since they last so long.
Nevertheless, the newly upgraded G4 PRO Wading Boot with Vibram Soles is difficult to better.
Neoprene is used throughout these incredibly sturdy wading boots for increased warmth and comfort, and Simms alternative cleats may be added for even more traction. For abrasion resistance, the upper is vacuum-molded with stitchless TPU overlays. The new lacing method is discrete and utilizes hardware that won't rust.
A robust rubber toe kick covers the roomy toe box. Unsurprisingly, Simms offers a felt sole variant that can also accommodate studs if you want better traction on land. For the G4 PRO to fit properly with waders, get one size larger than your normal shoe size. If you typically wear a size 11, for example, you should order a size 12 in the G4 PRO.
---
What To Consider When Buying Fishing Boots
This section will touch upon some of the most essential topics for picking a pair of fly fishing boots.
What Size Of Wading Boots Should I Get?
Every wading boot recommended in this guide should be worn while stockingfoot waders. Stockingfoot waders are the gold standard in modern-day breathable waders. Stockingfoot waders are fly fishing waders that have neoprene booties. Over these, you wear a pair of fly fishing boots. This often brings up the question. What size wading boot should you get? Since these neoprene booties are pretty thick, most wading boots have to be one size more than your street shoes. Most manufacturers have unique sizing charts for their products.
What if I want to do wet wading? That's another good question that we often get in the summer. Wet wading means you only wear fly fishing boots. To not have to get another pair of fly fishing boots, we recommend using neoprene socks with your wading boots. This means they will have the exact fit, plus they will keep you warm. Because even if the temperatures are hot outside, the water temperatures are much lower, and your feet will most likely get cold if you wade for hours.
What about the best fly fishing boots for women? Just like with women's waders, the times when women had to pick from men's wading boots are luckily gone. That's why we compiled a separate guide to "The Best Women's Wading Boots. "
Weight Of Fly Fishing Boots
The shape and build of your wading boots have an influence on their weight.
If you prefer a really light boot, you should go for one with a lower shaft, such as the Orvis Men's Ultralight.
As an alternative, if increased stability and sturdiness are your primary concern, the Simms Freestone is probably the best boot to start with. They are essentially indestructible and will last you for years, if not a lifetime of fishing.
Proper Care Of Your Fly Fishing Boots
The most important thing to make your wader boots for fishing last longer is to dry them properly after every use. This means that you make sure they are completely dry before storing them.
Having dry boots is especially true if you don't plan to use them until next season or for extended periods. If they are still wet when you store them, they will likely mold, which will waste your hard-earned money. Not to mention a potential health hazard caused by having mold around.
Conclusion On Fly Fishing Boots
Wader boots for fishing are among the most essential pieces of your gear to have fun at the water. Furthermore, they provide stability in all situations and are crucial for your safety when wading.
Like any other sport or outdoor activity, having quality gear can make a big difference. Having equipment that performs well and doesn't get in the way will positively affect your overall enjoyment and success on the water.
It is worth the extra investment in a quality pair of wading shoes. You will be standing long while fishing, so why not be comfortable and safe? You can't go wrong with any fishing boots we reviewed above, but here are a few things to consider when choosing your shoes for waders.
---
Best Wading Boots: Frequently Asked Questions (FAQs)
---
---