Best Puffer Jacket For Fly Fishing – 2023 Buyer's Guide
---
When it decide to purchase a puffer jacket for fishing, you must consider factors more than design and current fashion trends.
Evaluate whether the jacket fits your lifestyle, can keep you warm throughout your fishing expeditions, is water resistant, and is created with the appropriate insulating materials. Purchasing a standard jacket for your outdoor outings may prove inefficient and costly. In light of this, we'll go over all of the crucial factors to consider when purchasing a puffer jacket, as well as some of the best options available.
---
Considerations When Purchasing a Puffer Jacket for Fishing
The Jacket Must be Water Resistant
I can't emphasize enough how crucial it is to seek for a product with a DWR coating. This is especially true if you're looking for a fishing jacket. Choose a Gore-Tex-treated jacket if being warm and dry is your top priority. One of the finest features of this membrane material is its ability to swiftly drain perspiration and function as an excellent water repellent.
It's a strong shell material that will make it a little stiff to move in, but it won't limit your movement. Soft shell jackets, on the other hand, are more comfortable to wear but lack adequate water protection. In that situation, a regular wading jacket should be worn on top.
The Jacket Should Be Extremely Windproof
Choose a jacket comprised of reinforced nylon and polyester weaves. This material combination is excellent for keeping body heat while allowing extra air to enter. Some of the top items include PrimaLoft Gold insulation and down goose feathers for extra warmth, comfort, and flexibility.
Look For Jackets That Are Breathable.
In terms of ventilation, there will always be a distinction between performance jackets and casual jackets. If you're buying a jacket particularly for fishing or another outdoor activity, look for one with a fabric that allows for additional airflow.
Choose Good Insulation
If you're going on a lengthy fishing trip, you'll need good winter insulation. You can't just wear an ordinary hoody or puffy garment in subzero temperatures. That is why it is important to get a product with a down fill of goose feathers or PrimaLoft Gold fillings for increased protection and warmth.
The simplest method to determine the quality of a duvet is to look for a number on the tag such as 500, 700, or 900. A higher number indicates that the jacket is designed to swiftly reshape once it has been used and squeezed.
---
Best Puffer Jackets for Fishing at Various Price Points
Patagonia Micro Puff Hoodie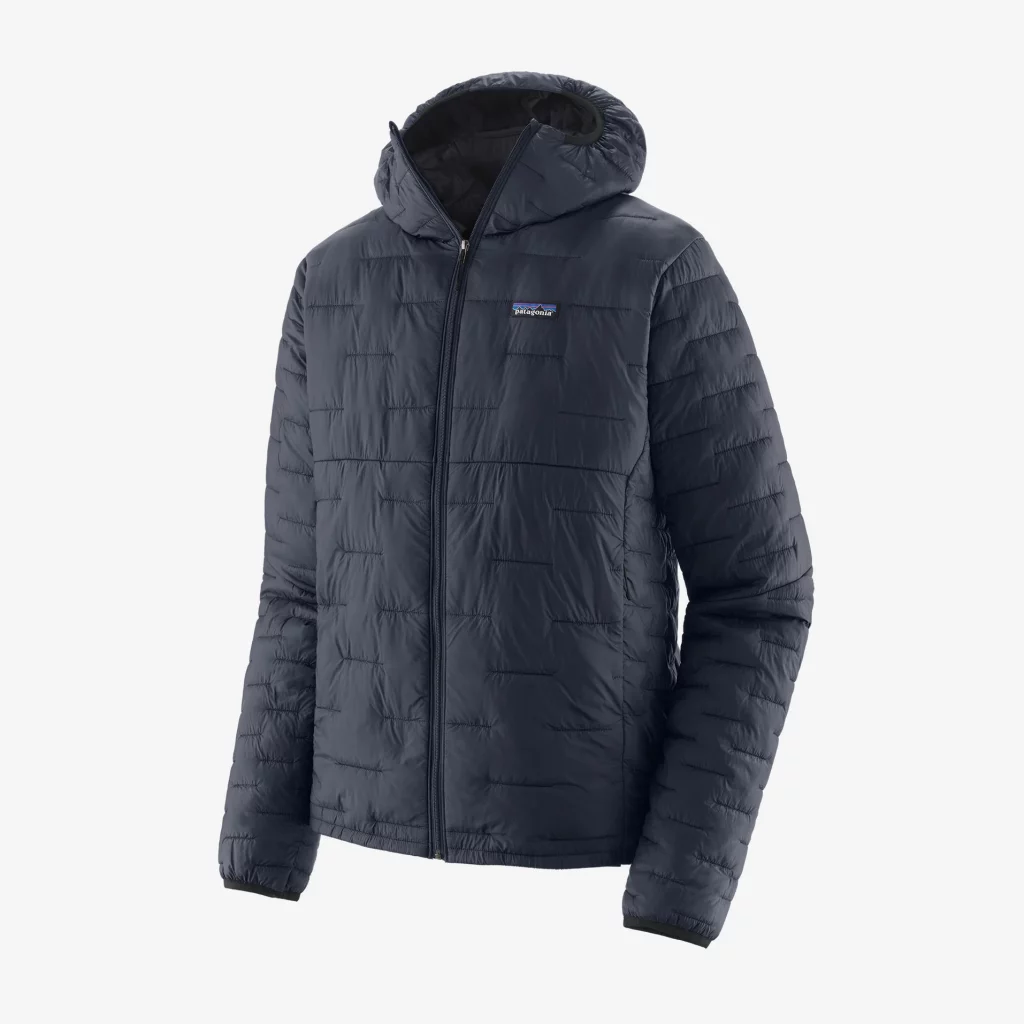 We've been using the Patagonia Micro Puff Hoodie since it first appeared a few years back and it's still one of our favorite pieces of outdoor apparel. It's an excellent layer for fishing in the cooler months, but it also works well for trekking. It has an excellent weight-to-heat ratio and fits perfectly into its own pocket. This makes the Patagonia Micro Puff Hoody an excellent alternative for frequent travelers who must consider weight and size.
Simms M's ExStream Insulated Hoody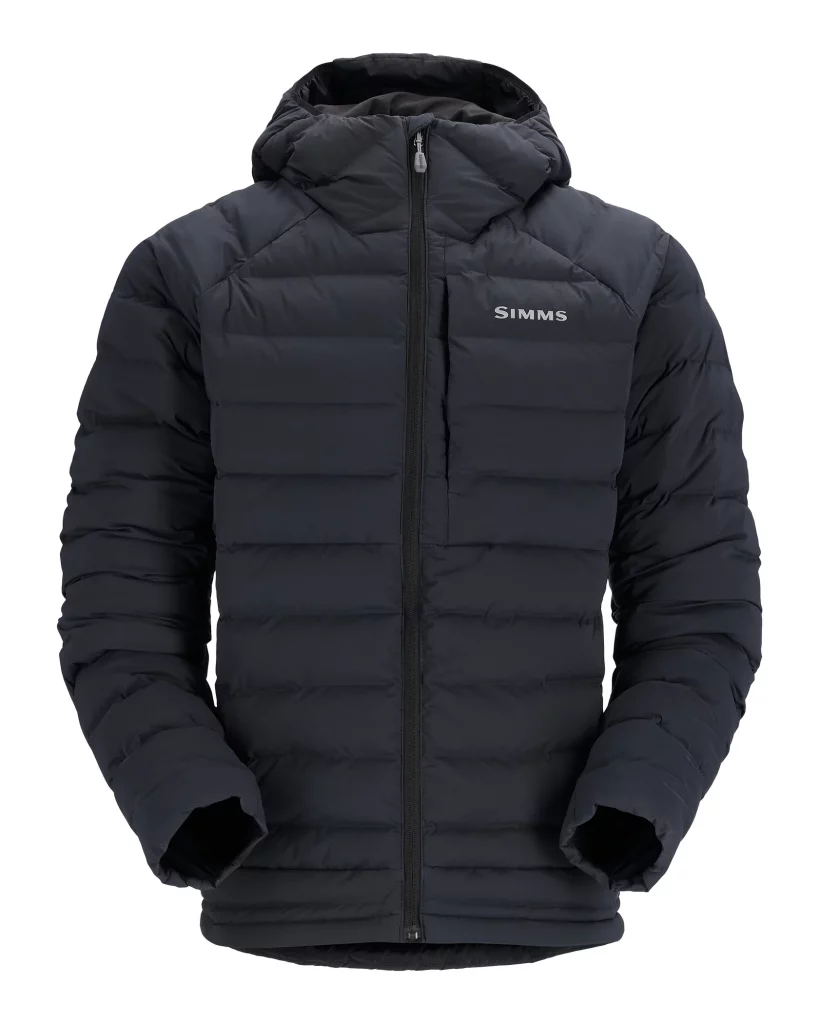 While winter is right around the corner, you should make sure you're well-prepared for your fun fishing expeditions. How? Well, one of the most important things to consider is staying warm. And when it comes to insulation, windproofing, and water resistance, the ExStream Insulated hoody from Simms is unrivaled. The product is specially created with a unique and proprietary material combination, such as PrimaLoft insulation. This means that no matter how windy or chilly it gets, you'll never get the jitters on your long fishing outings.
Furthermore, the Simms M's ExStream Insulated Hoody is comprised of a superior stretch fabric that streamlines the fisherman's mobility, giving comfortable motions to throw for lengthy periods of time. Furthermore, the jacket is lightweight due to the use of pre-baffled textiles to prevent snagging.
Filson Ultralight Jacket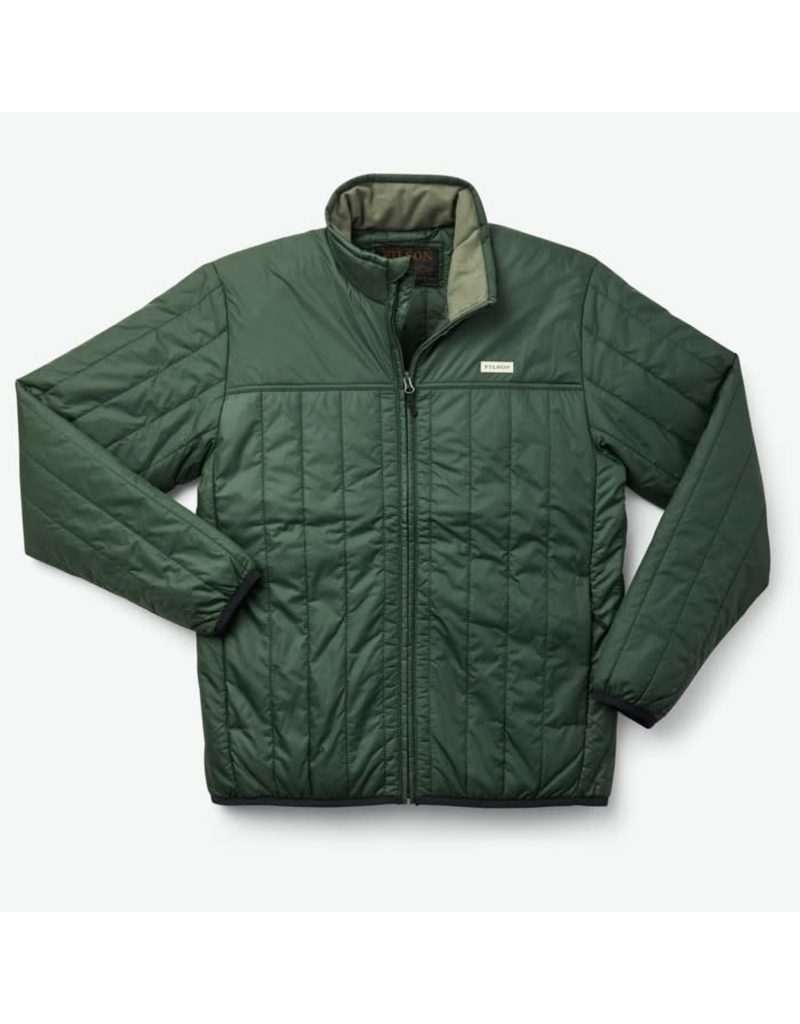 The Filson Ultralight Jacket, with its enhanced compressibility, lightweight design, and well-insulated insulation, might be an excellent addition to your fly fishing gear. The puffer jacket for fishing is meant to be worn as a mid or outer-layer hoody for increased movement and enhanced warmth. The jacket has PrimaLoft Gold insulation (60 grams), which keeps you warm even if it becomes wet.
Furthermore, the Filson Ultralight Jacket has a strong outer shell and a robust cordura ripstop weave for better performance. The Filson Ultralight is an excellent choice for winter fishing because to its excellent wind-proofing, adaptability, and enhanced comfortability. I appreciated how the inside of the collar was beautifully cushioned for all-day comfort.
Grundéns Windward Gore-Tex Jacket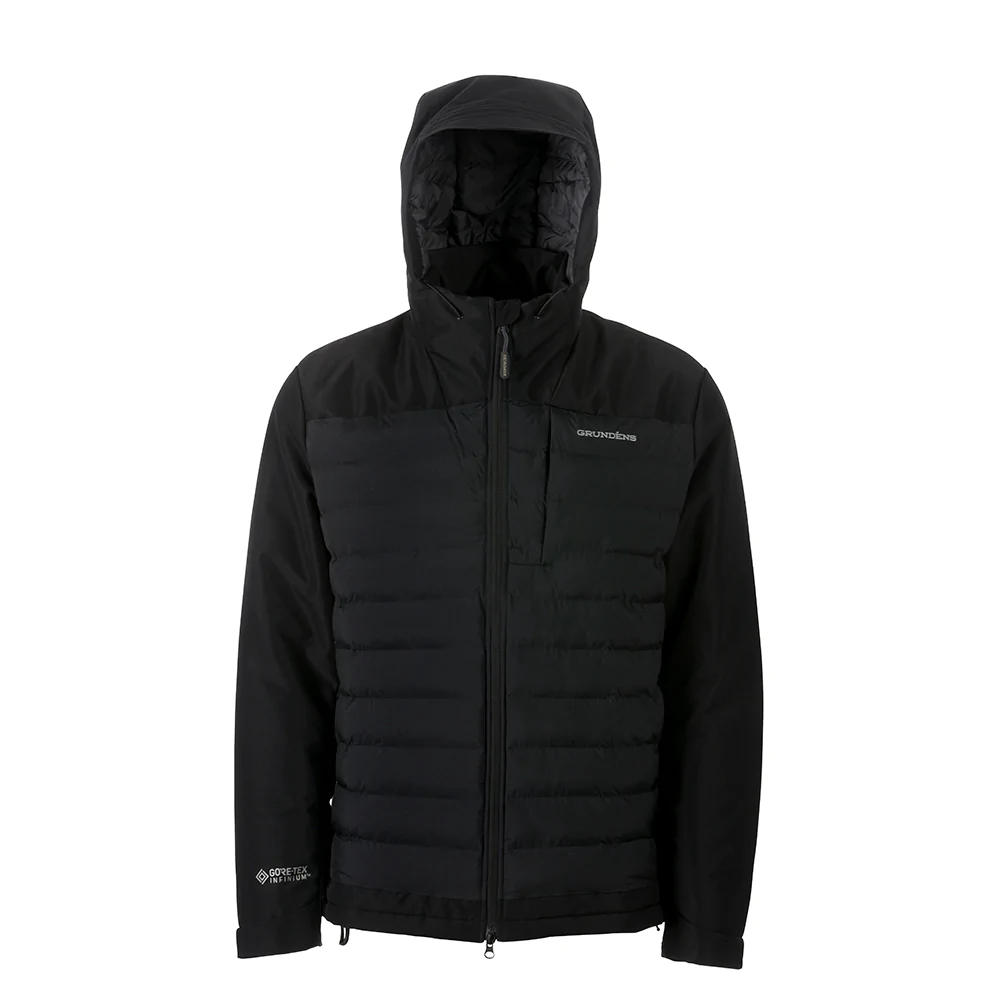 The Grundéns Windward Gore-Tex Jacket is the most coveted winter jacket for fly fishing. The best thing about this jacket is that it is effectively two coats in one. The puffer jacket has excellent Gore-Tex Infinium insulation, which makes it highly windproof. Furthermore, the device is intended to boost your breathability and comfort while preserving your body's heat levels, especially in places with significant wind output.
Because the Grundéns Windward Gore-Tex Jacket is made with a higher shell material, it provides good moisture protection, allowing you to wear it in light rain without losing body heat. The jacket also has PrimaLoft Silver insulation for enhanced cold protection.
Outerknown Hooded Puffer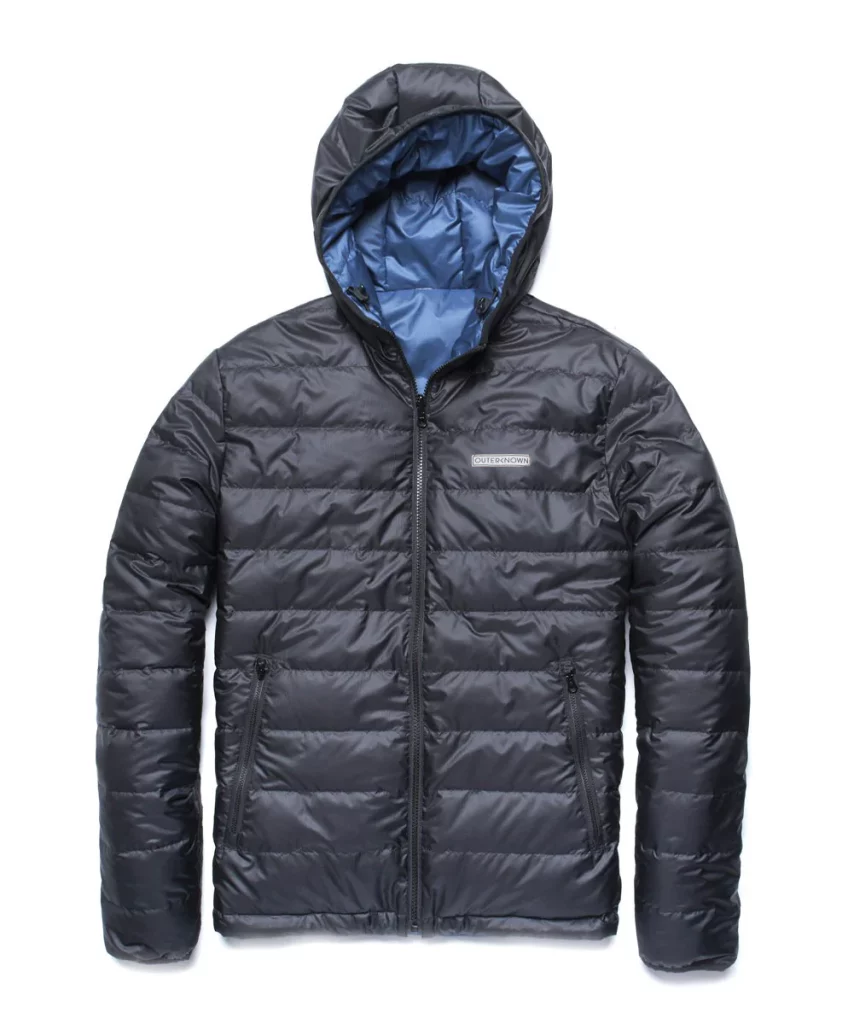 When it comes to the relaxed fit and excellent insulation, the Outerknown Hooded Puffer jacket for fishing is unrivaled. The jacket is recycled polyester and has a hard outer shell. It has a water-repellent treatment filled with 100% grey duck-down feathers. One of the finest aspects of the device is its light weight and ease of movement, making it ideal for fishing.
Furthermore, the jacket adds to your style with a flared and insulated neck, zipped pockets to hold your belongings, and soft layers. The jacket also includes reversible pockets and a drawstring hood to keep your head warm and comfy. The best thing about this jacket is that it comes in two colors as it can be worn inside out!
Topo Designs Global Puffer Hoodie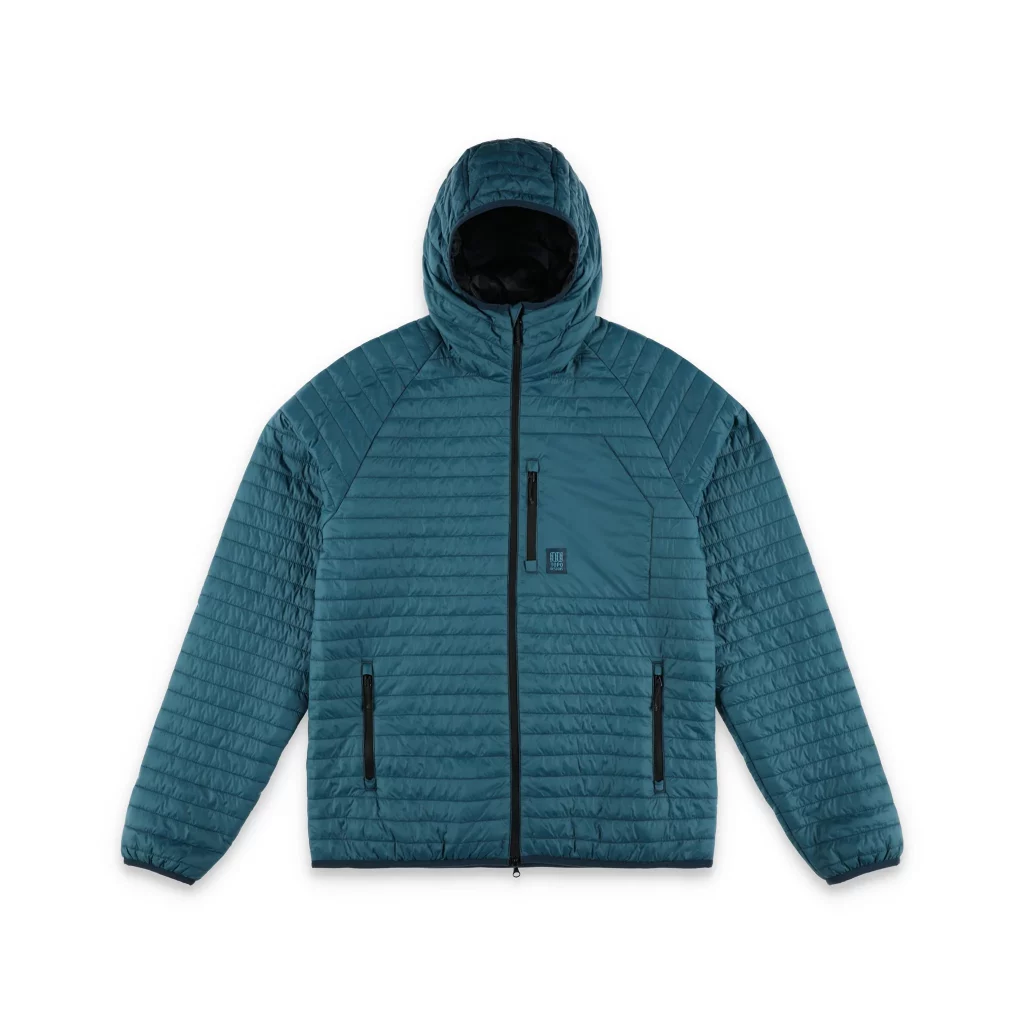 Another wonderful choice for fly anglers wishing to fight the chilly winds is the Topo Designs Global Puffer Hoodie. The jacket, which is multilayered and robust, is meant to be neatly folded and placed in its pocket. This means you may simply transport it on your trips.
Furthermore, the Topo Designs Global Puffer Hoodie is made of the company's C0 water-repellent fabric, which keeps you warm even in light rain. Furthermore, it does not get heavy when wet, offering you greater movement and flexibility. When the weather turns cold, this lightweight item is ideal for layering.
Helly-Hansen Verglas Hooded Down Hybrid Insulator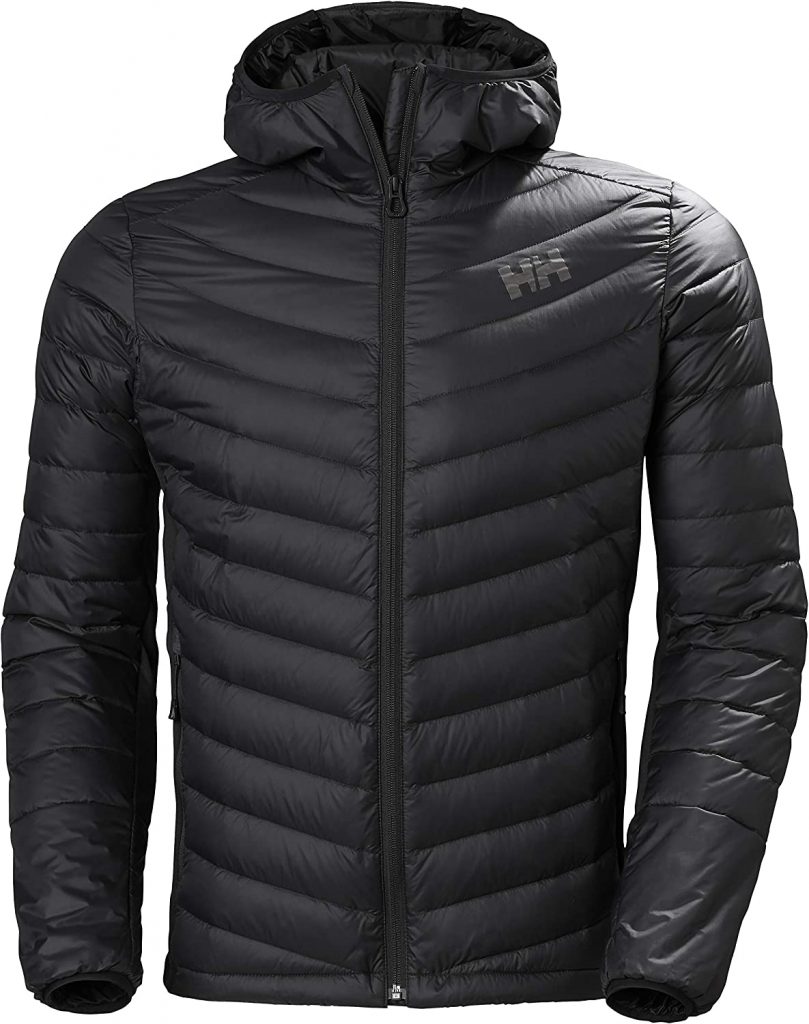 Helly Hansen's Verglas hooded jacket with a hybrid insulator is a quality outdoor hoody that keeps you warm in potentially frigid conditions. It's a good alternative for the fly fisherman who wishes to remain out longer without getting cold. The hoody is made of a strong nylon and polyester blend that allows for good ventilation while conserving body heat.
The Helly-Hansen Verglas Hooded Down is made of 20D ripstop PrimaLoft fabrics and has robust, soft shells. This improves movement and increases the jacket's capacity to keep you dry during light showers. The Verglas also boasts a PFC-free water coating and the company's proprietary hybrid insulator.
Skwala Fusion Hybrid Jacket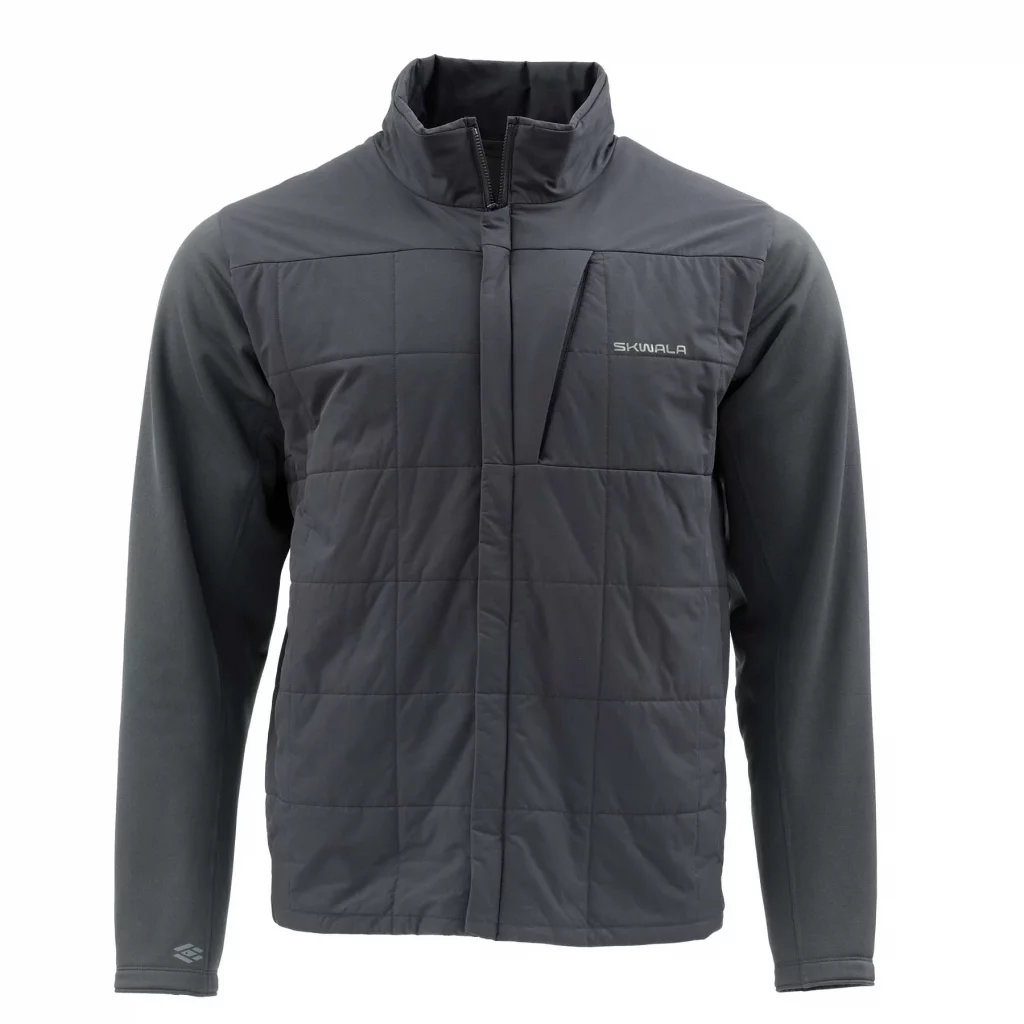 The Skwala Fusion Hybrid puffer jacket for fishing is made of the company's superior Fusion Hybrid fabrics, which are used to replace soft shell layers. The product provides maximum heat retention while enhancing your movements and flexibility, making it ideal for a cold day of fly fishing. I prefer the Skwala's smaller design, which makes it a great layer under a wading jacket.
The Skwala Fusion Hybrid Jacket is made of Toray 3DEFX synthetic insulation (60 grams) and combines Kariyushi nylon and fleece to keep your core, hands, and arms warm. The jacket's improved water-repellent fabric will keep you dry during chilly showers.
Orvis Recycled Drift Jacket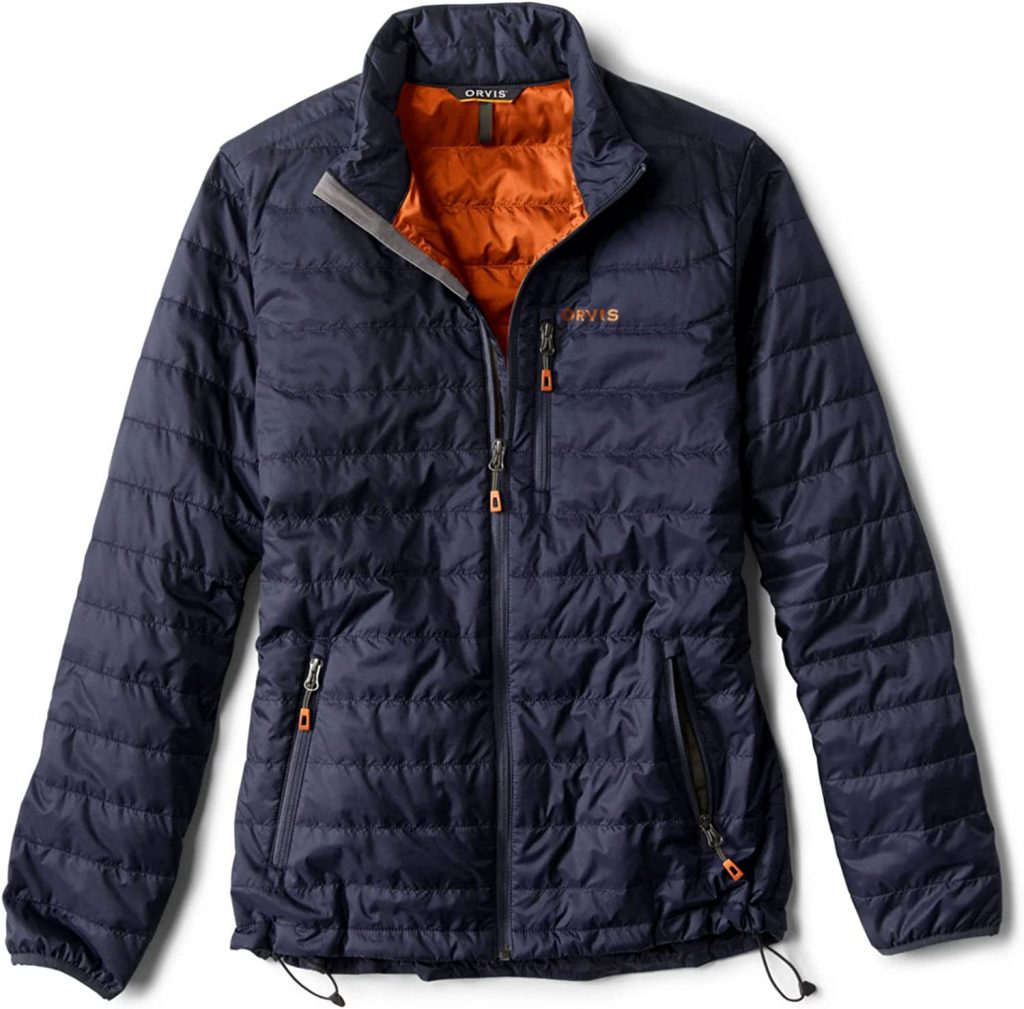 When it comes to seasonal fly fishing, especially in the winter, it's critical to consider wearing something light and warm. Regarding each of these attributes, the Orvis Recycled Puffer Jacket for fishing is among the finest. This hoody, made with recycled polyester for extra environmental friendliness, will keep you warm through the worst winters.
Likewise, the DWR-treated jacket has a robust and ripstop polyester weave, making it both durable and lightweight. The coat has the company's trademarked PrimaLoft Gold for better water resistance and insulation. The Orvis Recycled Drift Jacket has two tricot-lined, heated hand pockets for extra comfort. Furthermore, the jacket boasts a Chevron-quilted collar and a chest pocket.
The North Face Aconcagua Insulated Hooded Jacket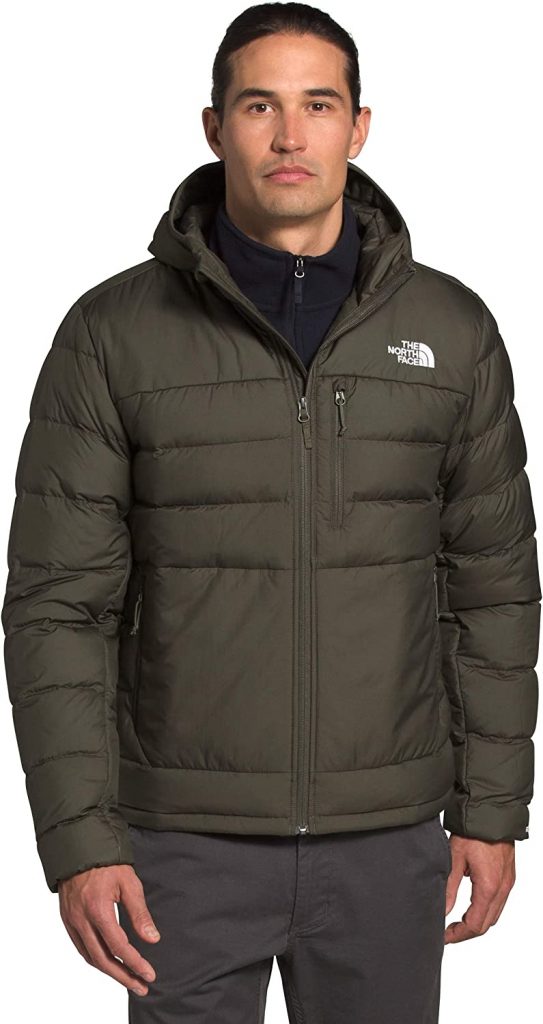 The North Face Aconcagua jacket is made from recyclable and sustainable materials and includes synthetic insulating materials rather than bird feathers. The company's winter coats are made with recycled (post-consumer) fabrics and components.
The comfortable mid-season hoody also has an ingenious draft flap and adjustable cuffs to keep your hands toasty during chilly drafts. The North Face Aconcagua also has an insulated hood to keep your head toasty. It is lightweight and has excellent stitching.
---
Overall, these are the top puffer jackets for fly fishing that we were able to filter down to make your purchasing decision easier. However, because opinions vary, we recommend selecting the key characteristics and attributes you're searching for in a winter fishing jacket. These jackets are made of high-quality fabrics and give the best warmth, and water resistance money can buy.
Frequently Asked Questions
What types of materials should I look for in a winter puffer jacket for fishing?
To stay warm and insulated on a winter fishing trip, search for puffer coats or hoodies with DWR treatment. This indicates that the jacket is exceptionally water-resistant. Additionally, seek goods made of recycled nylon and polyester, including PrimaLoft Gold insulation.
How do I stay nice and cozy during winter fishing?
Aside from having a well-insulated puffer jacket for fishing, it is critical to dress in layers. Wear woolen shirts, sweaters, or any other winter-proof synthetic material. In the cold, never wear cotton.
---
Related Articles
---
Recent Articles
Review Archives
---