Lamson Guru S Fly Fishing Reel Review
This review will step into the Waterworks Lamson fly fishing reel product line and focus on the Lamson Guru S fly fishing reel. We also included some helpful customer reviews in each section to let you know what other anglers like or dislike about the Speedster (hint, not much to dislike!).
We really appreciate you taking the time to check out our reviews, and we hope you find them helpful. We also know you'd rather be fishing. With that, let's get on with it and get you out there hooking some beauties!
If you want to learn more about the best fly fishing reels for all skill levels, browse our Top Fly Fishing Reel Review, or our Top 10 Fly Fishing Rod & Reel Combos, where we cover everything you need to know about Fly fishing reels.
Lamson Guru S Fly Fishing Reel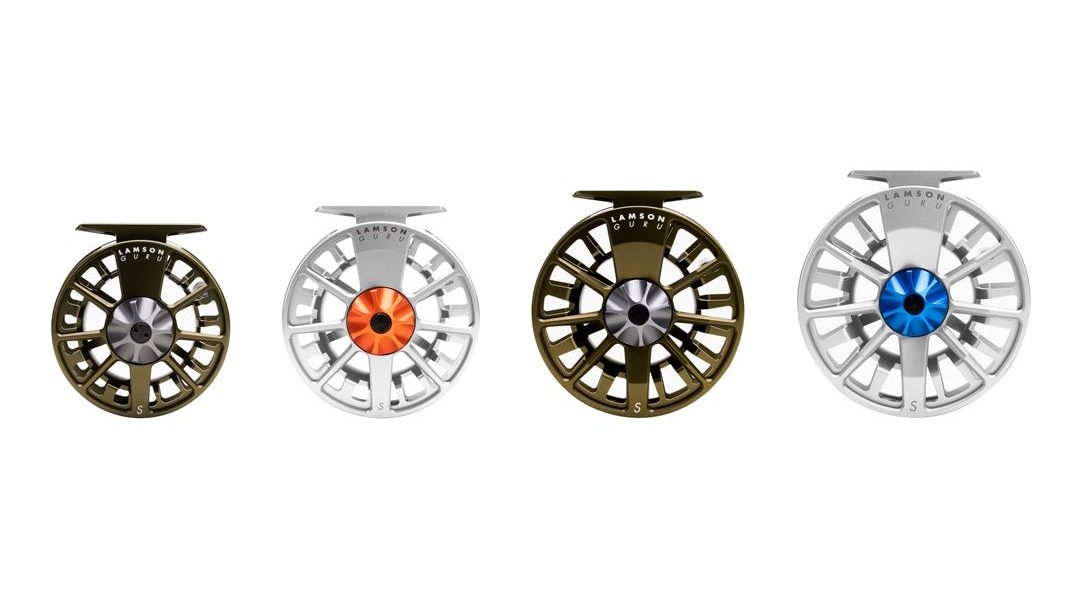 Take your fly fishing game to another dimension (totally enlightened) with the Lamson Guru S. The folks at Waterworks-Lamson pulled out all of the stops yet again with this one. It comes in three different finishes (OG, Blaze, and Artic). We love them so much we included another section of photos for our review so that you could see them all in one place! The Guru S is fully USA-machined and ultra-reliable.
To improve line drying, Lamson opened the porting a bit. They also increased the arbor to a bigger diameter and made the spool narrower. As a result, the new Guru S has a weight savings advantage over previous Guru S models. As a bonus, the Guru S spools are compatible with the Guru S HD. With this one, you won't need to solicit the help of another Guru again. We can't wait to take this one out again… if we could stop gawking at it!
Lamson Guru S Key Features
Format: Large Arbor
Materials: Machined 6061 Aluminum, Stainless Steel
Finish: Type II Anodize
Drag: Sealed Conical Drag
Weight: 0.8 lbs
Dimensions: 6 × 6 × 4 in
Size Guide
SIZE
DIAMETER
WIDTH
WEIGHT
ROD
WEIGHT
LINE
BACKING
CAPACITY
-3+
3.20″
0.90″
3.73 oz
2.3.4
WF4
60 Yds 20#
-5+
3.55″
1.00″
4.41 oz
4.5.6
WF6
100 yds 20#
-7+
3.97″
1.13″
5.04 oz
6.7.8
WF8
180 yds 20#
-9+
4.11″
1.23″
5.83 oz
8.9.10
WF10
220 yds 30#
Lamson Guru S Fly Reel Size Guide
Customer Reviews
I just bought the Guru S -5+ at my local fly shop. It is a very satisfying feel, and I would recommend it to anyone. I've been fly fishing for 35 years, and this is without a doubt the best reel I've ever owned.

April 23, 2020
The reel sounds very satisfying, and the drag is entirely flawless. The Guru S is Instagram-level pretty on my diamondback rod. This piece stands above functionality and moves into the world of art, which is an excellent reason to pursue fly fishing!

December 8, 2020
I was given the Guru S -5+ for my birthday and have already taken it on many fly fishing trips. I prefer the Guru S over my other reels because of the sealed drag. I fished in 20-degree weather, and my line didn't freeze even when I accidentally dipped my reel in the river. That was so amazing!

January 6, 2021
I am impressed with this reel. It has a buttery smooth drag and ergonomic drag knob that allows for subtle tension adjustment. It has a broad range, making it well suited for fishing anything from 6x to light-wire hooks.

It handles itself well, fighting large trout with big hooks and heavy tippet. The pickup is excellent. It lays the line down tightly and efficiently with a quick spool spin.

The Guru S arbor is sized generously for a 4/5/6 reel. I would say the line capacity is just about perfect. I can easily fill out the spool without a line crowding with 100 yards of 20# micron backing and a 6wt WF floating line.

July 20, 2021
Related Articles
---
Recent Articles
Review Archives
---