Fly Tying Vise – The Ultimate Guide
When choosing a vise for fly-tying, so many options are available that it can be overwhelming. There are numerous options available on the market in terms of price and quality. Some vises are unbelievably overpriced, while others are undervalued.

With the help of our ultimate guide, you'll be able to find the best fly-tying vise for your needs without breaking the bank or sacrificing the overall quality of the product.
---
Any beginner who wants to try their hand at tying flies will quickly discover that a fly-tying vise is an essential tool. Holding your hook steady while you tie is the primary use for a vise. With that requirement covered, you can use just about any vice that can keep a hook in place, and given the importance of vises, there is a wide range of options available to meet any need or budget.
As we already mentioned, there are many kinds of vises, each with its style, attachment to the base, and levers. For new tiers, the type of flies you intend to tie will often dictate which vise you go with.
A rotary vise, like the Peak Rotary Vise, lets the tier turn the hook in all directions and makes it easy to attach yarns and chenilles. Most of the time, rotary vises cost more than traditional vises.
A traditional vise, like the base model Hareline Super AA Fly Tying Vise, holds the hook at a 45-degree angle and costs much less. Vises have different types of levers, attachments to the base, styles, and several other features. When you're just starting, the type of vise you choose often depends on the flies you want to tie.
---
Top Seven Recommendations: Fly Fishing Vise
Below are the top seven recommended fly-tying vises. Be sure to check out our other fly-tying vise reviews, including: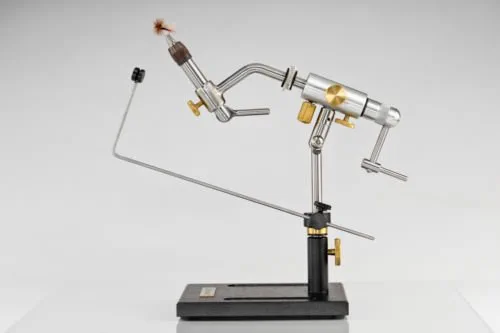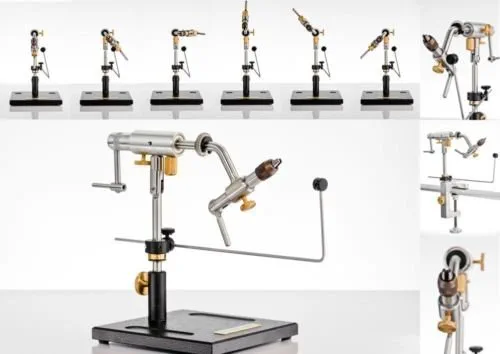 The Dyna-King Ultimate Indexer features an innovative angle adjustment shaft that allows users to maximize their tying by tilting it up or down. This improves not only the viewing options but also the level of comfort. The new bobbin mount design features a swivel mount that enables the bobbin hanger to move along with your vise, enabling any tier to find the ideal position for their preferences.
You can easily rotate to any position you choose for quick viewing without having to rotate your entire vise or remove the thumb screw because the body of the vise can rotate freely on its axis. This vise was designed without a groove in the component that houses the jaws so that you can easily rotate it to any position you choose.
In addition, it features an easily removable handle extension that will make rotary indexing much simpler and more comfortable for you. With the help of the handle, the vise can be rotated to any one of eight different stopping points, which can facilitate the curing of epoxy or facilitate viewing. The vise has an indexing knob made of knurled brass that can be quickly taken off by unscrewing it. This will disable the indexing feature.
Key Features
Innovative Angle Adjustment Shaft
It can be tilted up or down to maximize your tying, viewing options, and comfort. New Bobbin Mount Design
Swivel mount allows the Bobbin Hanger to move along with your vise to find the perfect position for any tier's preference. Freely Rotating Body
We've designed this vise without a groove in the body, the component that houses the Jaws, so you may easily rotate to any position you choose for quick viewing without having to rotate your entire vise or remove the thumb screw. Handle Extension
We've included our invaluable, easily removable handle extension to add ease and comfort to your rotary tying.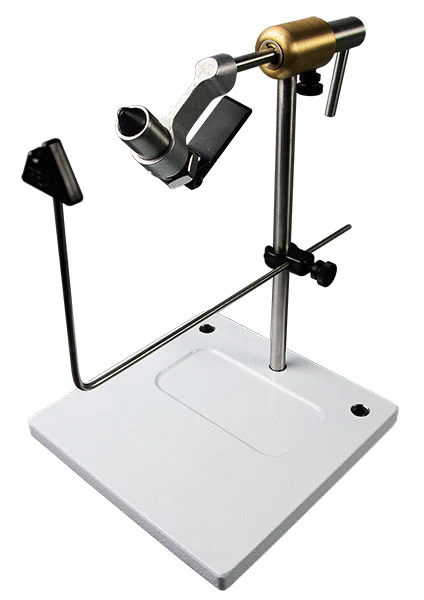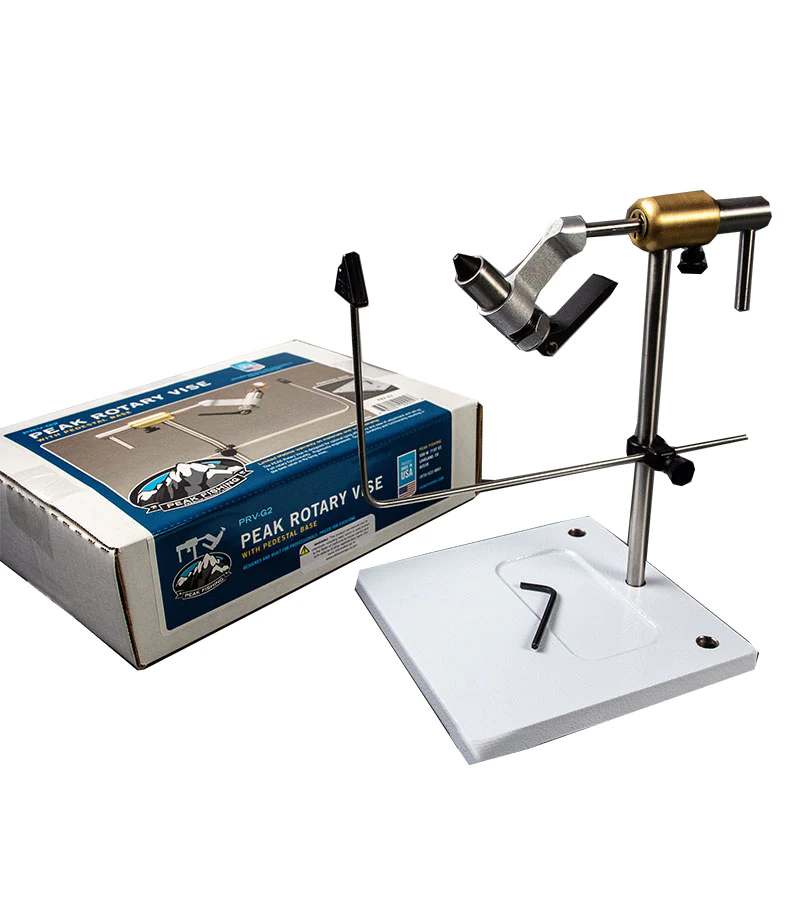 This rotary vise from Peak Fishing looks cool and almost industrial. This one doesn't look like it, but it's tough as nails and will feel solid in your hand while you're tying at your bench.
The rotary action is smooth, and the design includes a convenient bobbin holder. Peak Fishing lets you decide if you want this vise to be on a pedestal or a clamp base. Both are well-made, so it comes down to personal preference.
The vise is made of brass and stainless steel, except for the thumb screws, which are made of plastic. However, you can buy brass thumb screws from Peak Fishing if you want this bad boy only to be made of metal. Some tyers insist that metal fittings are better, and none of the high-end vise companies use plastic parts in their products. Let's be honest: plastic thumb screws aren't a deal-breaker at this price, but it's cool that you can switch them out for pretty brass ones if you want to!
The best thing about this fly-tying vise is that it can hold hooks that are size 30 or bigger. This could be a significant upgrade from your learner's vise if you want to tie smaller flies and nymphs. The jaws can also hold hooks as big as 2/0, making it a versatile tool for tying things on.
The PEAK Rotary Vise is designed to help you tie knots as quickly and efficiently as possible. We use various long-lasting, high-quality materials, such as stainless steel, brass, and aircraft aluminum. The jaws are made of tool steel that has been hardened and tempered to securely hold hooks from size 2/0 to the smallest hooks. Adjustments can be made with minimum effort.
This vise's large, stable pedestal base will keep it in place, and the non-marking feet will protect any surface from scratches. The white powder-coated steel base is strong and makes it easy to see what you have on display. Additionally, the base features an integrated hook/bead pocket with rounded edges for easy removal and two accessory post-mounting holes.
A single set screw allows the vise to be removed for travel, and the base is designed to pack flat. The rotation resistance adjustment screw can be turned indefinitely and is easy for people with either hand to use. The vise includes an adjustable bobbin holder for height and length.
Key Features
The Peak Rotary Vise maximizes tying efficiency and adjustability. Lifetime-lasting materials include Stainless Steel, Brass, Tool Steel, and Aircraft Aluminum.
Hardened and tempered tool steel jaws hold hooks from 2/0 to the smallest on the market.
A large pedestal base and non-marking feet keep this vise in place.
The steel base is powder-coated white for durability and visibility.
The base includes a rounded hook/bead pocket and two accessory post-mounting holes.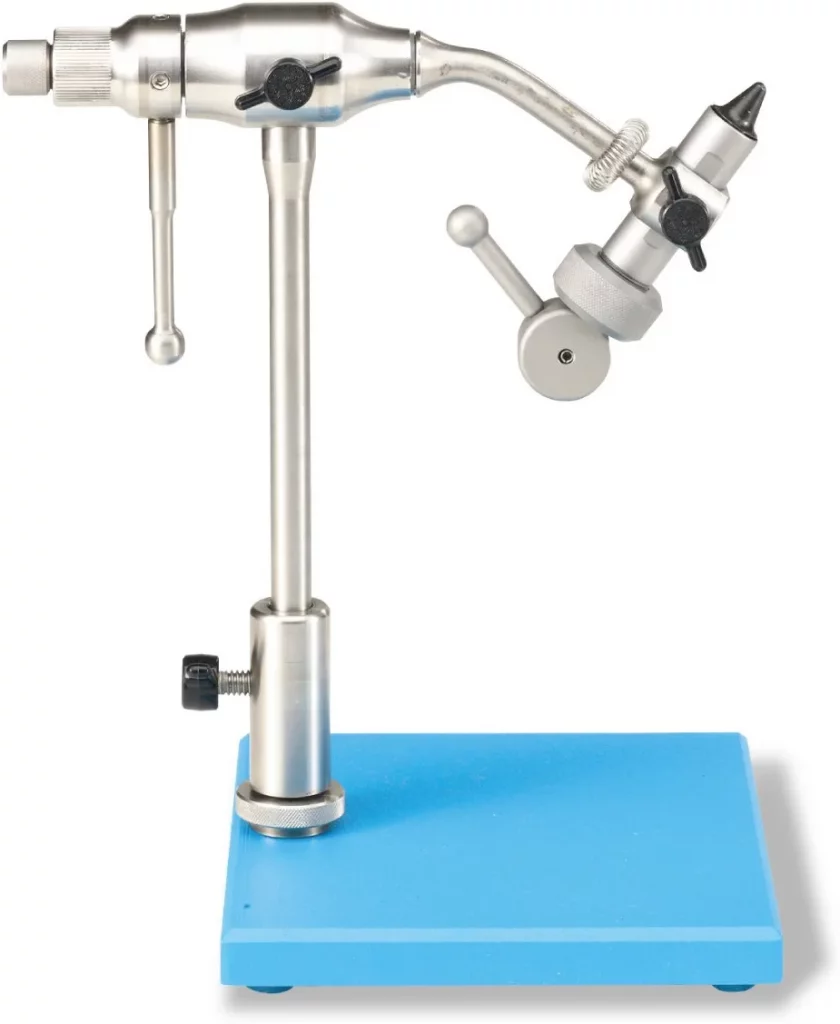 The Wolff Industries Atlas Vise is a rotary vise that has replaceable jaws, a c-clamp, a pedestal base, and a material clip. The Atlas vise incorporates 440-C and 303 stainless steel and 0-1 tool steel jaws that can accommodate hook sizes ranging from 7/0 to 32.
A finger pin with a long ball on the end that makes it easy to wrap can be put in any of four pre-drilled holes. The smooth, solid, and precise feel comes from the stainless steel build, the knurled friction knob, and the cam action lock with Delrin sleeve bearings and Teflon bushings.
The c-clamp assembly ships pre-installed on the Atlas Vise and is held in place by a black thumbscrew on the back of the c-clamp. With a brass knob, the c-clamp can be attached to a flat surface up to 1-3/4″ in thickness. The pedestal base comes neatly packaged under your Atlas Vise. The stem holder screws into the pedestal base to make a secure, stable work platform.
Key Features
Full rotary vise with zero-point turning capability
Equipped with a C-Clamp and Pedestal Base
Accommodates 7/0 to 32 hook range with one set of jaws
The separate wrap-tying friction knob and spindle lock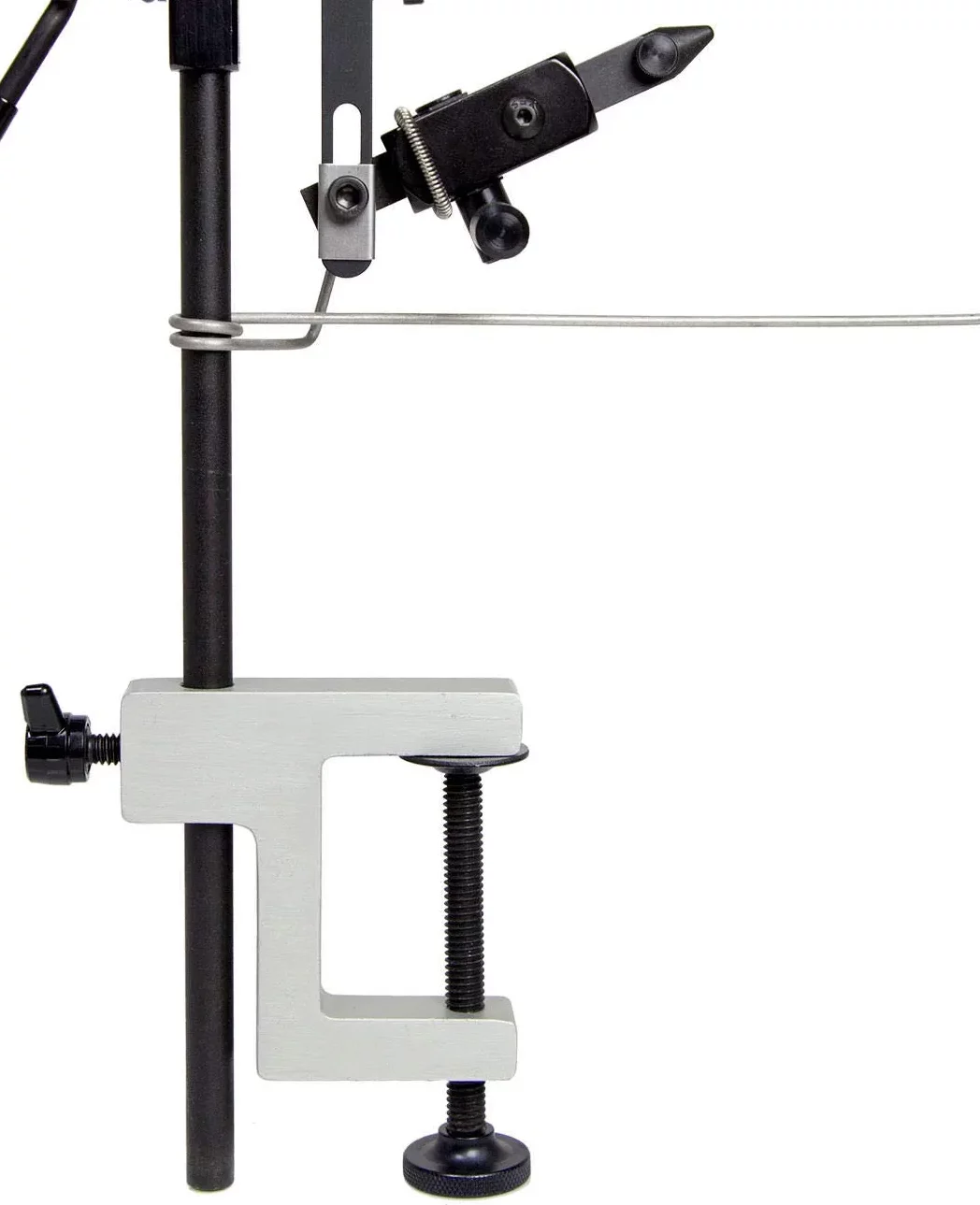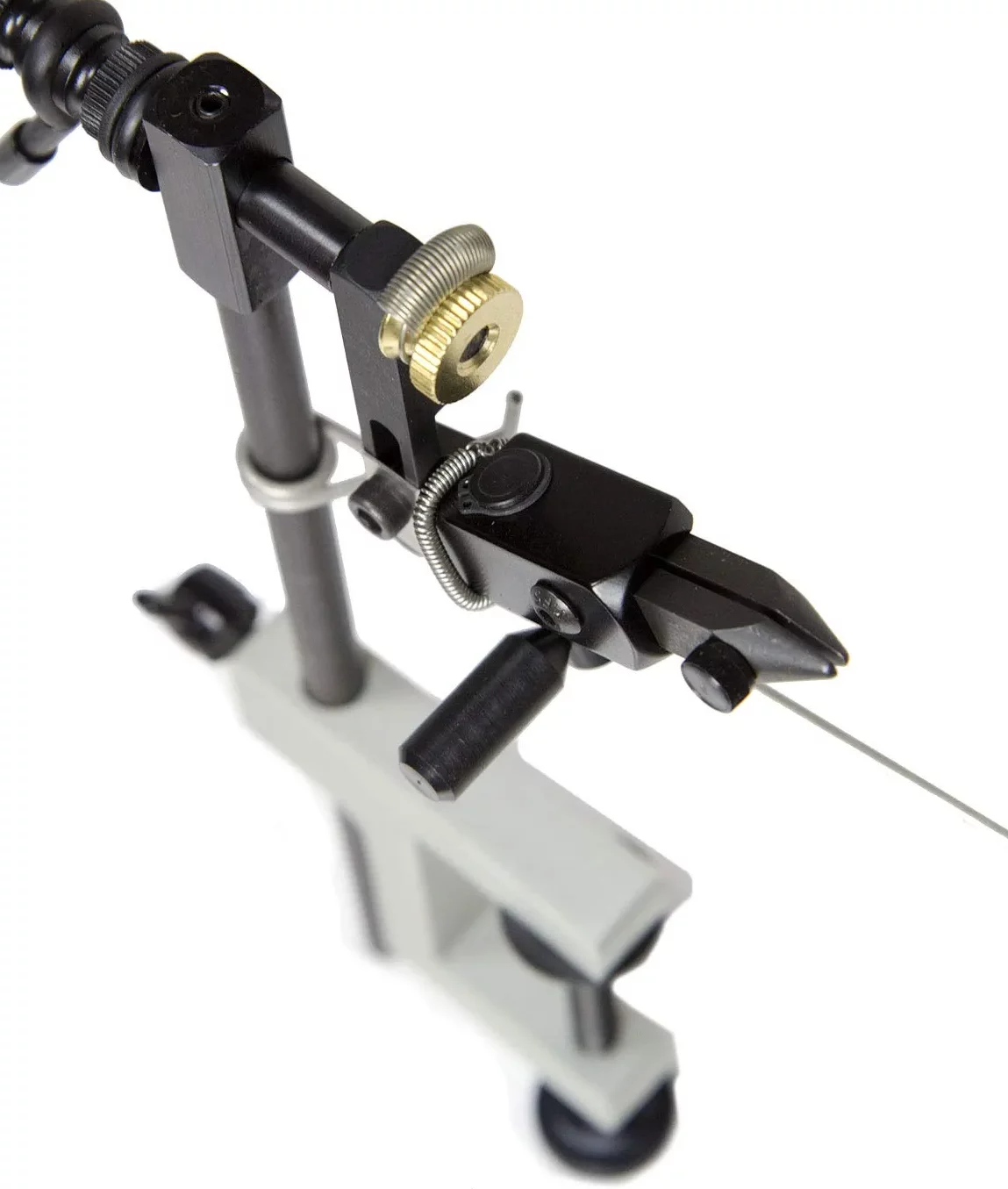 Griffin's fly-tying vises are guaranteed for life for flawless performance and durability. With various models and features, Griffin's vises are designed to meet the needs of both experienced and novice fly tiers. Fly-tying vises can't compare to how well their newly designed aluminum c-clamp holds things.
It's the best in the business. When you combine this feature with heat-treated steel of the highest quality and stainless steel cam jaws, you end up with the best fly-tying vises that can be found anywhere. This model is the one that all of our other true rotating vises are based on. This vise lives up to the high expectations we have for product quality. The capacity of the jaws ranges from 28 to 4/0. All different-sized hooks can be accommodated by the mechanism that is cam operated.
Key Features
Rotary vise allows you to maneuver the fly without taking it out of the vice, making it easier and taking less time to tie your flies.
It comes equipped with a material spring and bobbin holder and is 100% adjustable for more organized fly tying.
The vise Jaws are extremely fine, making it easy to tie flies in most size ranges.
MADE IN AMERICA
The Cam Lever makes inserting and removing your fly effortless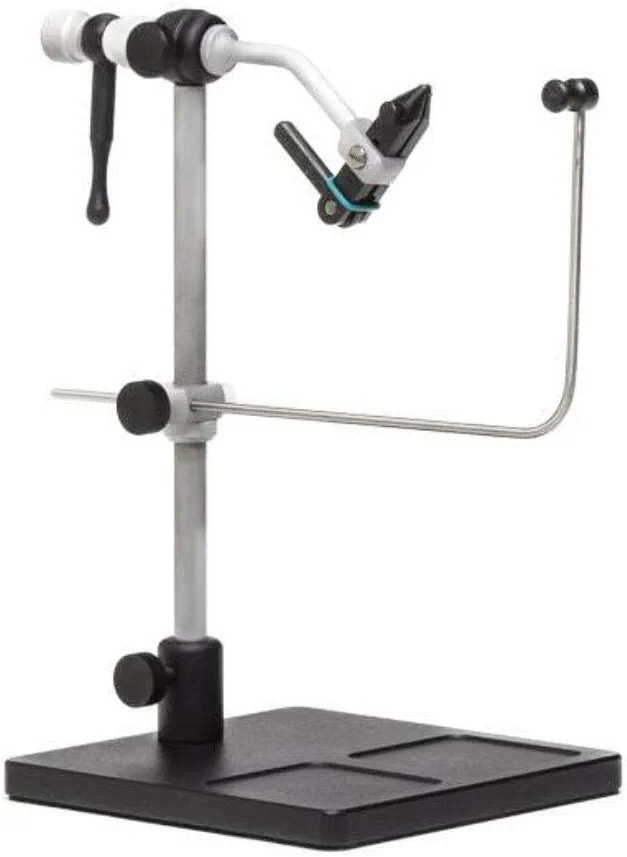 The Renzetti Traveler 2200 Vise is one of our top choices for a high-quality fly-tying vise that isn't yet so expensive that it's not worth it. Yes, this vise is expensive, but the craftsmanship and quality are so good that you should keep it for the rest of your life.
This vise is excellent because of how it is made. When you're tying, it feels solid as a rock and has excellent simple and easy adjustments. The turning is smooth, and the pedestal base is made to make you feel safe. Like the Regal, which is also on this list, you can tell this is a high-quality vise just by setting it up.
The jaws can hold hooks from size 28 to size 4/0, but some reviews say it's hard to tie on hooks smaller than size 20 or 22. Consider a different upgrade for your vise if you want to tie smaller flies. The Renzetti Traveler will work fine for fly fishermen who only occasionally tie small flies.
If you've ever used a bobbin holder before, you know that it's a great feature in that it can be set up in a nice way. When tying, it's nice to free up your hands in any way possible.
Even though this vise is advertised as a "traveler" vise, it's not so small that you'll get tired with it after a while. Even though it packs well, it still feels like a full-size unit! If you have the money, this is undoubtedly one of the best deals on the market.
The Renzetti Traveler 2300 Cam Vise works with hook sizes #28 through #4/0. The pedestal version has a 7-inch stem on a black powder-coated base, whereas the c-clamp version has an 8-inch stem on a black powder-coated clamp. It has a case-hardened cam jaw, a rotary tension screw, and an adjustable bobbin cradle. All 2300 aluminum components are anodized.
The Traveler True Rotary® Vise was introduced in 1988. Since then, it has become the world's most popular vise. It has the True Rotary® feature that Renzetti Inc. is known for, as well as being portable, having the best hook-holding power on the market, and being cheap.
Whether it's the 2000 Series, 2200 Series, or 2300 Series, the Traveler Series offers the great features of a true rotary vice. A larger pedestal base (5 x 5 inches) with a 7-inch stem or a black powder-coated C-clamp with an 8-inch stem. A cam jaw with the industry's strongest hook-holding power. A bobbin cradle made in the United States. Some numerous options and accessories can be added to the Traveler Series, making it a very versatile vise for the fly tier who desires a vise that can do everything.
Key Features
The pedestal has a 7″ stem on a black power-coated base
C-Clamp has an 8″ stem on a black power-coated c-clamp
Handles hook sizes #28-#4/0
Features an adjustable bobbin cradle, case harden cam jaws & a rotary tension screw.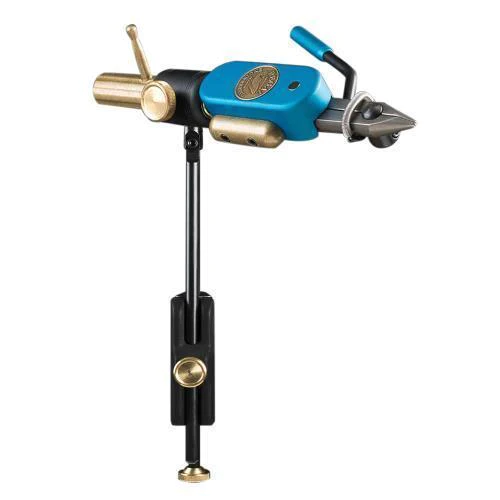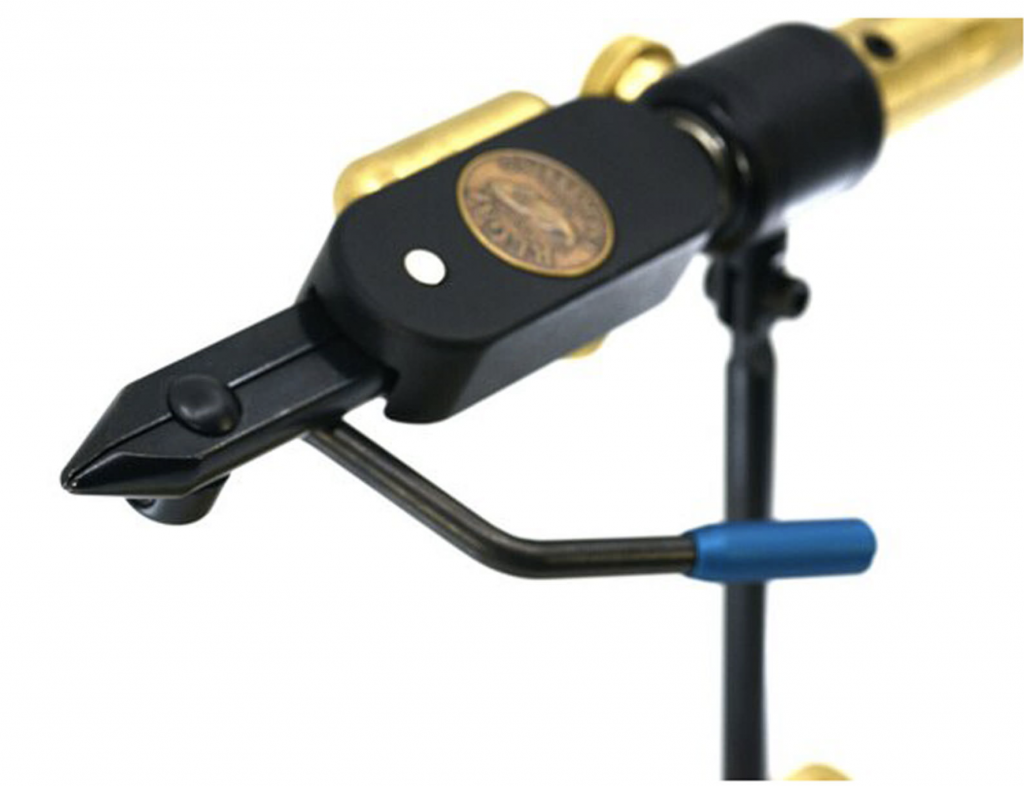 Regal's Revolution Series is the epitome of adaptability and sophistication. To make the Revolution Vises, we combined the strong hook-holding power of their famous heads with a real in-line rotary mechanism. Either tighten the barrel and use the conventional wrapping method or turn the vise to wind materials on a hook. All of the vises in the Revolution Series revolve around a 360º axis and articulate 220º vertically.
Regal Revolution Stainless Jaw Vises are incredibly versatile and robust, utilizing ultimate hook-holding power and the trusted Regal head design. The vertical movement of each vise is 220 degrees, and it can rotate a full 360 degrees around its axis. Regal Revolution Stainless Jaw Vises are the best tool for any job, whether you want to tighten the barrel for a more traditional way to wrap or turn the vise to wind material on the hook.
Key Features
Versatile vise
Perfect for hook sizes 1/0 to 22
Heavy Bronze Base w/ slots for hooks
Smooth 360º rotation
A small, family-owned business in Orange, Massachusetts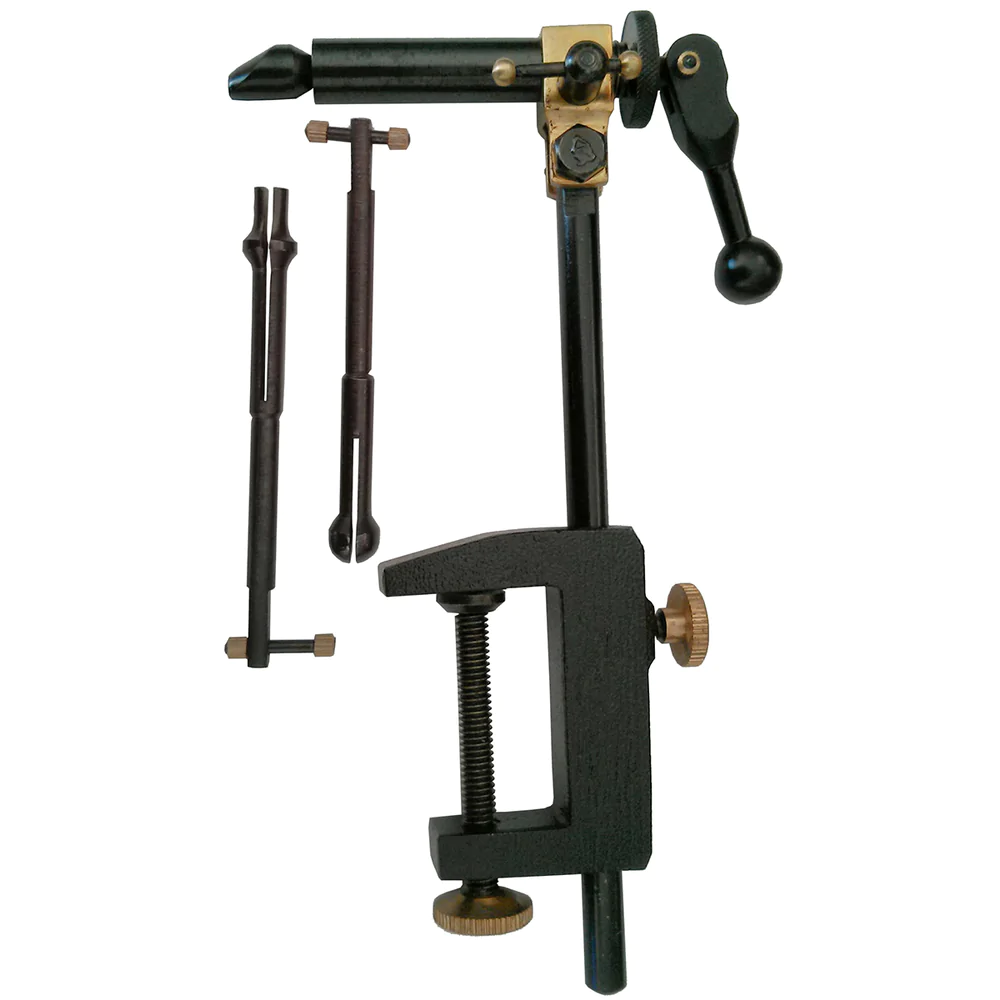 The jaws of the Colorado Angler Supply Supreme Rotary Fly Tying Vise come in three distinct sizes and can be adjusted to any angle or position. This vise is a great choice for a beginner who wants to learn how to tie flies and needs a vise that can be turned to precise angles without losing stability.
High-quality materials were used to create a tool that will serve you well for years. This popular vise came about because Colorado Angler Supply worked hard to meet the unique needs of fishermen.
Key Features
360° TURNING: The Colorado Anglers 102 Supreme Rotary Fly Tying Vise lets you turn hooks in a full circle while they are clamped. This makes fishing better.
MULTIPLE ADJUSTMENTS: This fly fishing vise is both useful and versatile. It has several settings for jigs and teasers.
This fly vise has a robust design that can hold a heavy gauge hook well enough to flare out bucktails. It also comes with a cast iron clamp.
HOOK FUNCTION: Even though it was made for small hooks, it can fit most hook sizes and saltwater hooks, and the back of the hook can be reached.
FOR MANY DIFFERENT TYPES OF JIGS: The vise can be used for 24oz jigs, 8oz bottom jigs, bucktail jigs, crappie jigs, and more.
Honorable Mentions: Fly Tying Vise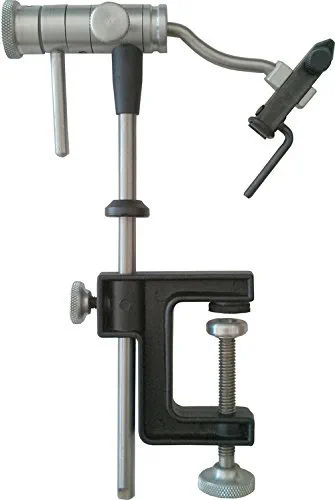 Here's one of our top picks for the best rotary vise money can buy. The Colorado Anglers EZ Rotary Vise by Colorado Angler is an excellent choice for first-time fly tyers and people who want to upgrade from their first rotary vise.
After using this vise, it will be hard to spend more than $100 on a fly-tying vise again, even if you are a very experienced fly-tier.
This vise is what I would recommend to anyone I know who shows even the slightest interest in taking up fly fishing. This vise is great for beginners, and a good launch point for more experienced fly tying. In the end, if you're a beginner or are ready for a rotary option after learning the basics with a beginner's fly-tying kit, you don't have to spend much money on this option.
With this option, the rotary action is surprisingly smooth, and the all-metal adjustment knobs make fine-tuning your position feel solid and safe. The quality of the clamp base is also acceptable, as long as you don't have a strong preference for pedestal vises.
This unit's jaws can hold hooks up to 3/0, so it's a good choice for making larger streamers and saltwater flies. You might find it hard to keep size 20+ hooks in the jaws, but with a bit of patience and practice, you can use this option to tie even the tiniest bugs.
Overall, a fantastic fly-tying vise for any angler that will last for years with proper care.
Key Features
Ultrafine jaws
360-degree rotation
C-clamp mount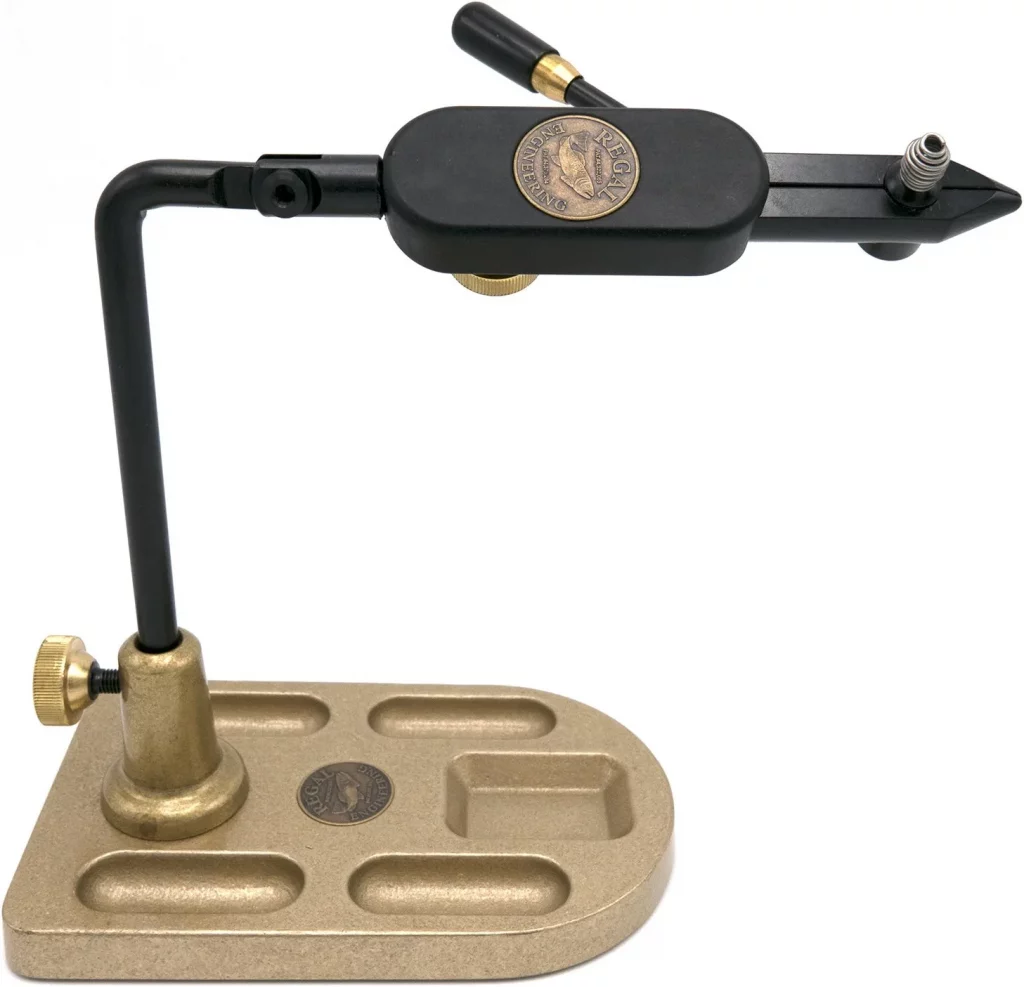 If you're familiar with fly-tying vises, you've probably heard of Regal. This company produces some of the best vises on the market, albeit at a high price.
The Medallion Vise with Pocket Base is one of Regal's more affordable options. But it is still a legendary vise for tying flies that will last a lifetime because of how well it is made.
This unit is certainly more than enough if you're just starting out, but it's a dream to tie in if you already have some experience. Budget buyers are better off going with more affordable options, but for those looking for an upgrade or who want to start with a high-quality unit, this is a great place to start. Check out some of Regal's other fly-tying vises here, but be warned, they start getting more expensive!
This is the type of fly-tying vise you'll pass down to your grandchildren, as the quality is superb and the craftsmanship is impressive.
Of course, this is a rotary vise. This unit's mechanics, knobs, and joints are remarkably smooth, and it's a joy to use.
Because the jaws will only fit a size 22 to 1/0 hook, this unit is unsuitable for tying tiny flies. However, it is is an excellent option for larger streamers and saltwater flies. The Medallion is available with Regal's "Midge Jaws" for those who want to use this vise but usually tie smaller fly patterns!
If you're wondering why Regal vises are so expensive and popular, the answer is in the materials and craftsmanship. Bronze pedestals, heavy-duty hardware, and stems all work together to create a vise far superior to the budget options.
Key Features
Strong Aesthetics for traditionalist fly tiers
This vise has high-quality materials and hardware.
Regal's bronze pocket base is interchangeable.
Smooth rotary operation
This vise holds 1/0 hooks well, making it ideal for larger flies.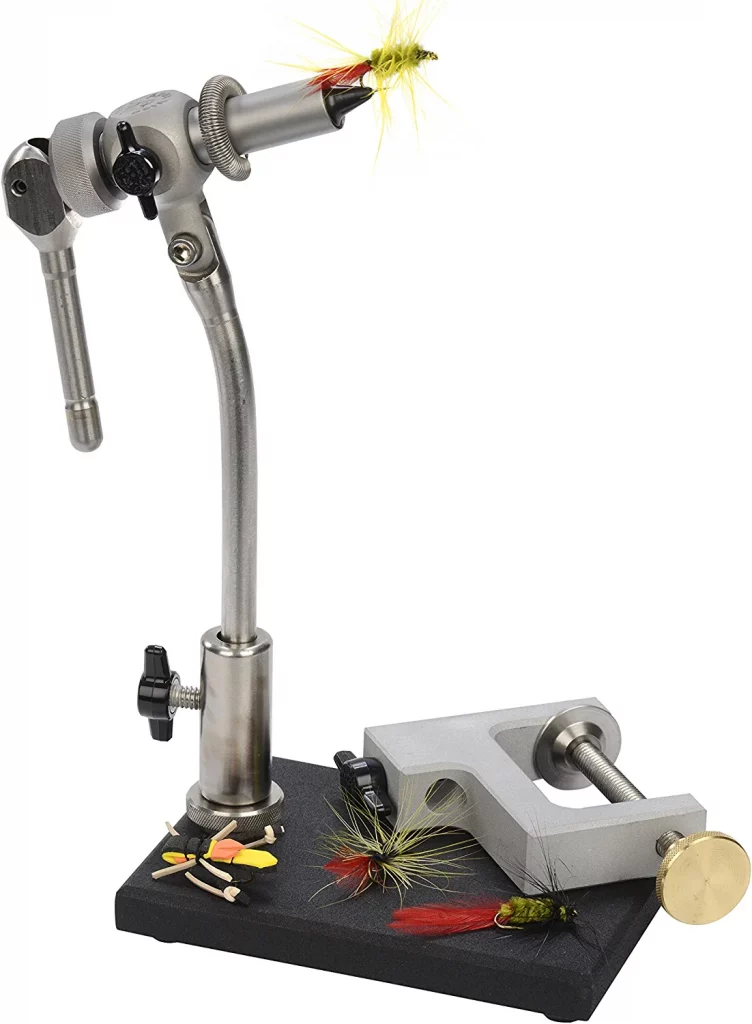 Wolff Industries, Inc. makes some rather amazing vises that are more than good enough to keep you satisfied as your tying technique and proficiency improve. The Apex Rotary Vise and many other products are just as good as some high-end brands, but they cost half as much. The Apex is a smooth, robust, and high-quality vise that comes at a great price.
The Apex Rotary is excellent for tying tiny flies because the jaws can hold hooks from size 32 to size 6/0. Suppose you need something for big, messy streamers. In that case, you should choose something else, like the Regal Medallion or the Renzetti Traveler, which are also on this page. Still, you can replace the jaws, so if you like the price and style of this vise, you can buy separate, more specialized jaws for it in the future.
This rotary-style vise has Delrin sleeve bearings that make it feel very smooth. The hardware feels as solid as a rock, and the adjustments are accurate. There's no bobbin holder, which is a shame, but this may or may not be a big deal for you. Of course, there are ways to get around that!
This vise comes with a pedestal and a clamp base, so you can use it however you want and take it with you easily.
Key Features
American-made, built, heavy-duty.
Includes both a pedestal and clamp base
It holds 6/0 to size 32 hooks making this a great vise for tying tiny bugs
Replaceable steel jaws
Not ideal for tying larger-sized flies
No bobbin holder
Note: Some complaints about the vise clamp slipping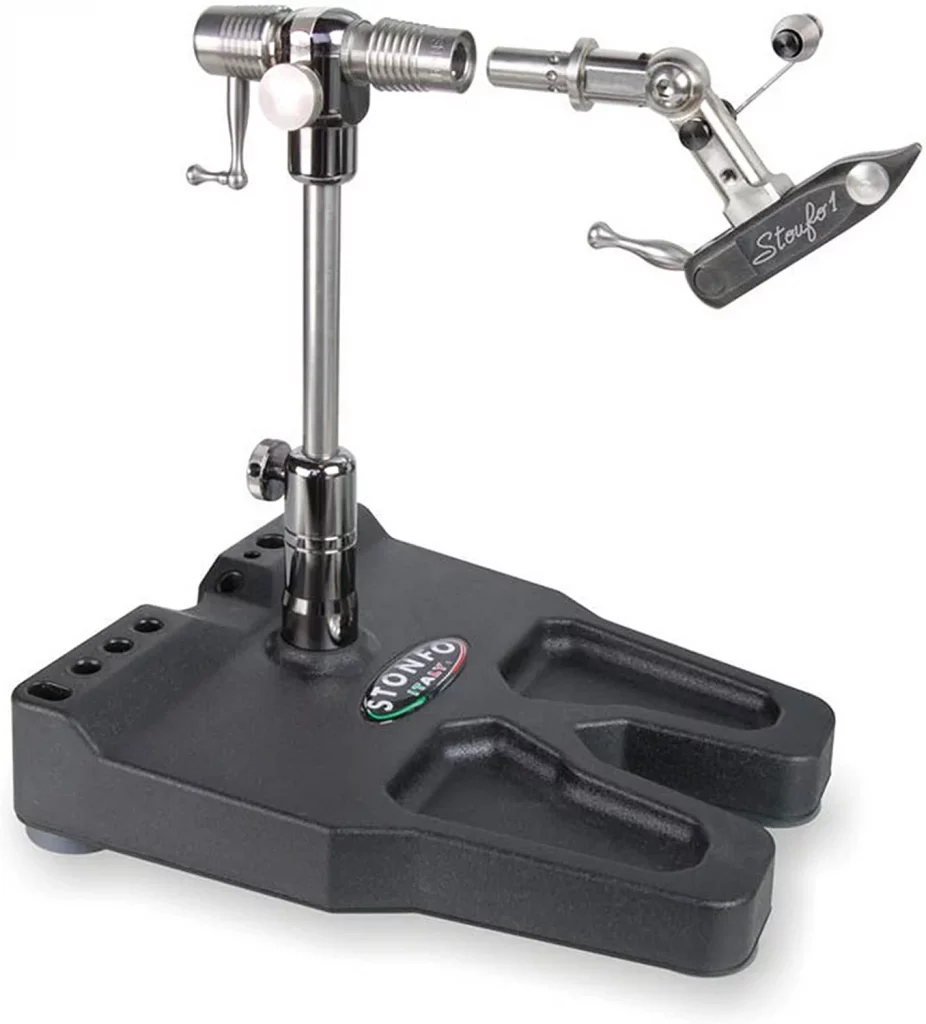 If you're looking for a high-quality, highly adaptable pedestal choice, look no further than the Stonfo Transformer Vise. Just switch out the three jaws that come with it to make it fit your preferred way of tying flies.
Because of the built-in fast connection system on the head and attachments, this option can be quickly transformed into an in-line vise, tube-fly vise, or streamer vise.
This fly-tying vise can be customized to your specifications with its height, rotary tension, and shaft locking locations, which are evenly spaced at 45-degree intervals. It can be tied with either hand because it is reversible.
You can store all your critical tools in the pedestal base's built-in tool rack. The brand even throws in a rounded bobbin cradle, parachute pliers, an adjustable spring material clip, a pivot thread cradle, Allen keys, and an instruction booklet.
This is a high-quality, versatile alternative to specialized vises for people who prefer a more general-purpose tool—one of the best choices for fly fishermen who like to tie a wide range of fly patterns.
Key Features
interchangeable jaws
Adjustable rotary tension
Smooth rotary motion
Locking position at any angle
Shaft fast locking every 45° angle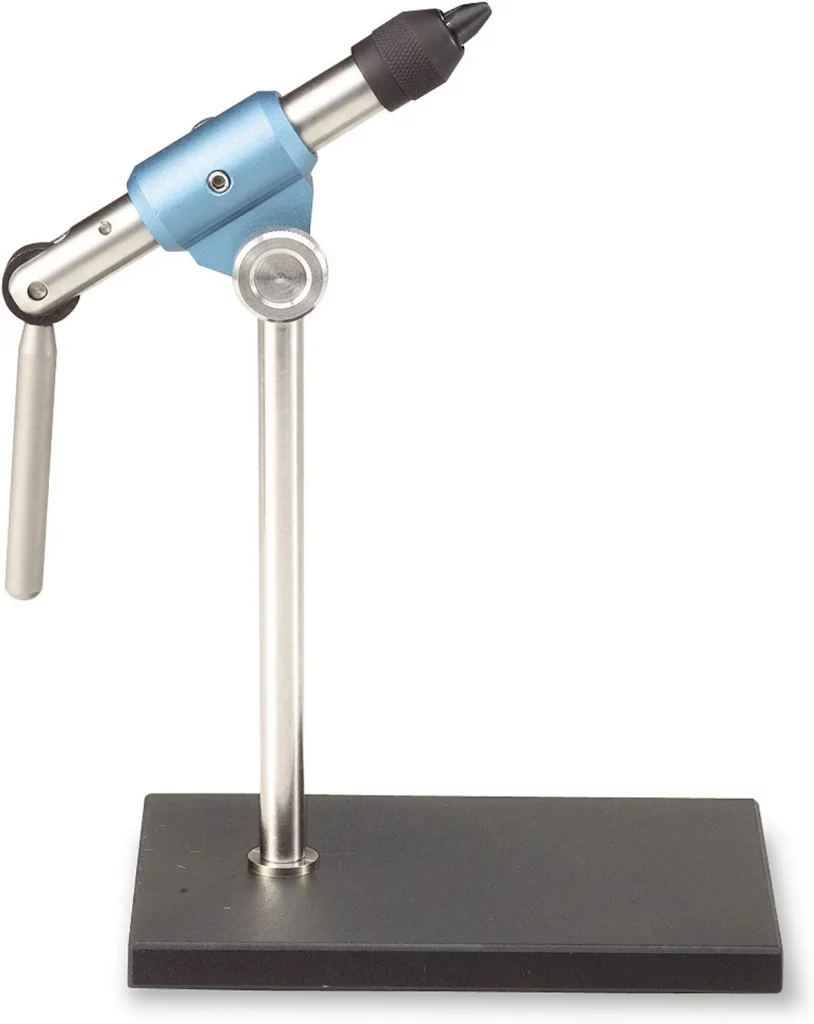 The Tiemco Solid Vise is an excellent alternative for serious fly tiers wanting a high-quality vise that is ideal for tying the tiniest nymphs and dries on hooks ranging in size from #32 to #4.
The grip strength and precision that this choice provides for tying on incredibly small hooks will appeal to aficionados of tiny insects. This is a plain choice with few customizations, yet it lacks nothing you require.
The Tiemco's value is hard to beat for those who prefer a pedestal base and a simple overall style. The Tiemco Solid Heavy Duty Vise is rated for hook sizes #16 to #2/0 and is priced and designed comparably to this choice. It is recommended for larger flies and streamers as opposed to smaller flies.
Key Features
Excellent alternative for tying the smallest flies; compatible with hook sizes #32 to #4.
A simple, uncomplicated design is ideal for no-frills fly tiers that prefer a rock-solid vise without all the frills.
The pedestal base is incredibly solid
Hardware and craftsmanship of the highest grade.
Anodized middle housing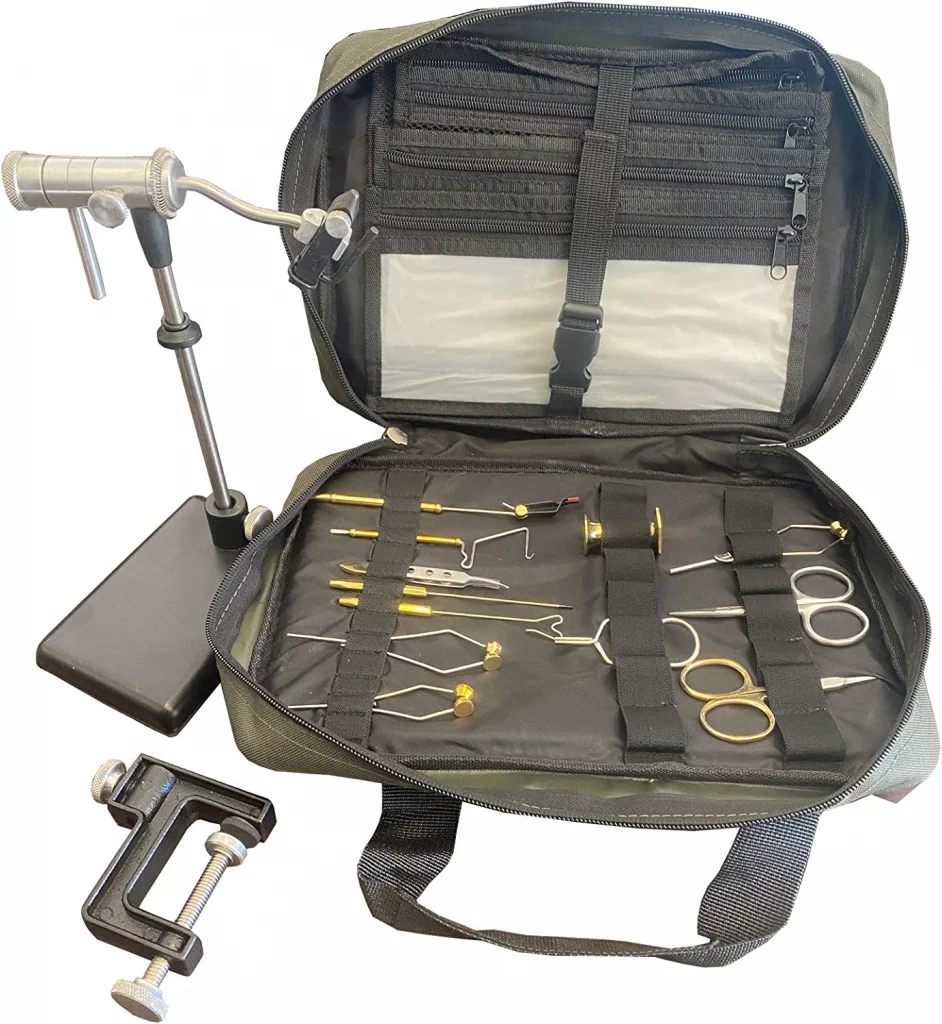 The Zephr Travel Fly Tying Kit from Creative Angler includes a vast assortment of tools in addition to a rotary vise and is.
The toolset alone is almost enough to justify this kit's price, especially when it comes with a nice carrying case! The toolkit consists of two bobbins and a threader, a bodkin pick, two sets of scissors, rotating hackle pliers, a dubbing twister, tweezers, and even a hair stacker for when more technical skills are acquired.
This vise does include plastic fittings and hardware, but you get what you pay for. Even advanced fly tiers would not be dissatisfied with the vise's performance. Remember that the jaws are not suited for tying tiny flies if you intend to create dries and nymphs larger than size 22.
A fantastic value for a beginning tier seeking to purchase some tools and a vise, or the ideal travel set for an experienced tier looking for a convenient choice to bring along on fishing trips!
Key Features
Zephr Travel Fly Tying Kit w/ Travel Bag
Deluxe Assortment of Tools and Vise
EZ Rotary Vise included
12 Tools are included – a hair stacker, two bobbins, rotating hackle pliers, two scissors, a whip finishing tool, a bodkin pick, a bobbin threader, a dubbing twister, and tweezers. Vise with interchangeable base/clamp and carrying case
Very nice and durable traveling bag
Griffin's Montana Mongoose Fly Tying Vise is a fantastic value for intermediate to advanced tiers. This tool is of superior construction and has rotary motion, metal hardware, a bobbin holder, and both a clamp and pedestal base.
The Montana is lauded for its ability to make highly exact, fine-tuned adjustments and for how sturdy it feels to work with. Once the rotary motion has been correctly set, this bad boy will keep anything you're working on perfectly steady at any axis.
All the joints and hardware of this vise have a crisp, heavy-duty appearance mirrored in the device's performance. Even the bobbin holder has a polished, expert appearance!
The jaws can successfully clamp hooks ranging from size 28 to size 4/0, making this option reasonably versatile. If you're the type of fly fisherman or lady who ties size 30 flies, you should purchase a vise with jaws designed for hooks of that size.
Overall, an amazing value purchase that gives virtually all the functionality you would want in a premium vise without the exorbitant cost. Another triumph by Griffin!
Key Features
Pedestal and clamp base included. Twelve fly-tying tools are provided.
This item is a great travel vise because it is durable and portable.
Includes a carry case
Excellent value, considering the supplied tools!
---
Different Kinds Of Fly Tying Vises: Stationary, Rotating, and Turning
Stationary
Because stationary vises do not have the same degree of vise head mobility as their rotary counterparts, they are given the name "stationary vises." Although it may not seem much of a difference at first, the experience of tying will be significantly altered due to the lack of vise mobility.
For example, since the device doesn't turn, it takes more work to wrap the materials around your fly than it would if it did. Also, materials like hackle and chenille are placed with less accuracy. Whether or not you are willing to do the extra work needed to position the fly is an important part of deciding whether or not you should buy this item.
Rotating
A rotary vise is characterized by jaws that can rotate in a full circle, hence the name. As a matter of fact, there are rotary devices available that guarantee your hook's axis of rotation is parallel to the vise. That's why a vise with "true rotary" in its name is guaranteed to provide accurate axis alignment every time. The 360-degree rotation not only gives you a better look at the hook from different angles, but also helps you apply materials like hackle and ribbing more precisely. Rotary vises are the preferred choice of most experienced and frequent tyers due to their superior rotational capabilities.
Turning
Many people who do production tying don't like the rotary feature and want to turn the fly to look at it. Production tyers have mastered the technique of applying the same amount of pressure to the hook all the way around. Regal tying vises are a great example of this. The fly is held in place by a spring clamp. The clamp and the fly can be turned, but this is mainly done to look at the fly. The spring clamp on the Regal makes it possible to change hooks quickly.
Choosing A Vise
As you can see, one of the best tips for choosing a fly-tying vise is to find one that fits your taste regarding rotary vs. stationary options. Fly fishermen don't all do things the same way, but those who want pinpoint accuracy and are willing to pay for it should look into rotary options.
Because of this, most people who like to tie flies or are experts at it choose rotary vises. But if you don't mind putting in a little extra work and want to tie flies with a stationary model, that's a good way to go. Also, make sure you only buy from well-known brands and sellers. At JS Fly Fishing, for example, we sell fly-fishing vises from top brands like Peak Fishing, Regal, and others.
Once you choose a type of vise and find a reliable brand that makes them, you can start to see how they work. Remember that, at the end of the day, if one type of vise doesn't give you the results you want, trying another can show you surprising new ways to do things. Many anglers have multiple fly rods, so they can use a variety of flies and have more options available.
Also, Think about how often you'll be using the vise. Most busy anglers tie over 60 flies a year and stick to maybe ten flies they use frequently. These flies are those used most often and require constant replenishment.
Other things to think about might include the following:
How to Select a Fly Tying Vise – 6 Things To Consider
C-Clamp and Pedestal Bases
The versions with the C-clamp base can easily be attached to a table's surface. This is a fantastic option if you plan on bringing your vise with you on your fishing trip. Models with a C-clamp base can easily attach to a flat surface. This is an excellent option for those who plan on bringing their vise along on their fishing trip.
Hook Holding Power, the Heart of a Fly Tying Vise
To hold the hook firmly is, perhaps, the most apparent purpose of the tying vise. It is preferable if the hook can be held in the vise without applying a lot of pressure to the jaw clamping mechanism. Don't waste your money on a flimsy vise; trust us, you won't be happy with the results.
Replaceable Jaws
Seek out a vise retailer for replacement jaws. Large poppers made from deer hair and 1/0 hooks may become your preference as you gain experience. The average tying vise isn't big enough to accommodate such a massive hook. Even with very small hooks (size 24 and below), this holds true.
Ease of Adjustment
Common tying practices involve laying down an elk hair caddis of a size 3–4, then switching to a size 6 streamer to create woolly buggers. The hook sizes can easily be changed with the vise. No fine-tuning is required for the spring-clamp design used by the Regal.
Hook Size Range
Typically, hooks from size #20 to 2/0 can be accommodated in a tying vise. Take extra care if the hook size isn't specified.
Shaft Diameter
Every fly-tying vise should have a stem size of 3/8 inches; I know this isn't a manufacturing standard.
Good Fly Tying Vise Price Range
If you are only interested in saving money, you may want to avoid fly fishing. Beginning to tie flies can be a slippery slope into a fanatical feather fetish that can cost hundreds of dollars.
For a quality fly-tying vise, we recommend spending between $150 and $200 USD and would consider purchasing a vise from a reputable company that understands fly fishing and has good customer service.
How To Pick A Quality Fly-Tying Vise
Machined components
Focus your attention on the jaws, levers, and body of the vise. Does everything align exactly with precision? A quality vise priced between $150 and $200 will have precisely machined bearing and attachment components.
Brass, Bronze, and Bearings
Polishing a stem or rounding the corners of a vise head incurs a small additional cost. These are the outward indications that the manufacturer understands how a fly tier will use the vise. Look for polished and smooth vises, such as the Wolff and the Dyna-King.
Fly Tying Basics
Fly-tying fundamentals might be difficult for novices. For those who are just getting started with tying, here is a short list of the most important equipment and information to help get up-to-speed.
Basics: Vises
A fly-tying vise is an essential tool for beginners. A vise holds a hook while tying. Any vice that holds a hook will do. As a vital tool, there are many vise options. A rotary vise, like the Peak Rotary Vise, lets tiers rotate the hook 360 degrees to tie at all angles and attach yarns and chenilles easily. Rotary vises are usually more expensive. A traditional vise, like the Hareline Super AA Fly Tying Vise, keeps the hook at a 45-degree angle. Vise levers, base attachments, styles, and other specs vary. Beginners' vise choice depends on the flies they plan to tie.
Basics: Bobbins
A bobbin helps you wrap flies efficiently. Most bobbins have a thread spool holder and an elongated eye to control wrapping. Bobbins come in many styles. Economy Standard Bobbins have simple designs and materials. Higher-priced bobbins include a tension wheel to accommodate any thread size, a weather-proof anodized finish to tie in saltwater, and a fray-resistant ceramic tube. If you want to tie with multiple thread colors/sizes, get a Smhaen bobbin.
Basics: Thread
The thread holds fly-tying materials to a hook. Fly-tying thread comes in different sizes, colors, and styles. Thread color and style match the fly. If you're tying a big streamer, use UNI Big Fly Thread for a stronger thread. Small threads like Veevus Flat Unwaxed Thread make tying tiny midges easier.
Basics: Scissors
Fly-tying scissors are a versatile part of the fly-tying workspace. They snip thread after starting/finishing a fly. Scissors can trim excess hair/fur/feathers or shape materials. Small scissors with a fine point are best for snipping flies.
Basics: Hooks
Every fly has a hook. Hopefully, that much is clear. The choice of hook depends on the fly. When tying a streamer, it's best to use a hook with a long shank or a hook made just for streamers, like the Ahrex TP610 Trout Predator Streamer Hook. If you're tying a small nymph or midge, you should use a smaller hook with no barbs, like the Gamakatsu C12BM Large Eye Barbless Midge Hook. When tying saltwater streamers, a strong hook in a bigger size will serve you well. The Gamakatsu Sl11-3H 3X Strong Saltwater Hook in size 2/0 is a good example of a good choice.
Basics: Materials
There is a vast selection of materials available for fly tying, ranging from feathers and hackle to synthetics and dubbing, with everything in between. Again, the type of fly you are tying will determine the materials you choose. It might be helpful to look up the components used to tie the fly that you want to use until you become familiar with all of these components and how they behave in the process of tying and in the water. Helpful are tutorial videos on YouTube that list the materials that tyers employ in their work.
Basics: Wire
Wire adds weight to nymphs and streamers in the same way that a conehead or eyes do. Wire can be wrapped before or after feathers, or fur has been tied in. There are many colors and sizes to fit any fly and make that nymph shine more in the water. UTC makes many different colors of Ultra Wire (shown above) and Brassie Wire. If you like heavier, stiffer streamer wire, Hareline's Round Lead-Free Wire is also a great choice, especially in fisheries that don't allow lead.
Whip Finishing Tool
Putting the finishing touches on any fly is simplified and expedited by using a whip finishing tool. Having trouble tying knots that will hold the materials in place? When utilized appropriately, a whip finisher ensures that thread and materials are secured, thereby preventing your fly from unraveling while it is being fished. Whip finishers with a wide opening, such as the Griffin Long Reach Whip Finisher, make finishing large flies much simpler. A whip finisher is an essential piece of equipment to have on hand if you intend to tie knots regularly.
Beads, Coneheads, & Eyes
Beads, coneheads, and eyes can make a fly more compelling and realistic. When making flies for trout, many tiers use tungsten beads like the Mottled Tactical Slotted Tungsten Beads shown above to help small nymphs sink quickly to the river bottom. Streamer patterns can also get more weight from coneheads or eyes, like the Hareline Brass Cone Heads. On the other hand, coneheads give subsurface flies a natural front profile, and bright colors are often used to attract fish.
Waste Basket
When you tie a lot of flies, hair, feathers, and thread tend to pile up at the vice. A wastebasket is a good way to keep your area for tying clean and free of trash. A trash can is also a great way to reuse and recycle old things. Don't throw away your scraps; save them for the next time you need a bit of elk hair or some leftover flash.
Hackle Pliers
Hackle pliers hold the end of a long piece of material securely so you can wrap it around your fly. Instead of wrapping that yarn by hand, just grab it and wrap it quickly. Hackle pliers work like bobbins in that they let you wrap hackle and other materials in a focused and efficient way. Most hackle pliers are made the same way, but Stonfo makes a Long Spring Rotary Hackle Plier that lets a tier tighten and move hackle on larger flies. Rotating pliers keep the hackle from twisting and warping while it is being wrapped.
Hair Stacker
A hair stacker bundles and organizes. It's important to use even hair when tying dry flies. A hair stacker helps tyers assemble materials evenly and quickly before tying flies. A vise stacker saves time. Fly-tying kits are also helpful. Anglers use tool kits to tie their favorite bugs. I recommend the Dr. Slick Fly Tyer Gift Set if you already have a vice. Set includes scissors, whip finisher, hair stacker, bobbin, bobbin threader, hackle pliers, and bodkin/half-hitch tool. Buy your materials and start tying. Our YouTube channel has fly-tying tutorials. Videos include Gray Ghost Streamer and Clouser Minnow patterns. Check back for more fly-tying patterns.
---
Related Articles
---
Recent Articles
Review Archives
---