The Best Fly Tying Vise For Under $100
There is nothing quite as satisfying as hooking a nice fish with a fly pattern tied on your fly-tying vise, regardless of whether you are new to fly-tying or a seasoned veteran who has been doing it for a long time.
When you finally get that fish in the net, all your time and effort at the vise will have been well spent. The best vises will help you learn and improve your knot-tying skills over a lifetime and give you hours of fun while you do it.
These premium fly-tying vises are the go-to option for serious and professional fly tiers. In this guide, we'll focus on those new to fly tying and present the best fly-tying vises for under $100 to get you started.
---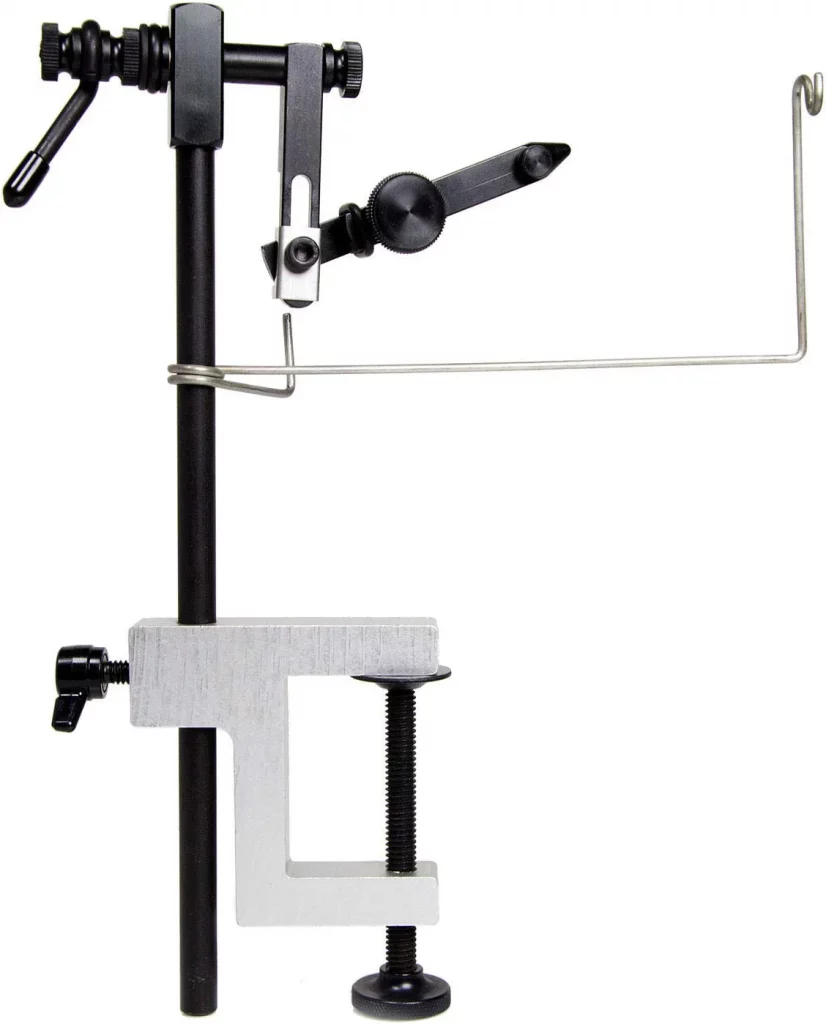 The Griffin Odyssey Spider Vise is probably the best fly-tying vise for the money if you are just getting started. It has everything you ask for in a fly-tying vice.
The advantage of a rotary fly-tying vise is its versatility. The rotation enables you to tie more advanced flies more easily. The only disadvantage we found in the Griffin Odyssey Spider Vise is that you have to clamp it to a table. It cannot stand on its own.
Griffin spent a lot of time and effort refining their entry-level fly-tying vise. It is an excellent value for the price. We think it is a perfect choice with a lifetime guarantee and excellent customer service.
Key Features
Lifelong guarantee. 100% made in the USA.
It is a true 360-degree rotating vice
Jaw Capacity of 28 to 4/0
Bobbin cradle
C-Clamp attachment security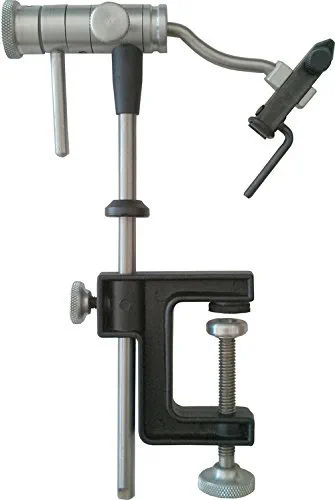 Here is our top recommendation for the most cost-effective rotary vise. The EZ Rotary Vise by Colorado Angler is perfect for people who have never tied flies before. It is also an excellent choice for people who want to upgrade their current vise.
After using this unit, it will be hard to justify spending more than $100 on a fly-tying vise, as it performs exceptionally well even for highly experienced tiers.
We've seen other anglers start fly-tying with this vise and get good at it without needing to upgrade. Whether you're a beginner or ready for a rotary option after learning the basics with a beginner's fly-tying kit, there's no need to spend a fortune with this incredibly affordable alternative.
When fine-tuning your positioning, the rotary action is surprisingly silky smooth, and the all-metal adjustment knobs feel solid and secure. If you do not have a strong preference for pedestal vises, there is nothing wrong with the quality of the clamp base.
The jaws of this vise can hold up to 3/0 hooks, which makes it an excellent choice for tying larger streamers and saltwater flies. You may find it difficult to secure hooks larger than size 20, but with a bit of patience and practice, you can tie even the tiniest of bugs with this option.
Overall, a fantastic fly-tying vise for any and all anglers that, with proper care, should withstand years of heavy use!
Key Features
Smooth rotary action
Steel and aluminum construction
Includes bobbin cradle and pedestal base
Adjust to 3 different jaw sizes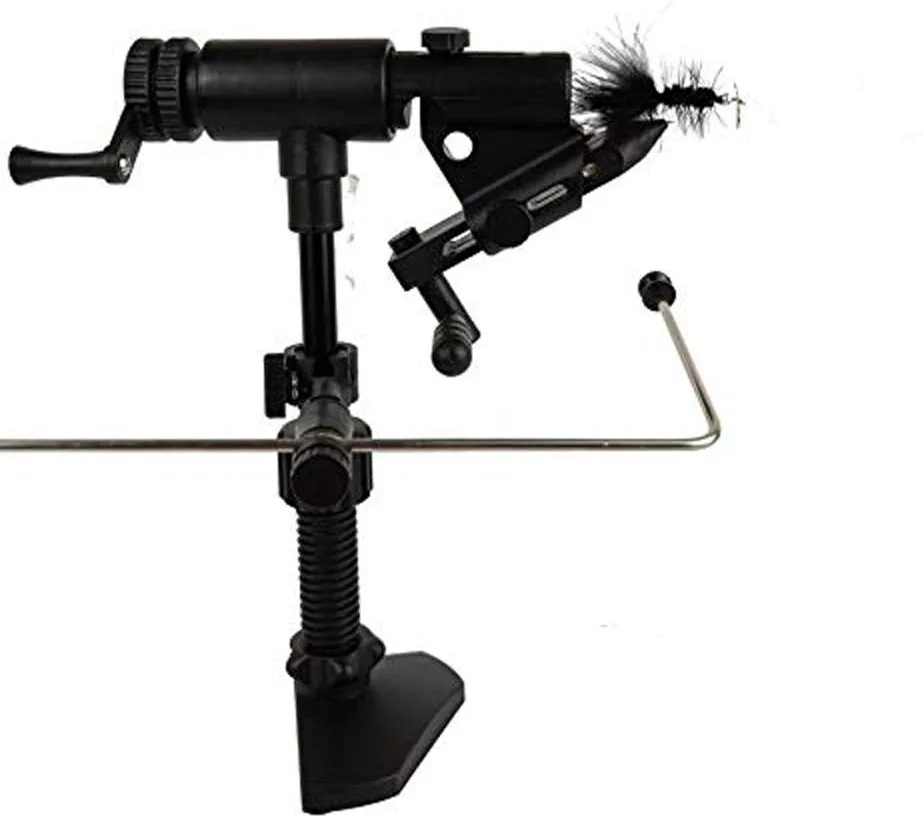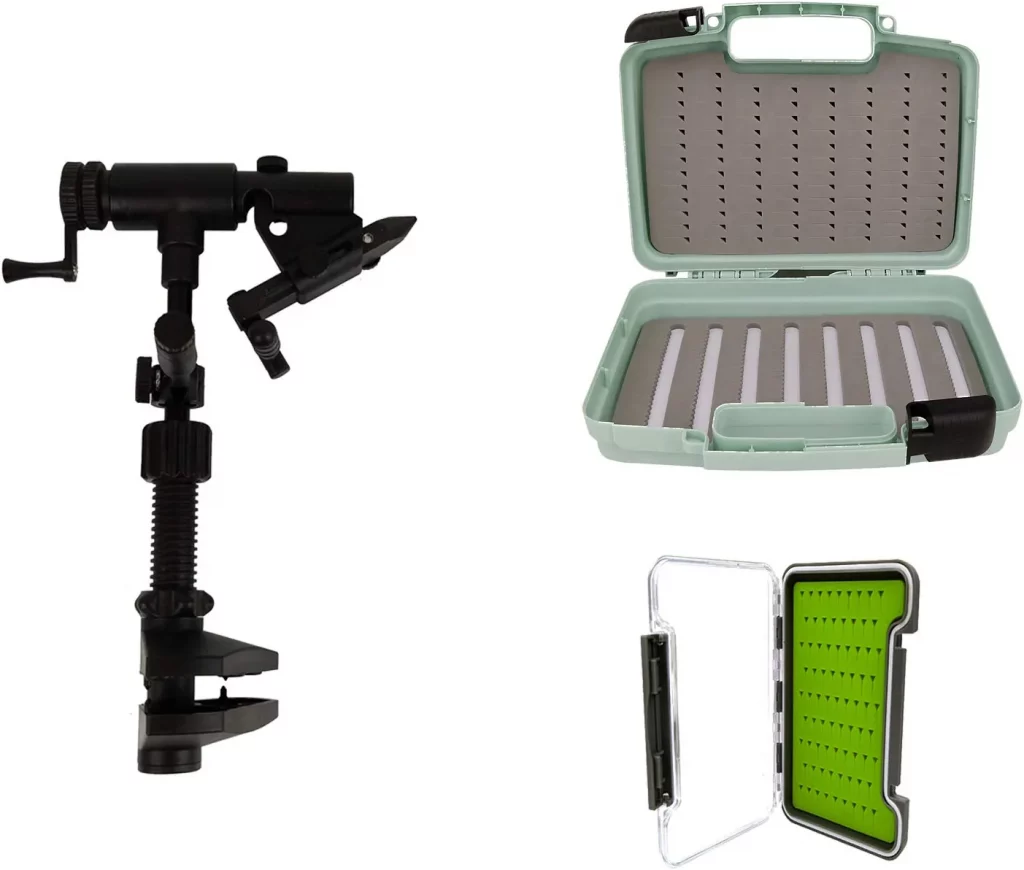 The Riverruns II Generation fly-tying vise is the only one on the market that can be extended and rotated. Any hook held by the jaws can stay at the exact center point as the machine turns. Calculated CNC cuts were made in the bar stock of the jaws to give the vise the best balance and the smoothest turning. The tension of the rotation can be changed from rock solid to almost no friction.
The II generation Jaws set is extendable in horizontal and vertical directions to work on large flies. All vises have jaw-set parts that can be used with either the right or left hand.
The hook is held firmly by a 10:1 force ratio from the jaw's clamping system. The vise's jaws are easy to open and shut. The hook sizes from #28 to #7/0 are also easily changed. Once set, the jaws will stay in the same place for as many flies of that size as you want to tie. They won't need to be calibrated unless the user resets them. The pedestal base does not fit the II generation rotary fly-tying vise, which measures 5.640.6 inches (14101.5 cm). Weight:19.12oz/542g.
The bobbin cradle is practical and can be used in many ways. It can be used as a tool for a parachute. Just flip the unit over on the vise stem, tighten the nuts and bolts while the arm is in the lower position, and then raise the arm to the high position needed. This set comes with a vise, a bobbin holder, and a table clamp. The clamp has pads that keep the mounting surface from getting damaged or marked.
Key Features
The Riverruns II Generation fly-tying vise extends and rotates jaws to keep any hook centered during rotation.
CNC-cut jaws for balance and smooth rotation. The rotation can be very smooth.
Horizontal and vertical jaws accommodate large flies. Each vise has right and left jaw sets.
10:1 force clamps the hook in the jaws. Easy-open vise jaws. From #28 to #7/0. The jaws will stay set for as many flies of that size as you tie. Calibrating is needed. II generation rotary fly tying vise won't fit pedestals. Weight:19.12oz/542g.
A versatile bobbin cradle. Parachute. Turn on the vise stem, tighten the nuts/bolts while the arm is low, then raise it. Vise, bobbin cradle, and clamp included. Protective pads prevent clamp surface damage.
Aventik high-quality plastic click-lock streamer fly case. Quality streamer fly box for salmon and saltwater flies. Large streamer fly fishing box with a flexible handle.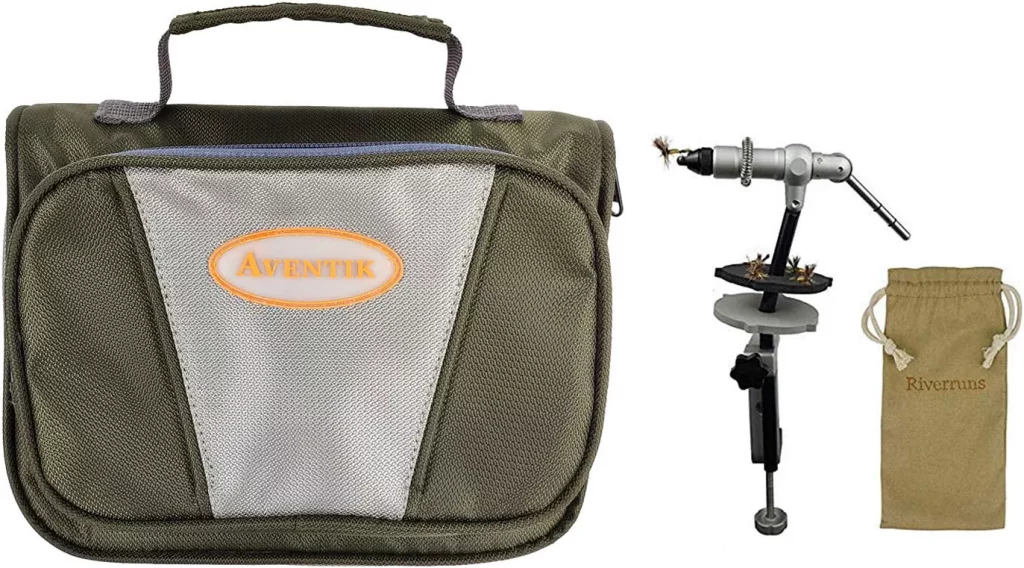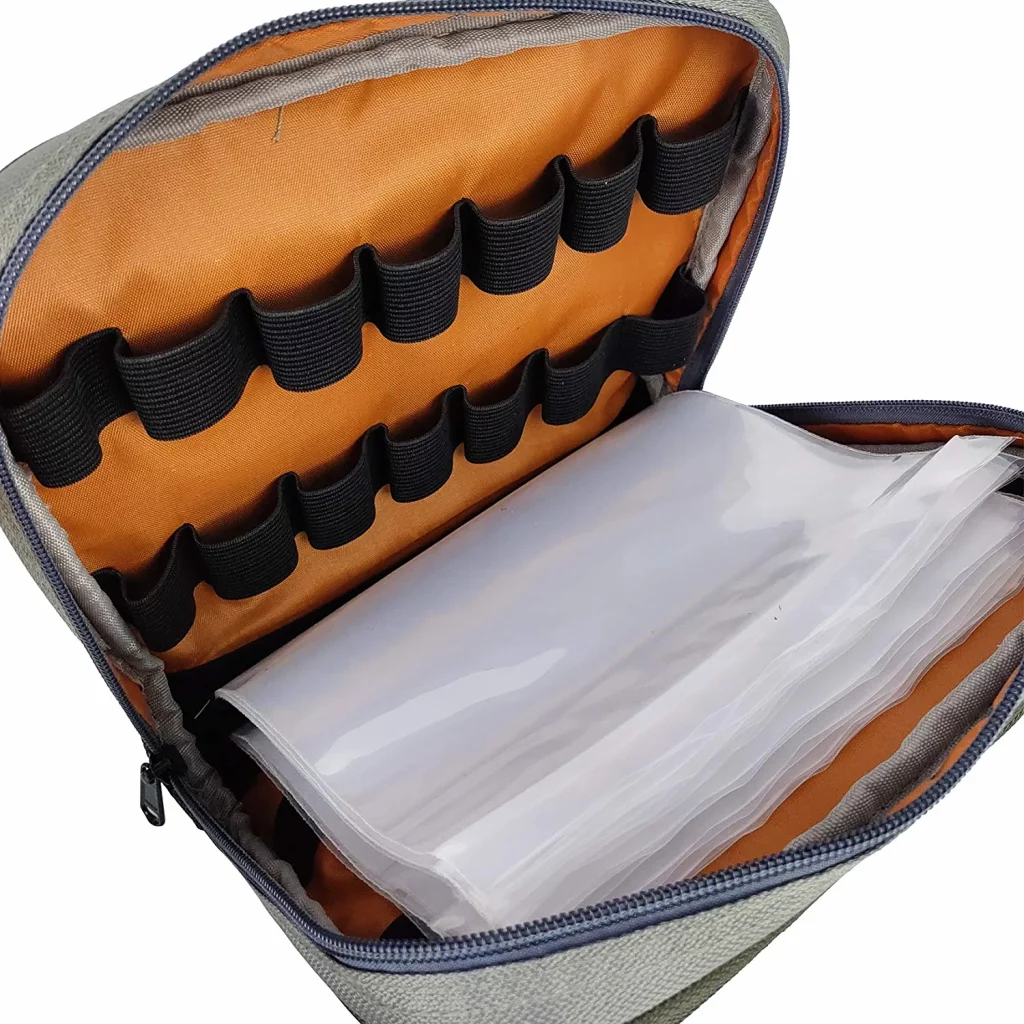 Key Features
420D nylon. 8.8×6.8x2in/22x17x5cm main pocket. One side has a 14-elastic-band fly-tying vise.
Thirty-two elastic bands for fly-tying tools. External pocket for vise pedestal or table clamp, 7.6×5.2×1.6in/19x13x4cm.
Ten heavy-duty poly bags hold fly-tying materials, flies, and hooks. 18.4x14cm/7.36×5.6in. Aventik's fly-tying vise is made of rugged aluminum and steel. It's 9.63OZ and travel-friendly (273g).
This single-lever action rotary fly-tying travel vise is durable and lightweight.
Standard 8.6″ Jaw (21.5cm) (21.5cm)
The vise has a C-clamp. The rotating in-line head allows fly tying without removing the hook.
chromium carbon steel jaw fits #22 to #3/0 fly hooks.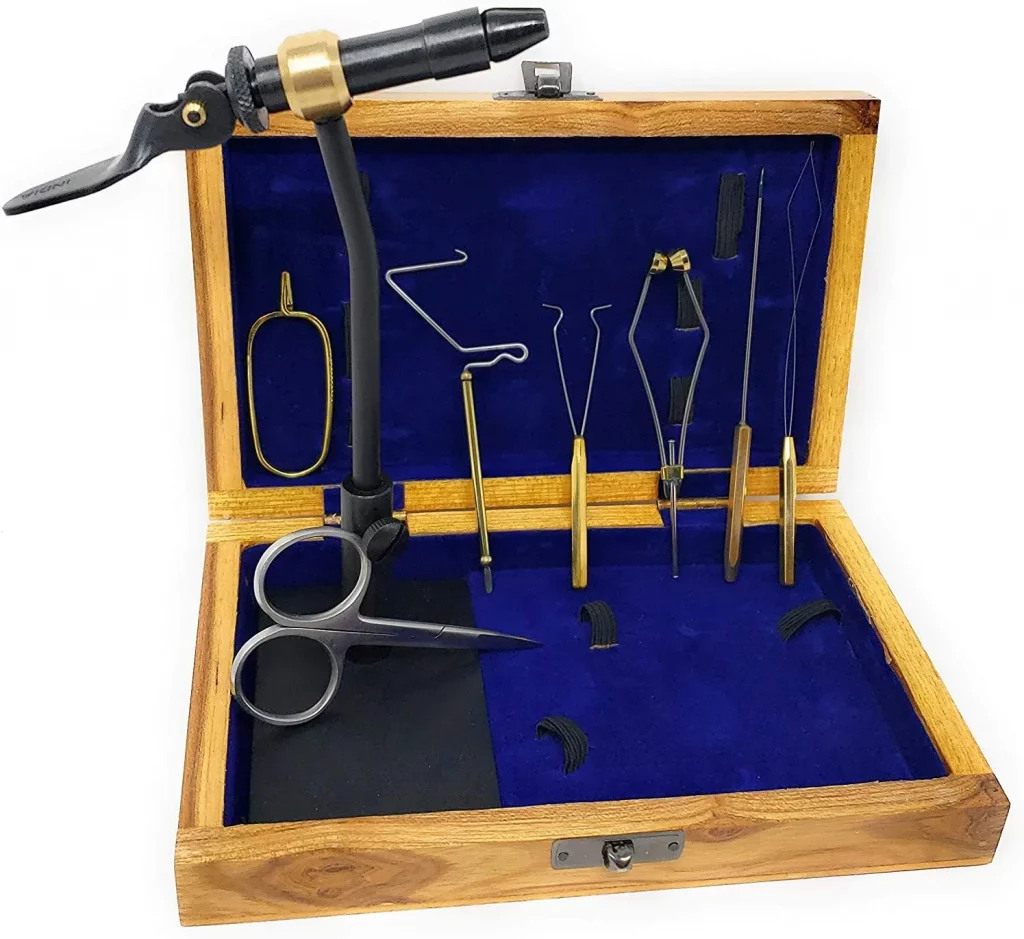 The Colorado Anglers Wooden Fly Tying Kit is a complete set for a newbie or a second kit for travel. It is highly portable and light, with everything needed to begin fly tying. Thanks to its durable yet small case, this kit can be taken on a road trip or a backpacking trip.
The vise's integrated base ensures its stability, and the set's portability means you can use it just about anywhere; while you work, you'll have all the tools you need close at hand.
This set comes with a wooden carrying case and eight individual tools: a vise with a base, a bobbin, a threader, a bodkin, a dubbing twister, hackle pliers, scissors, and a whip finisher.
Key Features
Perfect starter kit or travelers kit. Very compact and lightweight, it has all the tools necessary to get into fly tying. With its sturdy case, this kit can be thrown in a backpack and taken on a road trip or backpacking trip.
For Beginners and Pros: a fishing kit with a built-in base, vise, and seven tools of high-grade material, all the essential equipment needed to make flies no matter how advanced you are
The combo includes eight tools: Vise with base, Bobbin, Threader, Bodkin, Dubbing Twister, Hackle Pliers, Scissors, and whip finisher, all in a nice convenient wooden carrying case.
Use It Anywhere: the built-in base keeps the vise sturdy and means this portable set can be used anywhere without having to clip the vise onto something; while you work, you have all of the tools you need right by your side.
Tying Your Flies Of Your Own
Fishing with your own flies is extremely rewarding, whether you're after trout, striped bass, or pike. Nothing beats the satisfaction of knowing you tricked that prize fish all on your own after you've brought it to the boat.
Fly-tying essentials include materials, a dedicated workspace, and a vise you can master.
Vise Quality
Whether you're looking to treat yourself or find the perfect present for a fly fisherman, you'll find some great options here, from the most affordable to the highest quality vises. Although tying on a high-quality vise is a pleasurable experience, the associated costs can be daunting.
Think carefully about whether you'd be better served by purchasing a high-end vice or a more affordable option in addition to some new tying materials before deciding.
Whether you're just starting or looking to upgrade, we've found the perfect vise for tying your streamers, nymphs, or dry flies.
Rotary Vises Vs. Traditional Vises
This list is dedicated to rotary vises, the only type of vise we recommend buying if you are serious about learning to tie flies. Tyers using these types of vises have complete freedom of movement around the clamped hook, allowing them to construct flies at any angle.
Travel Fly Tying Vise
Find yourself in need of a portable vise. When you have a travel vise, you can bring materials with you on fishing trips and catch more fish by baiting with exactly what's being eaten in the wild.
A good travel vise will be sturdy enough to withstand the rigors of being stuffed into a fishing bag, small enough to be easily transported, and feature quality adjustments to allow for accurate knot tying.
Here are a few of our top picks for travel vises:
---
Related Articles
---
Recent Articles
Review Archives
---
Related Articles
---
Recent Articles
Review Archives
---