Fly Fishing Chest Packs – Top 10 List
When fly fishing is good, a lot is going on at once, and you must be able to multitask to keep up with everything. A chest pack is intended to keep your supplies and boxes organized and high on your body at all times. This will allow for quick access to everything you need when you need it.
What to look for in a Fly Fishing Chest Pack
Comfort
Because the chest pack's weight is shared in large part by the neck strap, you need to ensure that there is sufficient padding and that the strap does not dig into the back of your neck.
Additionally, a quality chest pack should be adaptable to a wide variety of body types and builds. You should be able to adjust both the chest strap and the neck strap so that everything can be carried at a comfortable height on your chest without it being too loose or too restrictive.
Convenience
Having a bag of fly fishing necessities attached to your chest is a super convenient place easily visible and accessible to both hands. To take full advantage of this ideal position, a chest pack should provide adequate storage and offer a way to use the flies, nippers, tippet, and other gear you have with you. Many chest packs have a drop-down flap that can be used as a mini workstation. Conveniences like this are must-haves in a good fly fishing chest bag.
Storage
When you go fishing, do you typically bring a lot of equipment? You need to ensure that you have adequate space to pack the things you usually carry with you. You should also consider the pocket arrangement of a backpack because it can assist you in maintaining your organization.
Water Protection
When wading on slippery rocks, you risk falling and getting wet. When something like this occurs, having a backpack that is either waterproof or water-resistant will come in handy. When fishing in wet conditions, such as rain or snow, water resistance is an essential factor to consider.
Best Overall Fly Fishing Chest Packs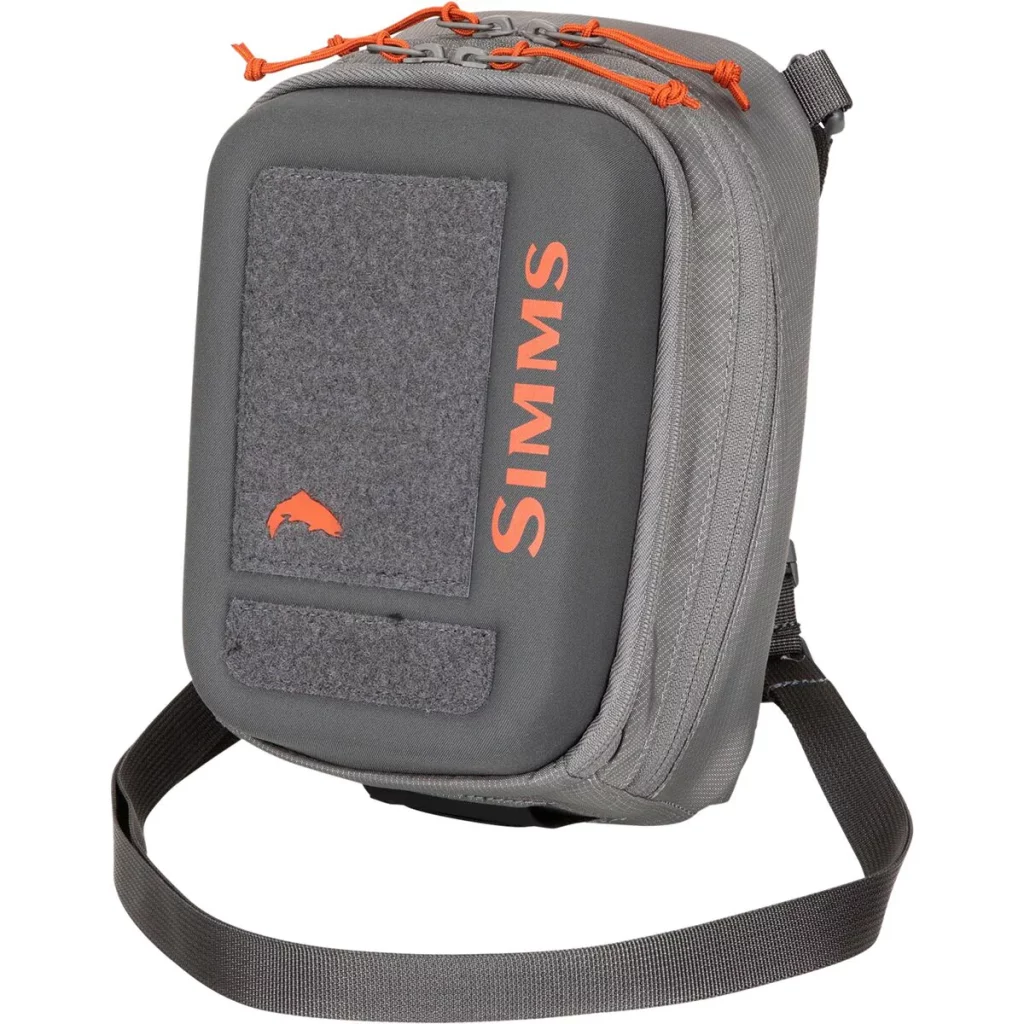 Simms is well-known for producing some of the best fly fishing waders on the market, but many people overlook their incredible packs.
The Freestone Chest Pack includes a compression-molded main compartment and a drop-down workstation, making this a smart, compact chest pack option that can be worn comfortably on your chest or, as an alternative, strapped to a pack. Either way, the Freestone Chest Pack gets you where you need to go.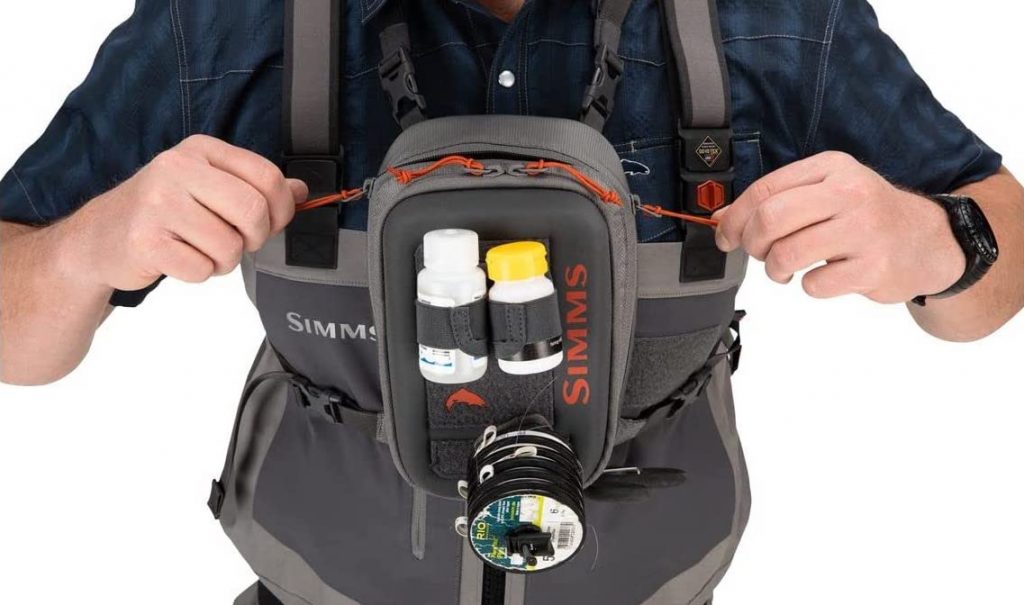 Weighing in at 8 pounds with a 3-liter capacity, the Simms Freestone Chest Bag is lighter than most entry-level chest packs and is ideal for users looking for something convenient, flexible, and portable. The bag is small, but some anglers prefer a light pack with just enough space for up to two fly boxes, weights, indicators, tools, and any additional odds and ends you like to have with you while fishing.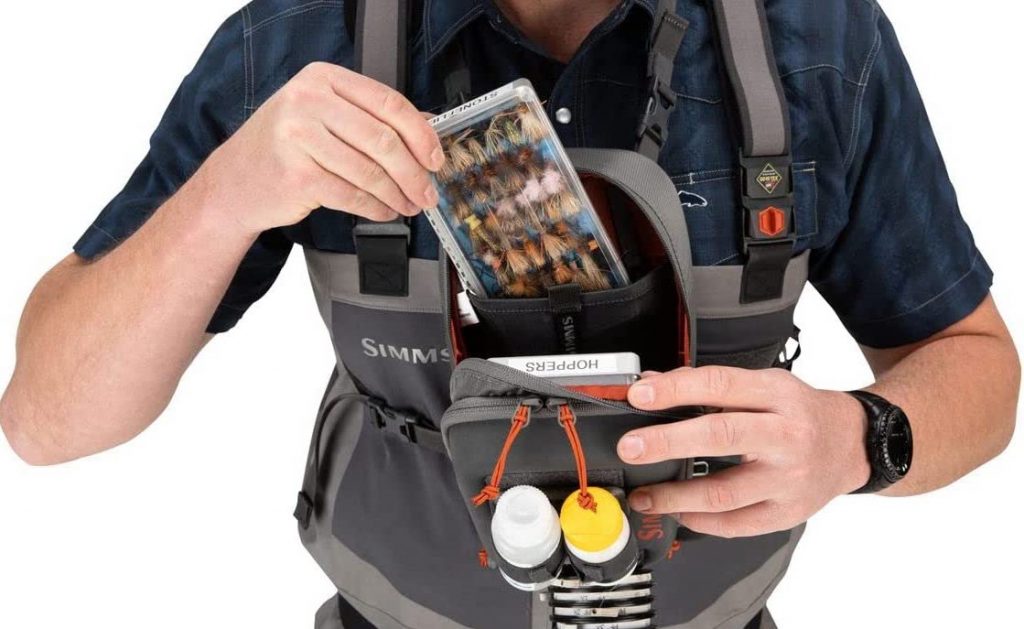 Because the Simms Freestone is constructed using waterproof, DWR material, you won't have to worry about water splashing on your chest or standing in waist-deep water. The pack also includes a tippet holder, magnetized exterior hooks, and a compartment to store your flies, hooks, and lures. The chest pack has two main zippered compartments with interior dividers and smaller pockets to keep everything organized.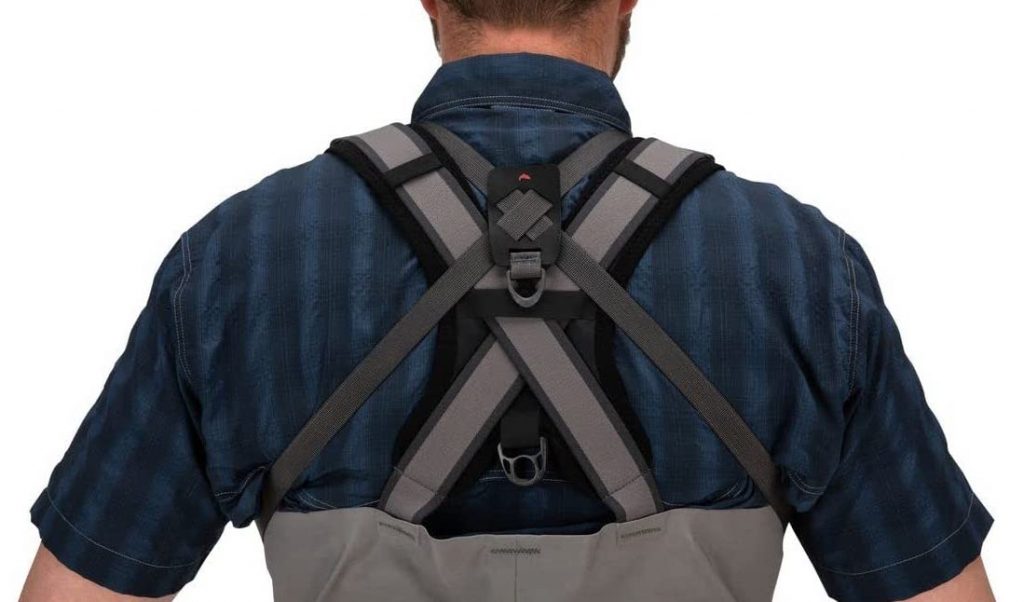 Key Features
Removable chest and waist straps
Attaches to all Simms waders and backpacks
Two zippered pockets to carry essentials
Tippet and floatant caddies for easy access
Magnetic docking station for nippers
Two interior organization pockets
What We Like
Light and compact.
Compression-molded main compartment.
Integrates with Simms waders removing the
need for a neck strap.
Designed around essentials.
Drop-down workstation.
What Could Be Improved
Could benefit from padding
around the neck when not u used
with waders.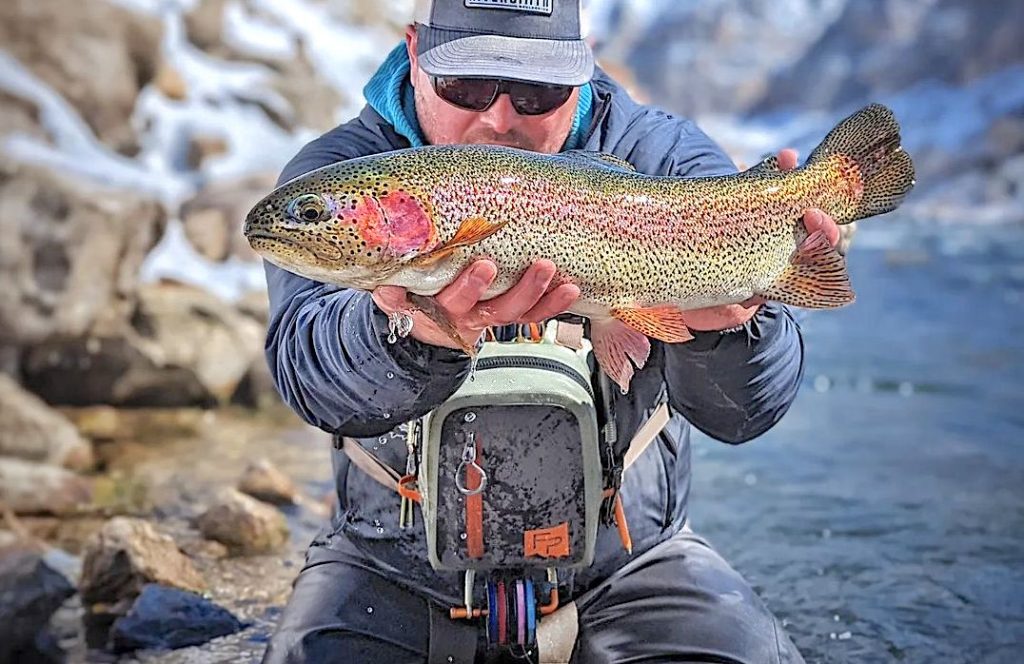 The Thunderhead Chest Pack has a waterproof system for carrying all the gear you need for a day out on the water and is similar to the Orvis Chest Pack but has the added advantage of being waterproof but offers a smaller capacity. It also features a variety of connection compartments and tabs, helping hold your tippets, floatants, pliers, etc. Moreover, the pack also comes with a built-in net holder slot at the back. Overall, the chest pack is perfect for experienced and beginner anglers alike.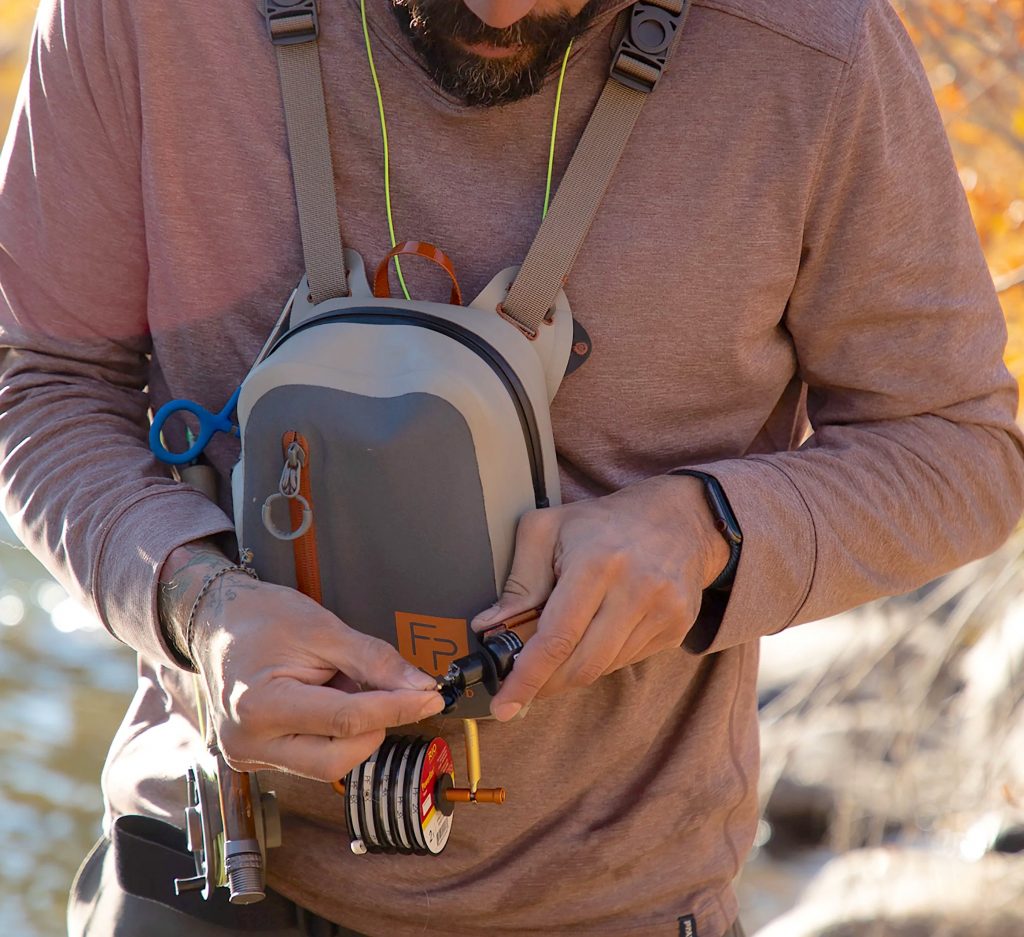 The FishPond Thunderhead weighs 5 pounds and has a 5-liter capacity. It is designed with durable and strong nylon, coated with waterproof TPU technology, and made to protect your gear from all elements. With its perfect size, the chest pack can hold essential fishing gear and accessories and store your personal items.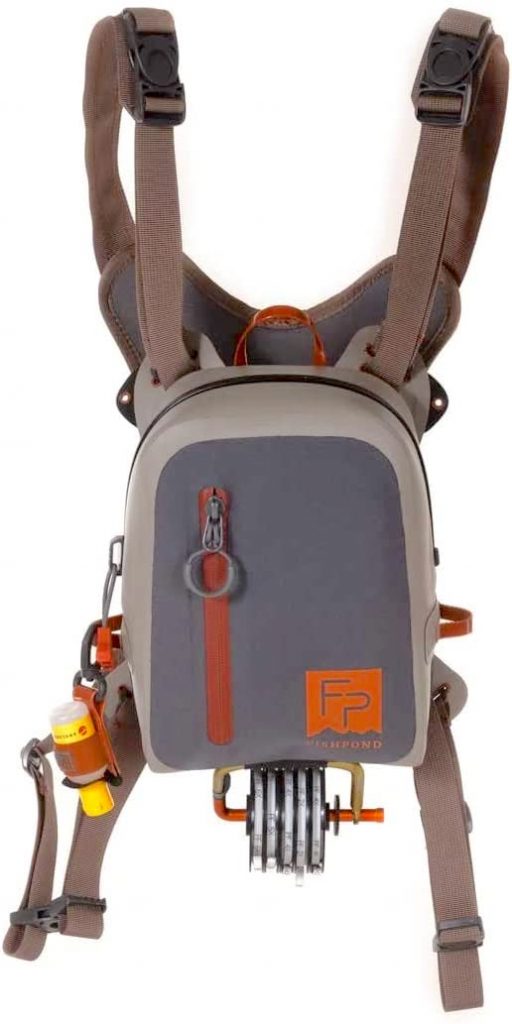 Key Features
900D TPU-coated NewStream fabric
Fully waterproof, self-healing TRU Zip zipper closure on the main compartment
Front stretch pocket with zipper closure
Lightweight foam back panel with integrated net slot
Interior organization with zippered pocket
Exterior Hypalon tabs for tool and accessory attachment
Double-reinforced webbing shoulder straps
Modular buckles detach from the back harness and attach to any of our compatible backpacks
Multiple webbing adjustment points for easy fit
It can be worn or strapped down to a boat frame.
Accessories not included
What We Like
TPU-coated waterproof technology
Waterproof zippers
Lightweight with a 5-liter capacity
Integrated net holder
Removable straps
What Could Be Improved
Zippers may be a little stiff
A little pricy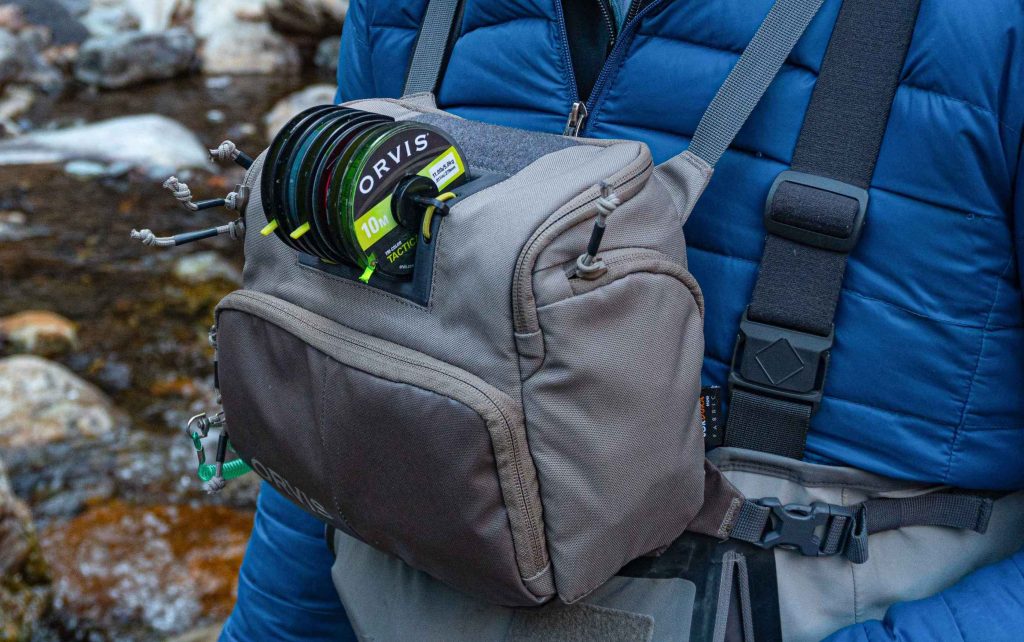 The Orvis Chest Pack is perfect for anglers who want to carry all the right gear and necessities while walking upstream or standing in water up to their waists. The pack has a similar shape to the Fishpond Thunderhead but is lighter at 14 oz and has 4 liters of storage. however, it is water-resistant rather than waterproof.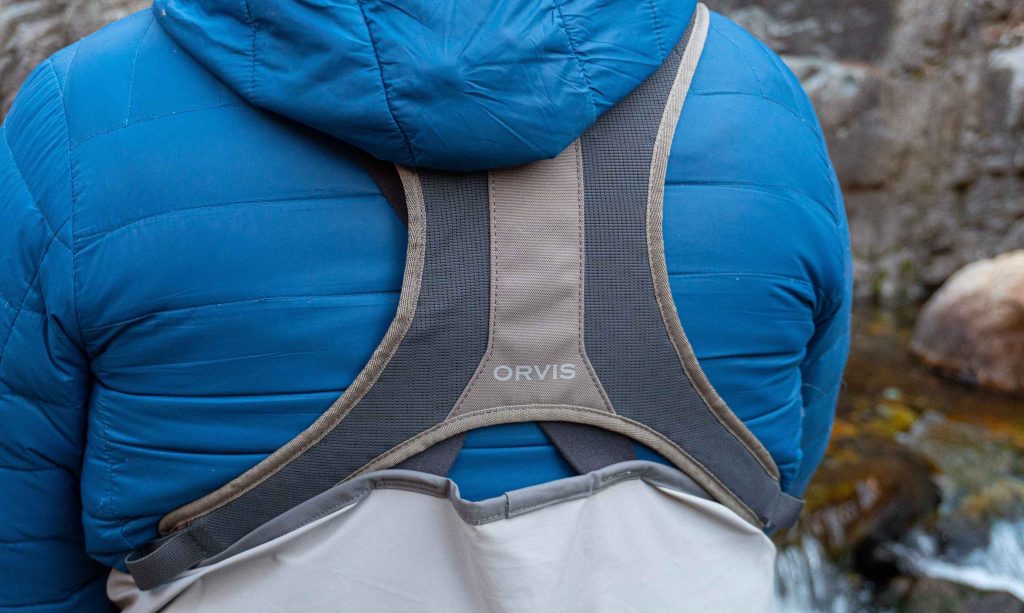 Waterproof zippers are often more challenging to open and close, which irritates some anglers. Furthermore, if the inside of the pack becomes damp from putting wet gear inside, it will dry out much faster than a fully waterproof pack.
The integrated tippet holder on the top of the pack, the front zipper and gusset that allows you to fully open the main compartment to use as a mobile rigging station, and the comfortable neck strap are all design features we like on this chest pack.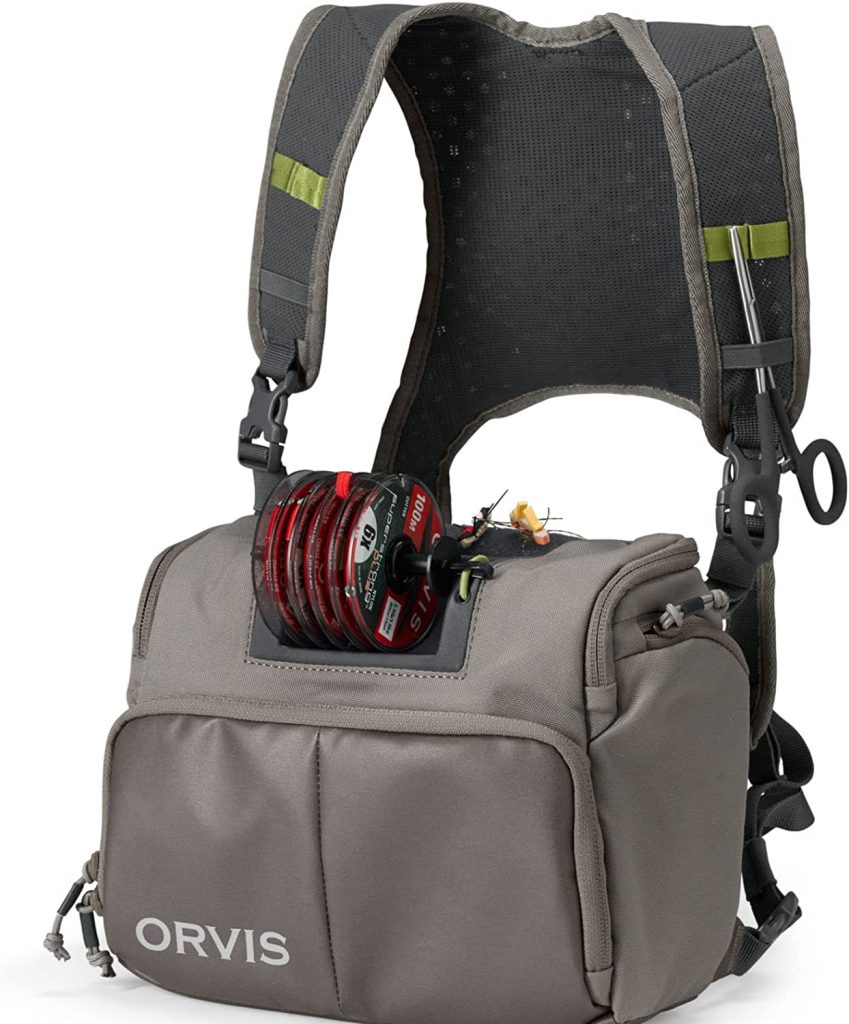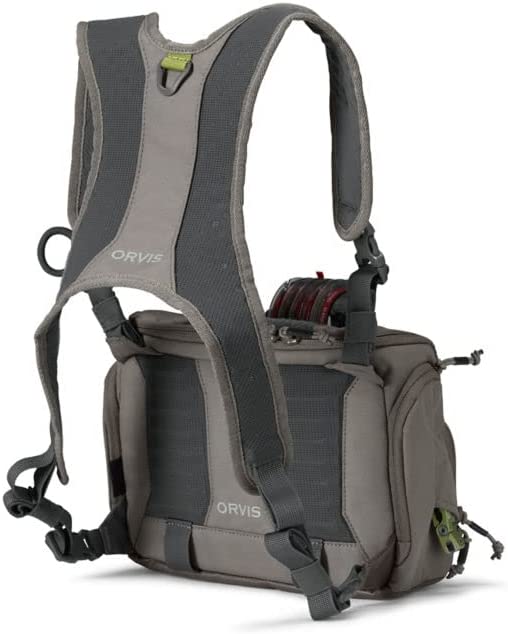 Key Features
100% recycled ECO CORDURA
Patented Tippet Whippet recessed docking station with tippet bar included
4 liters of capacity
Main body storage pocket with fold-down top and internal features
Smaller front zippered pocket with internal features
Two side pockets, one with zinger/nipper pass-through
Bug Out Backpack compatible
Water Resistant.
What We Like
Easy and comfortable to wear and
access gear.
Roomy main pocket.
Convenient, smaller, front pocket
Tippet whippet.
Prominent and comfortable back support.
Quality construction.
What Could Be Improved
A little spendy compared to others.
The zippers are a little bit stiff.
Doesn't work well with a larger net.
The chest area could use longer straps
to accommodate larger frames.
Not waterproof.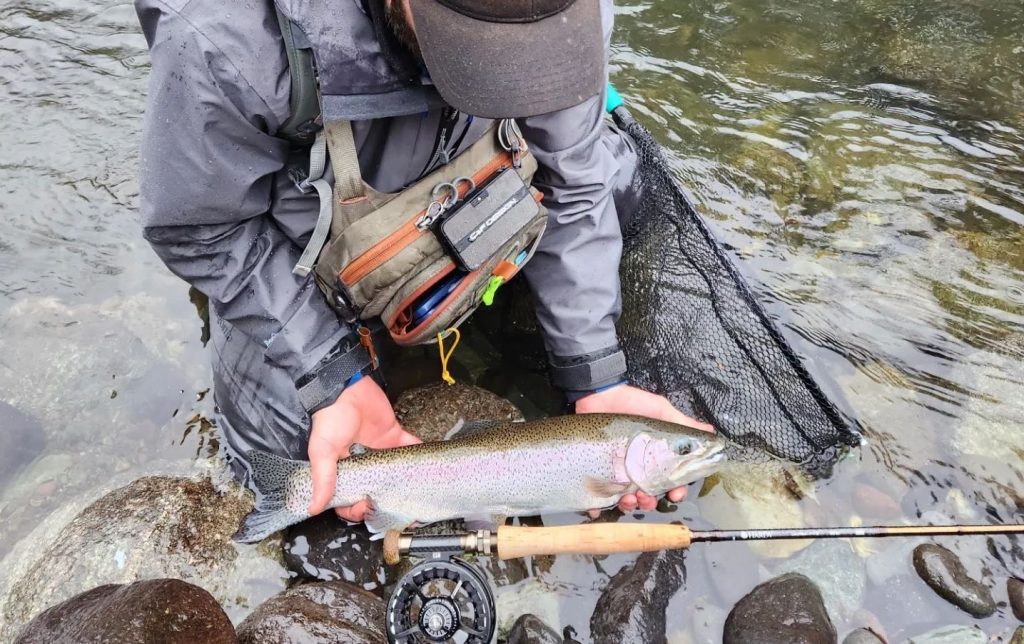 The FishPond Cross-Current is made to be worn high on the body high above the water to keep your essentials safe and dry. With a shoulder strap that won't get caught on things, the pack evenly distributes its weight across your body while hiking through the water.
Fishpond makes products that look good and last a long time; the same holds true for the Cross-Current chest pack. The pack is made of 210 nylon CyclePond material from Fishpond that is coated to keep water out.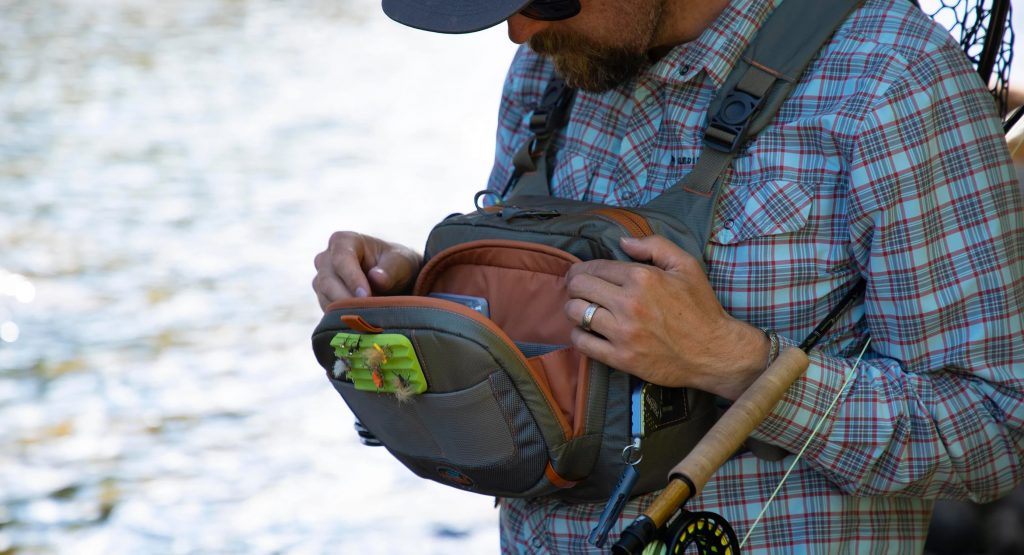 Fishpond used recycled nylon in the pack to make it better for the environment. The Cross-Current pack is just over 1.5 pounds and has an 8-liter capacity. The Cross-Current pack is an excellent choice for most fly-fishing situations in terms of how well it works. It's the perfect size for chest packs. There is room for a few tools, a couple of fly boxes, and leaders.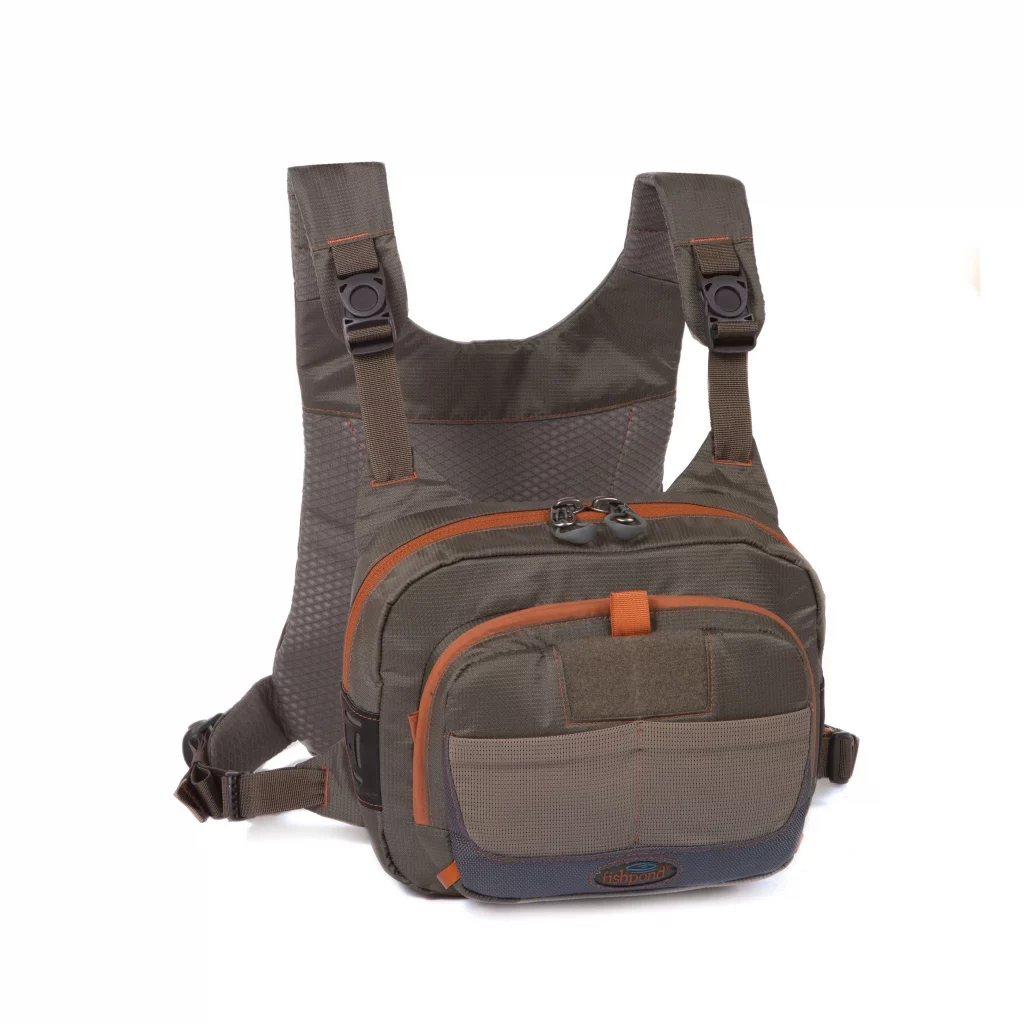 The magnetic rigging station on the Cross-Current packs might be the best thing about them. It's a drop-down system with a foam patch, fly box, and other things that make it easy to set up and use all your gear. The back of the chest pack has a place to hold a net. There is a slot at the back for the net, so you don't have to hold it in your hand.
The Cross-Current also has a lot of tabs and connection points that make it easy to get to your tippet, floatant, pliers, and other frequently used items.
Key Features
Magnetic closure
Front magnetic closure pocket for small fly boxes, pucks, and other quick-access items
An integrated net slot on the back panel holds a long-handle net
One large pocket on the back panel with a zippered entry on each side
The magnetic front pocket has a velcro interior on one side and four small stretch mesh pockets for organization.
The main front zippered pocket includes one interior zippered pocket.
What We Like
Magnetic drop-down workstation
Lightweight nylon fabric
Magnetic front compartment to store
fly boxes and pucks
Zippered front main compartment
Highly adjustable for different frames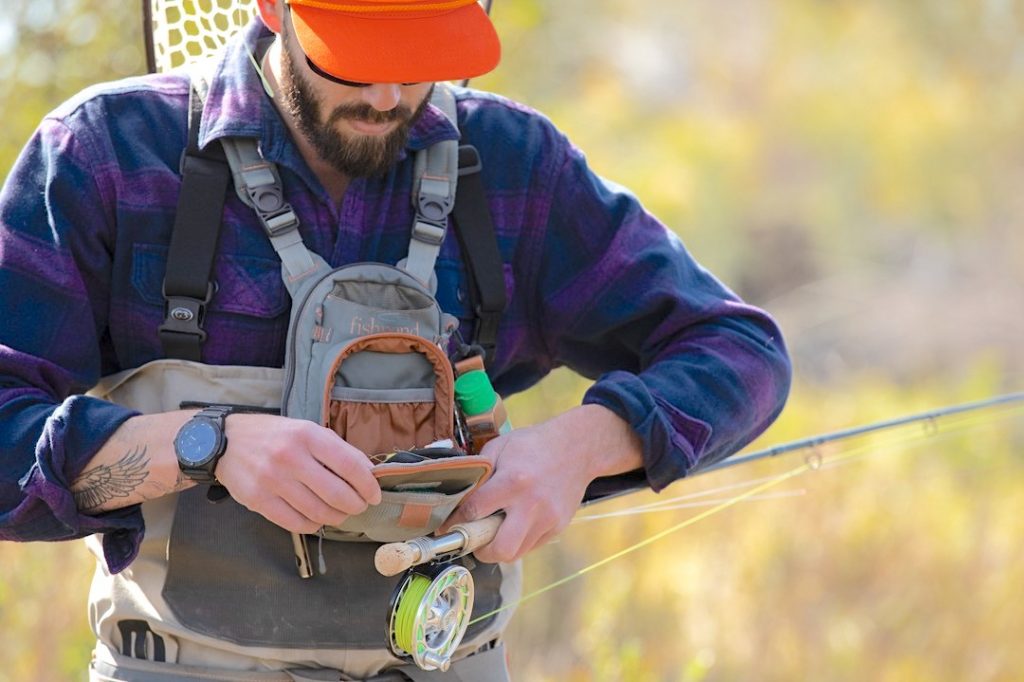 The Canyon Creek is an excellent option for anglers who need quick access to the bare essentials, as this highly versatile carry system offers many features. For starters, the pack's slim and low-profile design makes mobility while wearing it incredibly simple. Although only 3 liters in capacity, this pack features seven tool ports and a drop-down fly bench with a sticky silicone fly mat.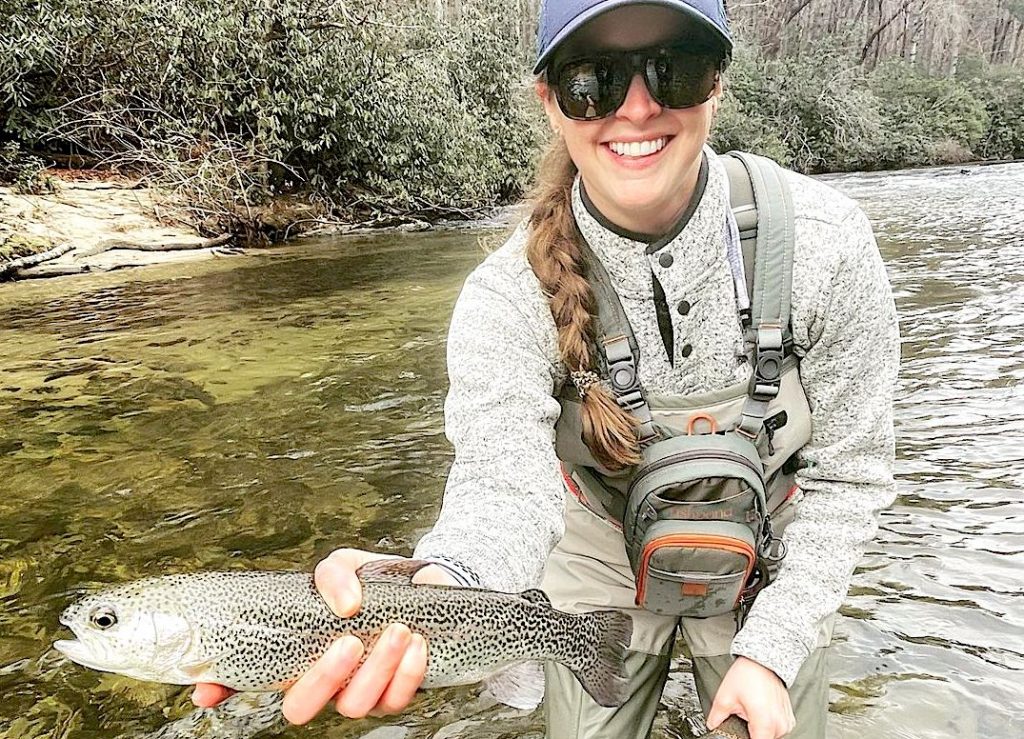 Even though it has a low profile, you can easily store up to four of your favorite fly boxes and still have room for other gear. As a bonus, the Canyon Creek Chest Pack integrates directly with a number of other Fishpond packs and Switchback Wading Systems.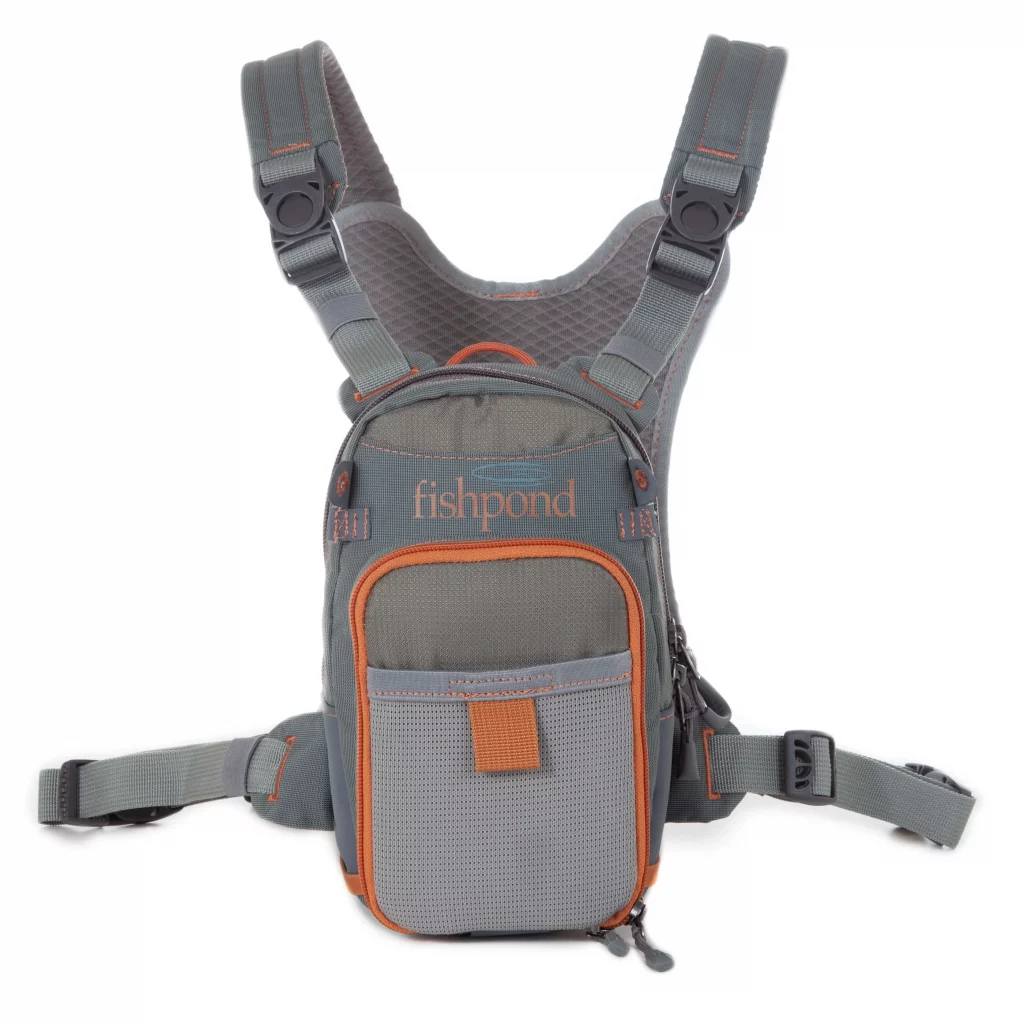 Key Features
Low-profile
Vertical design
Integrated net slot on the back panel
Exterior, quick-access pocket
Hypalon tool attachments for retractors, tippet and floatant holders, and forceps
What We Like
Low-profile
Vertical design
Integrated net slot on the
back panel
Exterior, quick-access pocket
Hypalon tool attachments for retractors,
tippet, floatant holders, and forceps
What Could Be Improved
Doesn't fit larger frames as well.
It can be a little hot in the summer.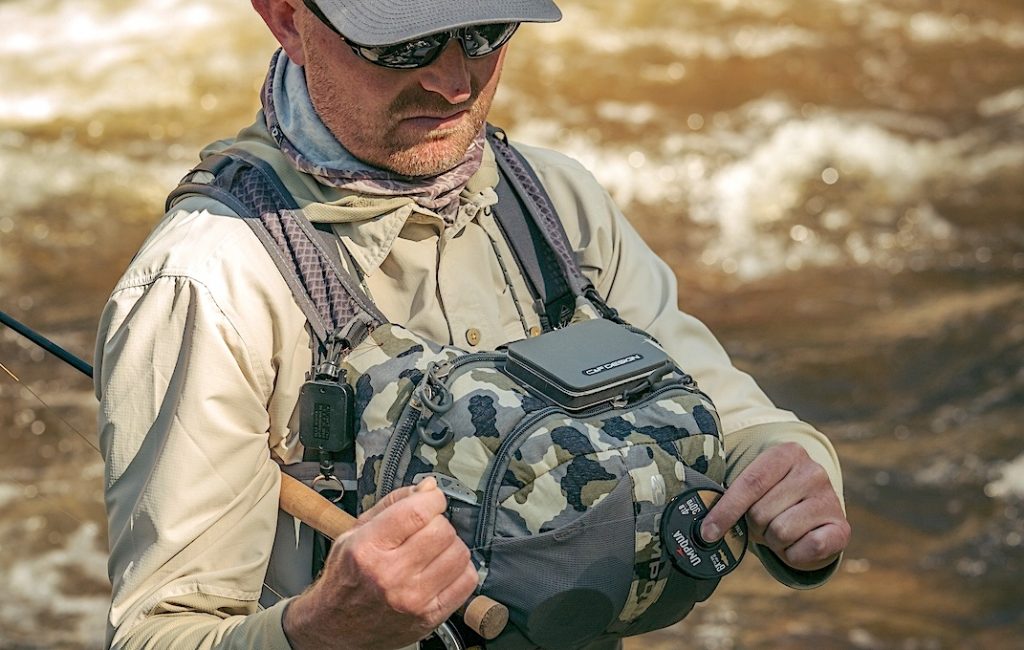 The Umpqua Overlook 500 ZS2 is built for comfort and versatility. The shoulder and waist straps have adjustment buckles that you can use to tighten the pack, making it easier to adjust and move around.
The Umpqua Overlook 500 ZS2 has a four-point harness structure with a streamlined front pack system to improve visibility and reduce muscle tension and strain on your shoulders, neck, and back. The chest pack is constructed of soft and long-lasting ballistic nylon.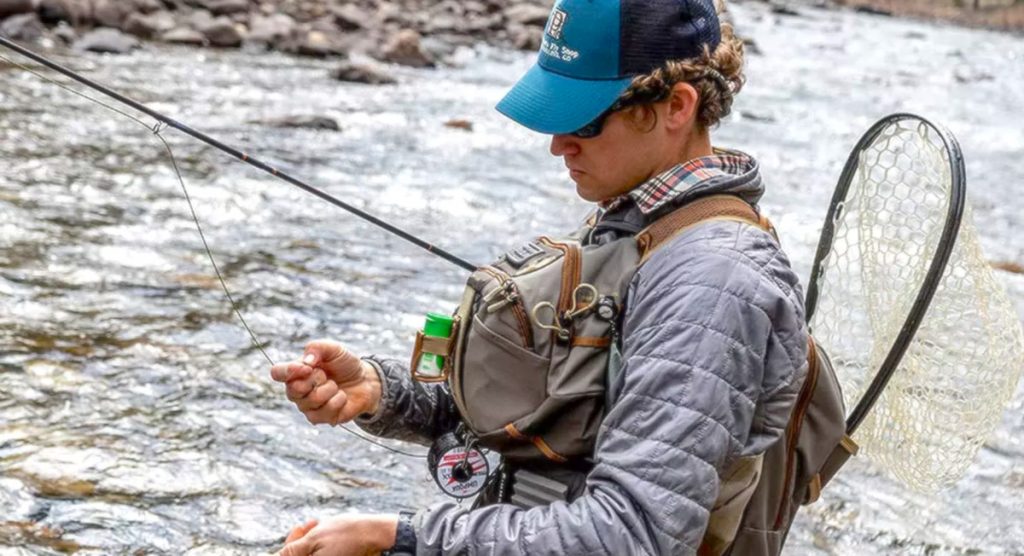 In addition, the Overlook 500 ZS2 has a more prominent front compartment with two pockets that are big enough to hold essential fishing gear and accessories that will improve your fishing experience.
Along with the larger front compartment, the chest bag also includes two interchangeable rear add-ons. You can choose soft mesh or add another compartment that will function as a holster to carry additional items.
There are also two ZeroSweep retractor stations for tools or a floatant caddy, a fly-drying foam patch, a water bottle holder, a hemostat station, and exterior mesh pockets for quick storage.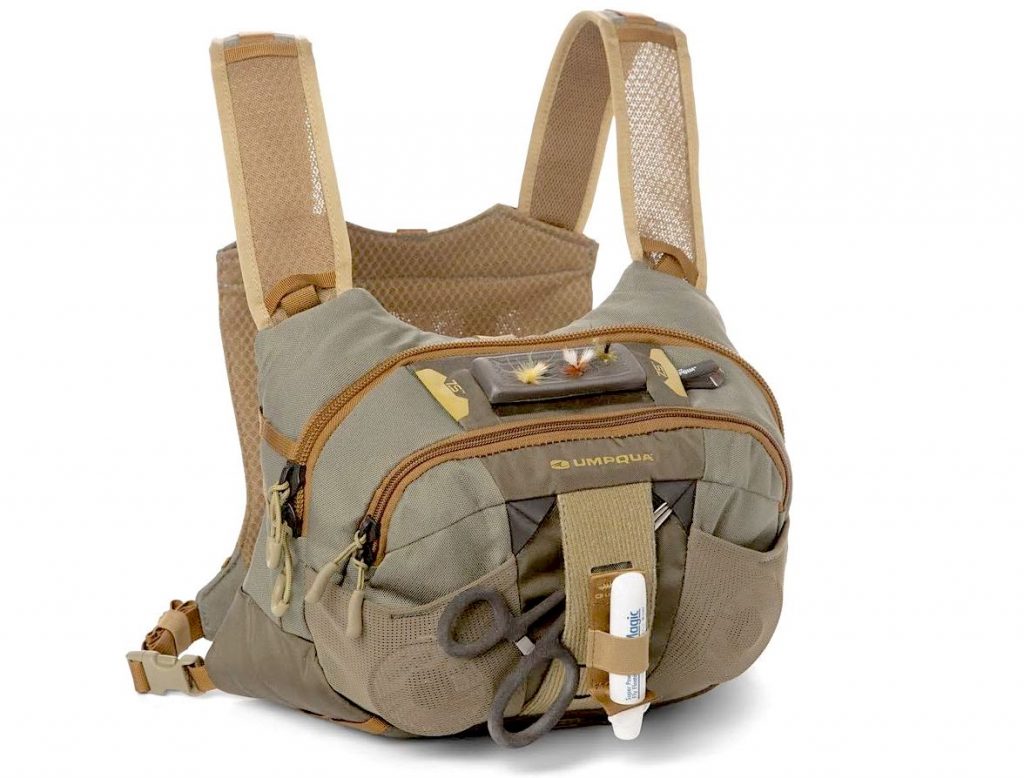 Key Features
Option of mesh back panel or storage compartment with net holster
Two large chest compartments
Fly-drying foam patch
Water bottle holder
Two ZeroSweep zinger retractor stations
Exterior mesh pockets
Hemostat station
What We Like
Easy access to all my fly boxes and fishing net.
Plenty of room for extra fly boxes and gear.
A 4-point harness structure with full
shoulder straps.
Rides high and is very comfortable to wear.
What Could Be Improved
Hard to use and see the tippet
in the tippet holder.
Zippers are large and do not
keep water out of the pack.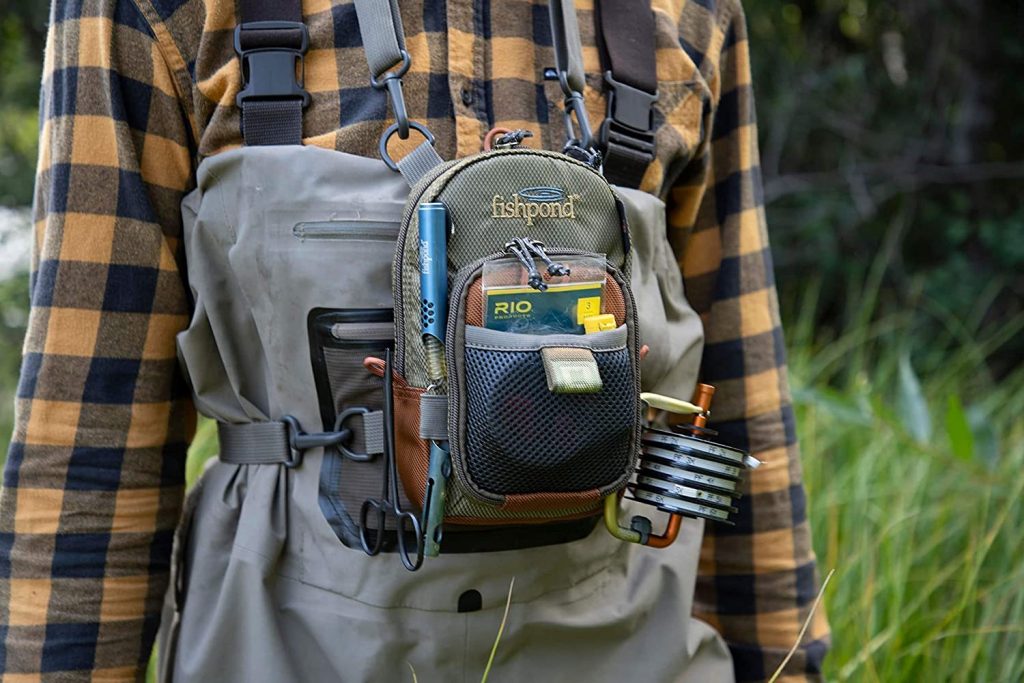 If you want something light that will hold a fly box and a few items for a day on the water, the Fishpond San Juan vertical chest pack is a great option. The pack has a convertible, vertical strap structure that allows it to be worn on either shoulder and converted into a belt or fanny pack. You can even wear it around your neck if you add a clip.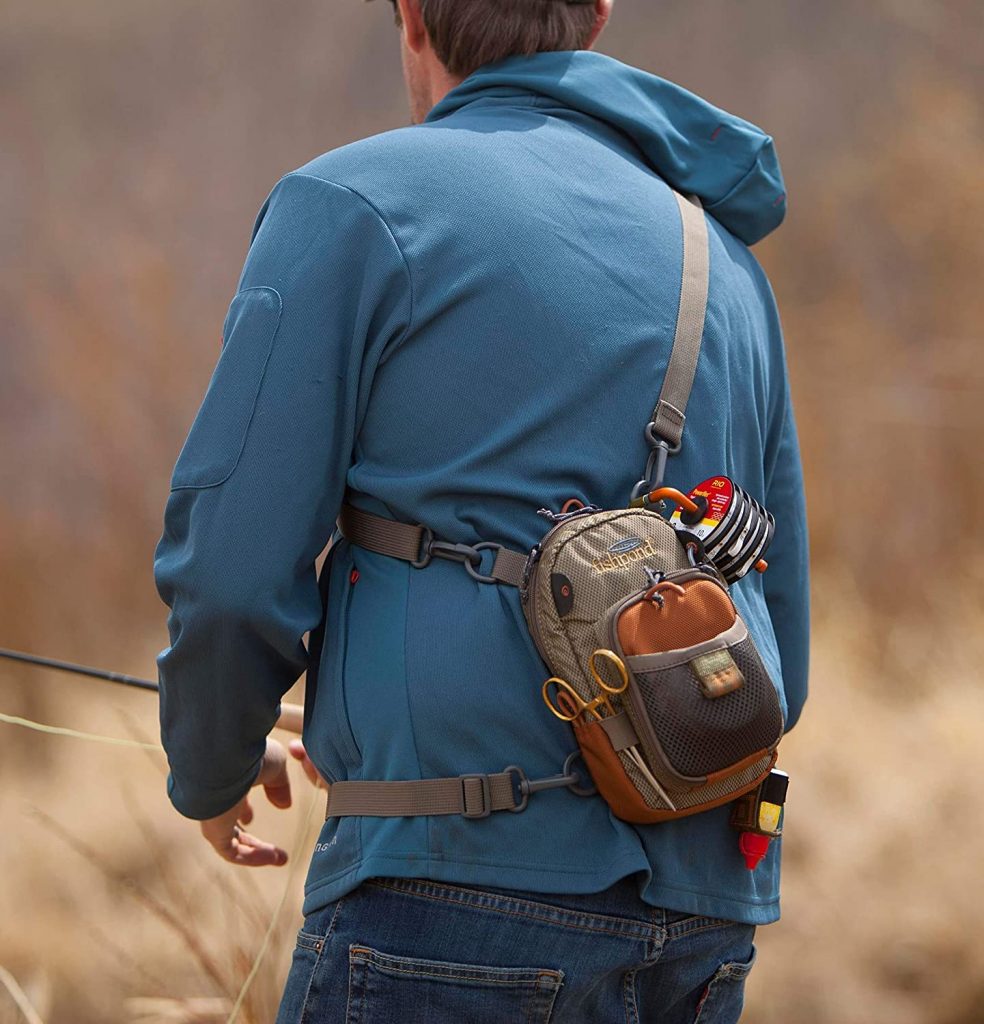 The FishPond San Juan is one of the most durable fly fishing chest packs, with two main compartments – one large pocket that can hold essential gear and other items. The other pocket is smaller and designed to sit flat. On the other hand, the smaller pocket has a detachable foam that can dry or store your flies. The main compartment has a soft divider to help keep everything organized and flexible.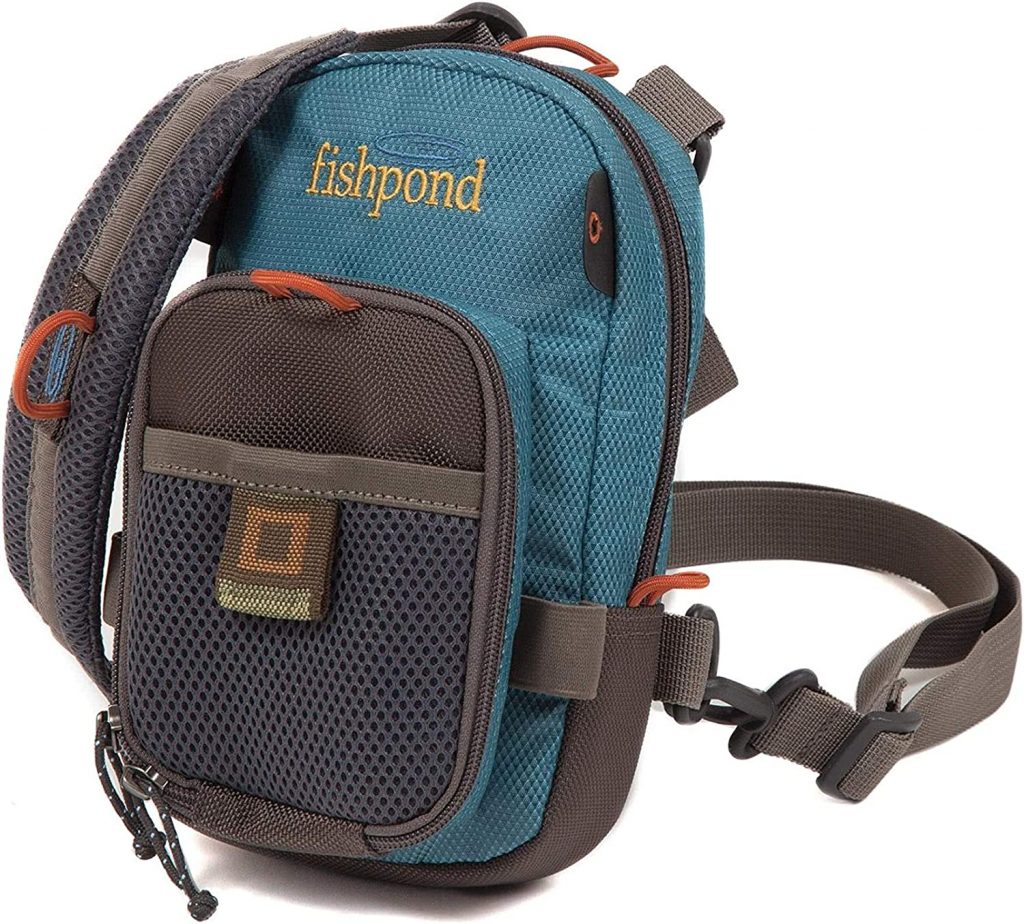 The pack has one main compartment, a smaller exterior pocket, and several attachment points for zingers and tools. It holds about 3 liters of gear and should be the ideal size for anglers who don't want to carry too much gear while fishing.
Key Features
Low-profile vertical design
A zip-down fly bench with replaceable foam
Zippered main compartment for secure fly-box storage
Zippered interior pocket
fishpond Jacquard accent webbing
Climbing cord loops for attaching tools
Belt loop attachment
Padded, breathable mesh backing
What We Like
Lightweight design
You can wear the vertical design on either
shoulder, your waist, or your neck.
There are two zippered sections.
Made with traditional FishPond
webbing and a cord loop for attaching
extra gear.
What Could Be Improved
Smaller than other similar packs.
Limited water resistance.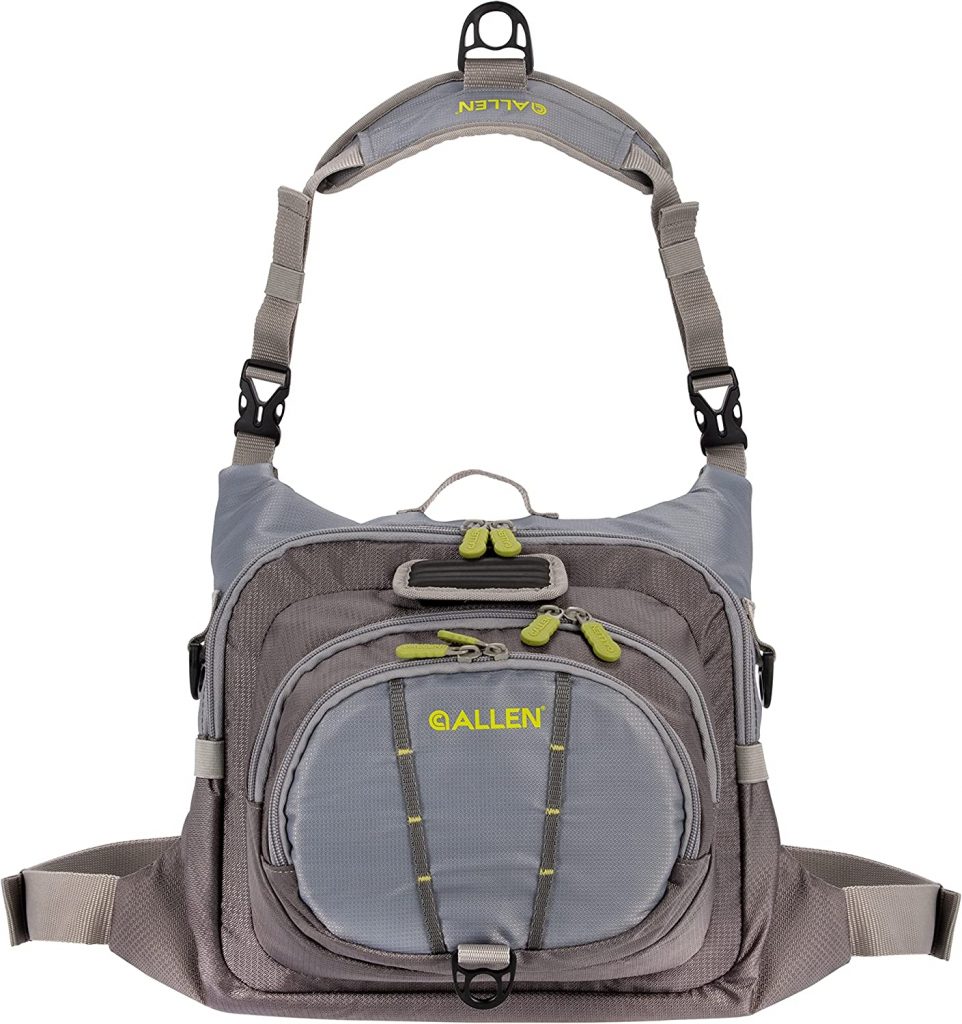 The Allen Boulder Creek Fishing Pack is a very affordable fly fishing chest pack that provides a lot of value at a low price.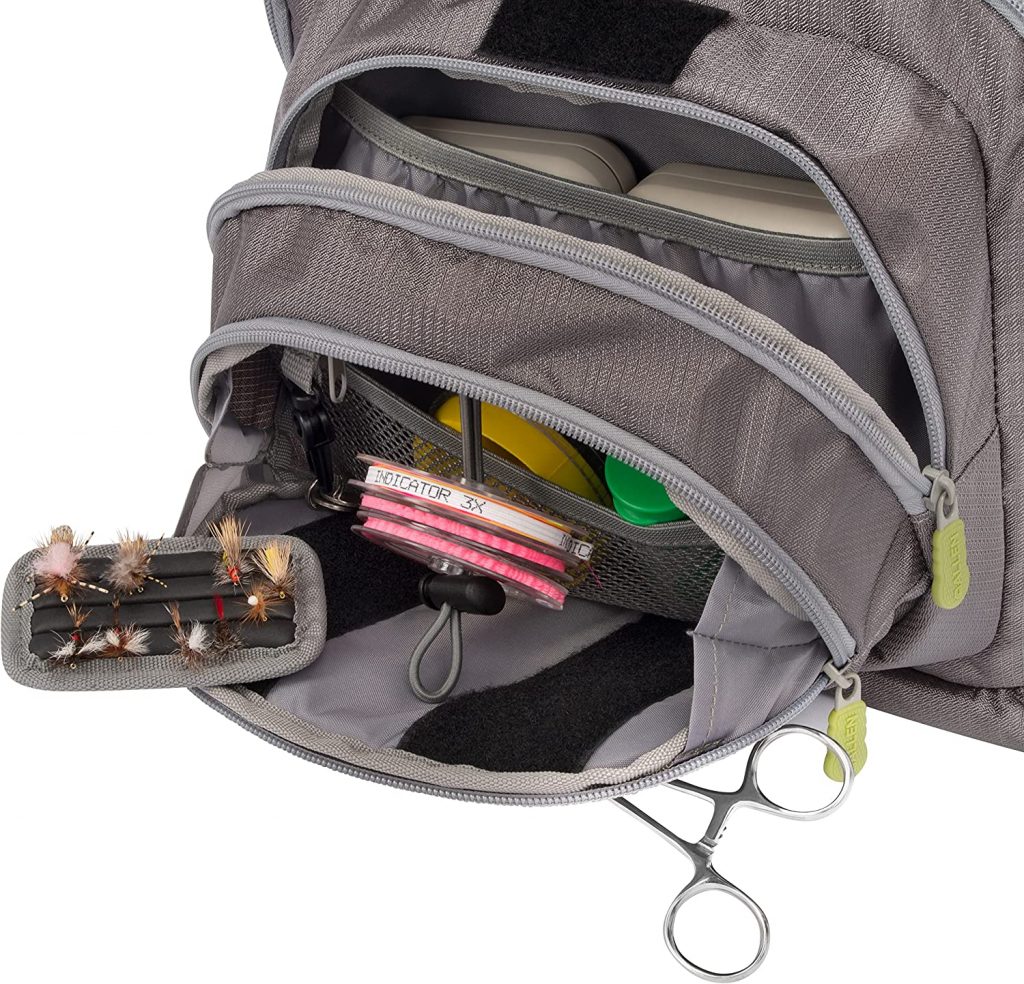 There are three zippered compartments, interior pockets, a fly drying patch, a net attachment point for hooking your net to the back, and a few tabs outside the pack for attaching zingers and tools.
The Allen Boulder Creek Pack is ideal for an angler looking for a pack for infrequent use or who does not want to spend much money. Allen may not be as well-known as some other brands on this list, but their products are affordable, functional, and well-priced.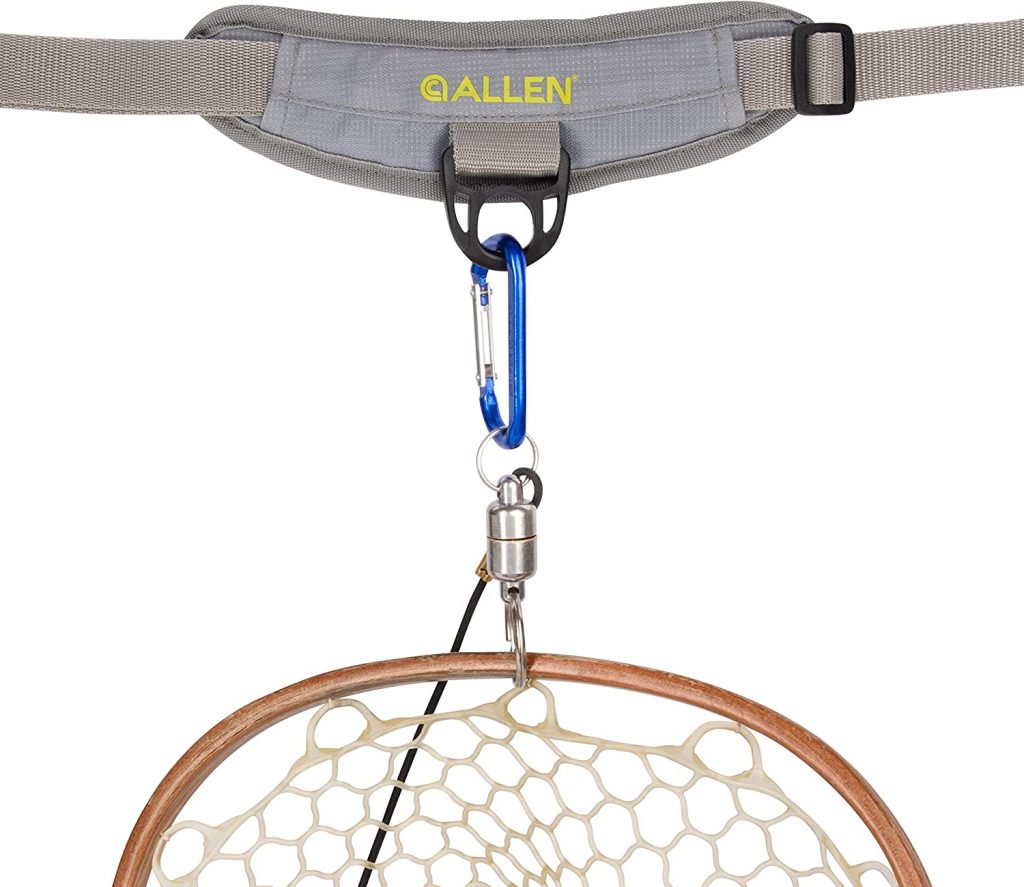 The fold-down workstation is an excellent feature of this budget pack. You zip down one of the front compartments to reveal a flat surface for changing flies or re-rigging in the middle of the river. The workstation makes life much easier when dealing with cold hands and small flies.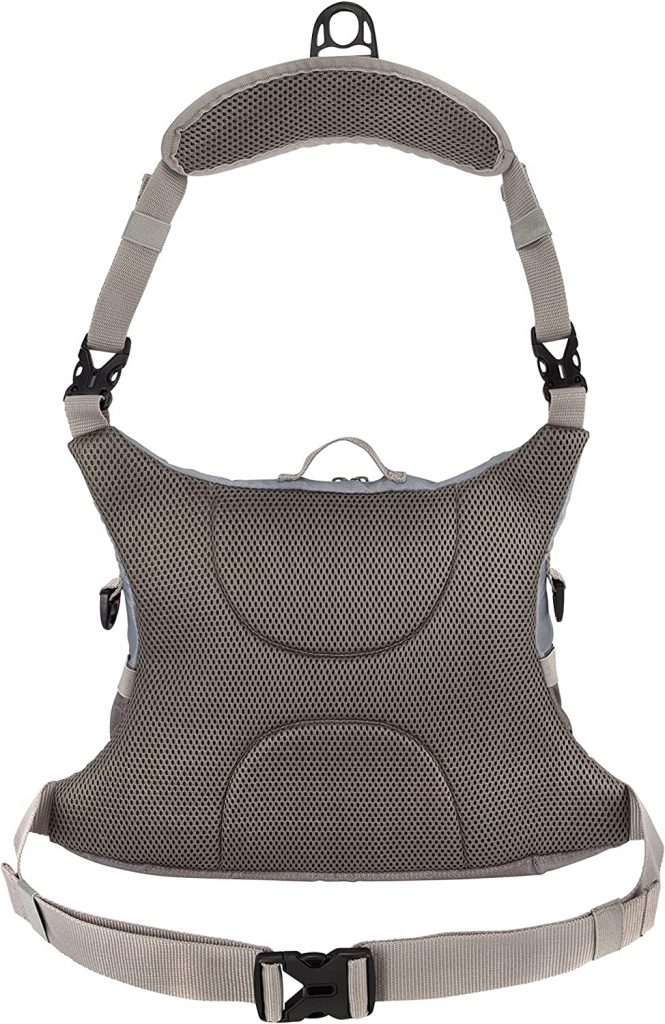 Key Features
Zip Down Work Station with Tippet Tender and Fly Patch
The padded Neck Strap Comes with a Net D-ring.
Multiple Exterior D-rings for Holding Your Accessories
High Visibility Lining
Holds up to 6 fly Boxes
Heavy-Duty Molded Zippers
What We Like
Plenty of room for 5-6 large fly boxes,
tippet dispenser split shot and tools
Attractive price point when compared
to other more expensive options.
Zip-down workstation and fly patch.
What Could Be Improved
Open-ended zip pulls sometimes
catch tippet.
Inconsistent build quality with a limited
30-day warranty.
Neck strap padding could be thicker.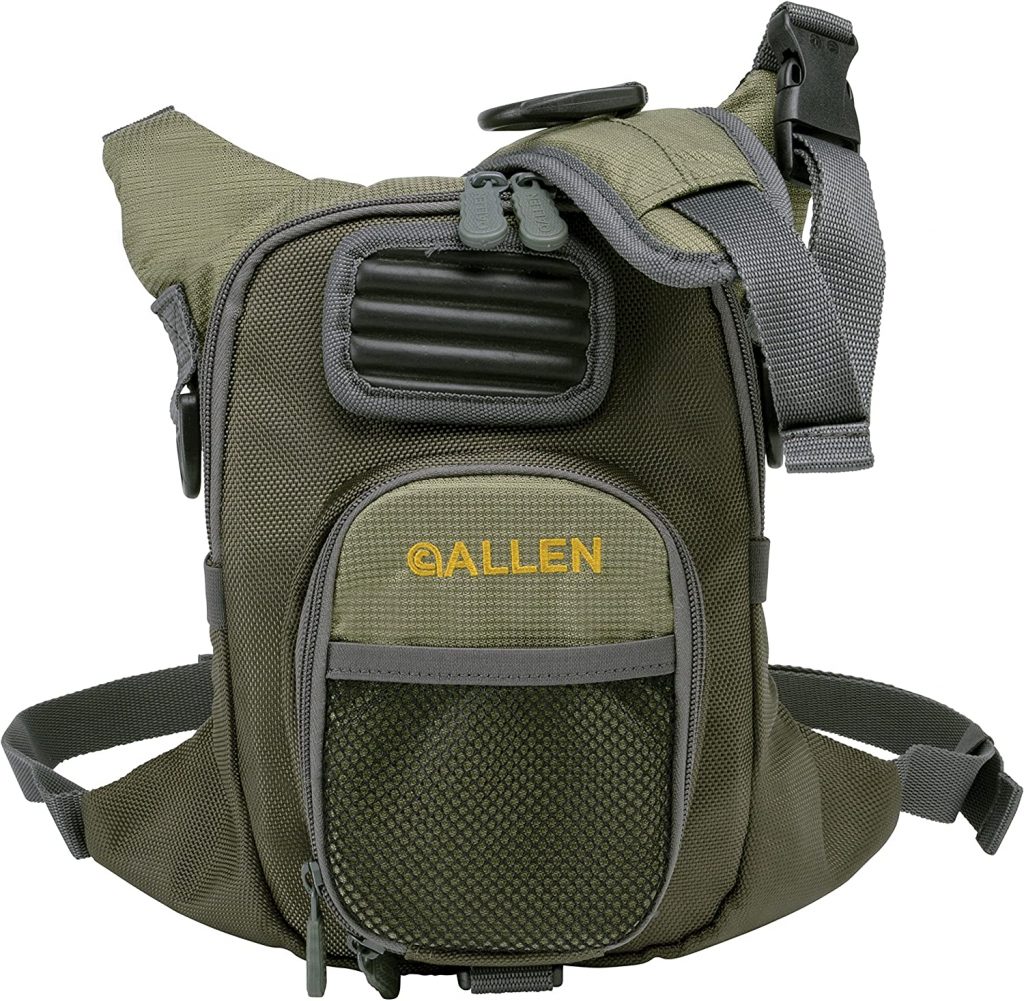 Allen's next iteration of their popular fly-fishing chest pack is larger than their micro model and more than adequate for a day trip. The front pocket is comparable to the Bear Creek Micro, if not the same size. However, the larger back pocket provides significantly more space. In addition, the older sibling provides almost the same features, with the primary distinction being one of size.
The larger pocket has two mesh compartments, one closed with a zipper and the other open on top; both are ideal for stowing away a fly box. Do not be fooled by its Micro counterpart; this pocket is significantly larger. It's so much larger that even my largest fly box would fit inside.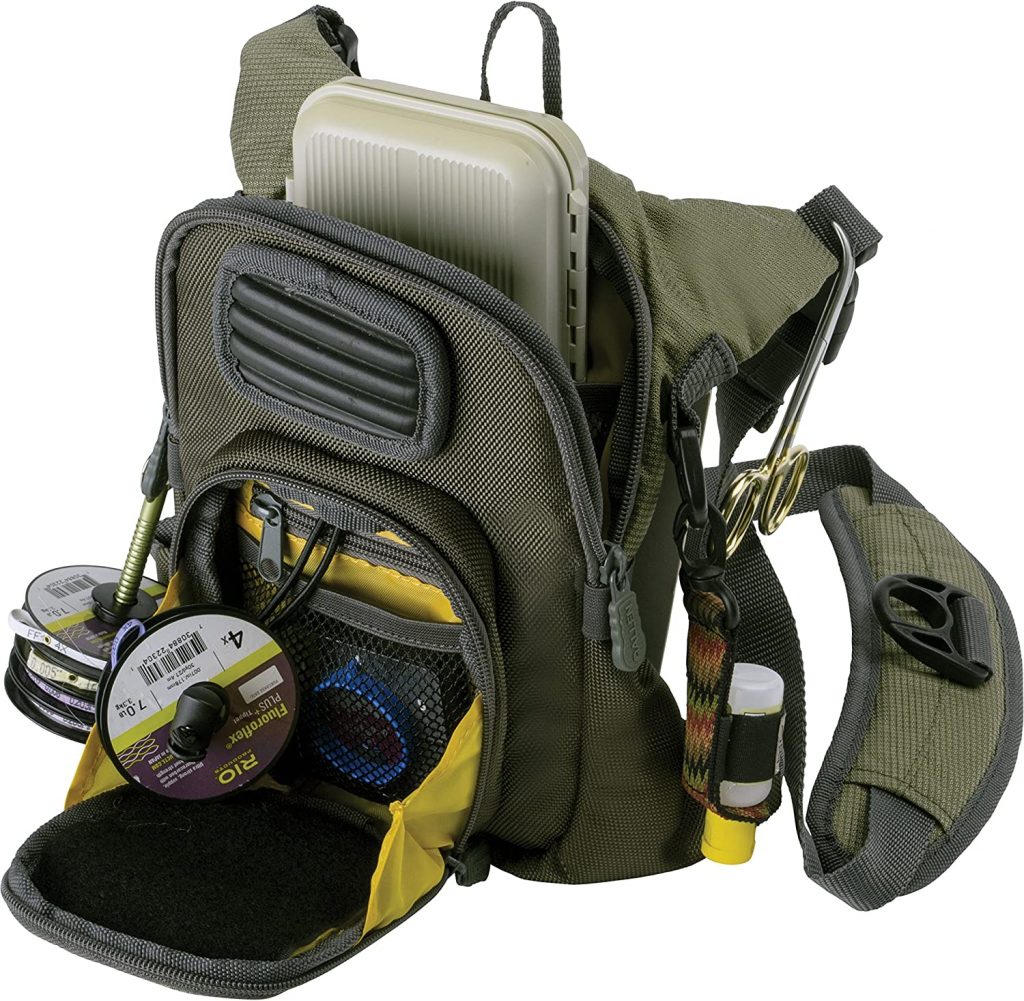 The smaller of the two pockets have the same layout: a small mesh compartment, a small zipper pocket (within the zipper pocket) for storing small items like car keys, and a rubber cord for attaching tippet and leader roles. The placement of the d-rings is identical to that of the Micro version. Classic D-ring on a padded neck strap is ideal for attaching a landing net; it can also be used as a tipper and leader holder (or to attach a nipper on a line).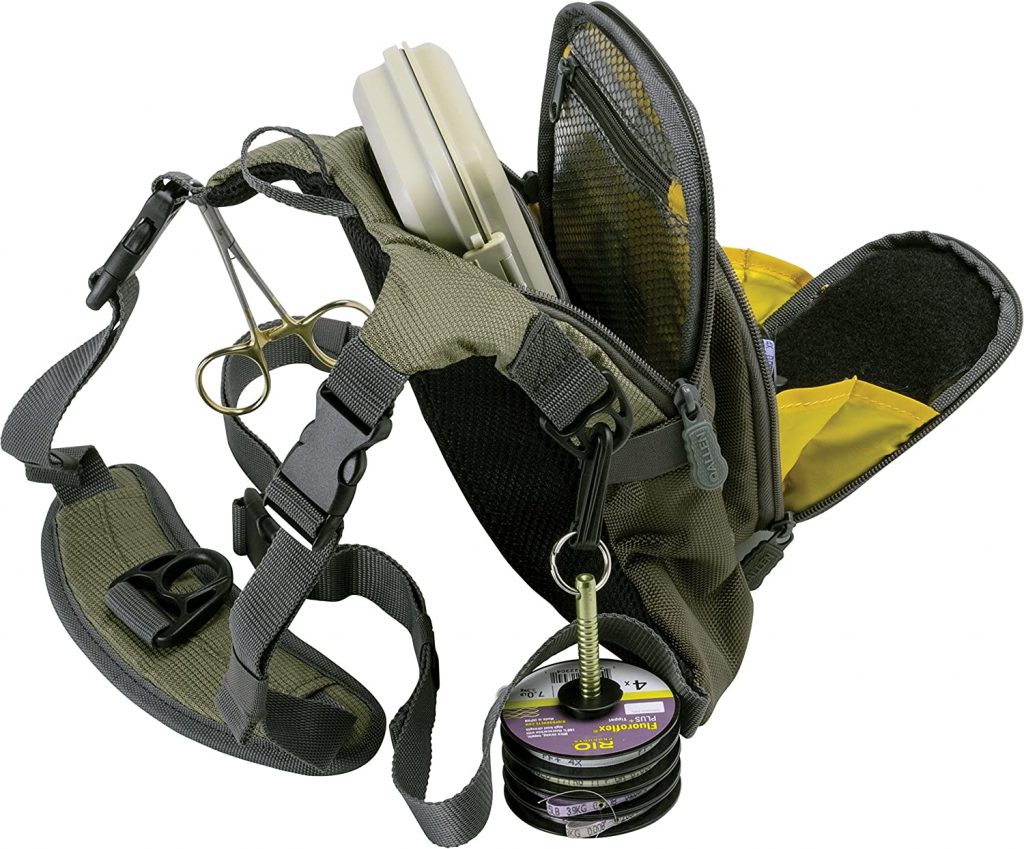 This fly fishing chest back is the older sibling to the Bear Creek Micro. This is the ideal pack if you need the extra space because the fish at your fishing spot are picky eaters, and you need a wide variety of flies to attract them. For $30, you can buy a reliable fishing companion that lasts through multiple fly-fishing seasons and is unlikely to break under normal use.
Key Features
The Tippet Tender and Fly Patch can be accessed through a zippered compartment in the front pocket.
Increased Capacity to Accommodate Up to an XL Fly Box
Lining with a High Degree of Visibility
Several Hidden Pockets Inside
D-rings to Attach Your Gear
What We Like
A lot of value for the price
Plenty of pockets and places to clip tools
Great pack if you need more room.
What Could Be Improved
The next strap is a little uncomfortable.
Quality may not hold up for during
aggressive and heavy use.
Fly Fishing Chest Pack FAQs
What Is A Fly Fishing Chest Pack?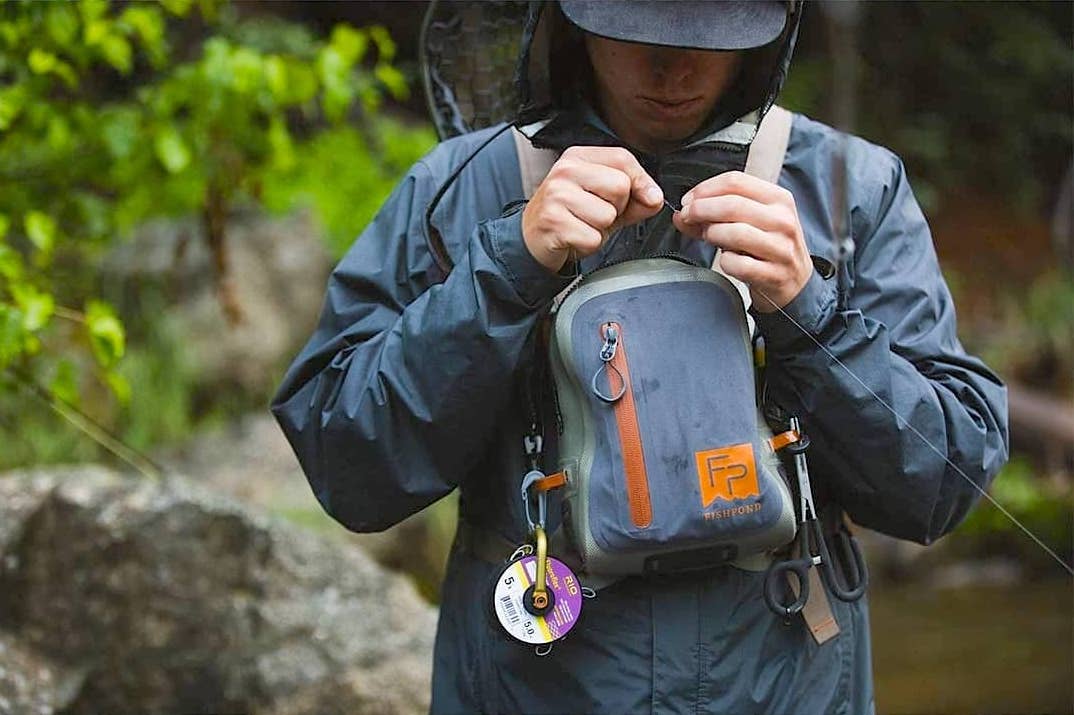 A fly fishing chest pack is a small backpack you wear on your front torso rather than your back or around your hips or waist.

Chest packs are designed to stay in place and usually have a lot of pockets and options to connect fishing tools like zingers, tippets, and nippers.

In addition, chest packs usually have a zip-down "workstation" pocket that allows an angler to work with flies while on the water.

A chest pack can be worn along with a backpack or hip pack to carry more gear while still having easy access to the things you need.

Is a fly fishing chest pack better than a fly fishing vest?

Fly fishing chest packs/bags and fly fishing vests are two of the most popular ways to carry your flies and gear. They both have many pockets and compartments to keep your gear organized and accessible.

Chest packs and vests also have an advantage over traditional backpacks in keeping your gear accessible at all times. Although a vest is a traditional option, many anglers prefer a chest pack because of its more streamlined silhouette and compact design.

A fly fishing chest bag has several advantages over a fly fishing vest, including keeping your gear and tools centered on your torso, where they are less likely to get snagged in brush or cause line tangles when casting.

This design can also make carrying heavier items easier. When fishing, I always bring water and a second reel or spool. Having heavier items like this in a vest pocket makes it feel lopsided and frequently interferes with casting.
---
Related Articles
---
Recent Articles
Review Archives
---