Speedster S Lamson Fly Reel Review
This review will step into the Waterworks Lamson fly fishing reel product line and specifically cover the Lamson Speedster S fly reel.
We also included some helpful customer reviews in each section to let you know what other anglers like or dislike about the Speedster (hint, not much to dislike!). As always, thank you for taking the time to visit us and read the reviews. We know your time is valuable. With that, let's dig in!
If you want to learn more about the best fly fishing reels for all skill levels, browse our Top Fly Fishing Reel Review, or our Top 10 Fly Fishing Rod & Reel Combos, where we cover everything you need to know about Fly fishing reels.
Lamson Speedster S Fly Fishing Reel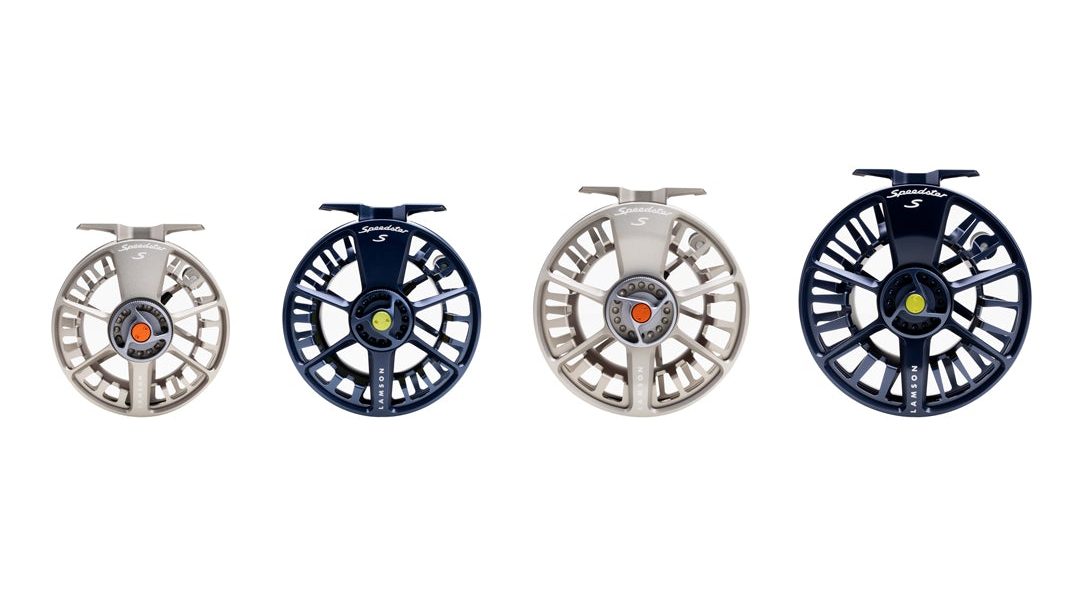 Fire up your engines and do some burnouts with the Lamson Speedster S. A few things will stand out when you take a look under the hood. It has a narrower spool to prevent line barreling while inboard mounted handle and increased circumference improve the retrieve rate. Walking around the exterior is a beauty with classic styling and attention to fine detail. Lamson added material only where needed, so it is incredibly light compared to previous models. If you demand high performance and elegance from a reel, this one is a good choice.
Speedster S Key Features
Format: Large Arbor
Materials: Pressure Cast Aluminum Frame and Spool
Finish: Polyurethane Case and Spool
Drag: Sealed Conical Drag
Weight: 0.8 lbs
Dimensions: 6 × 6 × 4 in
Size Guide
SIZE
DIAMETER
WIDTH
WEIGHT
ROD
WEIGHT
LINE
BACKING
CAPACITY
-3+
3.28″
0.99″
3.26 oz
2.3.4
WF4
50 Yds 20#
-5+
3.65″
1.00″
3.83 oz
4.5.6
WF6
100 yds 20#
-7+
3.97″
1.12″
4.73 oz
6.7.8
WF8
180 yds 20#
-9+
4.29″
1.25″
5.07 oz
8.9.10
WF10
220 yds 30#
Lamson Speedster S Fly Reel Size Guide
Customer Reviews
I have two of these reels – 5 and a 7. These are now my go-to reels. Best looks, fit and finish yet. I love the design! Looks, fit, and finish are all top-notch. This is my new favorite go-to reel, along with the other one I got.

October 28, 2021
The new Lamson Speedster S is on a different level. I have been impressed with multiple Lamson reels pulling in trout and tarpon. It is lightweight, smooth, and beautiful. I highly recommend it!

October 28, 2021
Related Articles
---
Recent Articles
Review Archives
---