Best Fly Fishing Hip Packs – 2023 Top Ten List
There are different kinds of fly fishing hip packs on the market today, but an essential thing to consider is whether you want a waterproof hip pack. Most waterproof hip packs are simpler and have fewer compartments and pockets than non-waterproof ones. Non-waterproof hip packs, on the other hand, have more pockets and more space for organizing.
As a big fan of fly fishing, I usually like fly fishing packs with more pockets and organization, but I also can't help but wade deep into rivers and lakes. If you fish for trout in western rivers like I do and often wade up to your waist, get a waterproof hip pack to protect your fly boxes and other gear. If you rarely wade deep and fish in shallow water, get a hip pack with a lot of pockets that aren't waterproof.
Most hip, waist, and lumbar packs now have a strap you can wear over your shoulder. The shoulder straps take some of the load off your back, but you can still turn the pack around to wear it on your front. They work better than you'd think.
---
Best Fly Fishing Hip Packs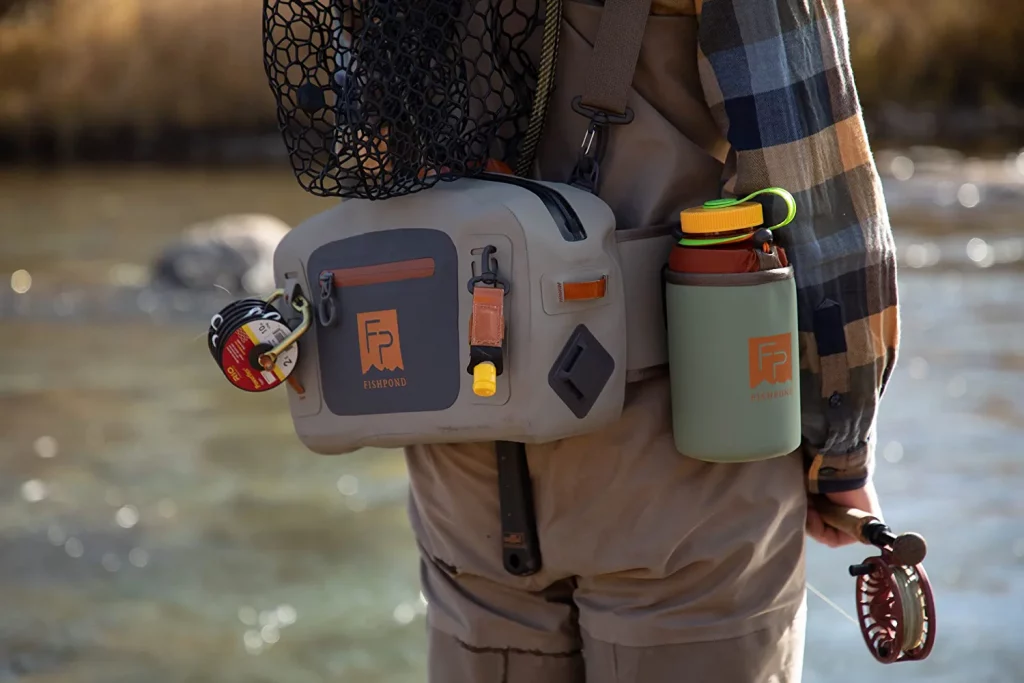 The Fishpond Thunderhead Submersible Lumbar Pack is on our shortlist as one of our favorite waterproof hip packs for fishing. It is robust and attractive, and the belt secures the pack.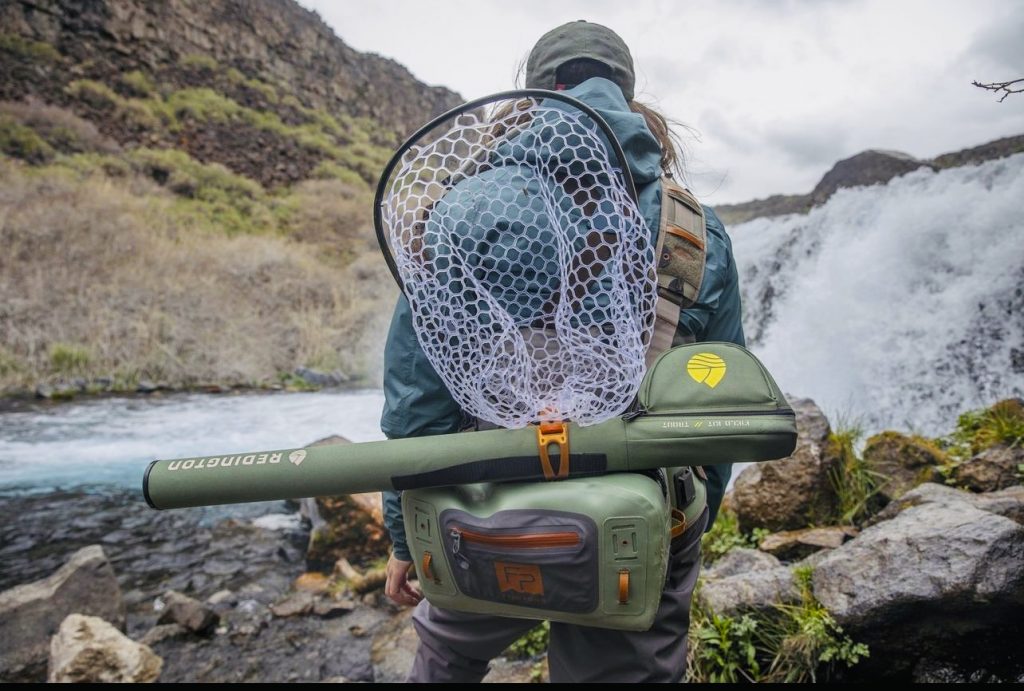 As a bonus, there is a built-in net slot, but you may not need it. Many experienced fly anglers prefer the more straightforward method: slip a fly fishing net with a longer handle between the bag and your back.
The cushioned hip belt is surprisingly comfortable for long days on the water, and it's easy to turn when one needs to get to their pack while wading.
Key Features
Fully waterproof, self-healing TRU Zip zipper closure on main compartment
Front stretch pocket with zipper closure
Lightweight foam back panel and hip belt
Interior organization with removable zippered pocket
Integrated net slot
---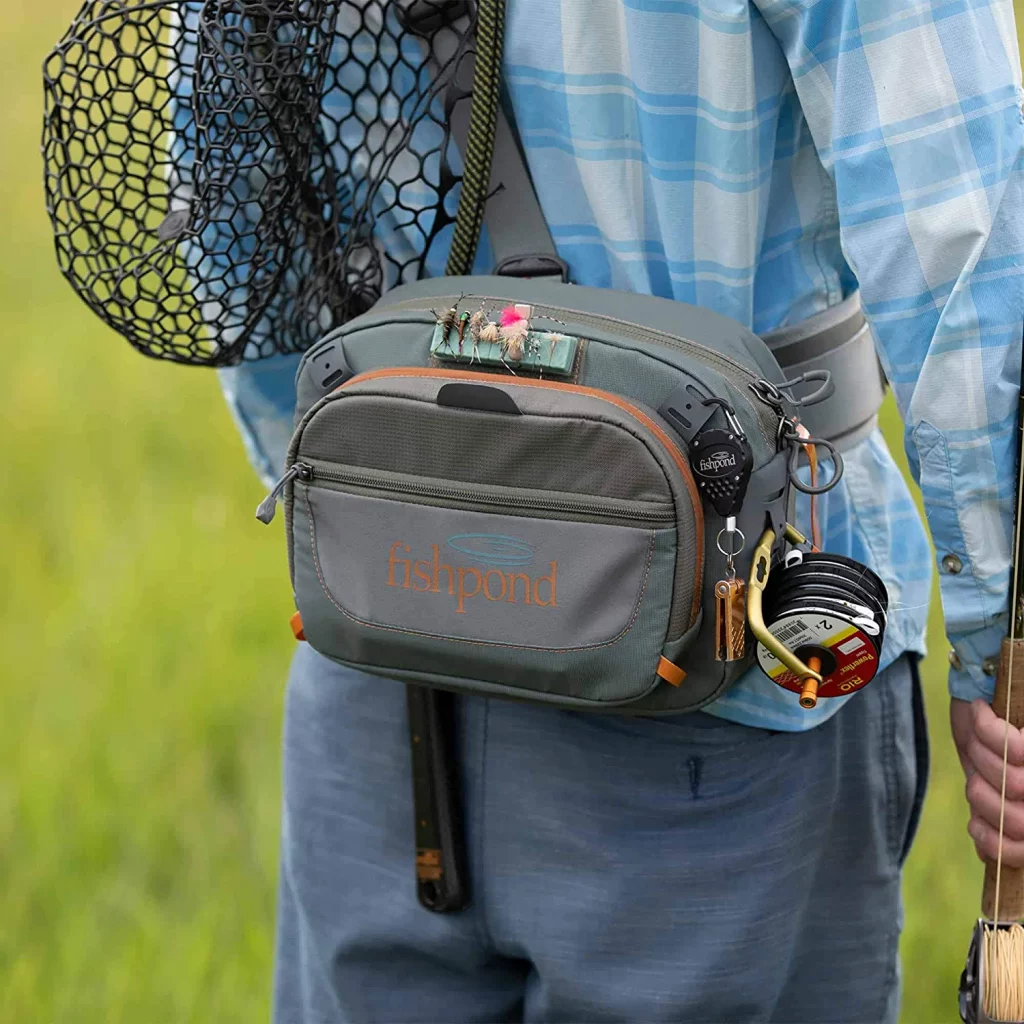 The Switchback Pro stands apart from others in many ways. The wading belt features a rail-like, smaller belt that allows the pack to be moved from the rear to the front for easy access to fly boxes and fishing equipment.
When finished, the pack may be pushed back out of the way. No other producer of wading belts has this technology. Also, the integrated net holder keeps your net behind you, which is practical and saves money. Some competitive hip packs have net holster slots, while others need additional net holster accessories.
It is difficult to emphasize the coolness of this ambidextrous system. Note: The original, somewhat smaller Switchback System is also excellent. The pack size is the main difference between the Pro System and other systems.
Key Features
Includes wader belt with net slot, 5L pack, Tacky Fly Dock, and shoulder strap.
Ambidextrous design for left or right shoulder orientation.
Large main pocket with an interior divider and two stretch pockets.
Magnetic drop-down pocket with two interior stretch pockets and one zipper pocket
Four tool attachment points on the pack for retractors, hemostats, floatant holders, and more.
---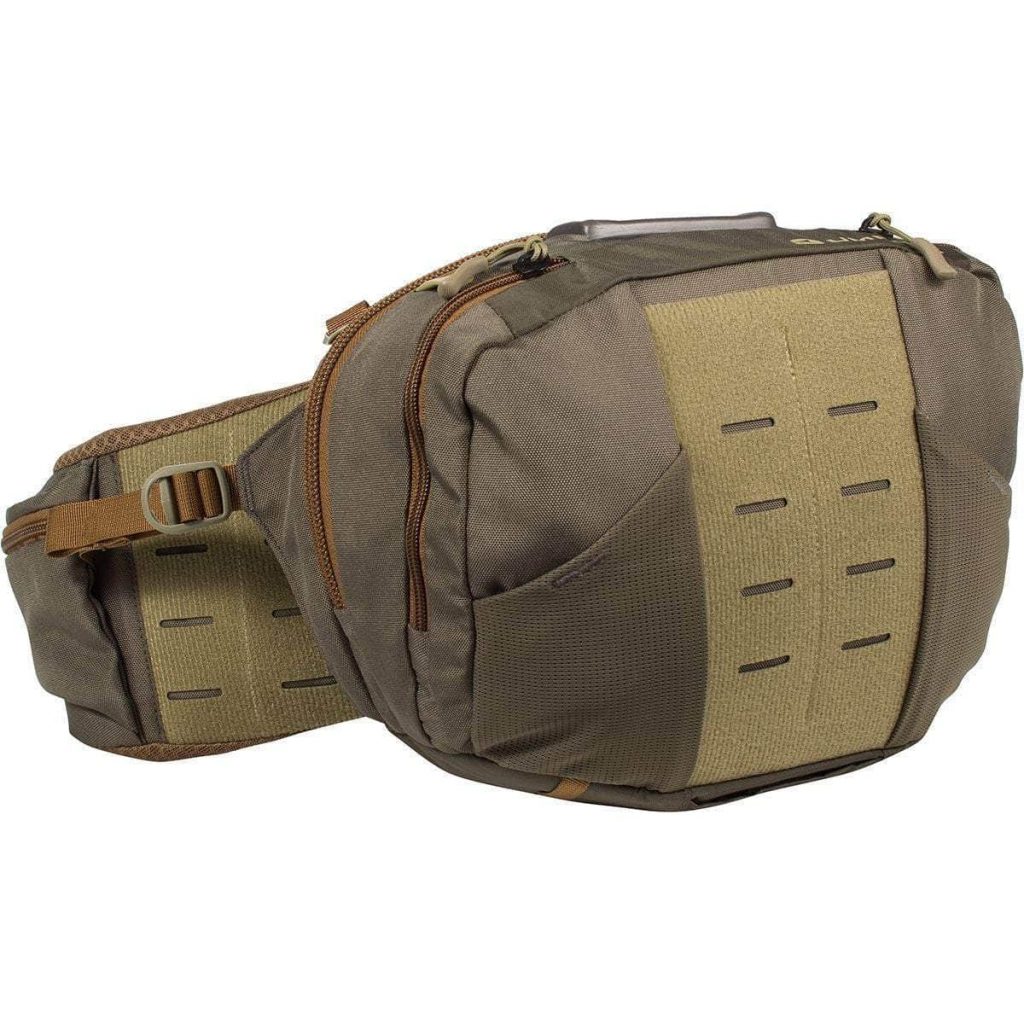 The Ledges 650 is the perfect beast of burden for fly fishing. Its sturdy back panel and cushioned waistband give comfort throughout the day and make it simple to rotate the pack. The main pocket can accommodate up to four normal fly boxes with little problem.
Up front, two zippered stretch-mesh pockets may hold more boxes or any other necessary items. A hemostat sheath is a popular accessory that protects your hemostats from damage and makes storing and retrieving them a breeze. A built-in net slot makes it easy to store and get to the net, and there are also two zippered pockets on the waist belt.
Key Features
Net slot – between the back panel and pack body.
2 x Zs Retractor Stations – with Hypalon attachment bands.
Hemostat sheath – allows easy and blind access.
ZS foam Fly Patch Station – includes foam fly patch.
ZS Cord Tippet Holder – stow-able when not in use.
Key clip.
Shoulder Strap w/ Floating Pad.
---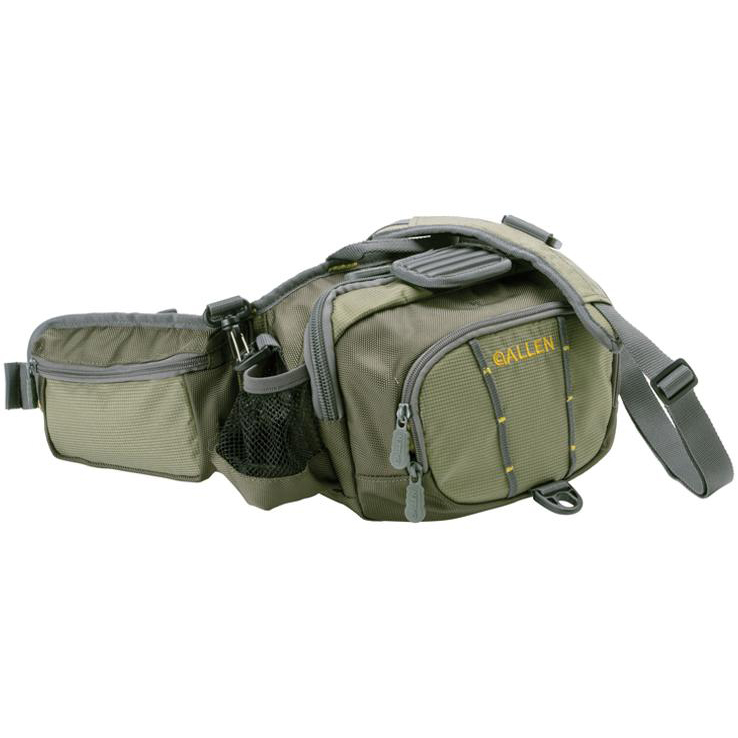 The Allen Eagle River Lumbar Pack is a fishing waist pack that seems simple but is surprisingly durable. You will get a lot of pockets, D-rings, two pockets made just for water bottles, and two pockets on each side. Another surprise: the inner fabric is bright yellow, providing a contrast that makes it easy to detect and identify contents even in low-light situations.
It is possible to store up to six fly boxes or two 9-inch tackle boxes in the main compartment, which has an entrance with a broad mouth for convenient access. Anglers can fish all day without getting hot or uncomfortable because the mesh waist belt is soft, padded, and cool.
Key Features
Wide mouth opening to the main compartment
Zip down work station
Padded sling strap
Exterior d-rings
High-viz lining
Multiple interior storage pockets
It holds up to 6 fly boxes or two 9-inch tackle boxes.
Heavy-duty molded zippers
Padded cool mesh waist belt
Two water bottle pockets
---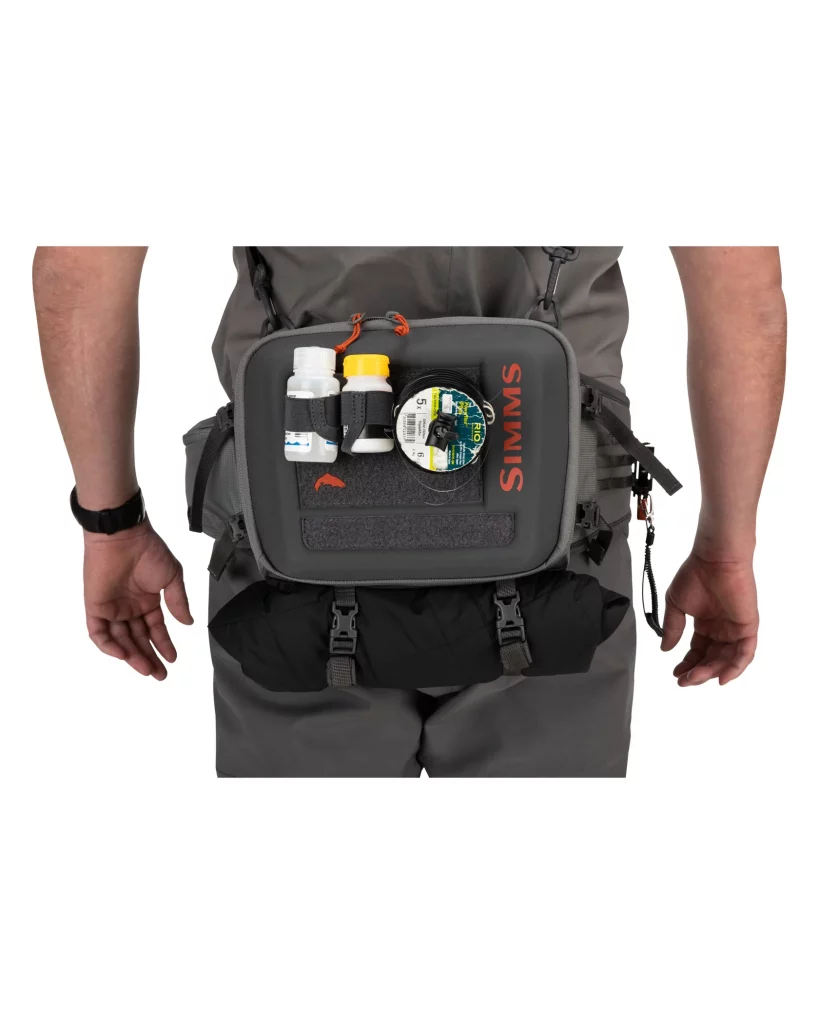 The Freestone Hip Pack is the best way to keep your most-used gear and accessories in one place and ready to use quickly. It is comfortable, modular, and made to carry everything you need.
The polyurethane coating on the back of the 330D Nylon Ripstop fabric makes it light but strong. The pack has a compression-molded toolbox that is fully structured and has a single zipper that leads to the main compartment. It also has a foam fly retainer panel on the front, stretched mesh pockets inside the large main compartment, and a zippered stash pocket with a key clip for your phone and keys.
As a bonus, the molle webbing on the waist belt lets you attach bear spray, a wading staff, or a Flyweight Bottle Holster, so you don't need two belts. There is also a small stretch pocket on the outside for extra storage. It also has a water bottle pocket on the bottom that can fit large bottles and more compression straps for attaching the jacket below the bottle pocket.
As if that wasn't enough, this small but versatile hip pack also comes with a Tippet Caddy, a Floatant Holster, and an internal key clip.
Key Features
330D Nylon Ripstop fabric with polyurethane backside coating is lightweight yet durable
Fully structured, compression molded toolbox with single zipper to the main compartment includes foam fly retainer panel on front inside.
Stretch mesh pockets inside generous main compartment; zippered stash pocket with key clip for phone and keys.
Molle webbing on the waist belt eliminates the need for two belts by allowing for attachment of bear spray, wading staff, or Flyweight Bottle Holster; small exterior stretch pocket for additional storage.
The water bottle pocket on the underside accommodates large bottles; additional compression straps below the bottle pocket for attaching the jacket.
Accessory attachments include Tippet Caddy and Floatant Holster, internal key clip.
---
Frequently Asked Questions
What is the best way to carry a fly fishing net with a hip pack?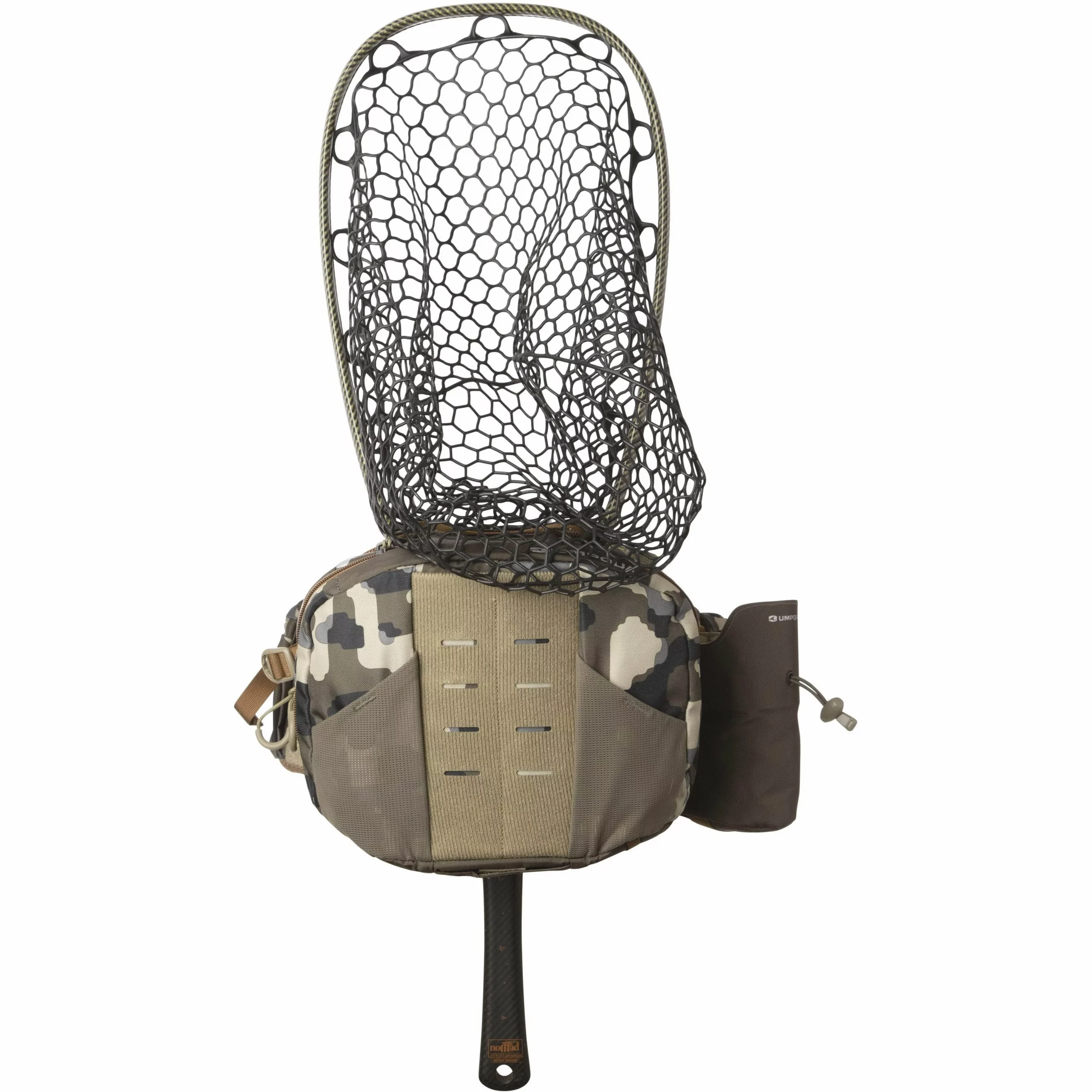 Many hip packs for fly fishing have a place for the handle end of a fly fishing net. Even if a hip pack doesn't have a net holster or slot, you can still put the handle between the hip pack and the small of your back.
Choose a net with a little bit longer handle for the best results, like the Fishpond Nomad Mid-Length Net from our guide to the best fly fishing nets.
If you have a light landing net with a short handle, you can often use a carabiner or a magnetic net holder to attach it to your hip pack.
Some new fly fishing waist packs for 2022, like the Patagonia Guidewater and the Simms Dry Creek Z, have fixed places on the shoulder straps where you can attach your net.

---
Related Articles
---
Recent Articles
Review Archives
---