Best Fly Fishing Net Buyer's Guide – Top Ten of 2023
---
Check out the most incredible fly fishing nets available in 2023, including trout, rubber fishing, and folding landing nets.
A lot of elements should be considered while selecting a fishing net. The most essential ones are where you intend to use it and what (size) fish you intend to capture. When targeting freshwater fish, a trout net will suffice in most circumstances. However, if you want to catch larger fish like pike or salmon, you'll need a larger fishing net.
This article will teach you what to look for in the finest fly fishing net, show you our favorites, and explain all you need to know about landing nets. We'll go through how to attach and carry a fishing net, the variations in materials and types, and why carrying a landing net makes sense.
---
Which fly fishing nets are the best?
Some key elements to consider are the material of the landing net, and the length of the handle required. Here is our pick for the best landing nets in each category.
---
Fishpond Nomad Emerger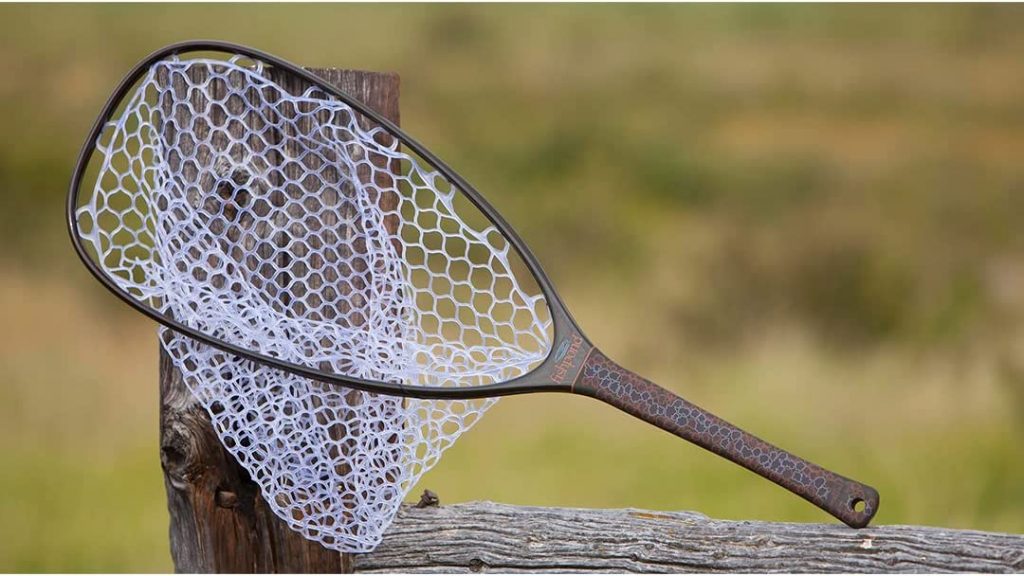 The Fishpond Nomad Emerger has all of the characteristics of an excellent fly fishing net. It is made of carbon fiber/fiberglass and is designed for maximum durability and longevity. Another advantage of the material is its lightweight, which is vital while carrying a landing net all day.

The Fishpond Nomad Emerger is also waterproof and floats if dropped in water. The Nomad nets come with a rubber bag for storage, as you'd expect for the price.
The Fishpond Nomad Emerger is designed to be used with fly fishing packs and vests. A magnetic net release, such as the Fishpond Confluence, is another excellent method to connect a landing net to your jacket or vest. The Fishpond Nomad Emerger is available in two different colors: Brown Trout and Original.
Carbon Fiber Landing Net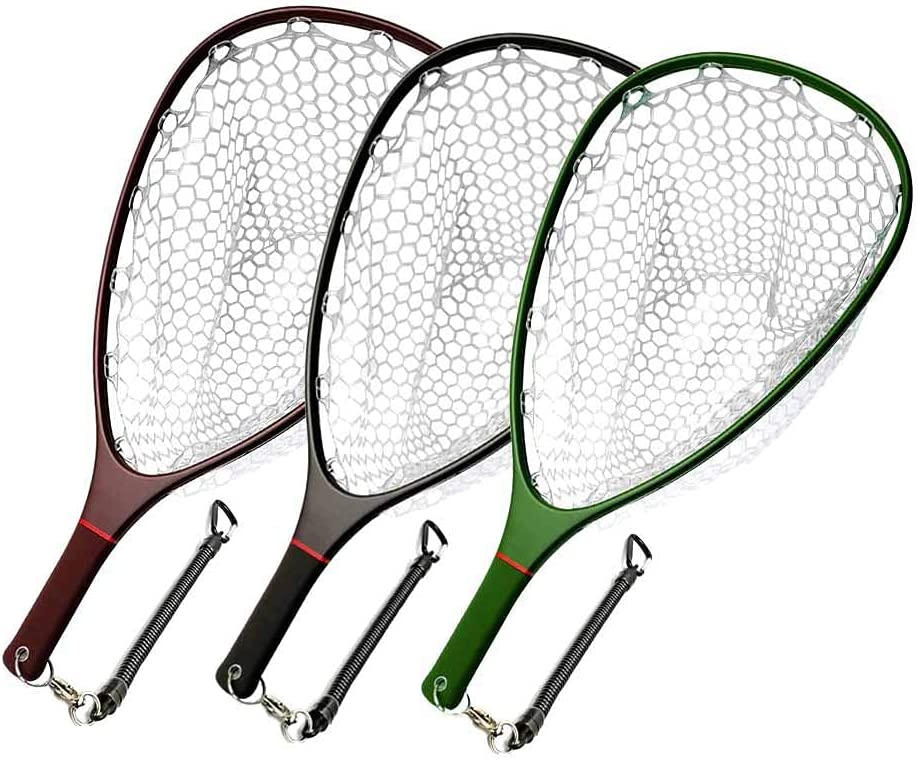 The Carbon Fiber landing net is similar in construction to the Fishpond Nomad Net Emerger. This trout net is made of carbon fiber and is an excellent alternative if you want to save weight.
The Carbon Fiber comes with a magnetic release that you can connect to your vest, sling, or pack right out of the box. You may tie it to a lanyard and always have it ready to land a fish. This fly fishing net also includes a ghost net made of transparent rubber, which is ideal for catching spooky fish.
Orvis Echo Clear by Brodin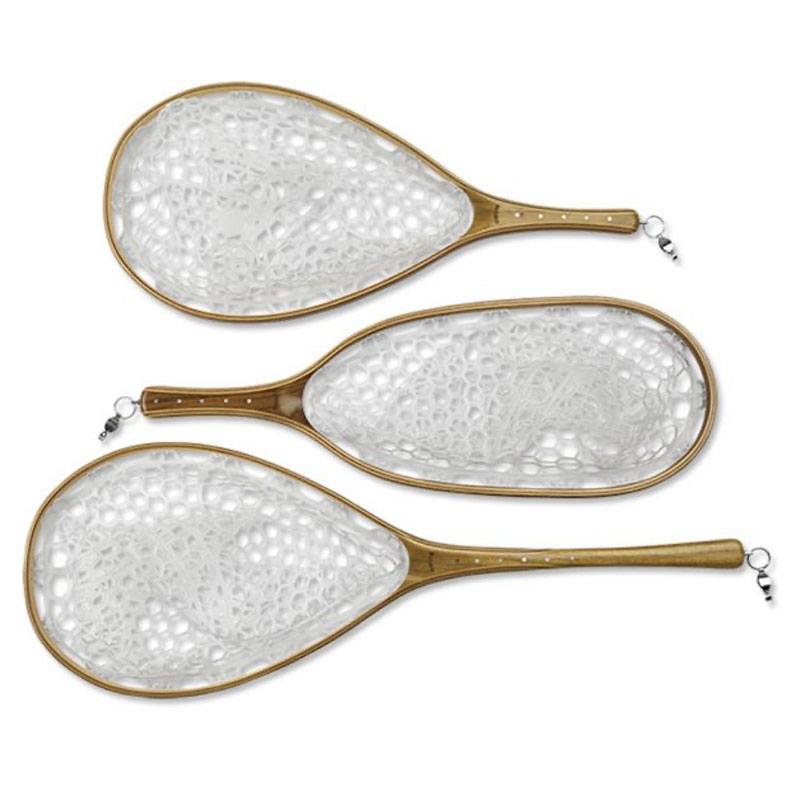 If you're looking for the utmost in design and quality in wooden fly fishing nets, there's no better choice than the Brodin Eco Clear. This variant is suitable for fish up to 20 inches long, making it an ideal trout net.
If you're fishing streams with spooky fish, the eco-clear rubber is an excellent choice because it's nearly invisible to the fish when you're netting them. The Brodin Eco Clear is available in various sizes depending on the species you're seeking and whether you're fishing from a boat or the bank of a river. The wooden handle has a clip for attaching the net to the back of your wading jacket or vest.
SF Fly Fishing Soft Rubber Trout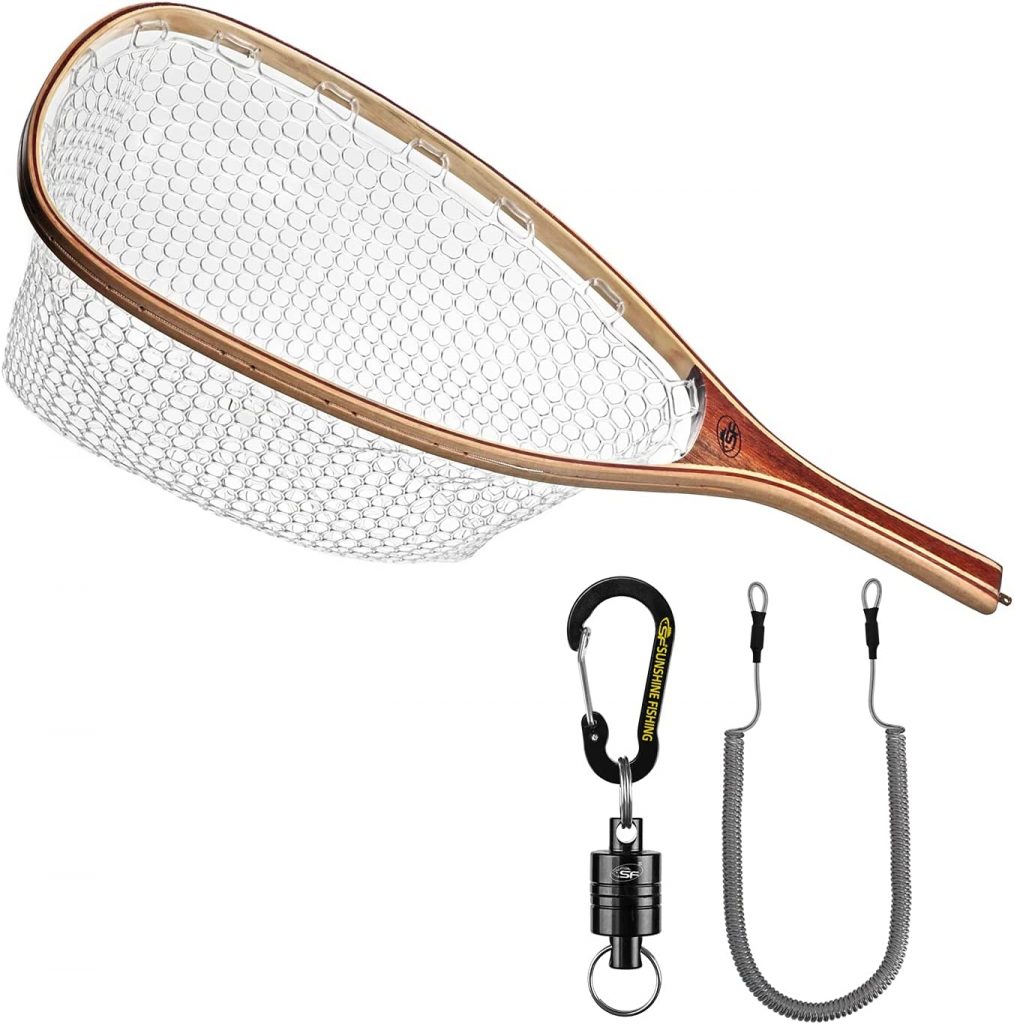 Another excellent alternative for fly fishers is the SF Fly Fishing Soft Rubber. It features a rubber net, much like the Fishpond Nomad Emerger. However, the frame is composed of wood. This gives it a much more traditional appearance. The handle is somewhat shorter than the Nomad's, and the rubber is not as deep. These characteristics make the SF Fly Fishing Soft Rubber an excellent choice for tiny streams and creeks.
The magnetic release that comes with the SF Fly Fishing is a fantastic feature. This makes attaching it to the back of your wading jacket or fly fishing vest simple. The wooden handle is comfortable in your hands, and because it is constructed of wood, the SF Fly Fishing Soft Rubber floats.
O'Pros Driftless Dryfly Net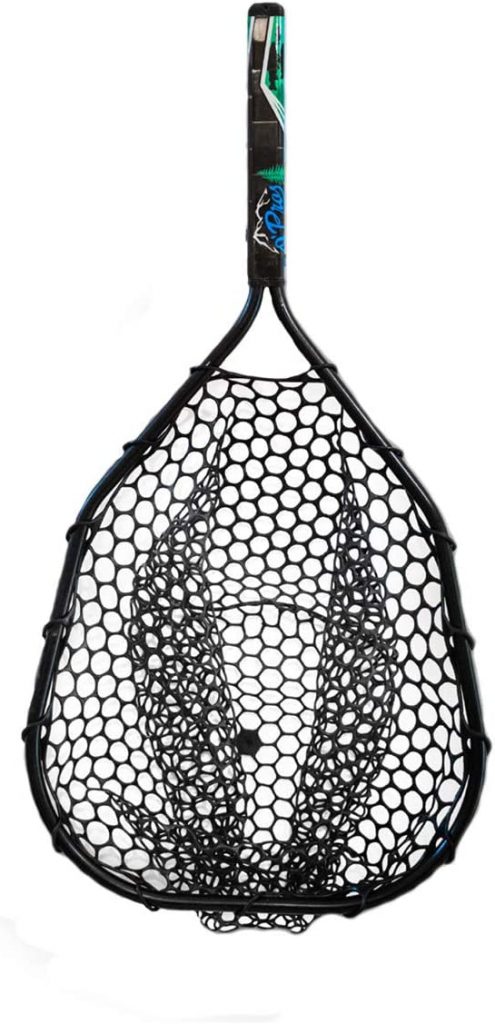 The O'Pros Driftless Dry Fly Net is a robust landing net with a modern design and color options. You can construct your own fly fishing net by selecting your preferred handle design, frame color, and rubber bag color. You may also choose whether you want your net to be 12′′ deep (which is plenty for most trout and bass fishing) or 16′′ deep .
The sturdiness of the rubber, in particular, sold us on the O'Pros Driftless Dry Fly. It's also exceptionally light, and it comes with a lifetime warranty, which is ideal if you plan on putting your tackle to the test. Choose the O'Pros Driftless Dry Fly if you want something trendy and elegant.
Fishpond Nomad Native Fly Fishing Net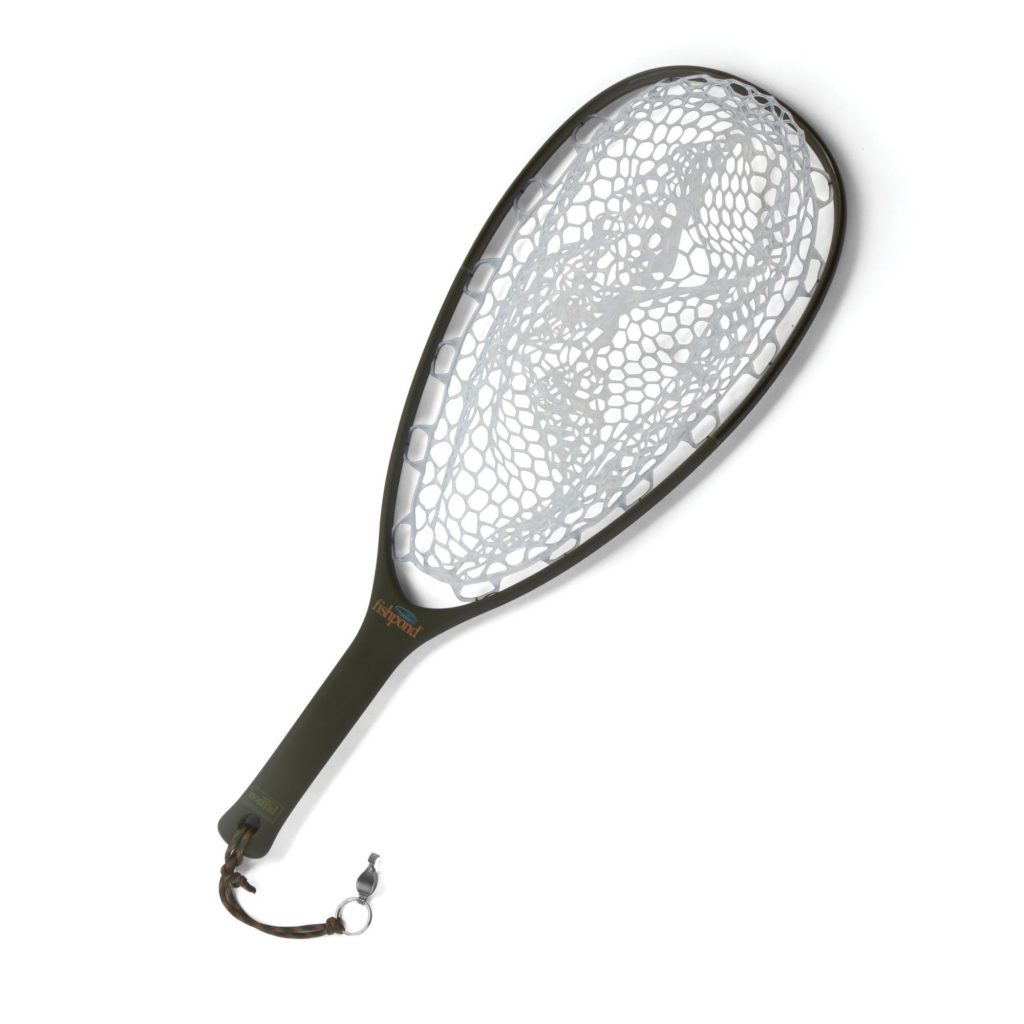 Nomad fly-fishing nets are made of a carbon fiber/fiberglass composite material, making them very lightweight and durable. Nomad nets are waterproof, UV coated, and float like a cork, making them ideal for the challenging circumstances that might occur where great fishing exists. A rubber bag comes with every Nomad Net. In the color green.
The Nomad Camo Series is made of carbon fiber/fiberglass composite material in an Orvis-exclusive camo fish design and is highly robust, lightweight, windproof, and waterproof. Nomad Nets are designed for the circumstances that exist where there is exceptional fishing; they are UV protected and float like a cork. In rainy cases, the rubberized RiverKoat covering provides a secure grip.

The Hand Net is ideal for use with a vest or small pack, the Mid-Length is ideal for backpack anglers, and the Guide Net is ideal for use with boats or wading guides. A rubber bag is included with every Nomad Net. Camo pattern in gray. Imported.
Frabill Power Catch Net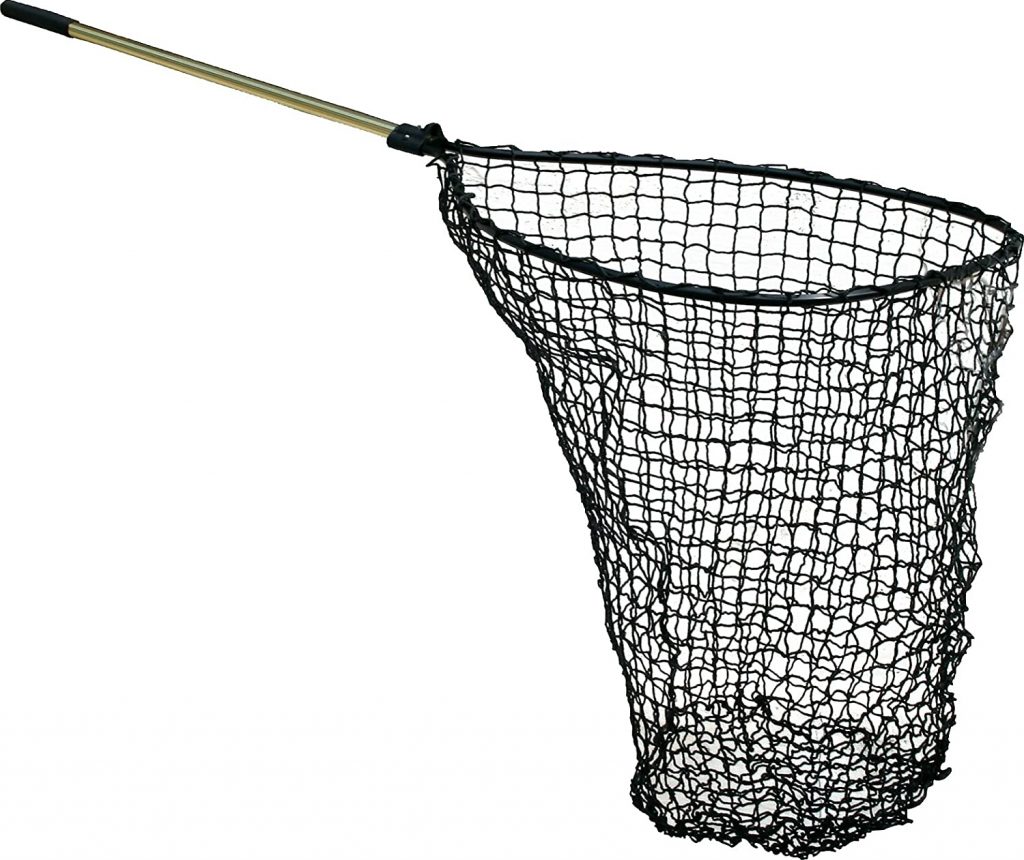 The Frabill Power Catch is our top pick for a large fly fishing net. And when we say large, we mean it. This one comes in a standard 26″ x 30″ size with a 48″ handle and a 38″ net depth. If that's not big enough for the fish you're after, there's also a 48″ depth version. The Frabill Power Catch is an excellent weapon for pursuing large pike or musky, as well as saltwater species such as salmon or small halibut.
If the Frabill 8450 Power Catch Big Kahuna isn't big enough for you, there's always the Frabill 8450 Power Catch Big Kahuna (pictured above). It has hoop sizes ranging from 32′′ x 41′′ to 40′′ x 44′′. The Frabill is not inexpensive. But whether you're targeting giant fish in freshwater or saltwater, you shouldn't skimp on quality. Nothing is more frustrating than losing a once-in-a-lifetime catch due to a faulty product.
ODDSPRO Folding Fishing Net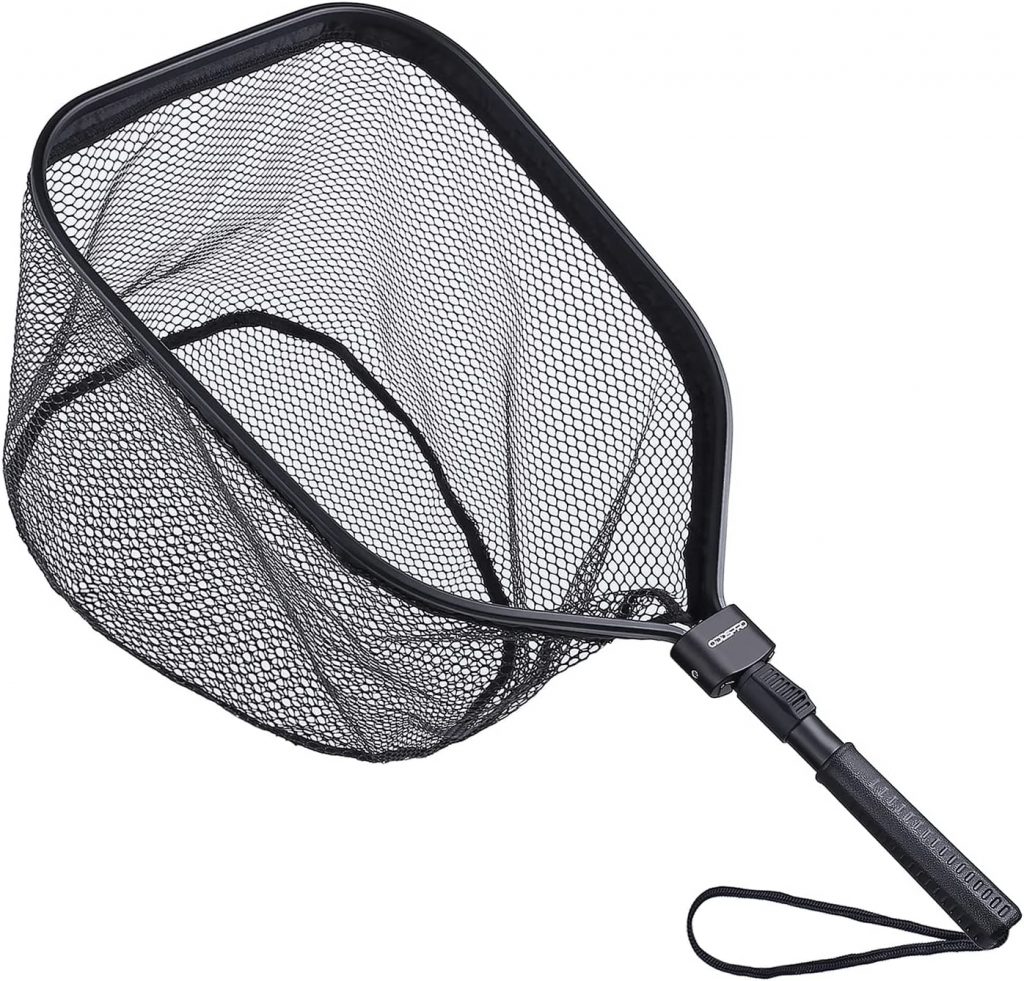 If you need a landing net with small dimensions, Oddspro Folding fly fishing net is an excellent option. The Oddspro is made of carbon fiber and fiberglass, and it has a foldable handle that makes it easy to store.
Because of its size, the Oddspro Folding is a perfect choice if your primary target species is trout and grayling. Its net has more depth than the SF Fly, for example, and can thus retain larger fish.
The OddsPro has a rubber-covering nylon mesh that is gentle on the fish's mucous.
Kingfisher Long Handle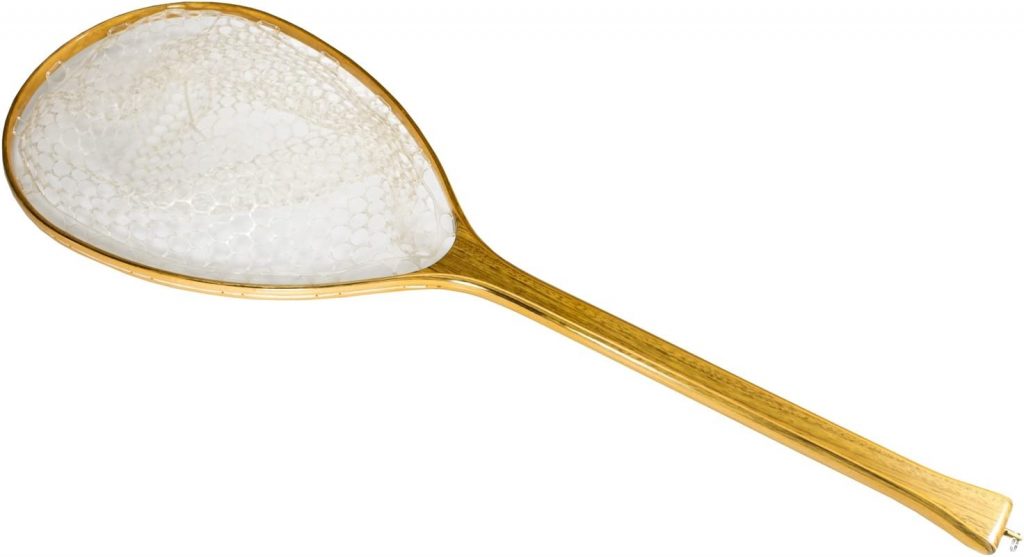 If your focus is fly fishing from boats, rafts, or canoes, the Kingfisher Long Handle is an excellent tool for you. Its long handle makes it easy to land fish from a distance. Made from laminated wood, the Kingfisher Long Handle floats if dropped in the water, an essential factor, especially if you are fishing from a boat. In addition, the soft rubber net is gentle on the fish's mucus and great for catch and release purposes.
The Kingfisher Long Handle features a brass swivel to connect it to a zinger or leash.
Frabill Wading Net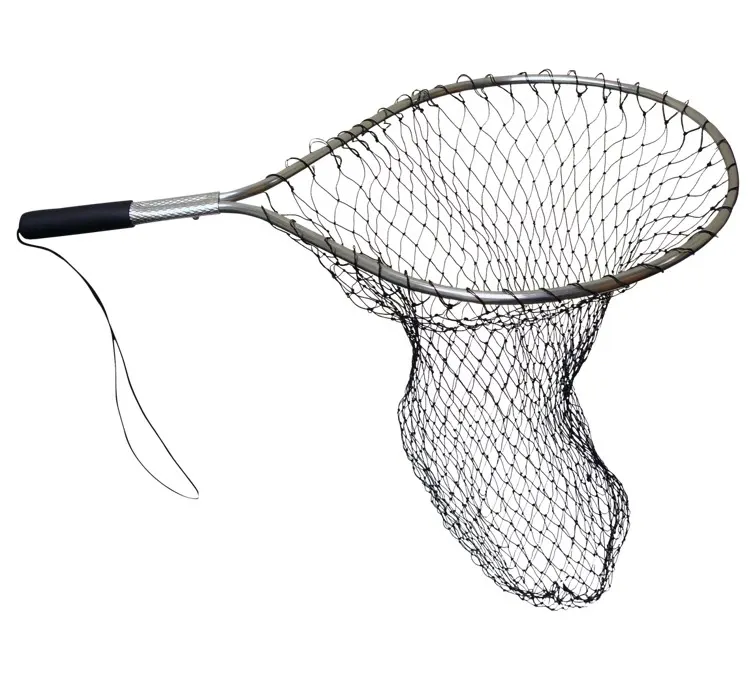 There are no frills or apologies. As a robust fishing net should, the Frabill Wading Net executes its job with steadfast constancy. This Frabill net is lightweight but durable due to an aluminum hoop and handles intended for easy one-handed operation. Keep it nearby when wading, kayaking, or fishing in a stream or river. Ideal for trout and other game-fish species.
This Frabill is a simple landing net that checks all the requirements for a high-quality product. It is an excellent choice if you need a portable net that can handle large fish. Its net depth of 30′′ ensures that even large fish stay where they belong.
The Frabill Wading has an aluminum loop and a rubber-coated handle for a secure grasp in all situations. The small length of the handle allows you to use it securely with one hand.
---
Related Articles
---
Recent Articles
Review Archives
---