10 Best Fly Fishing Sling Packs – 2023 Buyer's Guide
---
Fly fishing sling packs have fantastic versatility and are a great companion to the rest of your must-have fly fishing gear. Because of this versatility, they have become trendy in recent years.
---
How do you choose the best fly fishing sling pack?
A fly fishing sling pack has only one strap that you wrap around your chest. This makes it the perfect hybrid of a fly fishing hip pack (one strap that you wear around your hip) and a backpack. You sling the pack around your chest, hence the name sling pack.
Most packs are lightweight, come in around 1-2 pounds, and can hold around 15 liters. You have to choose whether you want a regular fly fishing sling that can carry your gear on a dry day or a waterproof pack (or even a submersible one). In this guide, we'll present our favorites from both sections.
Fishing Sling Packs vs. Fishing Vests vs. Fly Fishing Backpacks
Sling packs have often become the preferred choice of the pack amongst fly fishermen and women. There are several reasons for that: usually, they are lightweight. Sling packs are comfortable to carry all day as the strap distributes the weight well.
With just a flip of the strap, you have all the pockets of the sling pack right in front of you for easy access. A backpack, for example, you would have to take off first. Despite their lightweight and smaller dimensions, they can hold a surprisingly large amount of fly fishing gear.
---
10 Best Fly Fishing Sling Packs Quick Answer List
Best Regular Fly Fishing Sling Packs
Best Waterproof / Submersible Fishing Sling Packs
Best Regular Fishing Slings
In this first part of our review, we want to present you with a few solid options if you are looking for regular fly fishing sling packs to hold your essential gear. If you are looking for a waterproof fishing sling, click here.
1. Teton Fly Fishing Pack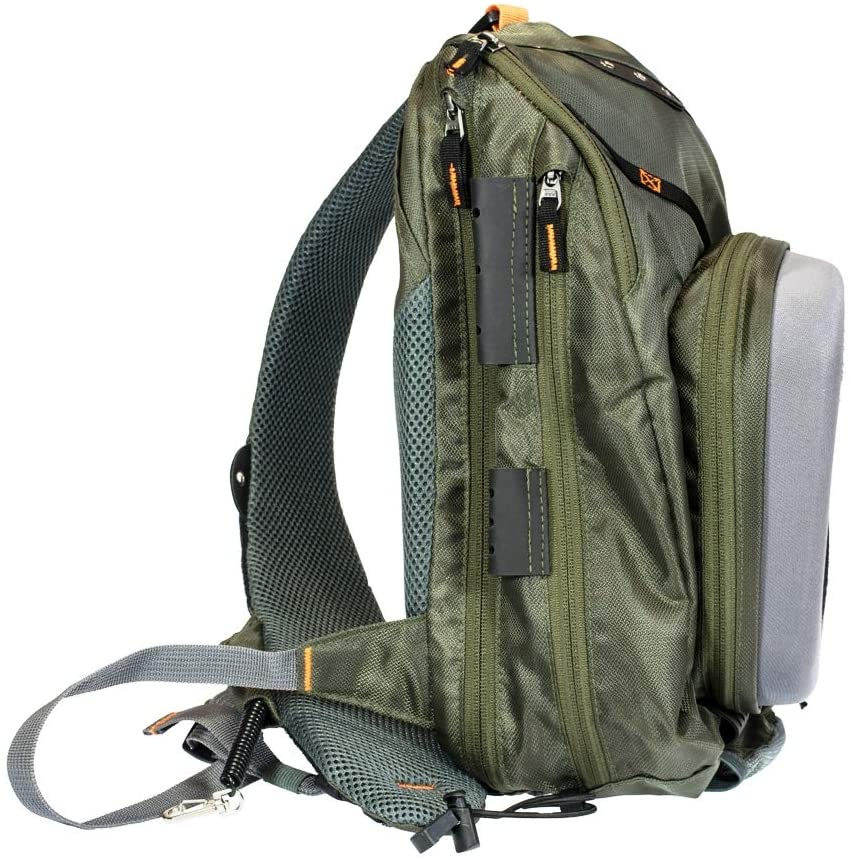 The Teton Fly Fishing Pack is an excellent entry into the world of fly fishing sling packs. For less than $60, it offers many features of higher-priced fishing slings. Three zippered pockets can hold a lot of gear, especially the easily accessible front pocket. A sleeve at the bottom to carry a water bottle and one at the side to carry your landing net are great features.
The Teton Fly Fishing Pack is lightweight at only a little over 1 lb (0.45 kg). The shoulder sling is nicely padded and provides excellent comfort for all-day fishing fun. A foam fly patch can hold your flies, and the Teton Fly Fishing Pack offers several attachment options on every side.
At only $59.99, the Teton Fly Fishing Pack is an excellent choice if you want to try sling packs but are not yet sure they are your weapon of choice for the future. You can't go wrong with this one.
Teton Fly Fishing Pack Customer Reviews
⭐️⭐️⭐️⭐️⭐️
I purchased this before a two-week fishing trip to Idaho and Wyoming. I own vests, chest packs, and lanyards – this pack will replace them all going forward.

– Stephen Cain
⭐️⭐️⭐️⭐️⭐️
This pack is everything it's advertised as and more. It has multiple attachment points for zingers (even 1 included in shoulder strap) and clipping a tippet holder to. It has the spots to strap a rod tube, and a sleeve for your net in the back.

– RJ
2. Simms Tributary
If you have been fly fishing for a while, you surely know about the quality of Simms products. The Simms Tributary is no exception to this rule. If you've read any of our other gear guides, you'll know that we like to recommend entry-level products from premium brands. The reason: often, their know-how from high-end products trickles down into their entry-level products.
This is also true for the Simms Tributary, which comes at $79.95. Made from durable recycled polyester, this sling can hold 10L, which makes it an excellent choice for a day trip. Beware that the Simms Tributary is not ambidextrous like its brother, the Simms Freestone, and hence has to be worn over the right shoulder.
The Simms Tributary features one main compartment and a small zippered exterior pocket. A net sheath can comfortably hold your landing net. The shoulder strap is well-padded for all-day comfort. If you are looking for a straightforward, well-made fly fishing sling pack, go for the Simms Tributary.
3. Orvis Sling Pack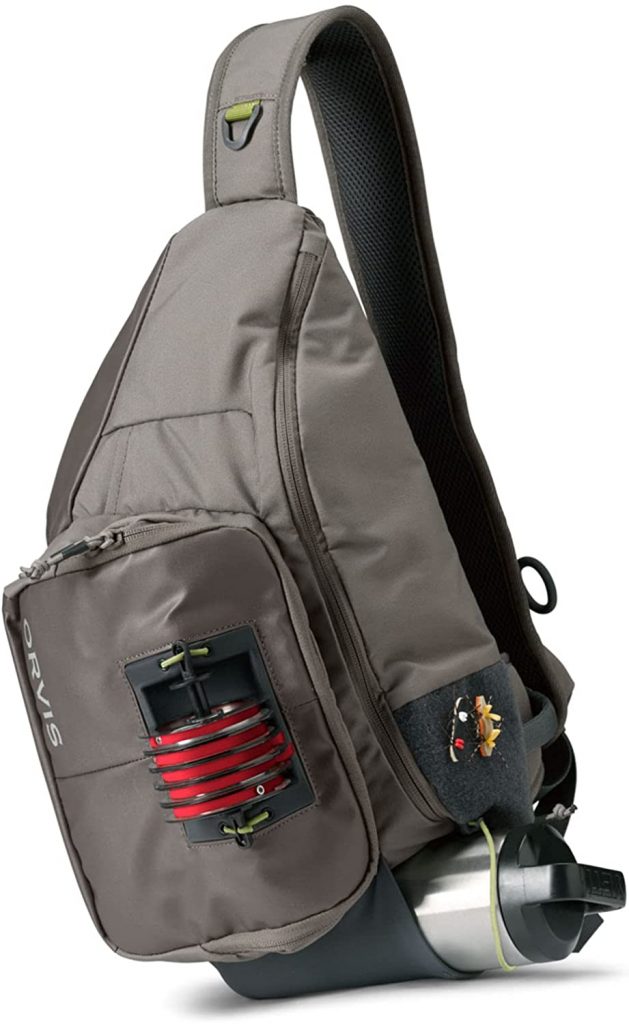 The Orvis Sling Pack is our favorite choice for a lightweight sling fishing pack. At 17″L x 9¾" W x 6½" D. 11L/671 cu. in., the Orvis has great, compact dimensions.
The design of the Orvis is very thought-through, and the cushy, foam-padded shoulder strap makes it an ideal choice for long days at the river. It is made from 100% recycled Cordura.
The Orvis Pack also features multiple tool attachment options. On the bottom, it has a water bottle pocket, and it also comes with a net holder. Great choice if you want to go lightweight at an unbeatable price of less than $100.
Orvis Sling Pack Customer Reviews
⭐️⭐️⭐️⭐️⭐️
The Orvis Sling Pack is an extraordinary product that is so intuitively designed that it will set the pace in its segment of the market for many years to come. To stare into the cavernous folds of its two compartments is to experience wonder that so much "stuff" could fit into so modest a space. The ease with which the pack glides into position to become a workstation, lunch table, or wet bar is remarkable. Most of all, while casting, the fly fisherman does not need to worry about his or her line becoming fouled in any of the thirty protruding or dangling tools of the trade which commonly adorn a vest. The sling sits comfortably out of the way, ready to be summoned when needed by a soft pull on the "easy swing handle."

– John K
⭐️⭐️⭐️⭐️⭐️
This pack is everything it's advertised as and more. It has multiple attachment points for zingers (even 1 included in shoulder strap) and clipping a tippet holder to. It has the spots to strap a rod tube, and a sleeve for your net in the back.

– Anonyous
4. Umpqua Steamboat ZS2 1200 Camo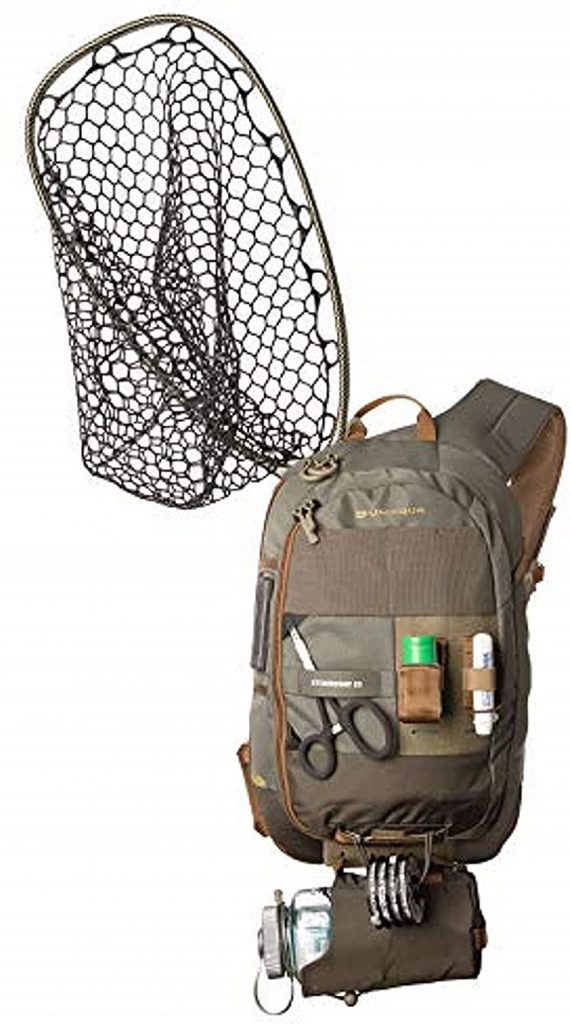 The Umpqua Steamboat ZS2 1200 Camo almost carries like a regular backpack. This gives you a great range of motion and makes the Umpqua an excellent choice for fly fishermen using double-handed rods.
The large main compartment can be used to store more oversized items such as a rain jacket or a lunch if you're on the water all day. A smaller pocket outside holds your essentials and gives you quick access.
The Umpqua Steamboat ZS2 1200 Camo is also ambidextrous. Moreover, it features a net holder that can hold even bigger handle nets. The vented back panel is an excellent asset on hot days.
Umpqua Steamboat Customer Reviews
⭐️⭐️⭐️⭐️⭐️
Gift for my adult son who fly fishes. He really likes it

– John K
⭐️⭐️⭐️⭐️⭐️
Bought this for fishing on the go. Its becoming my main pack. Nice and comfortable pack

– Ker L.
5. FishPond Flathead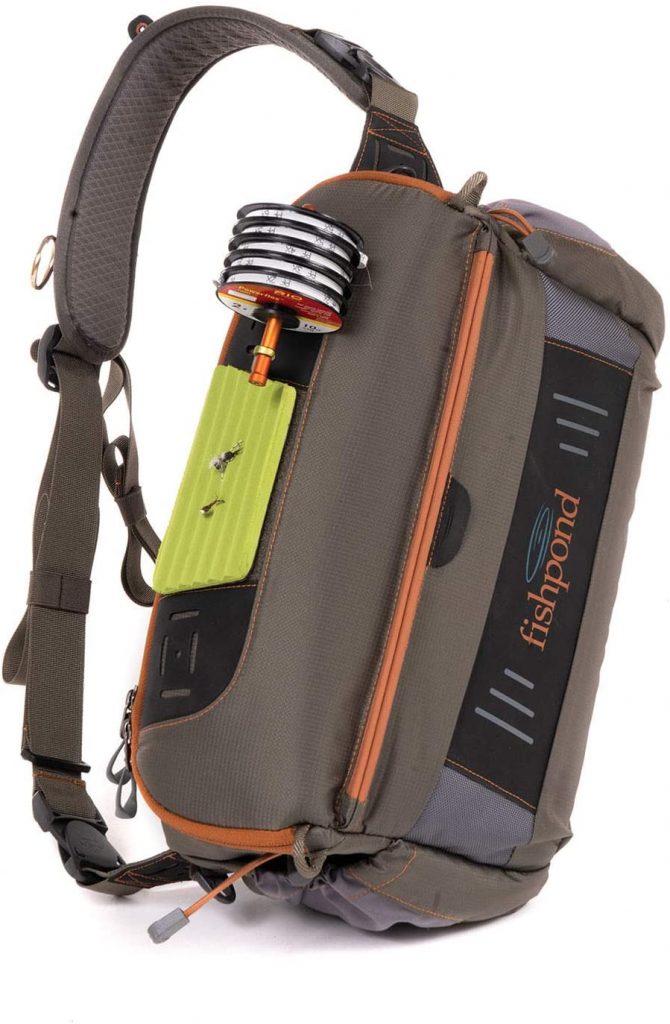 The FishPond Flat Head tops our list of the best regular fly fishing packs. It has incredible value for money and is an excellent choice if you want a long-lasting product. Fishpond has established itself as a fly fishing gear authority.
The Fishpond Flat Head is a lightweight fishing sling pack, weighing in at 1.75 pounds (0,8kg). It is ambidextrous, which means it can be worn over both shoulders. This fact increases comfort on a long fishing day. Features an adjustable shoulder strap and an additional cross-body strap for extra stabilization.
Inside, the Fishpond Flat Head features two dividers to organize your gear. Two large pockets for water bottles on the side and right and left-hand net slots.
FishPond Flathead Customer Reviews
⭐️⭐️⭐️⭐️⭐️
I love this pack. As a lefty I really wanted to find an ambidextrous pack. I tried a few others but found them either too small or difficult to open. This pack hits the sweet spot in both size and function for me.

– Jeremy M
⭐️⭐️⭐️⭐️
It's a decent size pack and allows you to carry more gear but the downside is you (me) tend to overpack with the added space but you'll have it just in case. The only complaint I have is the shoulder strap clip/buckles have developed a terrible squeak when you move. I've oiled and sanded but no fix yet. Great pack overall.

– Erikon R
Best Waterproof / Submersible Fly Fishing Packs
Now that you have a good idea of the best regular packs out there, we want to take a look at our favorites from the section on waterproof/submersible fly fishing packs. These are more expensive because of their technology. The best waterproof fishing slings are fully submersible. That means you can put them underwater, and they will keep your gear dry no matter what.
To achieve this, they are made with waterproof zippers such as the famous TIZIP. These are much more expensive than regular zippers, and hence submersible fishing slings all come in at $200+.
The FishPond Thunderhead Pack is one of the fishing sling packs in our review that are fully waterproof. Take this sling pack in your hands, and you will instantly feel its sturdiness. It feels like elephant skin. A small zippered outside pocket (not waterproof, only water-resistant) holds your essentials.
The reason why waterproof sling packs such as the FishPond Thunderhead Pack come in at over $200 is the technology that ensures these packs are fully waterproof. A crucial part of this is the waterproof TIZIP zippers. Open and close them for the first time, and you will immediately feel the difference from a normal zipper.
Waterproof sling packs are not as feature-rich, especially on the inside. Their strength lies in keeping every drop of moisture out. If you know you'll wade deep or will be fishing in wet areas such as the Pacific Northwest, go for a waterproof pack such as the FishPond Thunderhead Pack. You won't regret spending the extra money.
Fishpond Thunderhead Customer Reviews
⭐️⭐️⭐️⭐️⭐️
I've gone through just about every type of pack over the years before finally (and happily) settling on the Thunderhead Sling. The feature that initially attracted me is the net handle sleeve. I've never been happy with other systems for packing a net until now. Perfect size for carrying what I need for a day on the river without being so large that I carry too much.

– C Kirk
⭐️⭐️⭐️⭐️⭐️
This was the expected upgrade from my fish pond chest pack. More than roomy enough for an uninterrupted day in the river, with room left over. I do not find the waterproof zipper to be a problem, and do not worry one bit about the pack getting wet. My magnetic net release is slightly more awkward on this than on the chest pack, but not a deal breaker!

– Newshapes
7. Patagonia Guidewater 15L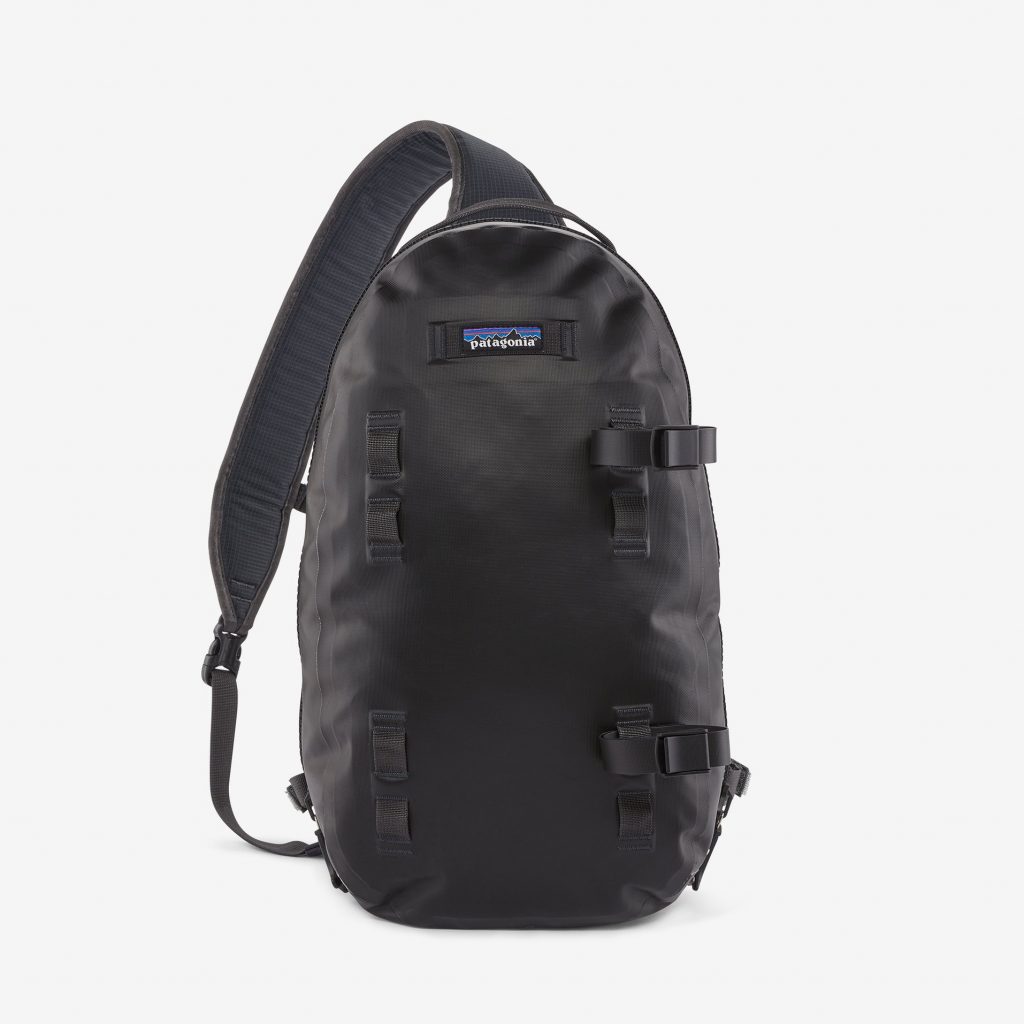 The Patagonia Guidewater 15L is the successor of the brand's famous storm surge sling that was a fly fisherman's favorite for years. Now Patagonia has reworked its popular submersible sling pack to make it even better.
The new Patagonia Guidewater 15L is made from 100% recycled nylon material. The shoulder strap does not absorb water. The main compartment zipper can be opened from both sides, making access as easy as possible. The ambidextrous pack features a net holder and a rod tube holder.
The Patagonia Guidewater 15L comes in black and blue and weighs in at only 1lb 7 oz (670g). A small separate pocket on the inside can hold your essentials, such as a wallet or keys. One of our favorites of the season.
Patagonia Guidewater 15L Customer Reviews
⭐️⭐️⭐️⭐️⭐️
After thoroughly researching fly fishing sling packs and comparing offerings from all of the major upscale brands, I settled on this well designed and beautiful Patagonia pack. As an Architect I instinctively gravitate toward quality products that are well designed: functional, beautiful, and provide lasting value. This bag is incredibly well designed. After receiving it, it was clear that it exceed my high expectations. It is a perfect size, not too big and bulky, yet big enough

– Anonymous
⭐️⭐️⭐️⭐️
This pack is a really good size. Not too big not too small. It can hold everything I need for a day on the river. The sling is built well and rides comfortably. It also has many attachment points for tools and gear. I have the attachable wader workstation on the front which makes getting to essentials you need quickly hassle free. There are 3 things that would put this pack over the top for me though. An exterior water bottle pocket would be very nice. A self healing zipper would be a great upgrade to eliminate the chance of one of the zipper teeth breaking. Lastly an integrated D ring for hanging a net as not everyone likes carrying a large net or putting the net in the sleeve behind the back.

– Anonymous
8. Filson Dry Green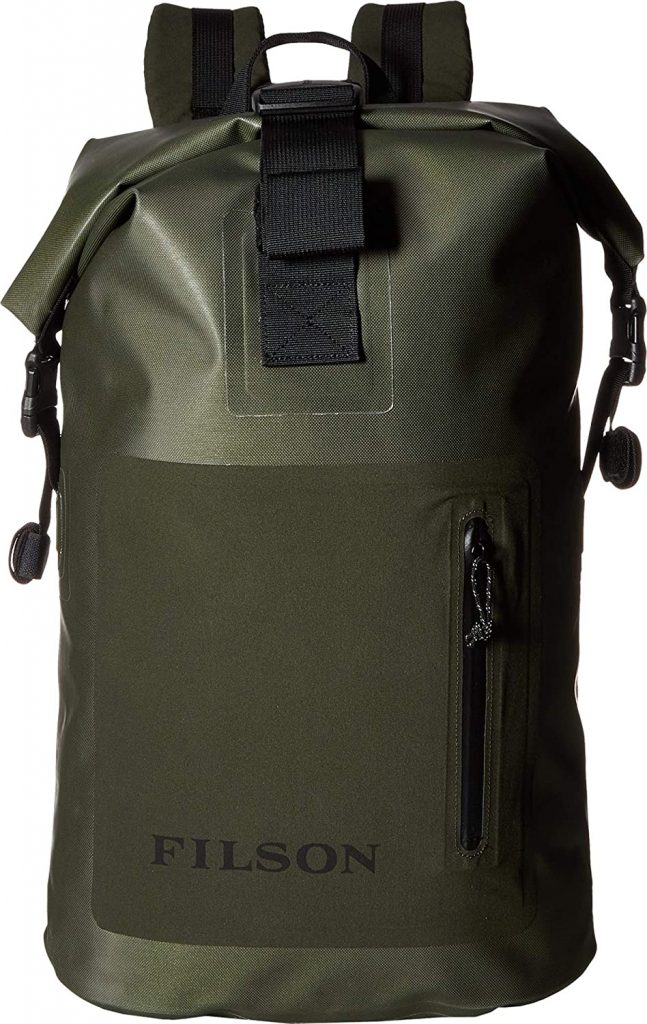 The Filson Dry has been released for the 2021 season. Just like the FishPond Thunderhead and the Patagonia Guidewater, it is completely waterproof, even when submerged.
Following Filson's design philosophy, the Dry Pack is a beautifully minimalistic sling pack. It features one padded shoulder strap that enables you to swing the pack around for easy access quickly. The main compartment is protected by the sturdy T-ZIP.
The zipper for the small exterior pocket of the Dry Pack is only water-resistant. The Dry Pack features a D-ring to attach a net, for example. An extra handle on the side secures a safe grip at all times.
Filson Dry Customer Reviews
⭐️⭐️⭐️⭐️⭐️
Way better than expected, a generous 28l? Seems more like 35, if not folded down. Waterproof for sure, passed my submersion test with flying colors. Ample room for your stuff. One inside pocket and one outside- no gimmicks or trash collecting pockets. I plan to use it as my bushpack for my sleep gear (hammock, wool blanket, tarp and food. Fits everything perfectly, will report back after a few trips

– Sam
⭐️⭐️⭐️⭐️⭐️
Very expensive compared to the "cool" bags being hawked everywhere these days but built to last and protect your gear.

– Sendero C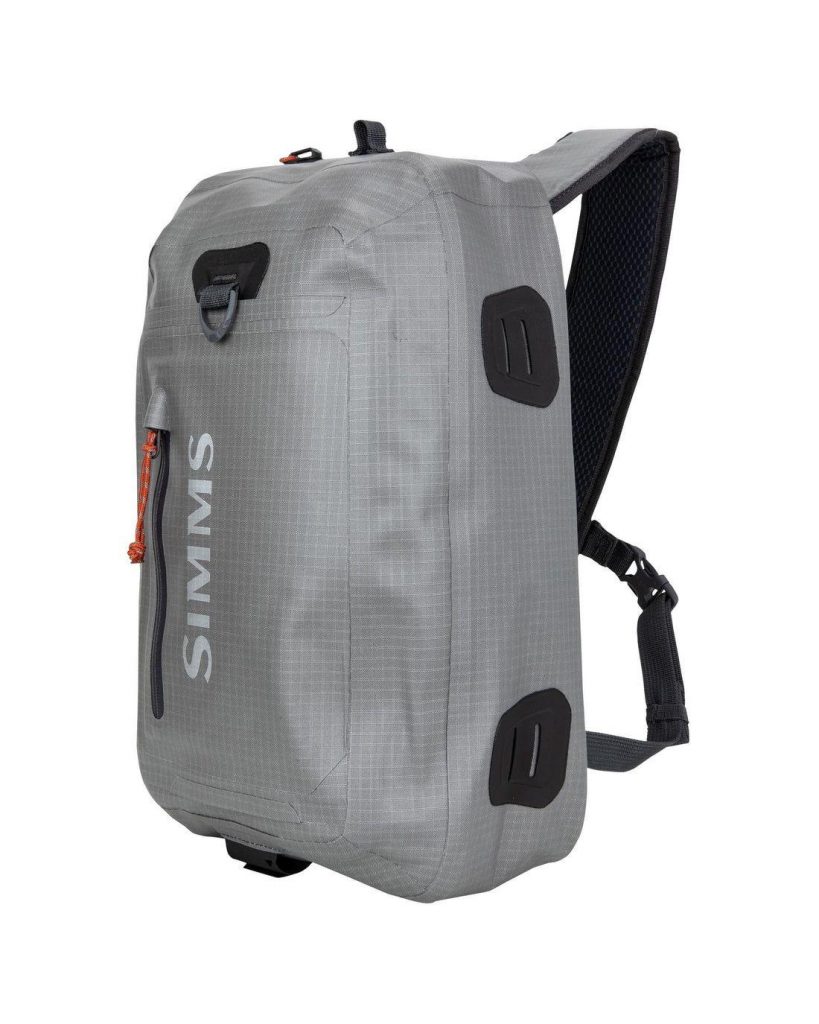 Here is another excellent option if you are looking for a waterproof, fully submersible fly fishing sling pack: the Simms Dry Creek Z. The brand new 2022 version comes in a light grey and features a wide, comfortable shoulder strap. Exterior lash points all around the sling allow for the attachment of extra gear such as pliers or nippers.
The Simms Dry Creek Z also has a neat slide-in pocket for your fly fishing net. On the inside, the sling features mesh pockets for storing small items. All your gear goes into the enormous main compartment. A big front pocket on the outside can hold a fishing license. But be careful, it's only water-resistant but not waterproof.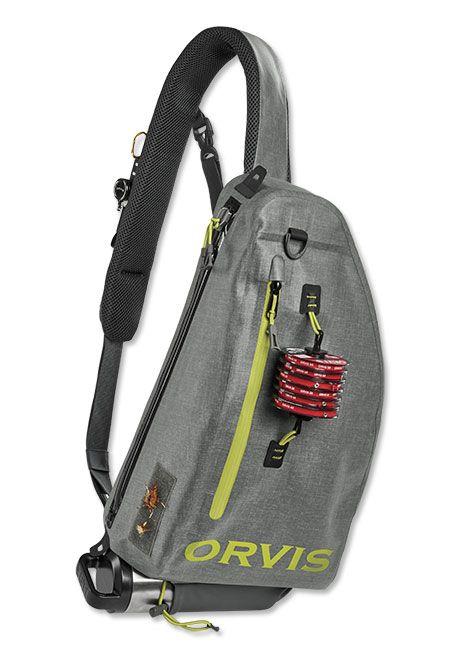 The Orvis Waterproof is the last waterproof sling pack in our test, and it's fully loaded with excellent little features. Orvis reworked their traditional waterproof sling pack to incorporate feedback from fly fishermen in the field.
The Orvis Waterproof features multiple attachment rings across the entire pack. The tippet spool comes in handy when changing tippets in the pouring rain. A fly patch on the side of the Orvis Waterproof can hold your used flies.
On the bottom, the Orvis Waterproof has a water bottle holder. With a capacity of 14L, it's right up there with its contenders, such as the Simms Dry Creek Z, the Patagonia Guidewater 15L, or the Filson Dry. Waterproof but not submersible.
Orvis Waterproof Sling Pack Customer Reviews
⭐️⭐️⭐️⭐️⭐️
Awesome bag keeps everything dry, the only thing I did not like is that the cup/drink holder is made out of another material and it stays wet way longer. Did not notice the first time and it left my seat wet.

– SGR
⭐️⭐️⭐️
I hate to rate this only a 3 star because it seemed to be really well made and a decent size for a fully waterproof sling pack. However, I was not able to get the pack to fit no matter what adjustment I made. The cross (support strap) was just way too large and the bag/strap were very loose. I tried to work with Orvis in case I received a faulty strap, but the replacement strap that was sent was the same size. I really wish it would have worked for me, but I am looking for a better fitting option. I am sure that I could have jerry-rigged something to make this work, but for a +$200 I wanted a perfect fit without having to make alterations.

– Bennypro
---
What to Pay Attention to when Picking your Fishing Sling Pack
There are several things you should pay attention to before making a choice.
Space: Depending on how much gear you want to fit inside you should consider buying a bigger or smaller sling pack. A bigger one gives you more flexibility but the additional weight can be annoying on days when you don't need to carry too much gear.
Shape: Fishing sling packs come in all sorts of variations. Some feature multiple pockets (downside: they can get bulky) others try to keep it simple and focus on the essentials. A smaller, slimmer pack will give you more freedom of movement.
Ambidextrous: Sling packs used to be worn over your right shoulder mostly. Nowadays more and more manufacturers are offering products that can be worn over either shoulder.
Conclusion on Fly Fishing Sling Packs
Waterproofness: This is a crucial characteristic of a sling fishing pack. Although you wear it higher than a waist pack, it can potentially get wet when you are wading deep. The same holds on a wet day. If you want to be safe, go for a waterproof one. They are a bit more expensive because of waterproof zippers, for example. But on the other hand, you are safe with them no matter the conditions.
---
Fly Fishing Sling Packs: Frequently Asked Questions
As you can see from our reviews, a fishing sling pack is a great, lightweight option to carry a lot of fly fishing gear easily. Depending on your needs, you can get one that can hold more stuff or a more minimal sling pack for a lightweight setup. If you want to be on the safe side for all conditions, get a waterproof sling pack. They are absolutely bulletproof.
Q: How do you organize a fly fishing sling pack?
A fly fishing sling pack is a great option if you don't want to carry a backpack. The easiest way to organize it is to ask yourself which gear you will need at the water. Most of the time, you will want to bring several fly boxes, including a nymph box, a streamer box, and a dry fly box. Your sling pack can also hold additional items such as tippet spools, pliers, sink leaders, or a pair of fishing sunglasses.
Q: What is a sling pack?
A sling pack is a bag that can be worn across your chess. You can look at it at the form of a hybrid from a backpack and a hip bag. In contrast to a backpack, it features only one strap that you sling around your upper body hence the name sling pack.
Are sling bags good for fly fishing?
Sling bags are a great alternative to a backpack if you don't need to carry a lot of gear. Especially in warmer temperatures, you will sweat less using a sling pack.
---
Related Articles
---
Recent Articles
Review Archives
---