Fly Rod Roof Rack Review – The Best of 2023
Photo: @paulashearer
A good fly fishing trip should maximize enjoyment and minimize headaches. Getting a fly on the water sometimes requires a healthy dose of upfront hard work, at least if you want to get the most out of your fly fishing trips.
Prepping for the best experience possible often means getting up early and driving for hours to get to the best fishing spot. It means bringing a lot of different gear so you can deal with any weather or fish behavior you might find. A relaxing day on the water can be ruined if you show up with a broken rod, forget your tackle, or find that your gear was broken in transit. Now, you can get your fishing gear ready, put it in a safe place on top of your car, and be ready to catch a big one when you get to your favorite fishing spot. Check out these fly rod carriers, holders, and vaults that you can mount on the roof of your car to make your next fishing trip the best one yet.
Vehicle-mounted Fly Rod Carriers, also called Fly Rod Vaults, Tubes, and Holders, save you time, protect your gear, and give you a convenient place to keep all your tackle and gear ready to go. You never know when you'll get a chance to sneak away to the stream. With one of these fly rod carriers on the roof of your car, you'll be ready to go at any time.
The best thing about fly fishing vaults is that they protect the inside of your car from scratches, rips, and so forth. Roof-mounted fly rod carriers protect your gear without risking your car's interior. This is better than rod bags and tackle boxes, which can get messy and take up space for passengers or leave a fly hook where it doesn't belong – connected to a body or leather seat. Indeed, there is a lot of benefit to having your fly rod on the outside of your vehicle. No more fish hooks grabbing everything within reach. No more gear sitting in a puddle of water on the floor of your truck.
With these high-quality fly rod carriers, your gear will be safe, your car protected, and you'll get the most out of every fishing trip.
Which Fly Rod Carrier Is Best For Your Needs?
In the past, to safely transport your fly rods, you either needed a long vehicle such as a pickup truck or a van, or you were required to disassemble and reassemble them each time you traveled to a new location. Thankfully, modern technology has made it possible to transport your fly rods without having to do either. You don't have to be concerned about that any longer because there are so many various manufacturers and brands of fly rod carriers available on the market. There is a wide variety of rooftop fly rod carriers available, all of which will help you transport your rods in a secure and accessible manner; the question is, which one will work best for you?
In this review, we cover the best fly fishing carrying cases available from leading manufacturers so that you may determine which fly rod carrier will best meet your needs and get started sooner on your next fly fishing adventure.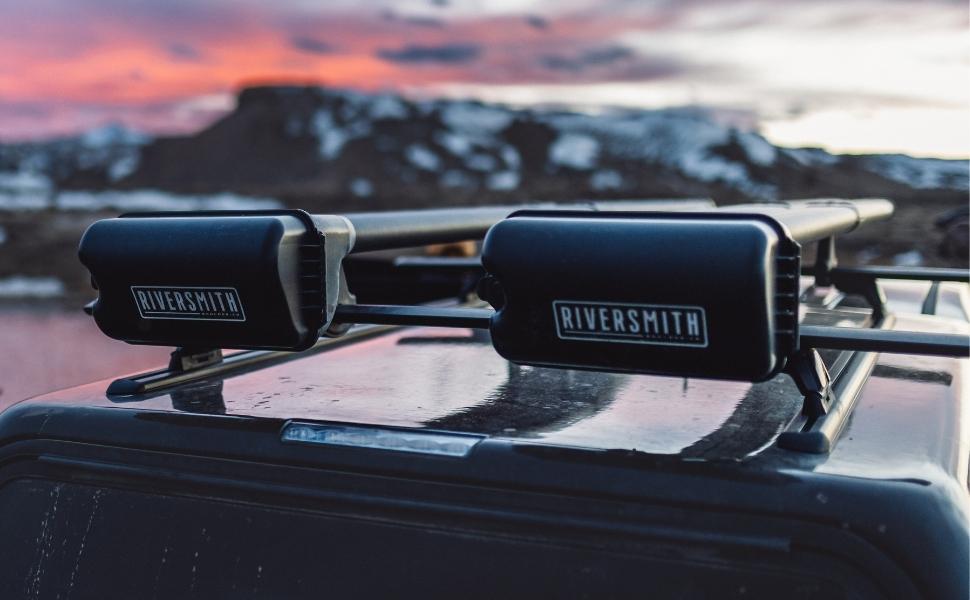 Riversmith's vehicle rooftop fly rod vault is an award-winning solution for transporting fly rods. It comes in two sizes: 2-Banger (for two fly rods) and 4-Banger (for four). Fly rods up to 10'4″ and 12 weight can fit comfortably inside. Whether you're carrying one or four fly rods, the River Quiver will allow you to get out on the water faster.
If you've ever gone fly fishing, you'll know how difficult it is to transport a fly rod to the water. Not only will you have to spend time reassembling it once you arrive, but the fly rod may be damaged in transit. Fortunately, the River Quiver not only allows you to transport fully assembled fly rods, but it also ensures that fly rods remain undamaged.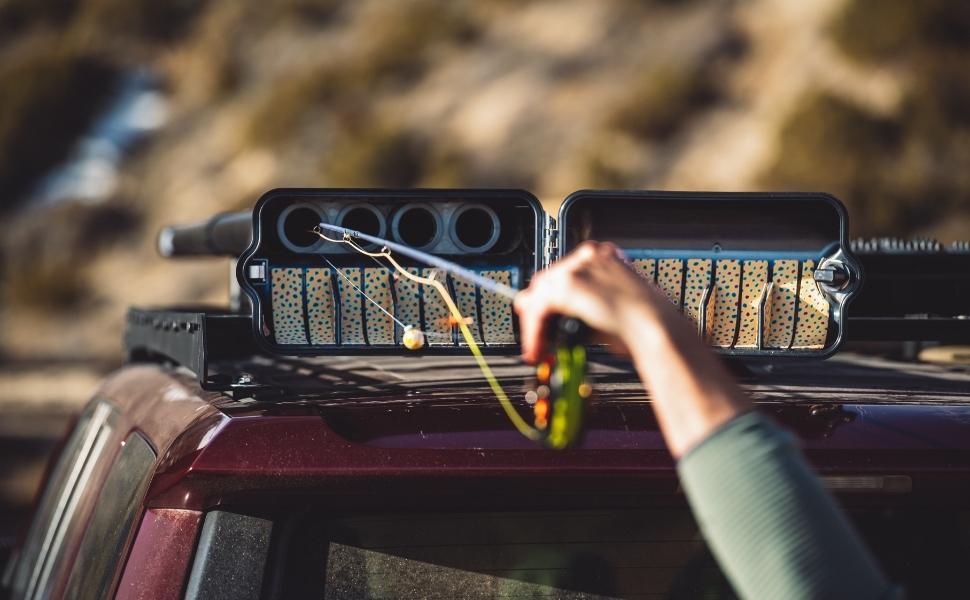 The injection molded reel box and the proprietary aluminum double barrel extrusion are impressively strong and lightweight. River Quiver has been tested to Military Spec 810G vibration standards to withstand shock, wind, and impact without causing damage to the contents. Riversmith put this to the test by hitting River Quiver with a hammer and throwing it across a parking lot like a javelin, among other things. Even in these tests, the reel box and fly rod tubes inside did not break!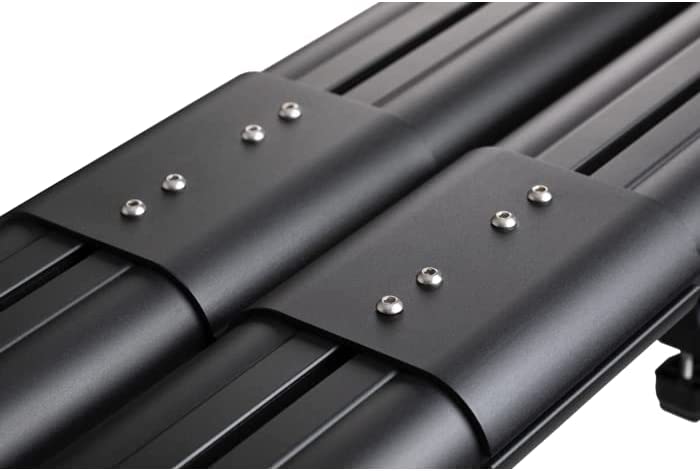 River Quiver is simple to use and difficult for others to abuse. Its side-swing door with a hold-open hinge allows you to load and unload from the ground without holding the door open. The Quiet Aero design reduces wind resistance while driving, and the slip-proof thru bolted coupler provides an easy, sturdy connection. Anyone attempting to break into your River Quiver will be met with an unpleasant surprise, thanks to the sturdy tongue and groove joint and AES polymer construction.
Key Features
Versatile mounting system
Able to withstand shock, wind &, and impact loads
The most secure rear entry molded reel box fly rod holder available
Aerodynamic and quiet
Designed, assembled, and shipped from Boulder, CO
What We Like
Quality construction.
Secure locking mechanism
Attractive Design (DeYoung)
Accommodating taller vehicles and SUVs
What Could Be Improved
Locking quick connect instead of
Allen Bolts.
Smooth plastic brackets could be
metal and a little stronger.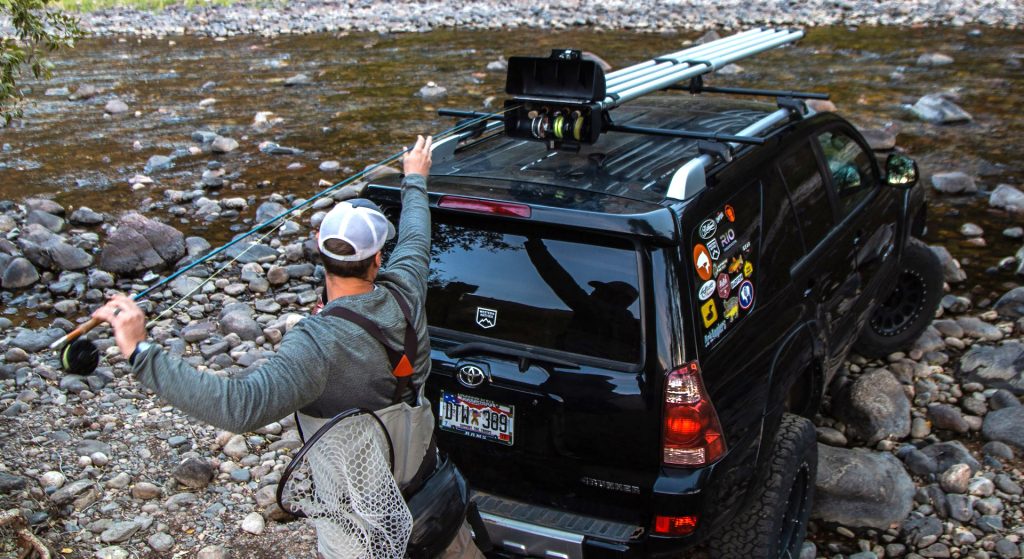 Thule made the RodVault 4 to help anglers get the most out of their time on the water. It has a safe case on the roof that keeps our rods ready to fish and strung up. The RoadVault can easily store a fishing rod because it can fit reels with diameters up to 4.25 inches and has aircraft-grade aluminum tubes lined with plastic that doesn't scratch. We never have to worry about the road to our favorite fishing spot shaking or bumping.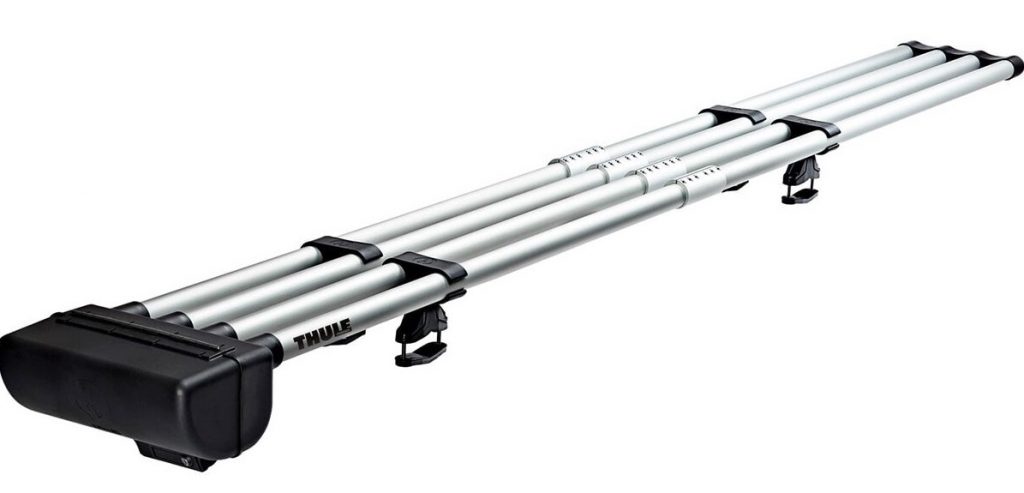 The reinforced nylon reel housing is strong and has a locking system that is strong enough for industrial use. The nylon mounting clamps are strong, and you can lock this fly rod carrier to your car with a padlock (not included) to keep your setups safe when you stop at a restaurant on the way home. The Thule Fly RodVault has a universal mounting system that works with a wide range of vehicle load bars.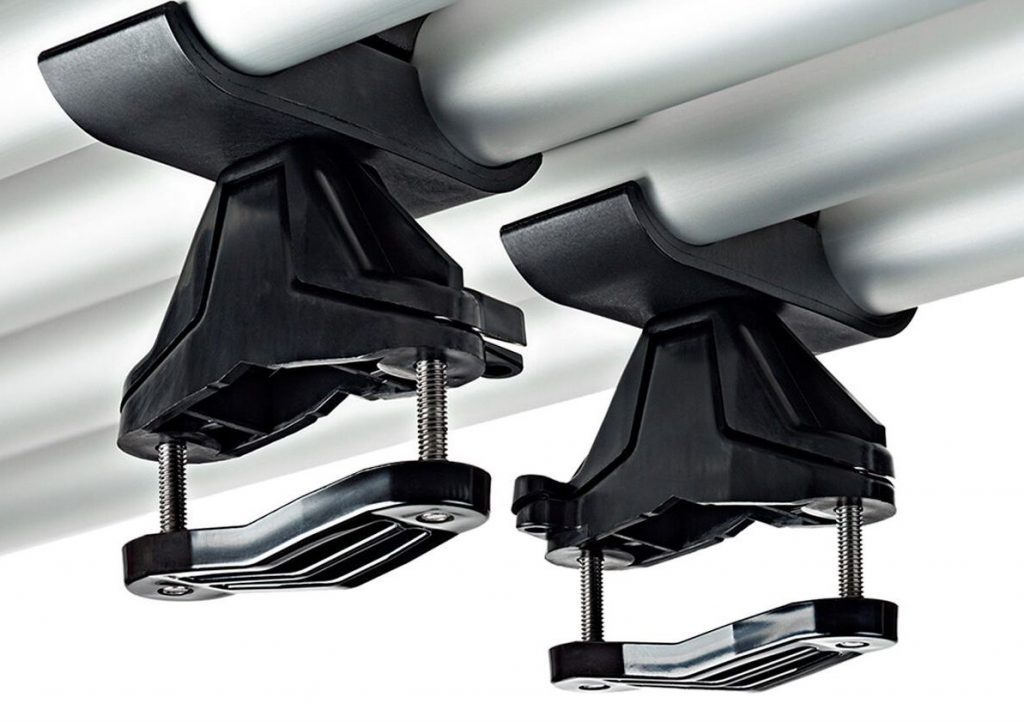 Key Features
A secure rooftop case for safe fly rod transport
Aircraft-grade aluminum tubes offer ultra-strong protection.
Plastic tube liner safeguards against abrasion during transport
Mounting clamps accommodate personal padlocks to lock the case to the vehicle
Industrial strength housing lock ensures rod security
What We Like
Fairly simple to install and very secure
during travel
Rigid metal tubes and hardened plastic casing.
Universal mounting system.
Lots of room.
Mounts with just two brackets.
What Could Be Improved
The locking system could be better.
Assembly directions aren't great.
It is HUGE!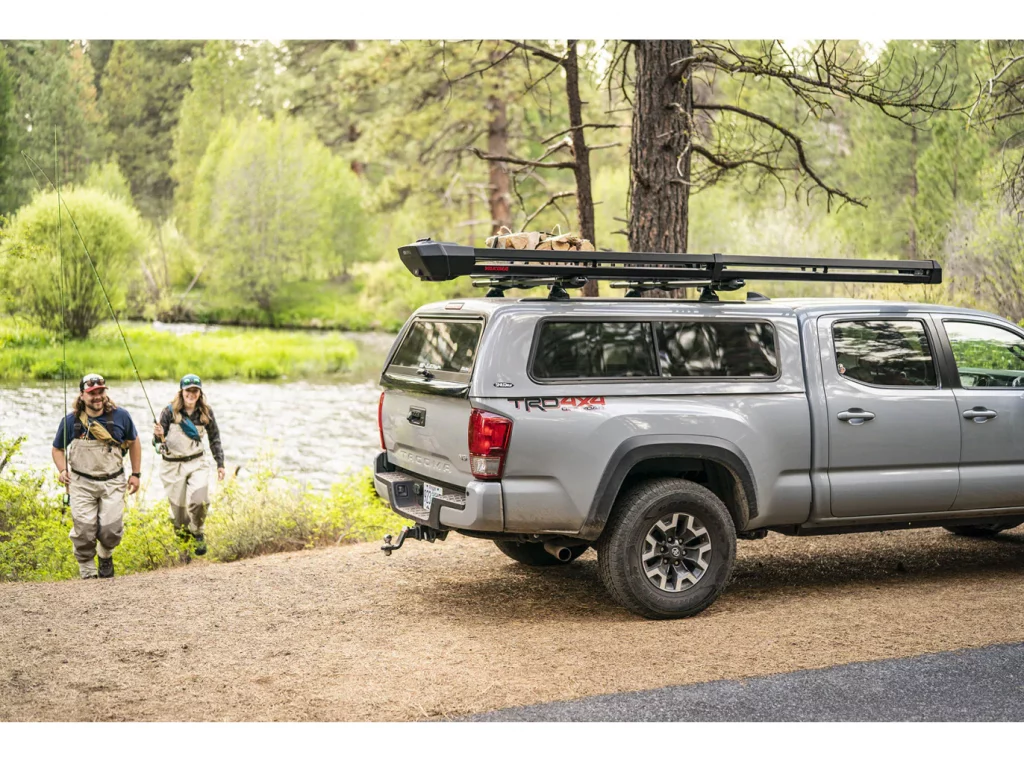 Anglers who fish frequently and require space to store their rods will find that a Yakima fishing rod rack is the perfect solution. The DoubleHaul rooftop fishing rod mount is an accessory that allows you to carry up to 8 fully-rigged rods, providing the convenience of bringing your favorite fishing rods wherever you go. It is also strong and durable enough to be used outside in any weather, making it a safe place to fish from the roof. Lag bolts, washers, nuts, and bolts, as well as locking nuts, nylon spacers, and screws, make up the mounting hardware. The mounting clips are very thin, which makes it possible to attach them to narrow surfaces like beams or rafters that might not be able to hold bigger racks.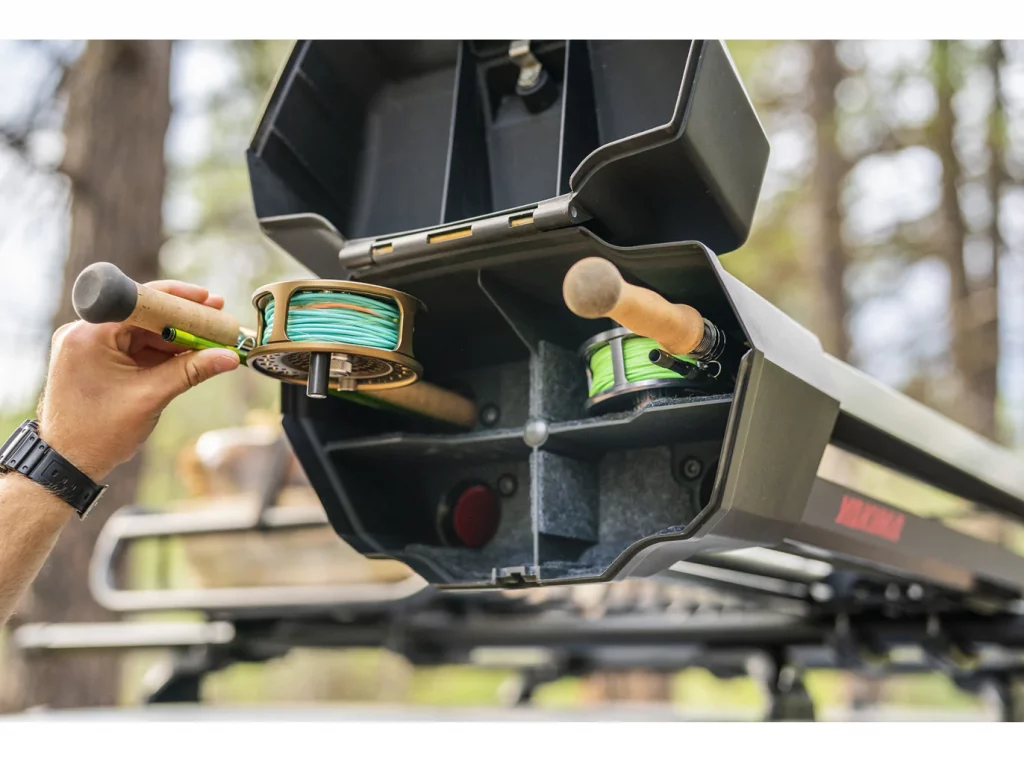 This rod carrier has the capacity to hold up to four fly rods. The rods are out in the open, subject to the weather. With a clamping system that doesn't require any tools, installation is a breeze. And it comes with a limited warranty that lasts a lifetime. The ability to load and remove rods with the push of a single button saves time. Ideal for rapid repositioning during the search for the fish.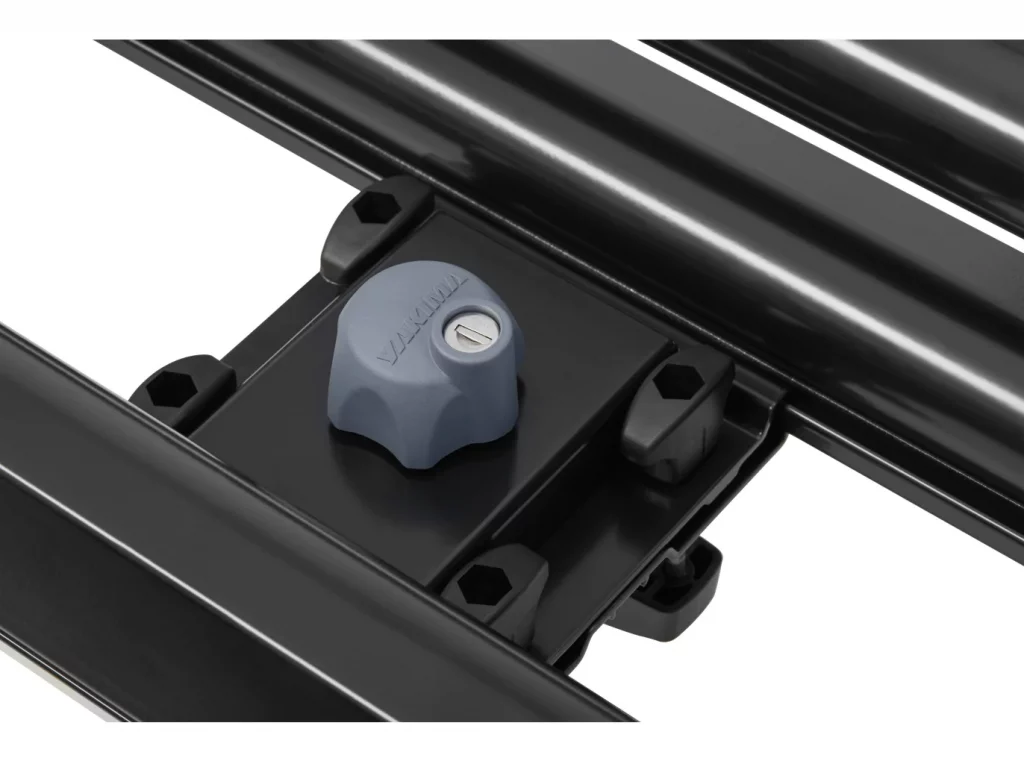 The Yakima DoubleHaul Rooftop Fishing Rod Mount is a great way to take up to four fully assembled fishing rods with you. It's easy to put on the top of your car, and the materials are solid, so you can be sure it will last for a long time. The Yakima DoubleHaul Rooftop Fishing Rod Mount also comes with a lifetime warranty, so you can be sure that you are getting a good product.
Key Features
Customizable rooftop fly rod carrier, configurable at either 11 ft. or six ft. of length.
Transports 4 fully strung-up fly rods up to 10 ft. long.
The top 2 reel slots fit most 12-wt. Reels and the bottom two reel slots fit most 10-wt. Reels.
The reel box holds common fighting butts of single-handed rods.
The reel box holds up to 2 spey rods in upper slots.
Four individual plastic-lined aluminum rod tubes provide strength and separation for rods while helping prevent abrasion.
Side placement of reels reduces wear on rod-stripping guides and eyelets.
Custom-fitted felt padding for premium reel protection.
Universal mounting hardware fits all Yakima® crossbars and most other roof racks.
Add the SmarT-Slot™ Kit 3 to attach to a T-slot crossbar for an even sleeker profile (sold separately).
Yakima SKS (Single Key System) locks secure rods inside DoubleHaul™ and lock DoubleHaul to roof rack.
What We Like
The door and the lock mechanism.
Extremely sturdy even at high speeds.
What Could Be Improved
More expensive than others.
Internal plastic sleeves.
Fly Rod Carrier / Rack FAQs
How do I transport a fly fishing rod with my car, truck, or SUV?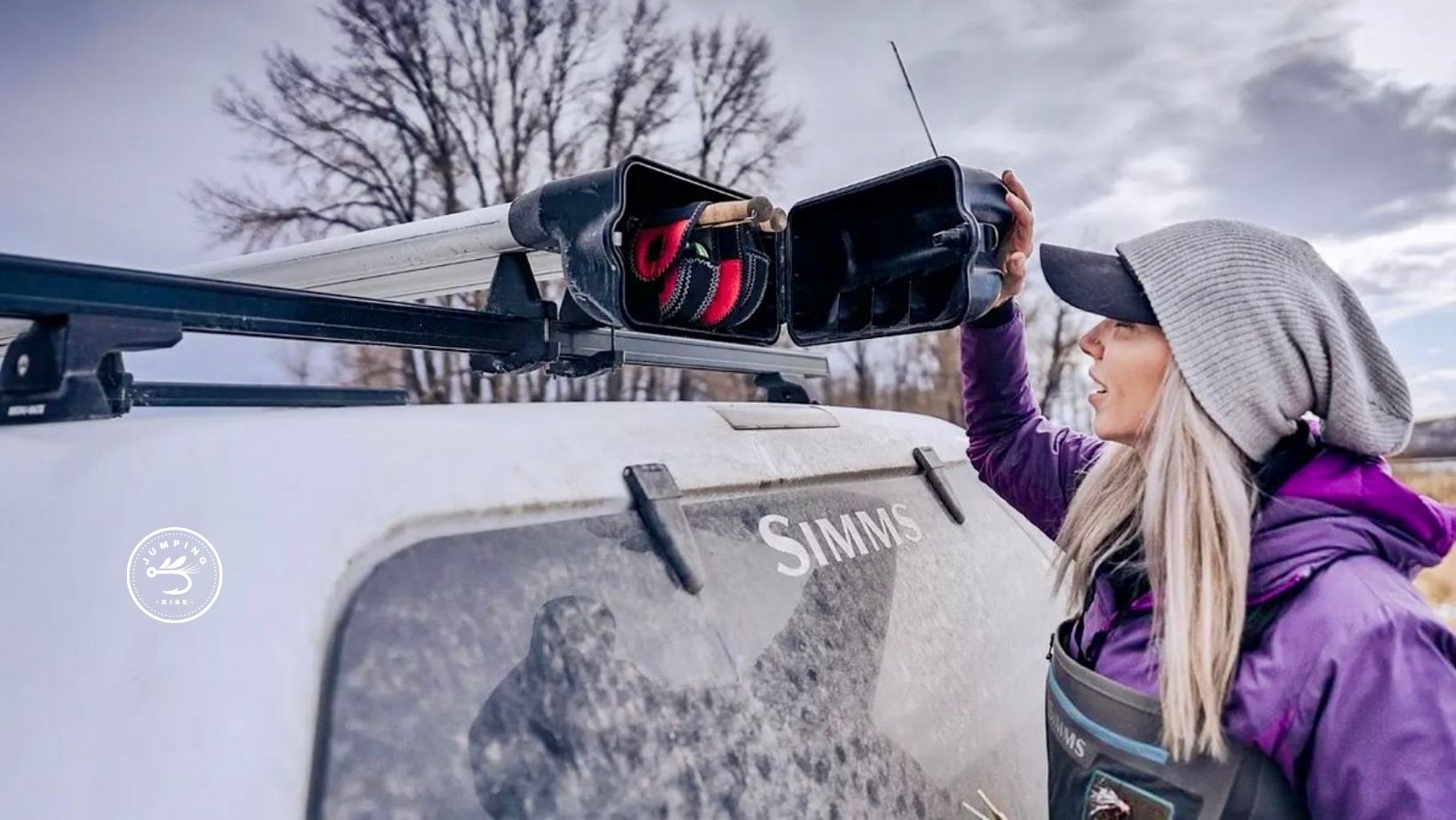 Fly rod transportation in a car can be difficult because most fly rods are longer than the cab space of a standard car. Fly rod roof racks make it simple to transport fly rods safely. Slide the roof rack rods in and out. The rods are easy to access, and you'll never have to unload the car to get to them.
How do you carry a fly rod in a truck?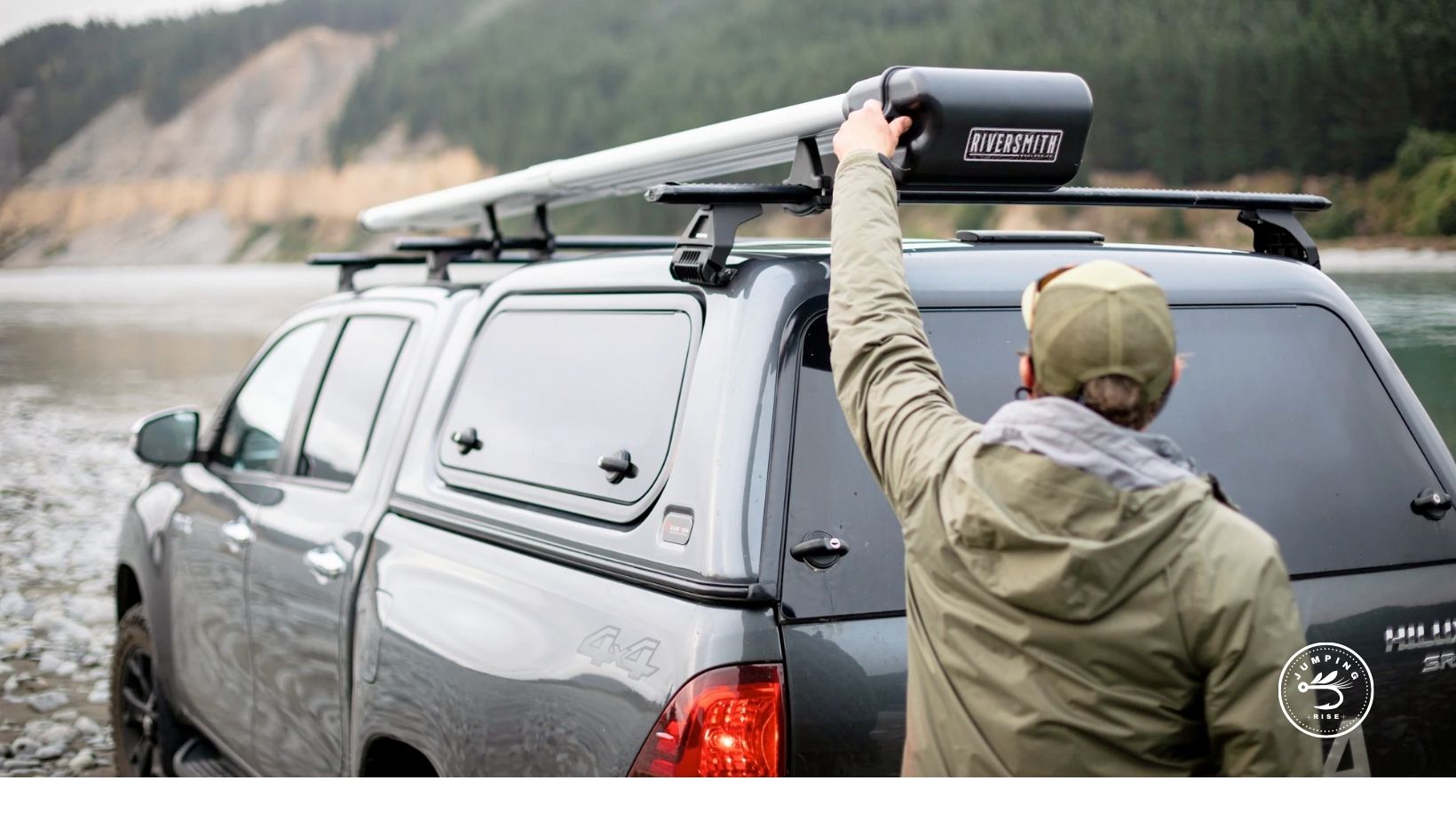 Fly rods are often left in the back of trucks by anglers. When you do this, your rod is at risk of being crushed by other belongings in your bed or stolen. The safest and most convenient way to transport fly rods in a pickup truck is on a roof rack specifically designed for that purpose. Having your fly rod securely stored on the roof eliminates the risk of being lost, damaged, or stolen. Everybody benefits.

For a few good options, consider the FiverSmith River Quiver, Thule Rodvault, Yakima TopWater Fishing Box, Big Sky Rod Box, Fly Rod Safe
How do you store a fly fishing rod on the roof of your car or SUV?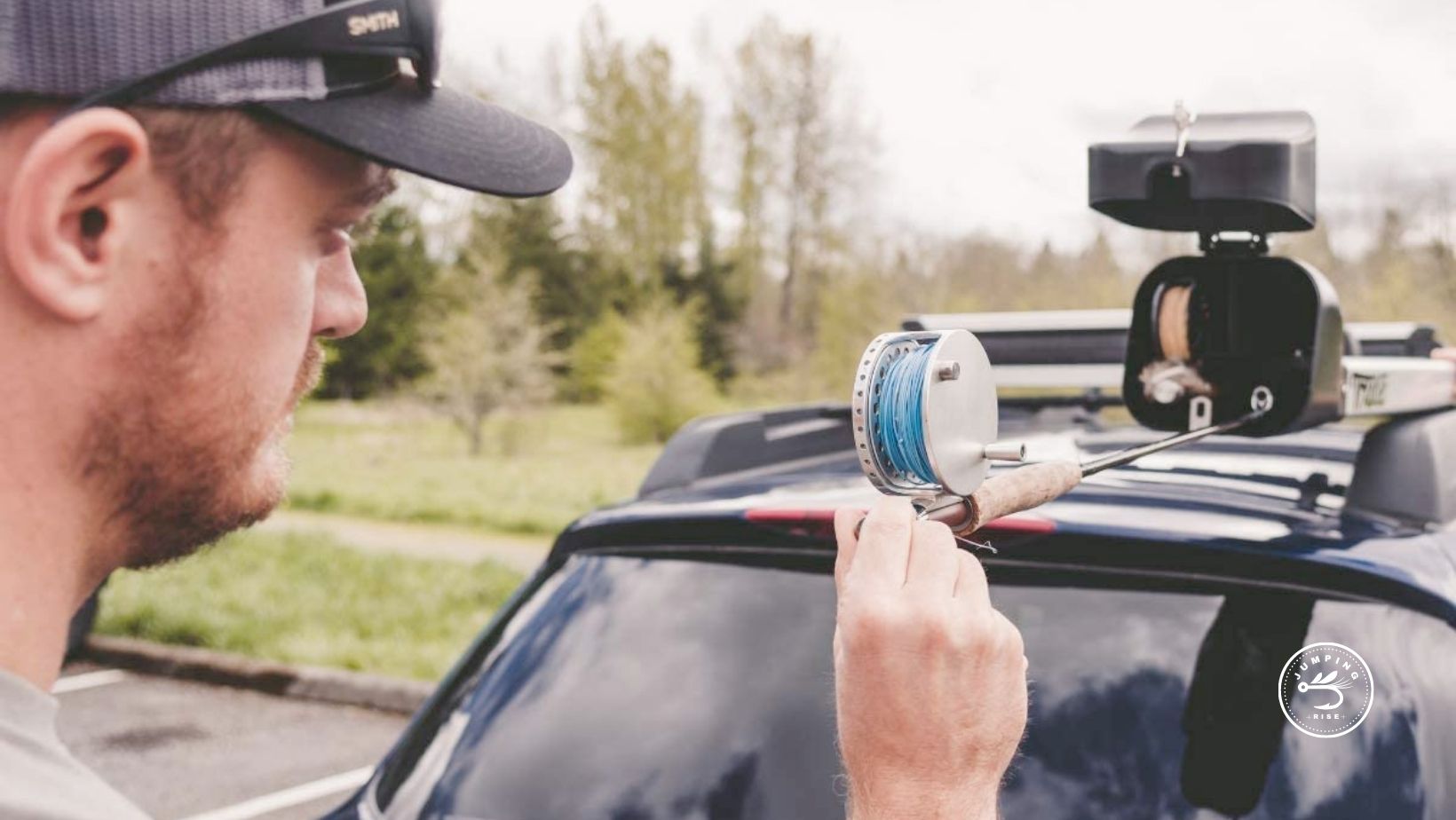 When it comes to transporting and stowing your fly rods, a roof rack is your best bet. Do not secure your fly rods straight to the roof of your vehicle. Keeping them safe while you're on the road is next to impossible, and it's hard to secure them properly. A fly rod roof rack won't break the bank and is usually cheaper than buying individual cases for each rod you're hauling. Consider investing in a fly rod roof rack as a sensible means of transporting your fly rods.
Can you put fly fishing rods on roof racks?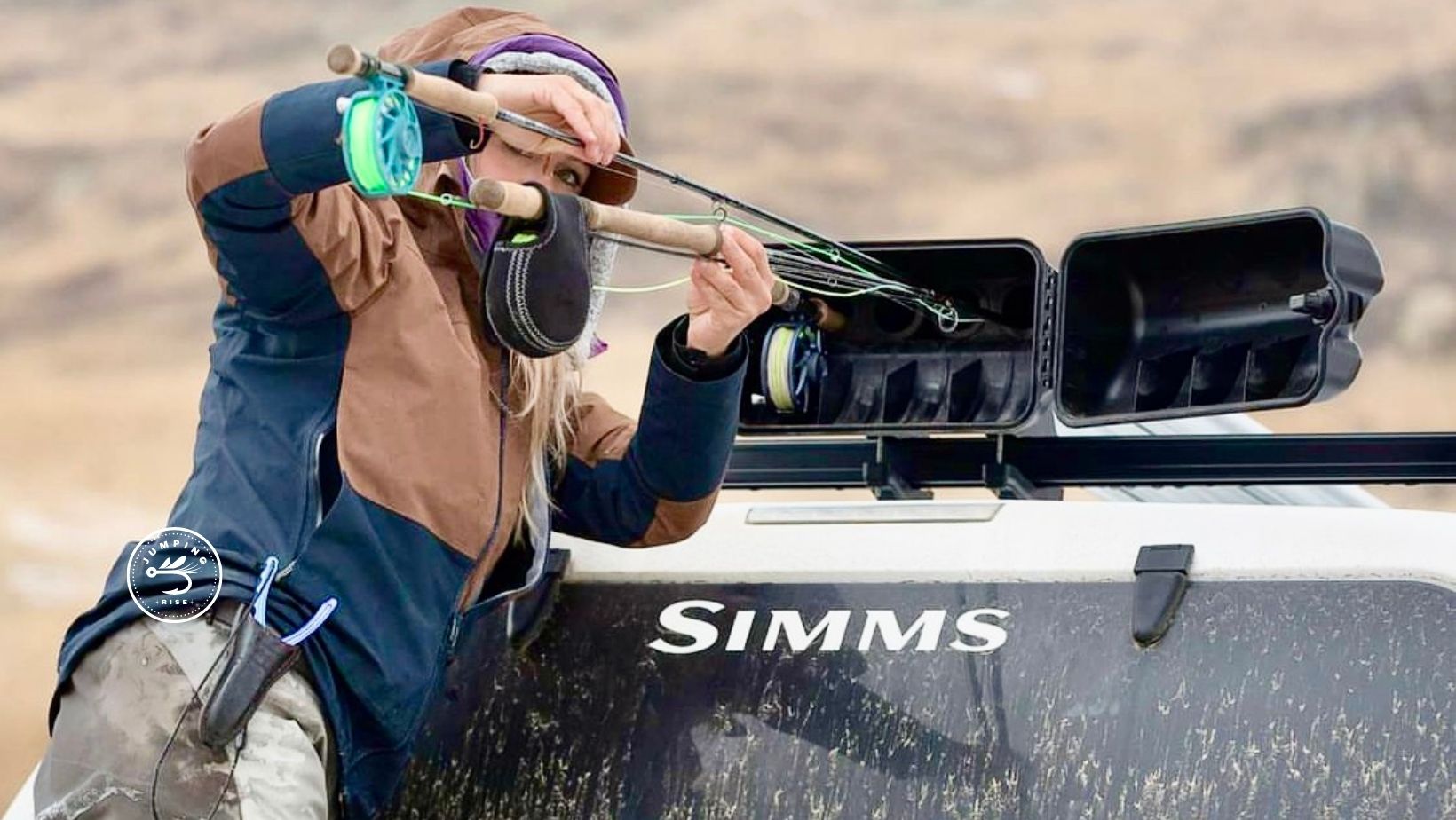 Many roof racks designed for fly rods can also hold other types of fishing rods. With certain roof racks, you'll need to take the reel off before you can mount it. The best fly fishing roof racks can accommodate your fly fishing rod without removing the reel. Some
How do I carry a fly fishing rod inside my car or SUV?



While there are many options to carry a fly fishing rod outside of your vehicle, sometimes storing your rod inside is easier and more secure. Not only is this more secure, but it can be much less expensive. On the downside, fly fishing rods are long, so your vehicle will need to be long enough to fit the length of your rod. Another downside is that your car interior might take a beating from sliding fishing rods in and out, not to mention hooks attaching to everything in sight.

For a few good inside carrying systems, check out RodMounts, Roylvan Rod Rack Holder Straps, or the iMunir Ceiling Storage Net.
RiverSmith VS YAKIMA Fly Fishing Roof Case – Which is better?

RiverSmith Product Features
– Military spec 810g vibration standard tested
– Quiet aero design
– Temperature resistant
– Only fly rod carrier to feature t-slots on top & bottom

Yakima Product Features
– Doublehaul: holds up to four fully strung-up rods
– Doublehaul: uses tool-free universal crossbar attachment for easy – – roof rack mounting
– Topwater: protective foam pads & retention straps
– Topwater: includes yakima® sks (single key system) lock
Trxstle VS RiverSmith Fly Fishing Roof Case – What is the difference?

Trxstle Product Features
– Spring Loaded, Locking Hatch
– Stainless Steel Hardware
– Weatherproof
– 15 Lb Dry Weight

Riversmith Product Features
– Versatile Mounting System
– Undergone Military Grade Shake Testing
– Heavy Duty Aluminum Coupler
– Lined W/ Top Grade Poly Propylene
Thule VS Yakima Fly Fishing Roof Case – How do they compare?

Thule Product Features
– Accommodates Reel Diameters Up To 4.25
– Holds Rods Up To 10' Securely
– Universal Mounting System
– Polypropylene Lined Rod Tubes For Added Protection

Yakima Product Features
– Ability To Hold 2 Spey Rods In Upper Slots
– Yakima Sks (Single Key System)
– Universal Mountain Hardware Fits Most Roof Racks
– Plastic-Lined Aluminum Rod Tubes
Related Articles
---
Recent Articles
Review Archives
---