Best Waterproof Duffel Bag – Top 15 Of 2023
Quick Liks
---
How To Choose The Best Waterproof Duffel Bag
A waterproof duffel bag is worth considering when you put a lot of work and planning into an adventure, whether fly fishing, canoeing, rafting, or tracking into the wild. The best ones on the market keep your gear dry no matter the conditions. Two technical solutions make sure no water enters your bag. The first one is the so-called roll-top duffle bag, whereas the name suggests – you close the top by rolling the fabric several times and sealing it with a buckle. This kind of waterproof duffel bag ensures no water can enter from above, no matter how harsh the rain.
The second kind of waterproof duffle bag is the so-called submersible bag. These bags feature waterproof zippers. The zippers even allow the backpacks to be immersed in water without getting wet inside. This kind of product is the ultimate gear for the wild. Since the technology behind these zippers is more advanced, these waterproof, submersible bags tend to be a bit more expensive than roll-top waterproof duffel bags. Our review will look at products from both categories, ensuring you can make a solid choice. Let's go.
---
Waterproof Roll-Top Duffel Bags
In this first part of our review, we want to present you with some of our favorite roll-top waterproof duffle bags. As mentioned before, these bags ensure everything on the inside stays dry. However, you cannot submerge these bags.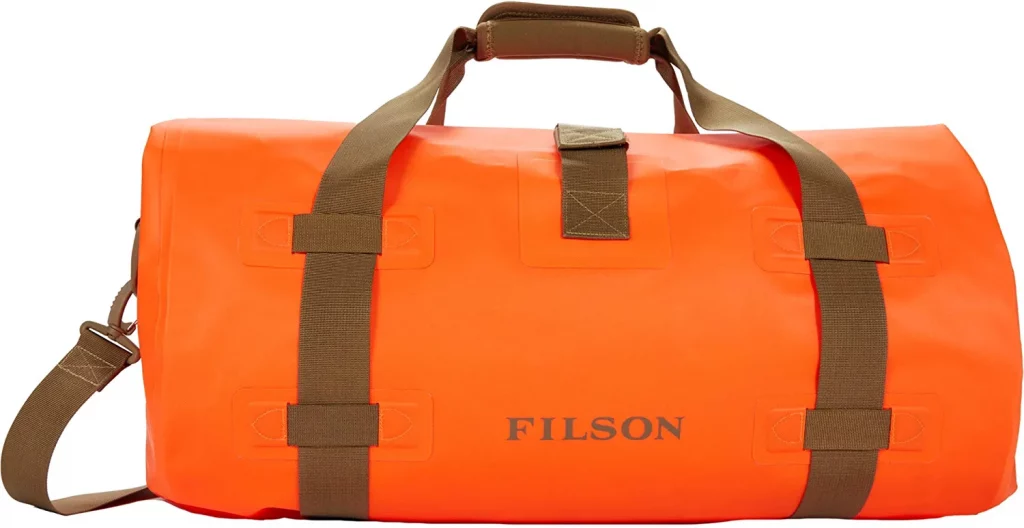 The Filson Medium Dry Duffle Bag is a classic waterproof roll-top duffle bag. It is one of our favorites since our review has the only submersible roll-top duffel bag. The fabric made from 840-denier nylon is incredibly durable and fully waterproof.
The shoulder strap of the Filson Medium Dry Duffle Bag is removable and padded. The bag is also available in bright orange color and large versions. Made for your ultimate adventure and guaranteed to last a lifetime.
DIMENSIONS: 25"L x 12"W x 14"H – CAPACITY: 54L (Large version: 70L)
Key Features
TPU-coated 840-denier nylon is waterproof, abrasion-resistant, and flexible.
Water-tight roll-and-cinch closure
Dual-lock fastener on top closure
Nylon webbing handles wrap underneath the bag to cradle heavy loads
Removable, adjustable shoulder strap with pad
Durable high-density plastic hardware
65L capacity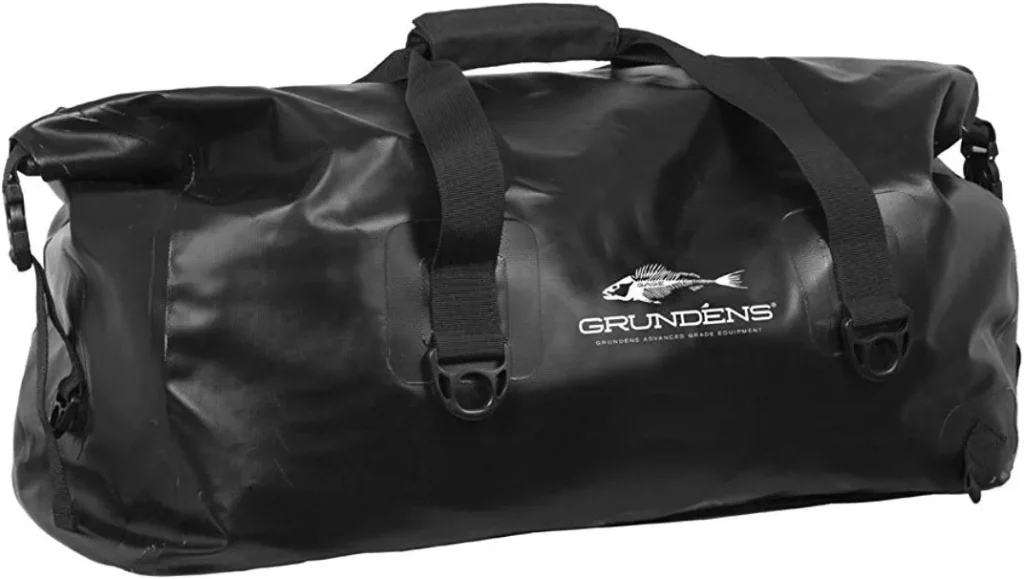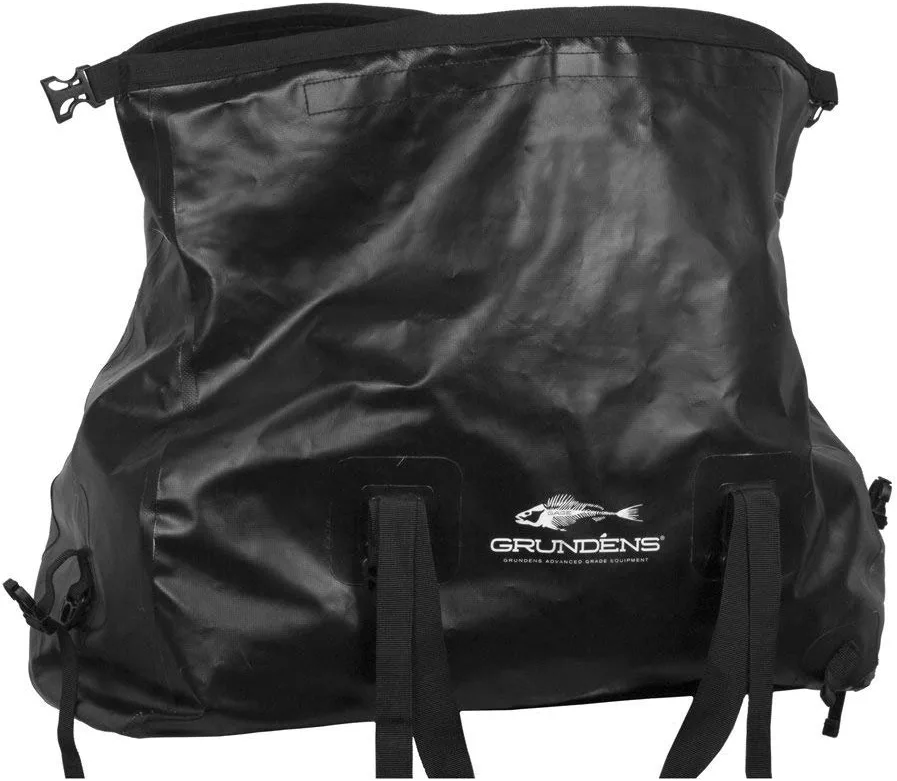 The Grundens Shoreleave 55 Liter is a simplistic yet incredibly tough waterproof duffel bag. Grundens was founded in Sweden for commercial fishermen that had to withstand the most challenging conditions while out on the sea. Hence their gear is indestructible. The Grundens Shoreleave 55 Liter is kept in all black, giving it a nice and clean look.
The Grundens Shoreleave 55 Liter also features a roll-top closure, and its straps can be used to carry it like a backpack which comes in handy when you have to walk for a bit. Made from 500D PVC tarpaulin material, the Grundens Shoreleave 55 Liter features welded seams for extra durability.
Key Features
100% Waterproof 500D PVC tarpaulin fabric
100% RF welded seams
Hook, and Loop Cloth Closure roll top closure with compression straps
Hidden backpack straps and shoulder strap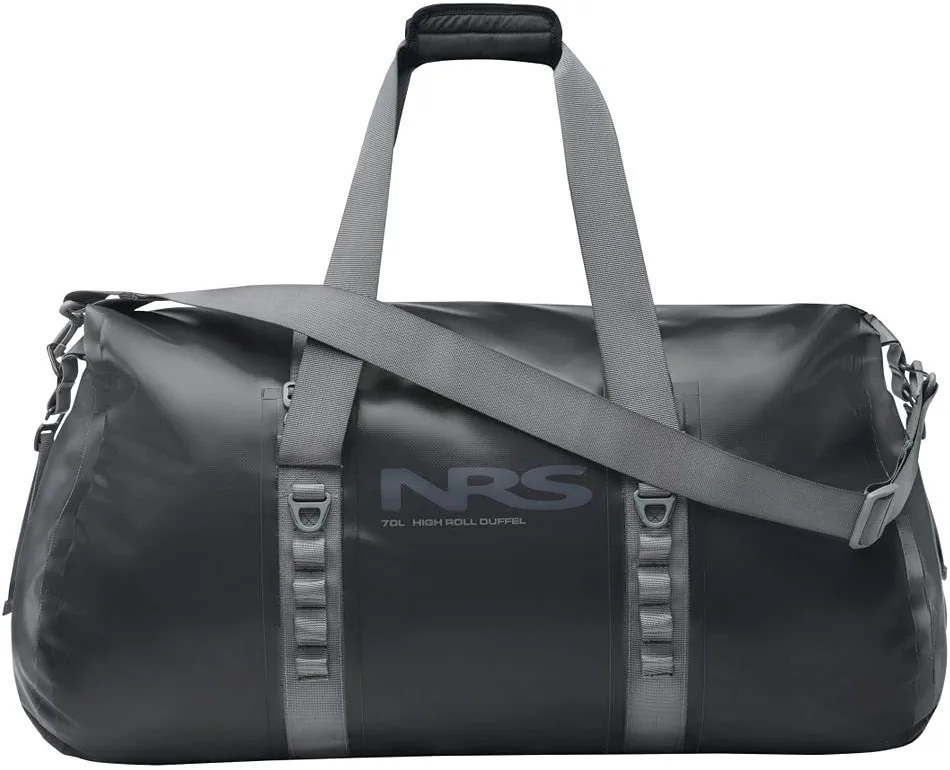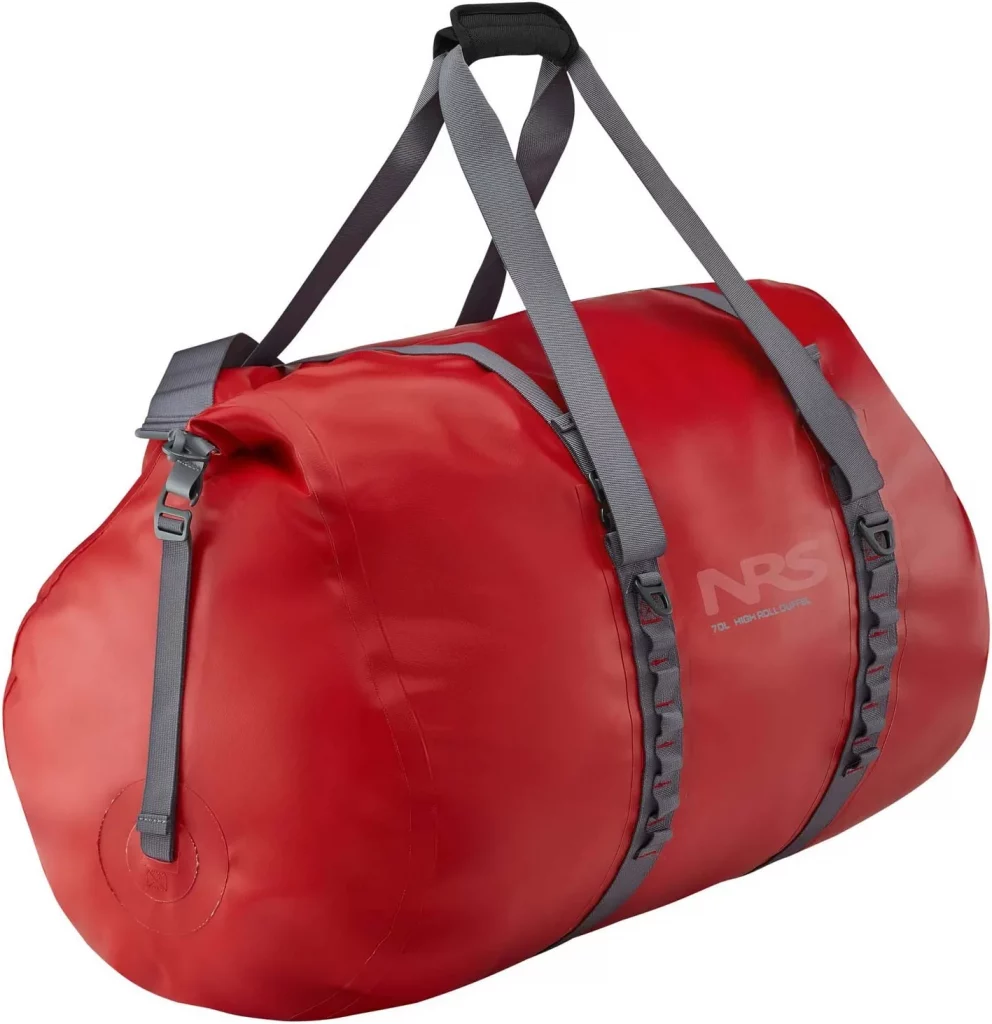 The NRS HighRoll DriDuffel has the same robust dependability as the iconic NRS Bill's Bag 65L Dry Bag but in a duffel-style shape that makes packing your stuff and locating it afterward easier. Heavy-duty 21 oz TobaTex construction ensures it will last through the rigors of any outdoor excursion.
Key Features
21 oz PVC/polyester body
Fold-down StormStrip closure
Durable aluminum fasteners
Webbing chain attachment points
14-in D x 28-in L (75 liters fully packed and closed)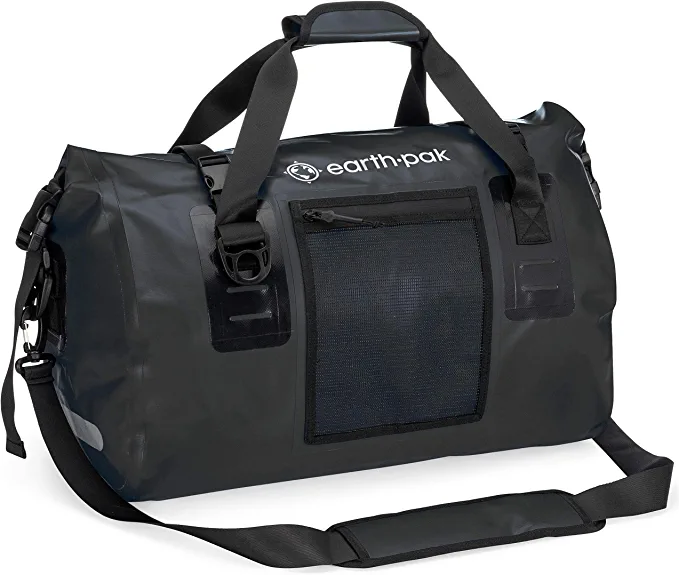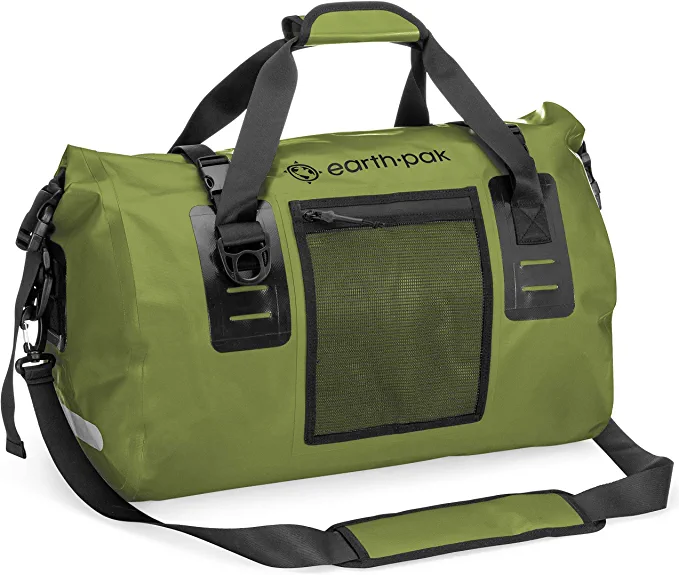 The Earth Pak Waterproof Duffel Bag is another well-thought-through waterproof duffle bag. It features Thermo welded seams made from commercial-grade materials that guarantee a long life span. The Earth Pak is a good choice if you want a bit of organization within your bag. It features two mesh pockets on the inside and one on the outside (not waterproof).
The Earth Pak Waterproof Duffel Bag features padded carry handles and a removable shoulder strap. Additional buckle straps on the side ensure safe travel no matter where you are going. D-rings allow for the attachment of extra gear. Comes in two sizes (50L and 70L) and three colors (black, green, and blue).
DIMENSIONS: 3.94 x 12.2 x 12.6 inches – CAPACITY: 50L – WEIGHT: 2.43 Pounds
Key Features
Made from commercial-grade materials. Dry thermowell. Travel, sailing, fishing, camping, boating.
Two interior mesh pockets and one external mesh pocket with a coiled nylon zipper.
Reinforced roll-top main compartment. Fold, buckle, done.
Double-padded straps, Side Buckles, and D-ring quick-connects.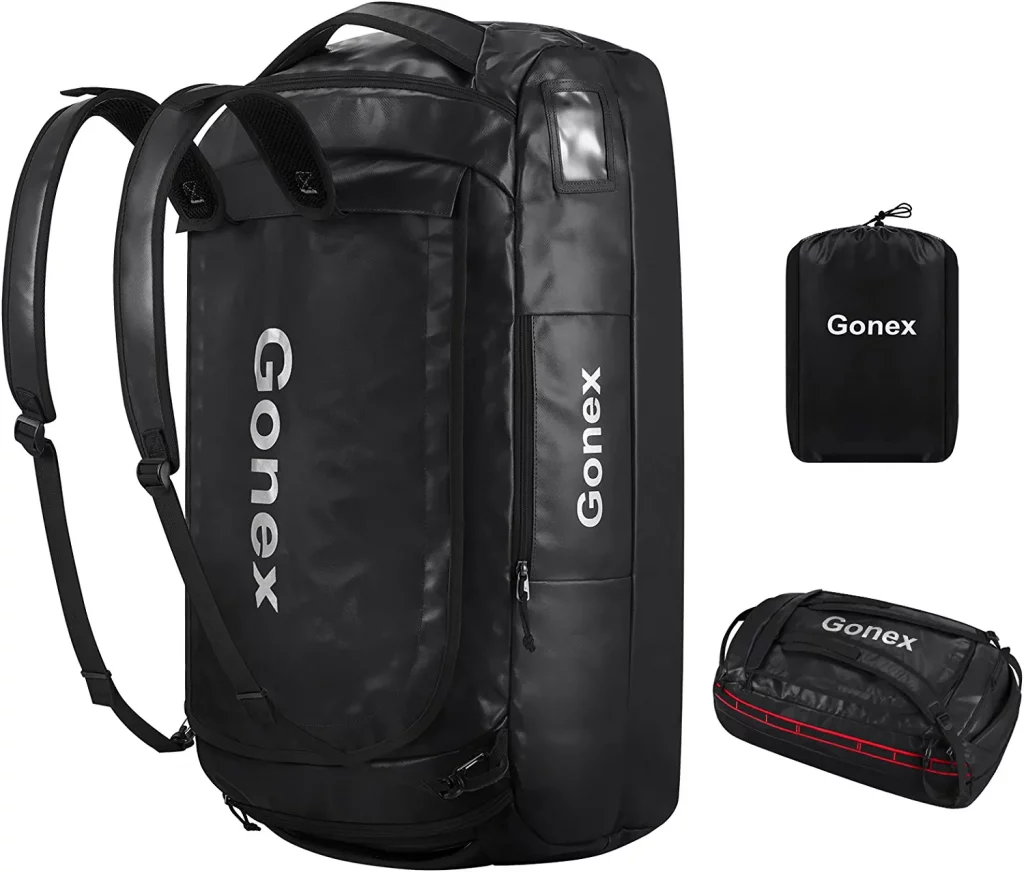 If you're looking for a reasonably priced waterproof duffel bag with backpack straps, look no further than the Gonex Water Repellent Duffel Bag. With a capacity of 40 liters, there was plenty of space for waders, boots, or anything else you wanted to keep dry.
The duffel can double as a bag for travel or everyday use when you're not on the water. The large U-shaped zippered opening makes it easy to get to the main compartment, and the bag's interior is divided into sections with more zippered pockets.
Thanks to the heavy-duty PVC exterior, your gear won't get completely soaked if caught in a downpour.
One important thing to note, though: This bag isn't completely waterproof because the zippers and the inside need to be sealed.
Key Features
Water Resistant PVC Fabric Well-made of high-density 1200D PVC
Collapsible & Foldable
Large main compartment with a U-shaped opening for easy access to items
Two large mesh pockets for your valuables
Large shoe compartment
braided belt with hanging points for hanging your tools.
---
Waterproof Submersible Duffel Bags
Now that you have a good overview of some of the best waterproof (roll-top) duffel bags, we want to look at submersible duffel bags in the second part of our review. As mentioned before, submersible bags allow the bag to be immersed in the water without getting the gear inside wet. This kind of waterproof duffel bag is good if you want maximum waterproofness. Here is a look at a few good options.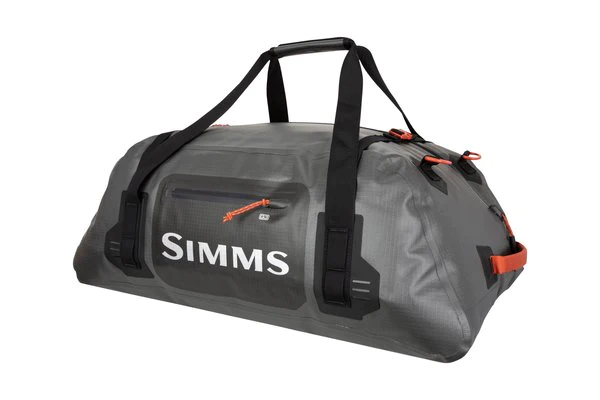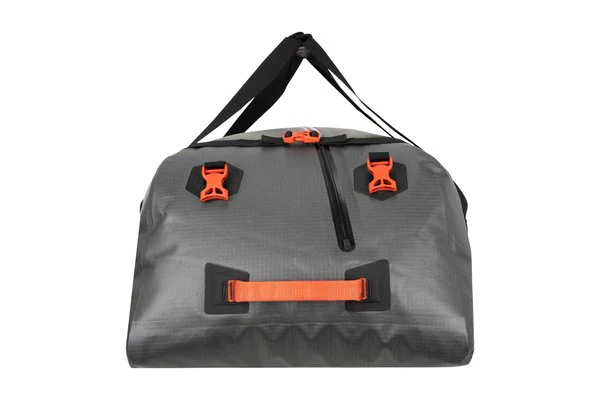 American manufacturer Simms knows a thing or two about building waterproof gear. Their waders are amongst the best you can find.
The G3 Guide Z 60L Duffel Bag is fully submersible and constructed to resist the roughest circumstances, making it ideal for our extensive travels down the river and beyond. Your gear is always within easy reach in a tiny weather-resistant outer pocket, while the inside foam cushioning protects our belongings and prevents premature wear and tear.
The padded shoulder straps make carrying the Simms G3 Guide Z Duffel Bag easy even when fully loaded. Large grab handles on each side allow for the carrying of the duffle by two people. The smaller pocket on the outside is water-resistant though not waterproof.
DIMENSIONS: One size and color only. Made from 420 Nylon Double Ripstop.
Key Features
Rugged duffel equipped for water-based adventures or travel
TPU-coated nylon ripstop fabric resists abrasions and punctures
TRU Zip zippers provide a fully waterproof, submersible closure
External Hypalon attachment points store rods, tubes, and extra gear.
Padded, removable shoulder straps for backpack or duffel bag carry
Self-healing zippers fix zip gaps on their own simply by re-zipping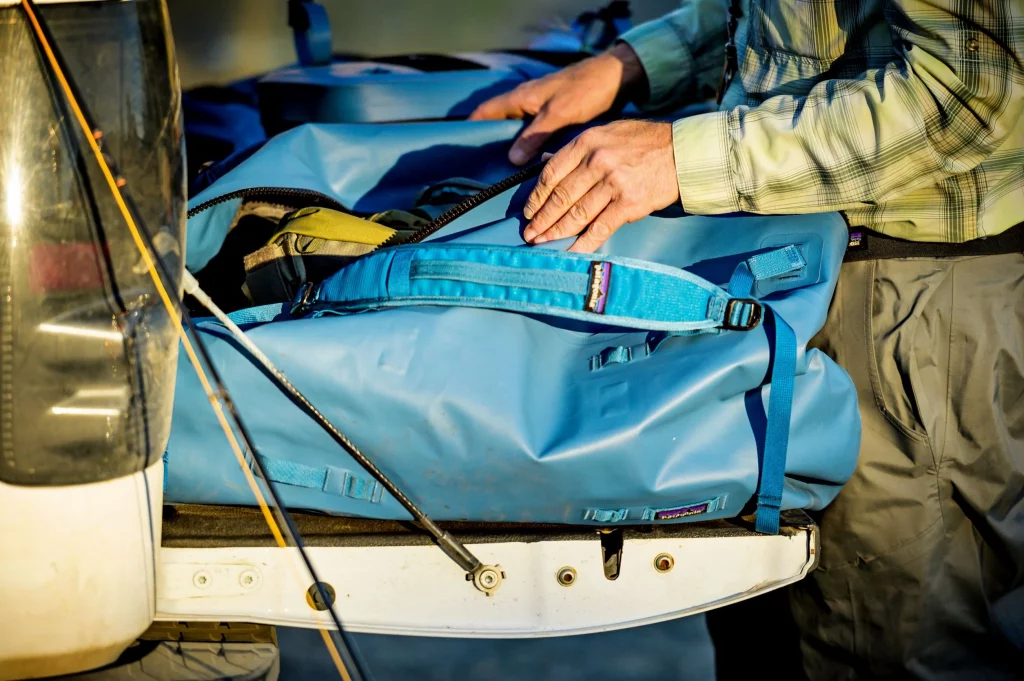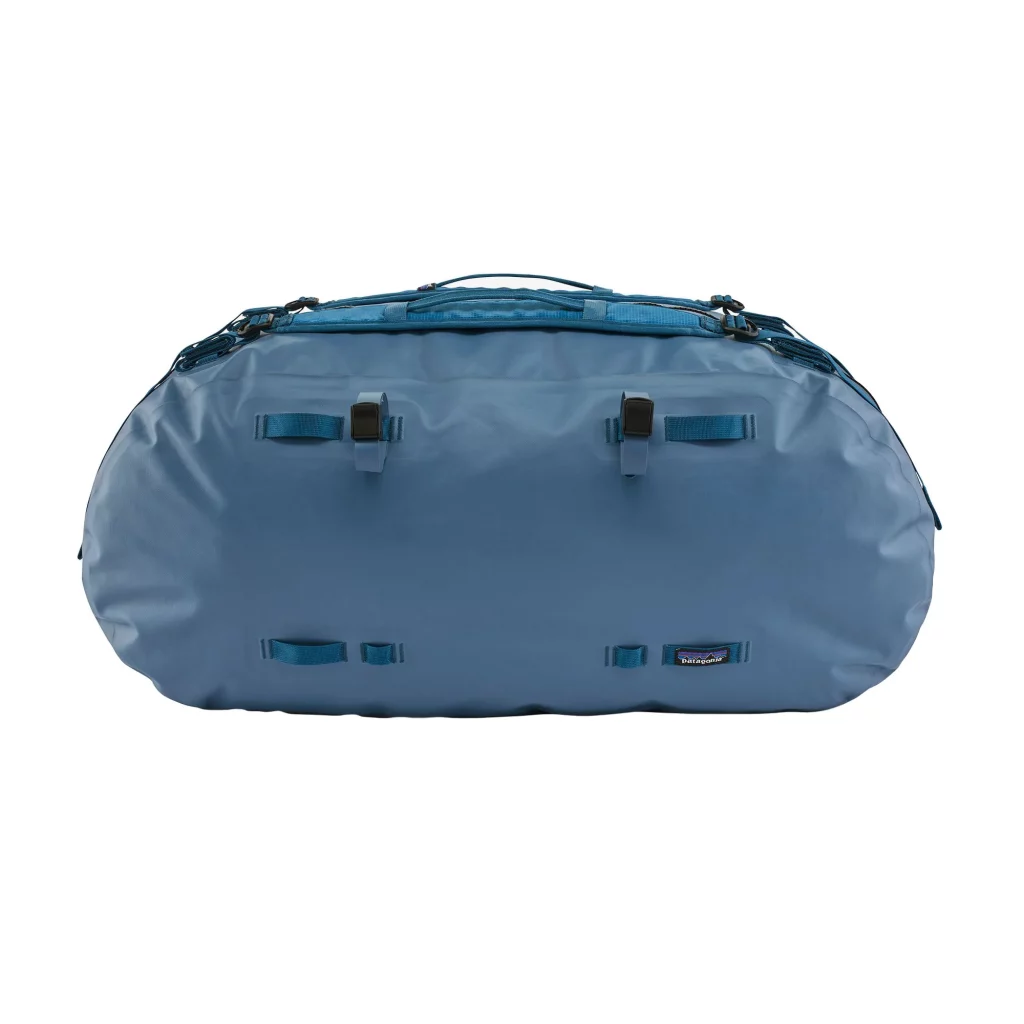 The Patagonia Guidewater Duffel 80L is a complete rework of Patagonia's previous waterproof Sturmsurge Duffel bag (which was waterproof but not submersible). The new version is fully submersible, thanks to waterproof zippers.
With a capacity of 80L, the Patagonia Guidewater can hold a lot of gear. Even when fully loaded, the Guidewater is comfortable to carry thanks to its wide padded shoulder straps. Another significant aspect of this bag is that it's made from 100% recycled material. The Patagonia Guidewater Duffel 80L features an organizational mesh pocket on the inside. Lash points on the outside allow for additional smaller bags or a fly rod attachment.
DIMENSIONS: 33″ x 15.75″ x 16″ – CAPACITY: 80L – WEIGHT: 2lbs 4 oz (1,010g)
Key Features
Size – 80L
Hard-Working, Durable Fabric
Made from sturdy 100% recycled nylon fabric and webbing and 100% recycled polyester shoulder straps and lining
IPX-7 Rated Bag
Fully waterproof submersible IPX-7 rated bag for keeping contents safe even in full immersion
Panel and Straps Do Not Absorb Water
Adjustable, hydrophobic shoulder straps double as a top grab handle and do not absorb or retain water.
Lash Points
Universal lash points offer multiple rigging options for shoulder straps and can be used as tie-down points.
Internal Organizer Pocket
Internal organizer pocket separates small items from main compartment contents and can be transferred to external lash points when quick access is critical
Supporting the People Who Made This Product
Fair Trade Certified™ sewn
Country of Origin
Made in Vietnam.
Weight
1,010 g (2 lbs 4 oz)
Ortlieb Waterproof Duffel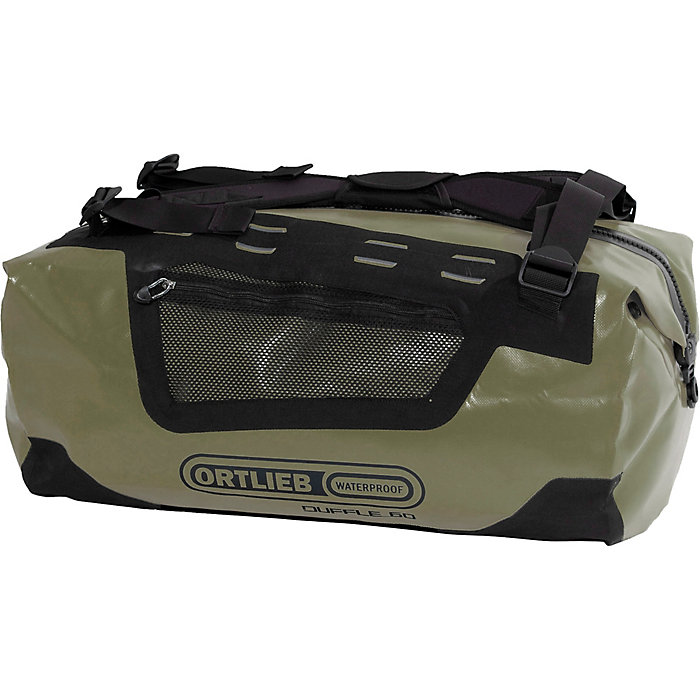 German manufacturer Ortlieb is well-known for producing some of the world's finest waterproof gear. Millions of cyclists and outdoor lovers around the globe have trusted their products for decades. The Ortlieb Waterproof Duffel is a fantastic option if you want a submersible bag.
The Ortlieb Waterproof Duffel has a sturdy TIZIP zipper that opens up the main compartment. On the inside, it features two zippered pockets and another one on the outside (not waterproof). The carrying straps can easily be converted into shoulder straps, turning the Ortlieb Waterproof Duffel into a backpack. Comes in various sizes (40L, 60L, 85L, and 110L) and colors (black, green, and yellow).
DIMENSIONS (60L version): 22″W x 11″H x 13″D – CAPACITY: 60L – WEIGHT: 41.6 oz (1180g)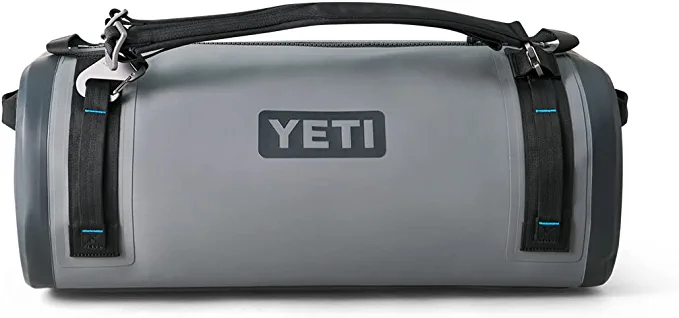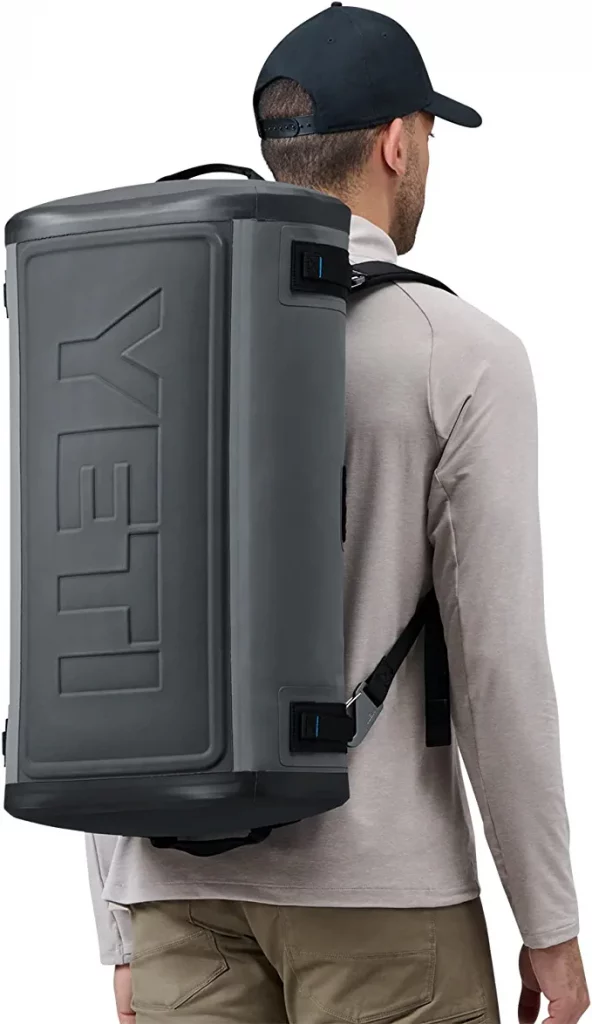 American manufacturer YETI has established itself as a force in the outdoors industry. It is undoubtedly most well-known for its coolers. Yet, they also produce great waterproof gear, such as the PANGA 50 DUFFEL, a fully submersible duffel bag. Everything about this bag is incredibly sturdy.
The YETI PANGA 50 DUFFEL is made from laminated high-density nylon, which YETI calls THICKSKIN™. It does indeed feel like elephant skin and is built to last. The Hydrolok™ zipper safely keeps the water out. Inside, the YETI PANGA 50 DUFFEL features two mesh pockets for easy storage. The shoulder straps that can turn it into a backpack are detachable. It comes in three sizes: 50L, 75L, and 100L.
DIMENSIONS: 10″ × 23 1/2″ – CAPACITY: 50L – WEIGHT: 5.2lbs
Key Features
Zipper closure
A 100% dry duffel. But not a cooler. Hydrolok zipper ensures water stays out, so your gear stays bone-dry, no matter how torrential it gets.
U-dock the terminal end of your hydrolok zipper to, ensures an entirely airtight seal
Thickskin shell made of high-density nylon and thick tpu lamination to be puncture- and abrasion-resistant
Dryhaul straps in the hands or on the back are as durable as they are comfortable.
Metallock hardware this hardware can take on smacks and whacks without breaking.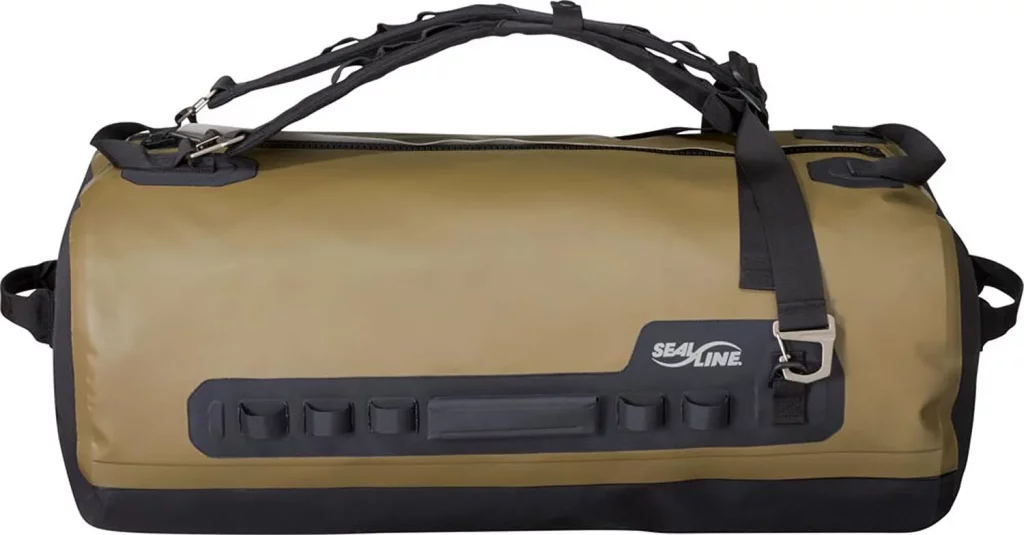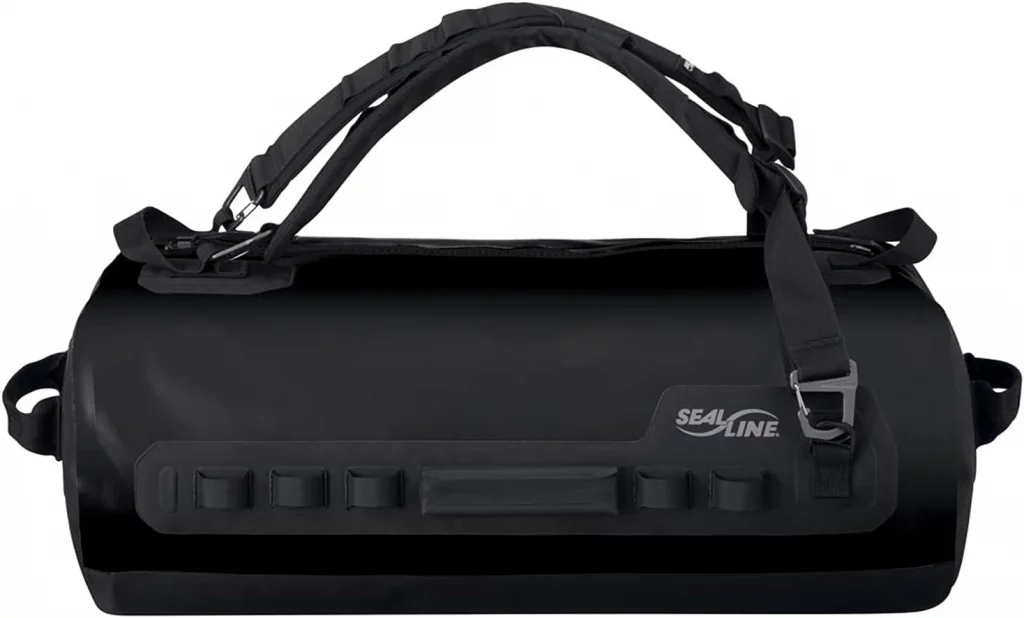 The SealLine Pro Zip Duffle Bag is another high-quality option if you want a submersible duffle. This bag stands out for its versatility and possibility to attach extra gear or the SealLine Pro Zip Duffle Bag to a boat or raft. The carry handles are removable.
The SealLine Pro Zip Duffle Bag is rated to stand full submersion in 1m of water for 30 minutes. Made from PVC-free material with welded seams. Limited lifetime warranty and made in the USA. Comes in various sizes (40L, 70L, and 100L) and colors (black, brown, and orange).
DIMENSIONS (40L): 24″ x 11″ x 9″ – CAPACITY: 40L – WEIGHT: 2.2lbs (1kg)
Key Features
High-end PVC-free submersible duffel provides boaters, paddlers, and savvy adventurers protection in all conditions.
Rated to withstand full submersion in 1 meter of water for 30 minutes, the high-quality YKK AquaSeal waterproof zipper makes accessing gear easy.
Removable carry handles with strap keeper double as shoulder straps for versatile carry options; duffel rolls up to store easily when not in use.
Strong polyurethane-coated polyester, abrasion-resistant bottom, and RF welded construction provide long-lasting waterproof performance
40L measures 24x11x9 inches and weighs 2.2 pounds; Made in the USA of US and imported materials.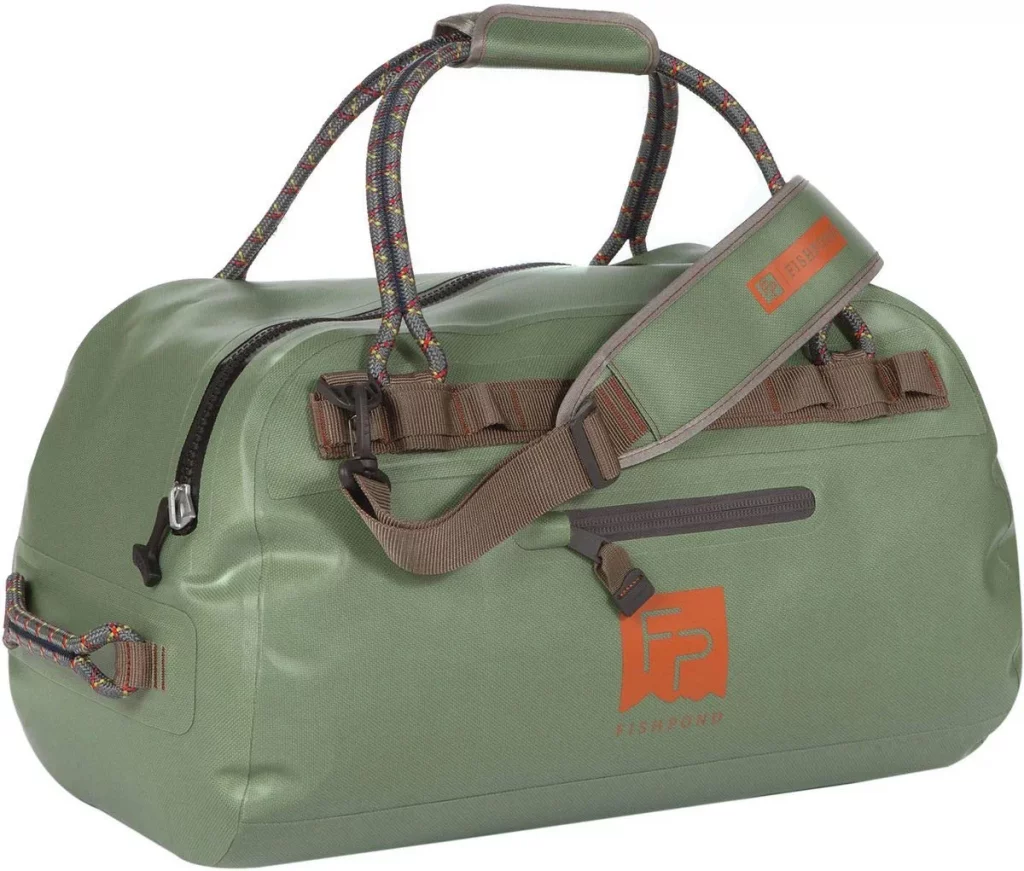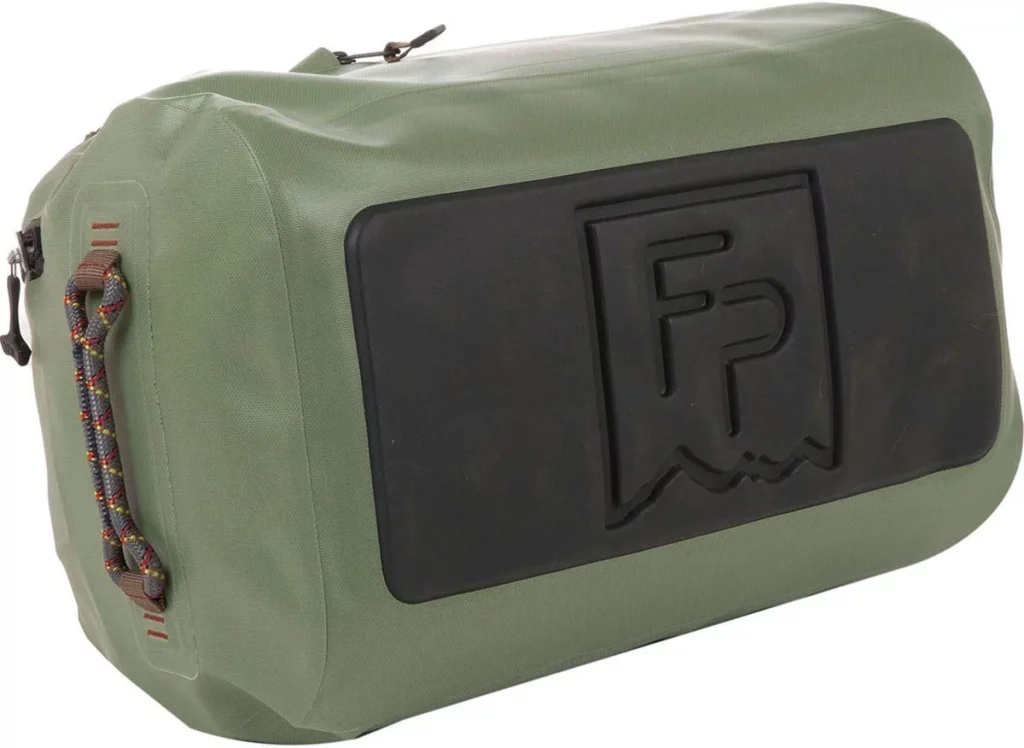 The Fishpond Thunderhead Submersible Duffel is the last in our test and offers great versatility. Made from recycled nylon, the Fishpond Thunderhead comes with a TIZIP zipper, ensuring all water stays out of the bag. Even the quick-access pocket on the outside features a water-resistant zipper.
The Fishpond Thunderhead Submersible Duffel's handles are made of climbing rope, which is incredibly durable. The shoulder strap is removable. On the outside, a range of loops allows for extra gear attachment. In addition, it provides a secure fit on a raft or boat. It comes in two colors and can be used as a carry-on in airplanes.
DIMENSIONS: 21" x 12.5" x 11" – CAPACITY: 39L – WEIGHT: 2.6lbs (1.18kg)
Key Features
YKK Aquaguard water-resistant quick-access exterior pocket
Daisy chain webbing for rod tubes and attachment points
Gear straps not included
Shoulder strap included
Carry-On Size Compatible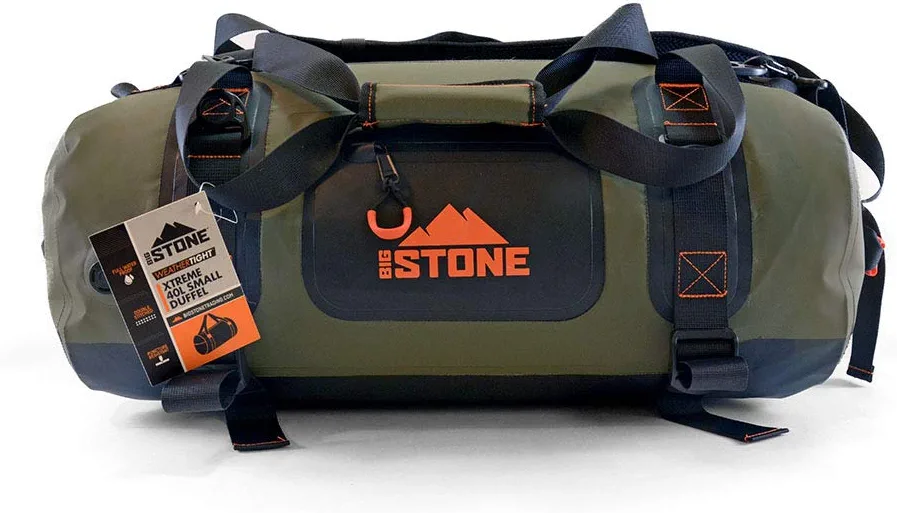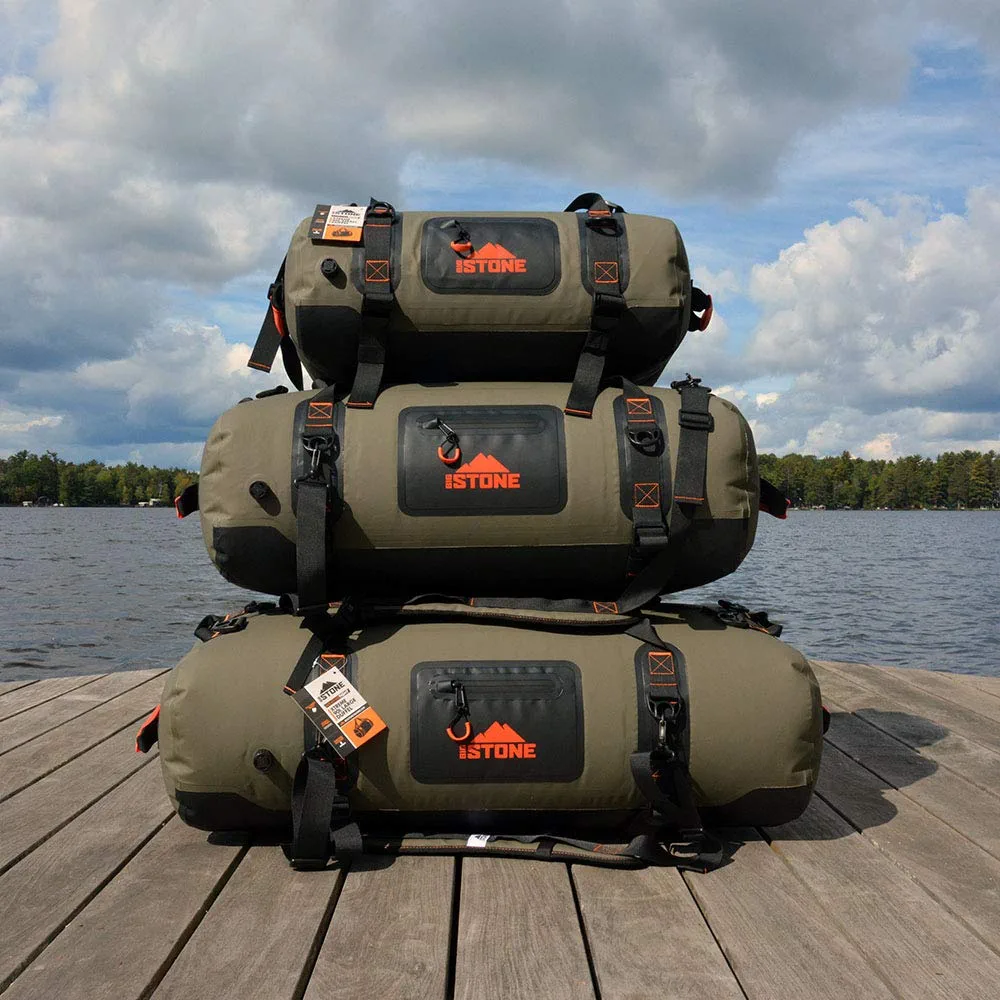 The big Stone Fully Waterproof Duffel Bag is the last of our favorites for fully submersible duffel bags. It comes in three sizes (40L, 70L, and 90L). The big Stone Fully Waterproof Duffel Bag can be carried like a traditional duffel or a backpack using comfortable, padded straps.
The integrated valve is a neat little feature of the Stone Fully Waterproof Duffel Bag. It allows air to be released from the duffel or added to make it float. It comes with two small pockets on the outsides (careful: these are only water-resistant. Double-stitched seams make this duffel bag very durable.
Key Features
Water-tight, scent-tight, air-tight design with SCUBA zipper keeps gear dry and virtually free of odor.
Versatile construction allows comfortable carrying options for a duffel, backpack, and shoulder bag.
Built-in valve allows air to be bled for space consideration or added for flotation.
Fully waterproof interior pocket and dual external water-resistant pockets
Double-stitched seams, heavy-duty handles and straps, multiple tie-down, and anchor points.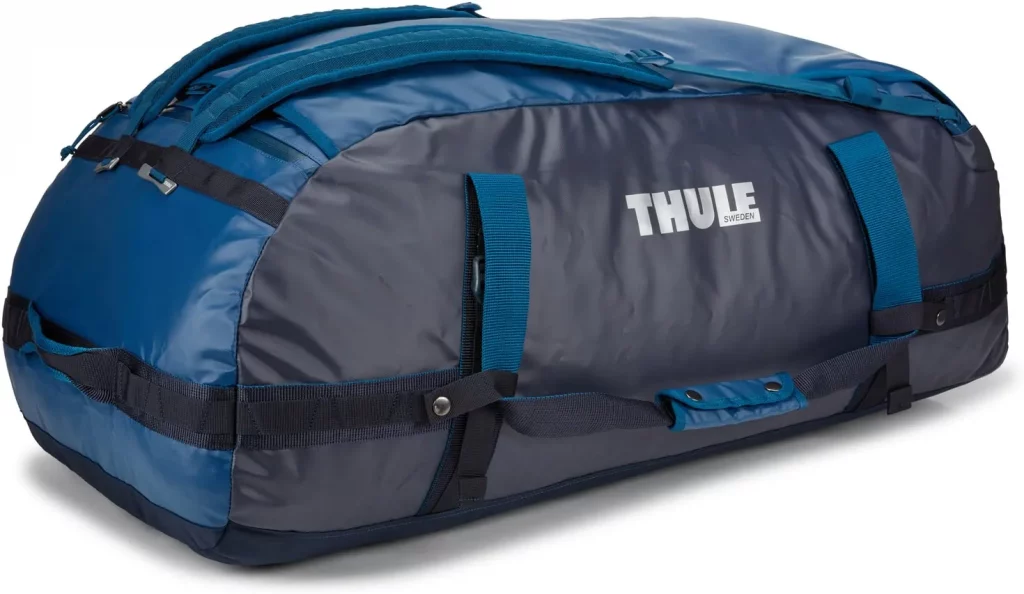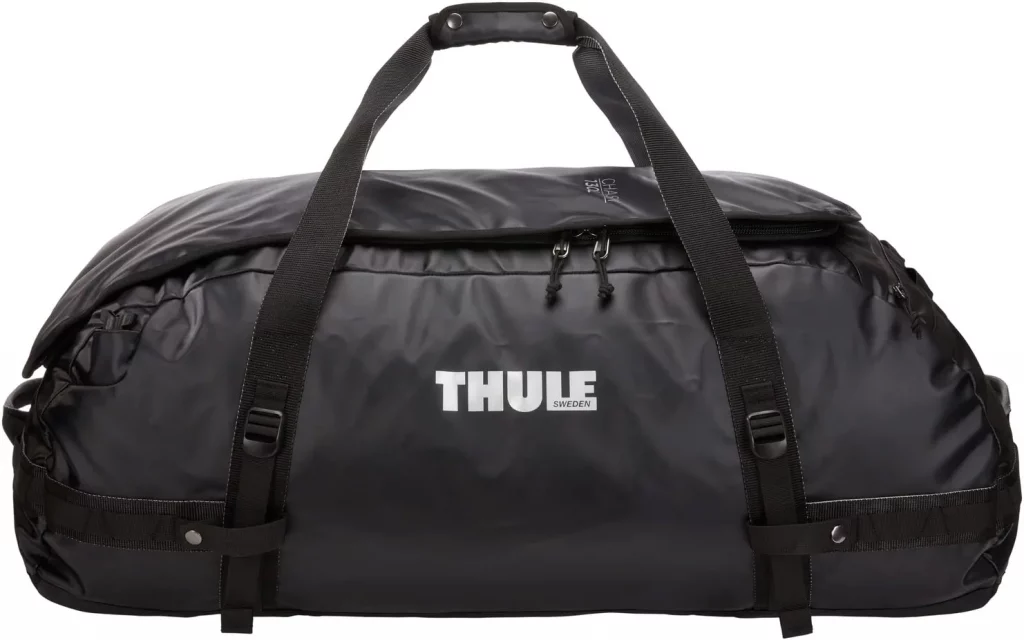 With the durable Thule Chasm 70 L duffel bag, you can easily pack what you need for a trip and make your way to the airport. This bag features a roomy main compartment with wide access and backpack straps that can be added as an option.
Duffels are great because they allow you to transport a lot of stuff while keeping the weight down. The huge 130-liter capacity of the Thule Chasm Sport Duffel Bag is a great example.
The typical 28-inch wheeled suitcase has a capacity of only 80 to 100 liters. One that weighs less than nine pounds, including the bag itself, is extremely unlikely. This Thule duffel is 30% larger and only 5.5 pounds, so you can pack many more necessities.
The PVC tarpaulin used to make this hard-working bag can withstand rain, snow, and sun. It has multiple mesh pockets and a large zippered opening to help you keep your belongings organized.
As an added convenience, it is available in a rainbow of colors that stand out on airport belts. This massive tote can be transformed into a backpack for more convenient transport; its exterior compression straps will keep your belongings from shifting inside while you're on the go.
This is the best duffel bag for long trips and checked baggage because of its spacious interior, lightweight design, and shoulder straps.
Key Features
Removable backpack straps convert the duffel bag into a backpack and can be tucked away.
Durable webbing shoulder straps with a padded handle let you sling or hand-carry.
Durable tarpaulin laminate shell protects contents from elements and rough baggage handlers.
An 840-denier nylon padded base prevents scuffing and rough handling.
The oversized, wide-mouth central compartment opening is easy to pack and unpack.
The exterior stash pocket provides easy access to your wallet and keys.
Internal zip mesh pockets keep small items organized.
External compression straps keep items from falling out of a backpack.
Large grab handles make it easy to lift bags from the trunk or carousel.
Zipper locks deter theft (locks not included)
A carry case can be used as an accessory pouch inside the bag.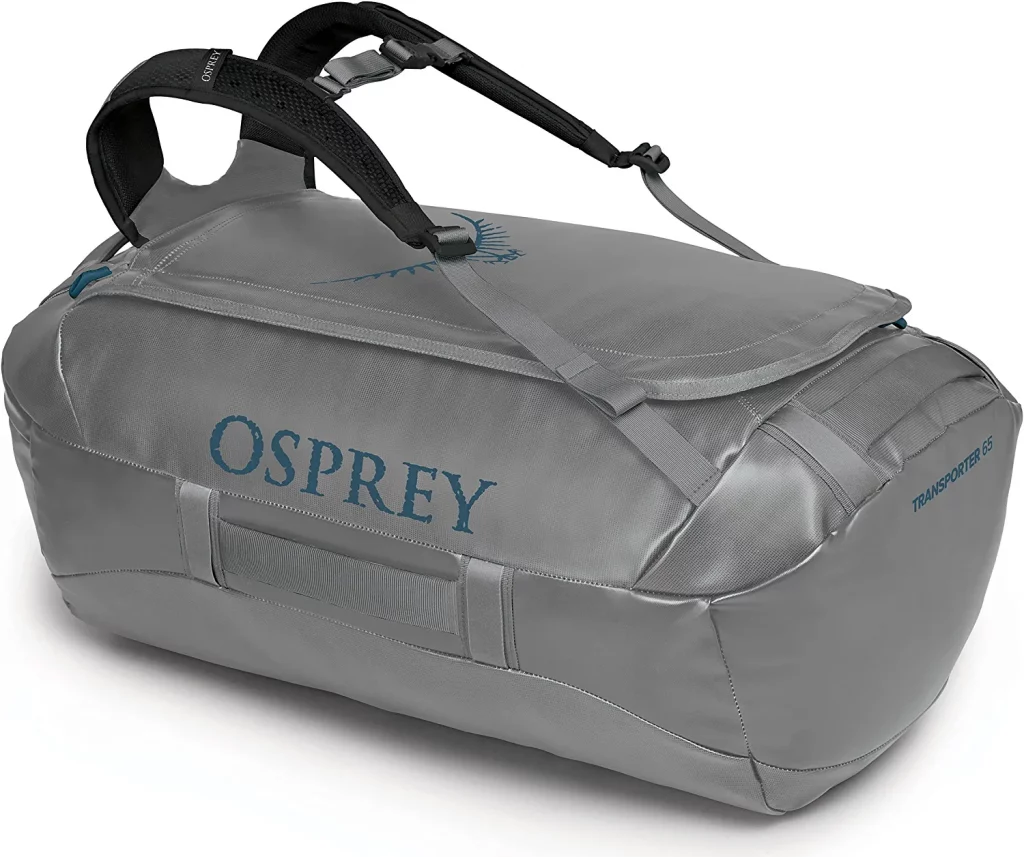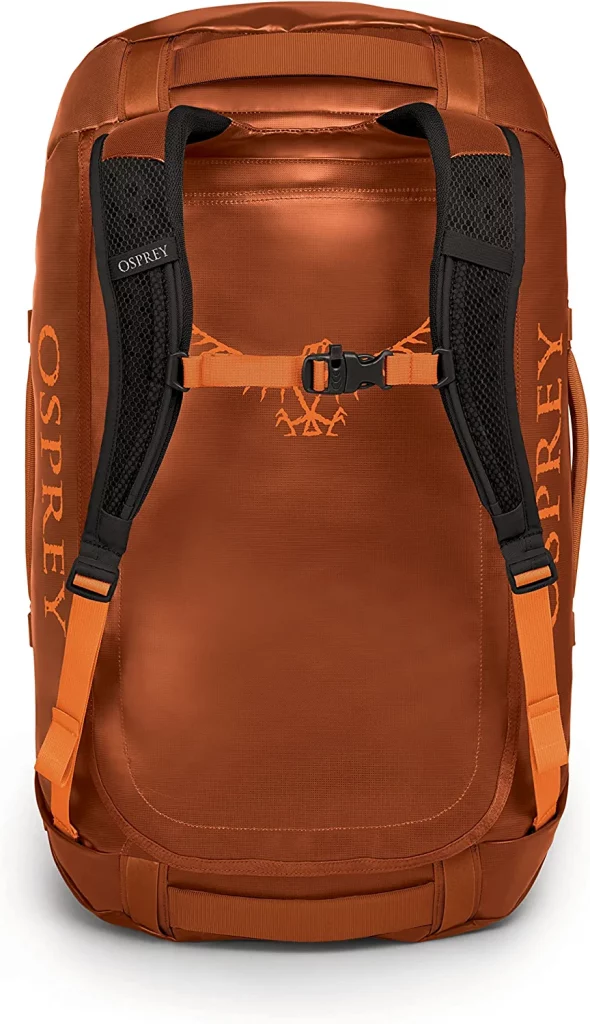 The Transporter 65 Duffel from Osprey was created with tough outdoor expeditions and extensive travel in mind. Thanks to the sturdy recycled fabric, adjustable backpack straps, and ample storage space, it's ideal for the fishing lifestyle. Ample storage makes it simple to stow and retrieve our gear, clothes, and fly-fishing accessories. The double TPU and DWR coating on the tough shell keeps the elements and wear and tear from ruining our equipment.
Key Features
A deployable backpack harness with a sternum strap tucks away when not in use means this bag is comfortable to carry and perfect as a travel companion or gear storage.
Large lockable U-zip provides easy access to the main compartment with a heavy-duty zipper that glides easily and is protected by an oversized rain flap.
Zippered end pocket and an internal zippered mesh pocket for quick access to smaller items
Four burly webbing grab handles and 11 coated webbing lash points for securing duffels
Dual-sided TPU coating, burly hardware, oversized flap, and design details protect your gear from external elements.
Sustainable construction made of recycled materials and a PFC-free DWR (Durable Water Resistant) coating
65 Liters Weight: 2.97 lb (1.35 kg) Dimensions: 27h x 16w x 12d in (68h x 41w x 30d cm)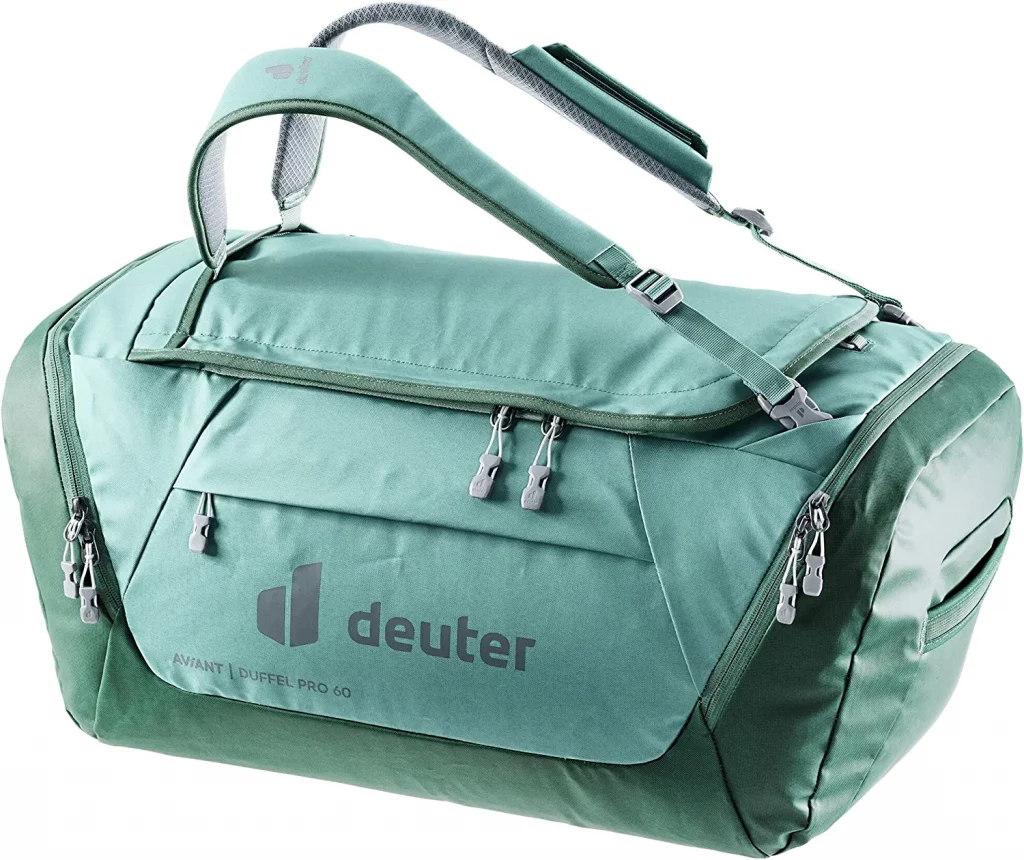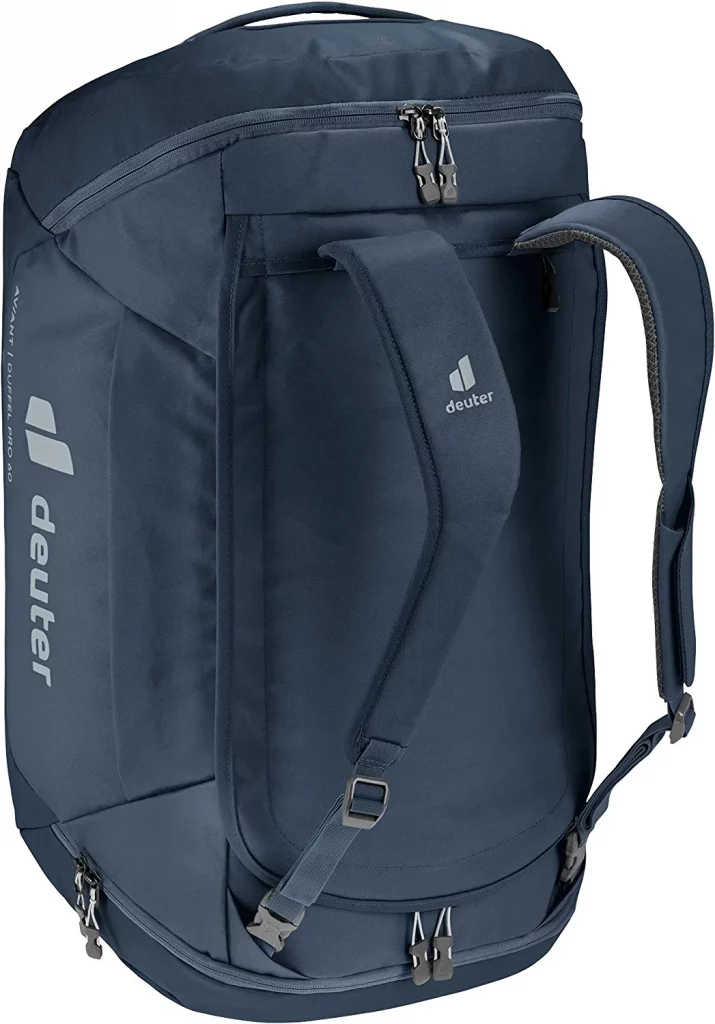 The Aviant Duffel Pro provides generous storage space for your clothing and fly fishing equipment. The bag can be converted into a backpack thanks to the detachable shoulder straps. Your luggage will be shielded from moisture and dust by the sturdy companions, which are bluesign-certified and produced sustainably. When you return from your fly fishing trip, your duffel bag will be simple to fold and put away in the integrated outer pocket.
Key Features
Polyurethane-coated, water-resistant canvas
Stowable shoulder straps allow the travel bag to be used as a backpack or a carrying handle.
Main compartment zipper lock anchor point (not included)
Internal compression straps prevent shifting.
Two internal zip pockets, two side zip pockets, and one external zip pocket
It folds into an outer pocket for home storage.
PFC-free, recycled, bluesign® materials
---
Conclusion – Best Waterproof Duffel Bag
As you can see from our review, there are two types of waterproof duffle bags. The first is a waterproof duffle (often in the form of a roll-top) that will withstand water coming from above. The second is a submersible one that can be immersed in the water (for a certain amount of time and depth).
All the products reviewed above are high-quality duffel bags that will last a long time. In the end, it really depends on the surroundings and circumstances you want to use it in.
Related Articles
---
Recent Articles
Review Archives
---