Lamson Remix Fly Reel Review
---
This review will step into the Waterworks Lamson fly fishing reel product line and specifically cover the Remix fly reel in our full Lamson Remix review. We also included some helpful customer reviews in each section to let you know what others think after spending some time with this reel.
If you want to learn more about the best fly fishing reels for all skill levels, browse our Top Fly Fishing Reel Review, or our Top 10 Fly Fishing Rod & Reel Combos, where we cover everything you need to know about Fly fishing reels.
Lamson Remix Fly Reels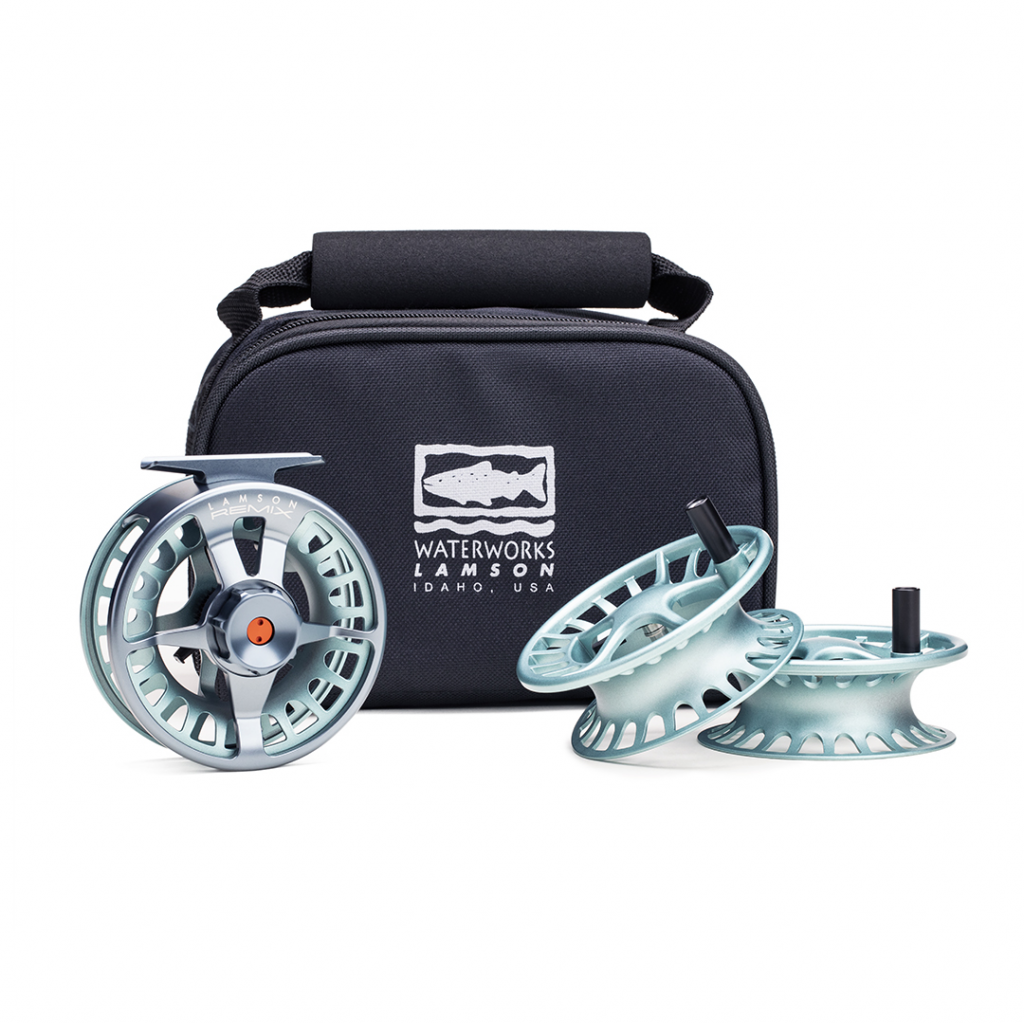 Available in Glacier and smoke, the Lamson Remix is a hybrid (the ultimate hybrid) CNC-machined and pressure-cast fly fishing reel from bar-stock aluminum. As a result, the Remix delivers both structural rigidity and durability. The spool has a precise fit and finish and is compatible with the Lamson Liquid fly fishing reels. This reel provides high performance along with a touch of sex appeal. The Remix is also available in a 3-pack style with all sizes, 3+ and 9+. The 3-pack comes with one reel and two spare spools, wrapped up nicely in a nylon carrying case.
Lamson Remix Key Features
Format: Large Arbor
Materials: Pressure Cast Aluminum Frame and Spool
Finish: Polyurethane Case and Spool
Drag: Sealed Conical Drag
Weight: 0.8 lbs
Dimensions: 6 × 6 × 4 in
Ambidextrous
Size Guide
SIZE
DIAMETER
WIDTH
WEIGHT
ROD
WEIGHT
LINE
BACKING
CAPACITY
-3+
3.34″
0.99″
4.29 oz
2.3.4
WF4
100 Yds 20#
-5+
3.61″
1.00″
4.54 oz
4.5.6
WF6
100 yds 20#
-7+
3.85″
1.14″
5.49 oz
6.7.8
WF8
200 yds 20#
-9+
4.65″
1.37″
7.07 oz
8.9.10
WF10
250 yds 30#
Lamson Remix Fly Reel Size Guide
Customer Reviews
I have been using this reel on my custom Bart Rod 6wt. It has managed king salmon, coho salmon, Brown Trout, and steelheads without breaking a sweat. Hands down, a rock-solid fly fishing reel! I recommend this one without hesitation! Tight lines and great times, my friends!

September 30, 2021
Related Articles
---
Recent Articles
Review Archives
---